Abstract
Providing hummingbirds with artificial feeders containing sugar solution is common practice throughout the Americas. Although feeders can affect hummingbird foraging behavior and abundance, it is poorly understood how far this effect may extend. Moreover, it remains debated whether nectar-feeders have a negative impact on hummingbird-pollinated plants by reducing flower visitation rates and pollen transfer close to the feeders. Here, we investigated the effects of distance to nectar-feeders on a local hummingbird assemblage and the pollination of Psychotria nuda (Rubiaceae), a hummingbird-pollinated plant endemic to the Brazilian Atlantic Rainforest. At increasing distance (0–1000 m) from a feeding-station, where hummingbirds have been fed continuously for the past 13 years, we quantified hummingbird abundance, and rates of flower visitation and pollen deposition on P. nuda. We found that hummingbird abundance was unrelated to distance from the feeders beyond ca. 75 m, but increased steeply closer to the feeders; the only exception was the small hummingbird Phaethornis ruber, which remained absent from the feeders. Plants of P. nuda within ca.125 m from the feeders received increasingly more visits, coinciding with the higher hummingbird abundance, whereas visitation rate beyond 125 m showed no distance-related trend. Despite this, pollen deposition was not associated with distance from the feeders. Our findings illustrate that artificial nectar-feeders may locally increase hummingbird abundance, and possibly affect species composition and pollination redundancy, without necessarily having a disruptive effect on pollination services and plants' reproductive fitness. This may apply not only to hummingbirds, but also to other animal pollinators.
Zusammenfassung
Bruterfolg bei der Kohlmeise und ihr Zusammenhang mit Eigenschaften natürlicher Nisthöhlen in einem Urwald
Das Angebot künstlicher Nektarspender gefüllt mit Zuckerlösung für Kolibris ist eine gängige Praxis in ganz Nord-, Mittel- und Südamerika. Obwohl die Nektarspender das Nahrungssuchverhalten von Kolibris beeinflussen können, ist wenig bekannt über das Ausmaß dieses Effektes. Vielmehr ist zu überlegen, ob Nektarspender nicht negative Auswirkungen auf durch Kolibris bestäubte Pflanzen durch weniger Blütenbesuche und verringertem Pollentransfer in der Nähe der Futterstellen haben. Wir untersuchten die Effekte der Entfernung zu Nektarspendern in einer lokalen Kolibrigemeinschaft und die Bestäubung von Psychotria nuda (Rubiaceae), eine durch Kolibris bestäubte, endemische Pflanze im atlantischen Regenwald von Brasilien. Mit ansteigender Distanz (0–1000 m) zu einer Futterstelle, wo Kolibris seit 13 Jahren kontinuierlich gefüttert werden, quantifizierten wir die Kolibridichte sowie die Raten der Blütenbesuche und Pollenverbreitung von P. nuda. Es zeigte sich, dass die Dichte von Kolibris nicht verbunden war mit einer Entfernung von über ca. 75 m zu Futterstellen, stieg jedoch stark an in der Nähe von Futterstellen. Die einzige Ausnahme bildete die kleine Art Phaethornis ruber, die nicht an den Futterstellen anwesend war. P. nuda Pflanzen innerhalb von ca. 125 m zu den Nektarspendern wurden zunehmend mehr besucht, einhergehend mit einer höheren Kolibridichte, wobei die Besuchsrate jenseits von 125 m keinen distanzbezogenen Trend zeigte. Trotz dieser Beobachtung war die Pollenverbreitung nicht assoziiert mit der Entfernung zu den Futterstellen. Unsere Ergebnisse zeigen, dass künstliche Nektarspender lokal die Kolibridichte erhöhen können und möglicherweise auch die Artenzusammensetzung verändern. Sie müssen aber nicht zwangsläufig einen störenden Effekt auf die Bestäubungsleistung von Kolibris und die reproduktive Fitness der Pflanzen haben.
Access options
Buy single article
Instant access to the full article PDF.
USD 39.95
Price includes VAT (USA)
Tax calculation will be finalised during checkout.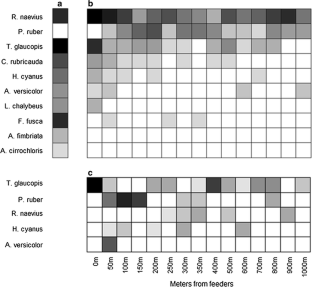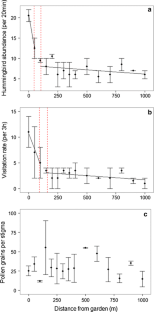 References
Anderson SH, Kelly D, Ladley JJ, Molloy S, Terry J (2011) Cascading effects of bird functional extinction reduce pollination and plant density. Science 331:1068–1071

Arizmendi MC, Constanza MS, Lourdes J, Ivonne FM, Edgar LS (2007) Effect of the presence of nectar feeders on the breeding success of Salvia mexicana and Salvia fulgens in a suburban park near México City. Biol Conserv 136:155–158

Avalos G, Soto A, Alfaro W (2012) Effect of artificial feeders on pollen loads of the hummingbirds of Cerro de La Muerte, Costa Rica. Revista Biol Trop 60:65–73

Brockmeyer T, Schaefer HM (2012) Do nectar feeders in Andean nature reserves affect flower visitation by hummingbirds? Basic Appl Ecol 13:294–300

Castro CC, Araujo AC (2004) Distyly and sequential pollinators of Psychotria nuda (Rubiaceae) in the Atlantic rain forest, Brazil. Plant Syst Evol 244:131–139

Cronk Q, Ojeda I (2008) Bird-pollinated flowers in an evolutionary and molecular context. J Exp Bot 59:715–727

Dalsgaard B, Martín Gonzáles AM, Olesen JM, Ollerton J, Timmermann A, Andersen LH, Tossas AG (2009) Plant-hummingbird interactions in the West Indies: floral specialisation gradients associated with environment and hummingbird size. Oecologia 159:757–766

Dalsgaard D, Carstensen DW, Kirkconnell A, Martín González AM, Martínez García O, Timmermann A, Sutherland WJ (2012) Floral traits of plants visited by the bee hummingbird (Mellisuga helenea). Ornitol Neotrop 23:143–149

Feinsinger P, Colwell RK (1978) Community organization among neotropical nectar-feeding birds. Am Zool 18:779–795

Galbraith JA, Beggs JR, Jones DN, Stanley MC (2015) Supplementary feeding restructures urban bird communities. Proc Natl Acad Sci 120:201501489

Inouye DW, Calder WA, Waser NM (1991) The effect of floral abundance on feeder censuses of hummingbird populations. Condor 93:279–285

Justino D, Maruyama PK, Oliveira PE (2012) Floral resource availability and hummingbird territorial behaviour on a Neotropical savanna shrub. J Ornithol 153:189–197

King C, Ballantyne G, Willmer PG (2013) Why flower visitation is a poor proxy for pollination: measuring single-visit pollen deposition, with implications for pollination networks and conservation. Meth Ecol Evol 4:811–818

Maglianesi MA, Böhning-Gaese K, Schleuning M (2015) Different foraging preferences of hummingbirds on artificial and natural flowers reveal mechanisms structuring plant–pollinator interactions. J Anim Ecol 84:655–664

Martín González AM, Dalsgaard B, Nogués-Bravo D, Graham CH, Schleuning M, Maruyama PK, Abrahamczyk S, Alarcón R, Araujo AC, Araújo FP, Mendes de Azevedo S Jr, Baquero AC, Cotton PA, Ingversen TT, Kohler G, Lara C, Guedes Las-Casas FM, Machado AO, Machado CG, Maglianesi MA, McGuire JA, Moura AC, Oliveira GM, Oliveira PE, Ornelas JF, Rodrigues LdC, Rosero-Lasprilla L, Rui AM, Sazima M, Timmermann A, Varasin IG, Vizentin-Bugoni J, Wang Z, Watts S, Rahbek C, Martinez ND (2015) The macroecology of phylogenetically structured hummingbird-plant networks. Global Ecol Biogeogr. doi:10.1111/geb.12355

Maruyama P, Oliveira G, Ferreira C, Dalsgaard B, Oliveira PE (2013) Pollination syndromes ignored: importance of non-ornithophilous flowers to Neotropical savanna hummingbirds. Naturwissenschaften 100:1061–1068

Maruyama PK, Vizentin-Bugoni J, Dalsgaard B, Sazima I, Sazima M (2015) Nectar robbery by a hermit hummingbird: association to floral phenotype and its influence on flowers and network structure. Oecologia 178:783–793

McCaffrey RE, Wethington SM (2008) How the presence of feeders affects the use of local floral resources by hummingbirds: a case study from southern Arizona. Condor 110:786–791

Memmott J, Craze PG, Waser NM, Price MV (2007) Global warming and the disruption of plant–pollinator interactions. Ecol Lett 10:710–717

Montgomerie RD, Gass C (1981) Energy limitation of hummingbird populations in tropical and temperate communities. Oecologia 50:162–165

Muggeo VM (2008) Segmented: an R package to fit regression models with broken-line relationships. R news 8:20–25

Nicolson S, Fleming P (2003) Nectar as food for birds: the physiological consequences of drinking dilute sugar solutions. Plant Syst Evol 238:139–153

Ollerton J, Erenler H, Edwards M, Crockett R (2014) Extinctions of aculeate pollinators in Britain and the role of large-scale agricultural changes. Science 346:1360–1362

R Core Team (2014) R: a language and environment for statistical computing. R Foundation for Statistical Computing

Sanchez M, Pedroni F, Leitão-Filho HDF, Cesar O (1999) Composição florística de um trecho de floresta ripária na Mata Atlântica em Picinguaba, Ubatuba, SP. Brazil J Bot 22:31–42

Sazima I, Buzato S, Sazima M (1995) The saw-billed hermit Ramphodon naevius and its flowers in southeastern Brazil. J Ornithol 136:195–206

Stiles FG (1981) Geographical aspects of bird-flower coevolution, with particular reference to Central America. Ann Mo Bot Gard 68:323–351

Stiles FG, Freeman CE (1993) Patterns in floral nectar characteristics of some bird-visited plant species from Costa Rica. Biotropica 25:191–205

Taylor C, Gomes M, Zappi D Psychotria in Lista de Espécies da Flora do Brazil. Jardim Botânico do Rio de Janeiro. http://reflora.jbrj.gov.br/jabot/floradobrasil/FB14201. Accessed 13 January 2015

Toms JD, Lesperance ML (2003) Piecewise regression: a tool for identifying ecological thresholds. Ecology 84:2034–2041

Vázquez DP, Morris WF, Jordano P (2005) Interaction frequency as a surrogate for the total effect of animal mutualists on plants. Ecol Lett 8:1088–1094

Watts S, Huamán Ovalle D, Moreno Herrera M, Ollerton J (2012) Pollinator effectiveness of native and non-native flower visitors to an apparently generalist Andean shrub, Duranta mandonii (Verbenaceae). Plant Species Biol 27:147–158

Wethington SM, Finley N (2009) Addressing hummingbird conservation needs: An initial assessment. In: Proceeding of the fourth international partners in flight conference: Tundra to Tropic, pp 662–666

Wethington SM, Russell SM (2003) The seasonal distribution and abundance of hummingbirds in oak woodland and riparian communities in southeastern Arizona. Condor 105:484–495
Acknowledgments
This study is dedicated to Mr. Jonas d'Abronzo, whom we thank for hosting us and allowing us to conduct this study at Folha Seca. We also thank André Rodrigo Rech for assistance with pollen count techniques, Marina Wolowski for logistic help in the field, Tatsuya Amano for advice on the piecewise regression analysis, and João Afonso, Martins do Carmo, Felipe W Amorim and Vinicius L G Brito who helped to confirm information about the reproductive morphology of P. nuda. We also thank two anonymous reviewers for their useful comments that improved the manuscript. PK was supported by Svend G. Fiedler and wife's Foundation and a PICA scholarship. PKM received a Ph.D scholarship from CNPq (Conselho Nacional de Desenvolvimento Científico e Tecnológico). JVB received a Ph.D scholarship and a PDSE scholarship (processo: 99999.008012/2014-08) from CAPES (Coordenaçãoo de Aperfeiçoamento de Pessoal de Nível Superior). JO's visit to Brazil was supported by FAPESP. JS, PK, JVB, PKM and BD thank the Danish National Research Foundation for its support of the Center for Macroecology, Evolution and Climate. We state that this study complies with the current laws of Brazil.
Additional information
Communicated by C. G. Guglielmo.
About this article
Cite this article
Sonne, J., Kyvsgaard, P., Maruyama, P.K. et al. Spatial effects of artificial feeders on hummingbird abundance, floral visitation and pollen deposition. J Ornithol 157, 573–581 (2016). https://doi.org/10.1007/s10336-015-1287-1
Received:

Revised:

Accepted:

Published:

Issue Date:
Keywords
Artificial feeding

Atlantic Rainforest

Hummingbirds

Pollination

Mutualistic interactions

Psychotria nuda

Rubiacea