Abstract
In contrast to the majority of migratory songbirds in North America, which moult on or near their breeding grounds, the Bullock's oriole (Icterus bullockii) is reported to stop during fall migration to moult en route to the wintering grounds. These birds seem to take advantage of food resources during the Mexican monsoon season in the Southwestern USA and Northwestern Mexico. We studied a population of Bullock's orioles at the northern limit of their breeding range in Kamloops, British Columbia, Canada, using a combination of light-level geolocators and stable hydrogen isotope analysis. We found evidence that supports the existence of moult migration in this species, with geolocators indicating that all birds appeared to stay in the Mexican monsoon region for moult in an extended stopover period during fall migration. Feathers were isotopically enriched with deuterium compared to predicted breeding isotope values and were significantly more negative than winter-grown claws, confirming that moult occurred somewhere between the breeding and wintering grounds. Stable isotope data were consistent with complete prebasic stopover moult in adults and complete contour feather and variable tail feather moult in first-year orioles. Our results confirm that this northern population of Bullock's orioles employs a moult migration strategy and highlight the usefulness of combining geolocator and stable isotope studies.
Zusammenfassung
Bestätigung des Mauserzugs beim Bullocktrupial ( Icterus bullockii ) mit Hilfe von Geolokatoren und stabiler Isotope
Im Gegensatz zu den meisten ziehenden Singvögeln Nordamerikas, die in oder in der Nähe ihres Brutgebiets mausern, wird über den Bullocktrupial (Icterus bullockii) berichtet, dass er auf dem Herbstzug ins Überwinterungsgebiet unterwegs einen Mauserstopp einlegt. Diese Vögel nutzen anscheinend Nahrungsressourcen im Südwesten der USA und im Nordwesten Mexikos während der mexikanischen Monsunsaison. Wir haben eine Population des Bullocktrupials am nördlichen Rand seines Brutgebiets in Kamloops in Britisch-Kolumbien, Kanada, mit Hilfe einer Kombination von Helldunkelgeolokatoren und stabiler Wasserstoffisotopenanalyse untersucht. Wir fanden Hinweise, welche die Existenz von Mauserzug bei dieser Art unterstützen; Geolokatoren zeigten an, dass alle Vögel zur Mauser offenbar in der mexikanischen Monsunregion blieben und dafür einen längeren Stopp auf dem Herbstzug einlegten. Die Federn waren im Vergleich zu den vorhergesagten Brutgebiet-Isotopenwerten mit Deuterium-Isotopen angereichert und signifikant negativer als im Winter gewachsene Krallen, was bestätigt, dass die Mauser irgendwo zwischen Brut- und Überwinterungsgebiet erfolgte. Die stabilen Isotopdaten standen mit einer kompletten Postnuptialmauser im Rastgebiet bei Adulttieren und einer kompletten Konturfeder- und variablen Schwanzfedermauser bei einjährigen Tieren im Einklang. Unsere Ergebnisse bestätigen, dass diese nördliche Population von Bullocktrupialen einen Mauserzug machen, und unterstreichen die Nützlichkeit einer Kombination von Geolokatorstudien und stabilen Isotopenanalysen.
Access options
Buy single article
Instant access to the full article PDF.
US$ 39.95
Tax calculation will be finalised during checkout.
Subscribe to journal
Immediate online access to all issues from 2019. Subscription will auto renew annually.
US$ 79
Tax calculation will be finalised during checkout.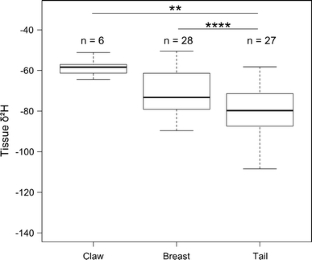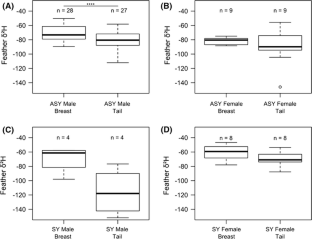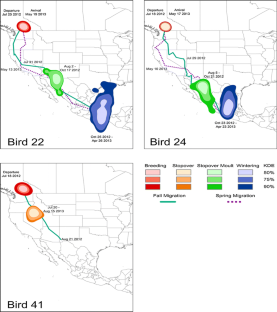 References
Barta Z, McNamara JM, Houston AI, Weber TP, Hedenström A, Feŕό O (2008) Optimal moult strategies in migratory birds. Philos Trans R Soc B 363:211–229

Bearhop S, Hilton GM, Votier SC, Waldron S (2004) Stable isotope ratios indicate that body condition in migrating passerines is influenced by winter habitat. Proc R Soc B 271:215–218

Bowen GJ, Revenaugh J (2003) Interpolating the isotopic composition of modern meteoric precipitation. Water Resour Res 39:1299

Bridge ES, Thorup K, Bowlin MS, Chilson PB, Diehl RH, Fléron RW, Hartl P, Kays R, Kelly JF, Robinson WD (2011a) Technology on the move: recent and forthcoming innovations for tracking migratory birds. Bioscience 61:689–698

Bridge ES, Fudickar AM, Kelly JF, Contina A, Rohwer S (2011b) Causes of bimodal stable isotope signatures in the feathers of a molt-migrant songbird. Can J Zool 89:951–959

Butcher GS (1991) Mate choice in female northern orioles with a consideration of the role of the black male coloration in female choice. Condor 93:82–88

Chambers M, David G, Ray C, Leitner B, Pyle P (2011) Habitats and conservation of molt-migrant birds in Southeastern Arizona. Southwest Nat 56:204–211

Comrie AC, Glenn EC (1998) Principal components-based regionalization of precipitation regimes across the southwest United States and northern Mexico, with an application to monsoon precipitation variability. Clim Res 10:201–215

Contina A, Bridge ES, Seavy NE, Duckles JM, Kelly JF (2013) Using geologgers to investigate bimodal isotope patterns in painted buntings (Passerina ciris). Auk 130:265–272

de la Hera I, Díaz JA, Pérez-Tris J, Luis Tellería J (2009) A comparative study of migratory behaviour and body mass as determinants of moult duration in passerines. J Avian Biol 40:461–465

Delmore KE, Fox JW, Irwin DE (2012) Dramatic intraspecific differences in migratory routes, stopover sites and wintering areas, revealed using light-level geolocators. Proc R Soc B 279:4582–4589

Ethier DM, Kyle CJ, Kyser TK, Nocera JJ (2010) Variability in the growth patterns of the cornified claw sheath among vertebrates: implications for using biogeochemistry to study animal movement. Can J Zool 88:1043–1051

Fudickar AM, Wikelski M, Partecke J (2011) Tracking migratory songbirds: accuracy of light-level loggers (geolocators) in forest habitats. Methods Ecol Evol 3:47–52

Gonzalez-Prieto AM, Hobson KA, Bayly NJ, Gomez C (2011) Geographic origins and timing of fall migration of the veery in northern Columbia. Condor 113:860–868

Hallworth MT, Studds CE, Sillett TS, Marra PP (2013) Do archival light-level geolocators and stable hydrogen isotopes provide comparable estimates of breeding-ground origin? Auk 130:273–282

Heckscher CM, Taylor SM, Fox JW, Afanasyev V (2011) Veery (Catharus fuscescens) wintering locations, migratory connectivity, and a revision of its winter range using geolocator technology. Auk 128:531–542

Hobson KA (2008) Isotopic methods to track animal movements. In: Hobson KA, Wassenaar LI (eds) Tracking animal migration with stable isotopes. Elsevier, London, pp 45–78

Hobson KA, Aubry Y, Wassenaar LI (2004) Migratory connectivity in Bicknell's thrush: locating missing populations with hydrogen isotopes. Condor 106:905–909

Hobson KA, Van Wilgenburg SL, Wassenaar LI, Larson K (2012) Linking hydrogen (δ2H) isotopes in feathers and precipitation: sources of variance and consequences for assignment to isoscapes. PLoS One 7:e35137

Hutto RL (1998) On the importance of stopover sites to migrating birds. Auk 115:823–825

Kelly JF, Atudorei V, Sharp ZD, Finch DM (2002) Insights into Wilson's warbler migration from analyses of hydrogen stable-isotope ratios. Oecologia 130:216–221

Langin KM, Reudink MW, Marra PP, Norris DR, Kyser TK, Ratcliffe LM (2007) Hydrogen isotopic variation in migratory bird tissues of known origin: implications for geographic assignment. Oecologia 152:449–457

Leu M, Thompson CW (2002) The potential importance of migratory stopover sites as flight feather molt staging areas: a review for neotropical migrants. Biol Conserv 106:45–56

Lindstrom A, Visser GH, Daan S (1993) The energetic cost of feather synthesis is proportional to basal metabolic rate. Physiol Zool 66:490–510

Marra PP, Hobson KA, Holmes RT (1998) Linking winter and summer events in a migratory bird by using stable-carbon isotopes. Science 282:1884–1886

Meehan TD, Giermakowski JT, Cryan PM (2004) GIS-based model of stable hydrogen isotope ratios in North American growing-season precipitation for use in animal movement studies. Isot. Environ. Healt. S. 40:291–300

Newton I (2011) Migration within the annual cycle: species, sex and age differences. –. J Ornithol 152:169–185

Paxton KL, Van Riper C III, Theimer TC, Paxton EH (2007) Spatial and temporal migration patterns of Wilson's Warbler (Wilsonia pusilla) in the Southwest as revealed by stable isotopes. Auk 124:162–175

Pérez GE, Hobson KA (2007) Feather deuterium measurments reveal origins of migratory western Loggerhead Shrikes (Lanius ludovicianus excubitorides) wintering in Mexico. Divers Distrib 13:166–171

Pyle P (1997) Identification guide to North American birds. Part 1: Columbidae to Ploceidae. Slate Creek Press, Point Reyes Station

Pyle P (2008) Identification guide to North American birds. Part II Anatidae to Alcidae. Slate Creek Press, Point Reyes Station

Pyle P, Leitner WA, Lozano-Angulo L, Avilez-Teran F, Swanson H, Limón EG, Chambers MK (2009) Temporal, spatial, and annual variation in the occurrence of molt-migrant passerines in the Mexican monsoon region. Condor 111:583–590

Quinlan SP, Green DJ (2011) Variation in deuterium (δD) values of yellow warbler Dendroica petechia feathers grown on breeding and wintering grounds. J Ornithol 152:93–101

Renfrew RB, Kim D, Perlut N, Fox J, Marra PP (2013) Phenological matching across hemispheres in a long-distance migratory bird. Divers Distrib 19:1008–1019

Reudink MW, Marra PP, Kyser TK, Boag PT, Langin KM, Ratcliffe LM (2009) Non-breeding season events influence sexual selection in a long-distance migratory bird. Proc R Soc B 276:1619–1626

Rising JD, Williams PL (1999) Bullock's oriole (Icterus bullockii). In: Poole A, Gills F (eds) The birds of North America online. Cornell Lab of Ornithology, Ithaca

Rohwer S, Manning J (1990) Differences in timing and number of molts for Baltimore and Bullock's orioles: implications to hybrid fitness and theories of delayed plumage maturation. Condor 92:125–140

Rohwer S, Butler LK, Froehlich DR, Greenberg R, Marra PP (2005) Ecology and demography of east–west differences in molt scheduling of Neotropical migrant passerines. In: Greenberg R, Marra PP (eds) Birds of two worlds: the ecology and evolution of migration. Johns Hopkins University Press, Baltimore, pp 87–105

Rohwer VG, Rohwer S, Ortiz-Ramirez MF (2009) Molt biology of resident and migrant birds of the monsoon region of west Mexico. Ornitologia Neotropical. 20:565–584

Rubenstein DR, Hobson KA (2004) From birds to butterflies: animal movement patterns and stable isotopes. Trends Ecol Evol 19:256–263

Ryder TB, Fox JW, Marra PP (2011) Estimating migratory connectivity of gray catbirds (Dumetella carolinensis) using geolocator and mark-recapture data. Auk. 128:448–453

Smith AD, Donohue K, Dufty AM Jr (2008) Intrafeather and intraindividual variation in the stable-hydrogen isotope (δD) content of raptor feathers. Condor. 110:500–506

Stutchbury BJ, Tarof SA, Done T, Gow E, Kramer PM, Tautin J, Fox JW, Afanasyev V (2009) Tracking long-distance songbird migration by using geolocators. Science 323:896–896

Svensson E, Hendenström A (1999) A phylogenetic analysis of the evolution of moult strategies in Western Palearctic warblers (Aves: Sylviidae). Biol. Jour. Linn. Soc. 67:263–276

Wassenaar LI (2008) An introduction to light stable isotopes for use in terrestrial animal migration studies. In: Hobson KA, Wassenaar LI (eds) Tracking animal migration with stable isotopes. Elsevier, London, pp 21–44

Wassenaar LI, Hobson KA (2000) Stable-carbon and hydrogen isotope ratios reveal breeding origins of red-winged blackbirds. Ecol Appl 10:911–916

Wassenaar LI, Hobson KA (2003) Comparative equilibration and online technique for determination of non-exchangeable hydrogen of keratins for use in animal migration studies. Isot Environ Health Stud 39:211–217
Acknowledgments
We would like to thank D. Carlyle-Moses, and D. Green for insightful comments and suggestions on this manuscript. We would also like to thank S. Joly, O. Greaves, and J. Crawford for field assistance on this project and C. France for assistance with stable isotope analysis. Thank you also to the Dreger family, the owners of the Knutsford Campground and T. McLeod at Tranquille on the Lake for access to study sites and the Kamloops Naturalists Club for information on oriole locations. Funding was provided by a Natural Sciences and Engineering Research Council Discovery Grant to M. W. R. and a Natural Sciences and Engineering Research Council Canada Graduate Scholarship to A. G. P.
Additional information
Communicated by C. G. Guglielmo.
Electronic supplementary material
Below is the link to the electronic supplementary material.
About this article
Cite this article
Pillar, A.G., Marra, P.P., Flood, N.J. et al. Moult migration in Bullock's orioles (Icterus bullockii) confirmed by geolocators and stable isotope analysis. J Ornithol 157, 265–275 (2016). https://doi.org/10.1007/s10336-015-1275-5
Received:

Revised:

Accepted:

Published:

Issue Date:
Keywords
Bullock's oriole

Icterus bullockii

Stable isotope

Geolocator

Moult migration