Abstract
Long-distance dispersal plays a critical role in population dynamics, particularly in species that occupy fragmented habitats, but it is seldom detected and investigated. The pelagic seabird Swinhoe's Storm-petrel, Oceanodroma monorhis, breeds exclusively in the NW Pacific. Individuals have been regularly observed in the Atlantic Ocean since the 1980s, but breeding has never been confirmed. In this study, we searched for evidence of breeding of Swinhoe's Storm-petrels on Selvagem Grande Island, NE Atlantic, between 2007 and 2013. During this period, six individuals were captured, sexed and characterized molecularly for two mitochondrial loci, cytochrome oxydase I and the control region, to confirm species identity, survey genetic diversity and estimate evolutionary relationships within the Hydrobatinae. These individuals were confirmed to be Swinhoe's Storm-petrels, and all except one are females. Phylogenetic analyses suggest sister relationship with Matsudaira's Storm-petrel and dismiss misidentifications with other dark rump species. Patterns of genetic variation suggest that dispersal occurred likely by more than a single female. Despite the record of a pair duetting in a burrow, breeding could not be confirmed. Swinhoe's Storm-petrels are regularly occurring at Selvagem Grande, but capture/recapture patterns suggest that a possible breeding population is small and likely not self-sustaining. In seabirds, long-distance dispersal events may facilitate colonization of new habitats created in the context of predicted climate change impacts on the marine ecosystems.
Zusammenfassung
Auf der Suche nach einer Brutpopulation des Swinhoewellenläufers (Oceanodroma monorhis) auf Selvagem Grande im Nordost-Atlantik mithilfe molekularer Charakterisierung dort vorkommender Vögel und ihres Verwandtschaftsgrads innerhalb der Hydrobatinae-Unterfamilie Verbreitung über weite Entfernungen spielt in der Populationsdynamik eine herausragende Rolle, besonders bei Arten, die voneinander getrennte Habitate besetzen; dennoch wird diese Verbreitung nur selten beobachtet und untersucht. Der pelagisch lebende Swinhoewellenläufer (Oceanodroma monorhis) brütet ausschließlich im Nordwest-Pazifik, einzelne Individuen wurden aber seit den 1980er Jahren regelmäßig auch im Atlantik beobachtet, wobei ein Brüten jedoch nie bestätigt werden konnte. Wir suchten von 2007 bis 2013 auf Selvagem Grande, einer Insel im Nordost-Atlantik, nach Nachweisen für brütende Swinhoewellenläufer. In dieser Zeit fingen wir sechs Einzeltiere, machten eine Geschlechtsbestimmung und charakterisierten sie molekular anhand zweier mitochondrialer Loci, Cytochrome Oxydase I und einer Kontrollregion, um ihre Art zu bestimmen, Aussagen über ihre genetische Vielfalt machen zu können und ihren evolutionären Verwandtschaftsgrad mit den Hydrobatinen einzuschätzen. Alle Tiere waren Swinhoewellenläufer und bis auf eines allesamt Weibchen. Phylogenetische Analysen zeigten eine Geschwisterverwandtschaft mit den Matsudaraiwellenläufern und schlossen eine mögliche Fehl-Identifizierung als andere Art mit dunklem Rumpf aus. Die Muster der genetischen Variationen wiesen darauf hin, dass die Verbreitung vermutlich auf mehr als einem einzigen Weibchen beruhte. Trotz des aufgezeichneten Duettgesangs eines Pärchens in einem Erdloch konnte jedoch keine Brut festgestellt werden. Swinhoewellenläufer tauchen regelmäßig auf Selvagem Grande auf, die Muster der Widerfänge weisen aber darauf hin, dass eine mögliche Brutpopulation nur klein und nicht selbsterhaltend sein kann. Bei Meeresvögeln mag eine Verbreitung über weite Entfernungen hinweg die Kolonisierung neuer Habitate erleichtern, die sich im Zusammenhang mit den vorhergesagten Klimaänderungen und deren Auswirkungen auf die marinen Ökosysteme bilden.
Access options
Buy single article
Instant access to the full article PDF.
USD 39.95
Price excludes VAT (USA)
Tax calculation will be finalised during checkout.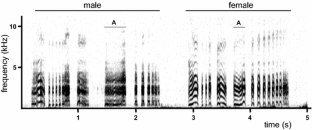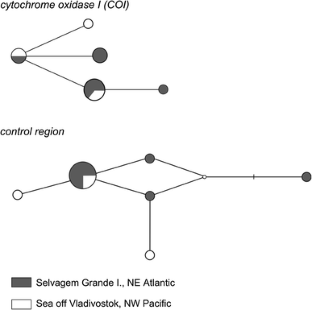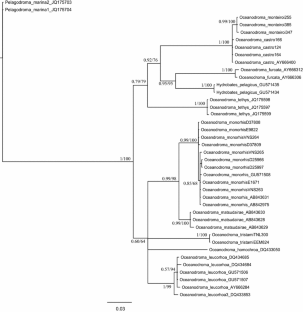 References
Bandelt HJ, Forster P, Röhl A (1999) Median-joining networks for inferring intraspecific phylogenies. Mol Biol Evol 16:37–48

BirdLife International 2014. Hydrobates monorhis. The IUCN Red List of Threatened Species. Version 2014.2. www.iucnredlist.org. Downloaded on 13 May 2014

Bourne WRP (1967) Long-distance vagrancy in the petrels. Ibis 109:141–167

Bretagnolle V, Carruthers M, Cubitt M, Bioret F, Cuillandre J-P (1991) Six captures of a dark-rumped, fork-tailed Storm-petrel in the northeast Atlantic. Ibis 133:351–356

Brooke M (2004) Albatrosses and Petrels across the World. Oxford University Press, Oxford

Cubitt M (1995) Swinhoe's Storm-petrels at Tynemouth: new to Britain and Ireland. Brit Birds 88:342–348

Dawson RJG, Parkin DT, Cubitt M, Won P-O, Zino FJ (1995) DNA amplication and sequencing of unidentified dark-rumped Oceanodroma Storm-petrels (Aves) in the North Atlantic Ocean. Bol. Museu Municipal Funchal, Supl. 4:201–210

Del Hoyo J, Elliott A, Sargatal J (2001) Handbook of the birds of the world, vol 1. Lynx Edicions, Barcelona

Flood RL (2009) 'All-dark' Oceanodroma Storm-petrels in the Atlantic and neighbouring seas. Brit Birds 102:365–385

Fridolfsson A-K, Ellegren H (1999) A simple and universal method for molecular sexing of non-ratite birds. J Avian Biol 30:116–120

Girvan MK, Jones J, Norris DR, Barg JJ, Kyser TK, Robertson RJ (2007) Long-distance dispersal patterns of male cerulean warblers (Dendroica cerulean) measured by stable-hydrogen isotopes. Avian Conserv Ecol 2:3

Hales S, Vaughan J (2003) Dark-rumped Oceanodroma Storm-petrels in the central Atlantic Ocean. Atl Seab 5:85–86

Hansen JW (2000) Mauerwerk auf Selvagem Grande (Portugal)–Beschreibung und bauliche Würding. Almogaren (Inst Canarium) 31:207–222

Hebert PDN, Stoeckle MY, Zemlak TS, Francis CM (2004) Identification of birds through DNA barcodes. PLoS Biol 2:1657–1663

James P, Robertson HA (1985) First record of Swinhoe's Storm Petrel Oceanodroma monorhis in the Atlantic Ocean. Ardea 73:105–106

Johnsen A, Rindal E, Ericson PGP, Zuccon D, Kerr KCR, Stoeckle MY, Lifjeld JT (2010a) DNA barcoding of Scandinavian birds reveals divergent lineages in trans-Atlantic species. J Ornithol 151:565–578

Johnsen A, Rindal E, Ericson PGP, Zuccon D, Kerr KCR, Stoeckle MY, Lifjeld JT (2010b) DNA barcoding of Scandinavian birds reveals divergent lineages in trans-Atlantic species. J Ornithol 151:565–578

Maddison WP, Maddison DR (2010) Mesquite: a modular system for evolutionary analysis. Version 2.74. http://mesquiteproject.org

Matias R, Catry P (2010) The diet of Atlantic Yellow-legged Gulls (Larus michaellis atlantis) at an oceanic seabird colony: estimating predatory impact upon breeding petres. Eur J Wild Res 56:861–869

Matthiopoulos J, Harwood J, Thomas L (2005) Metapopulation consequences of site fidelity for colonially breeding mammals and birds. J Anim Ecol 74:716–727

Miles WTS, Collinson JM, Parnaby D, Cope R (2014) An analysis of biometrics, vocalizations and DNA of two Swinhoe's Storm-petrels trapped on Fair Isle in 2013. Brit Birds 107:654–656

Patteson JB, Howell SNG, Sutherland K (2009) Swinhoe's Storm-petrel (Oceanodroma monorhis) off North Carolina. N Amer Birds 62:518–520

Penhallurick J, Wink M (2004) Analysis of the taxonomy and nomenclature of the Procellariiformes based on complete nucleotide sequences of the mitochondrial cytochrome b gene. Emu 104:125–147

Richardson AJ, Schoeman DS (2004) Climate impact on plankton ecosystemsin the Northeast Atlantic. Science 305:1609–1612

Robb M, Mullarney K, Approach The Sound (2008) Petrels night and day. The Sound Approach, Dorset

Robertson BC, Stephenson BM, Goldstien SJ (2011) When rediscovery is not enough: Taxonomic uncertainty hinders conservation of a critically endangered bird. Mol Phyl Evol 61:949–952

Ronquist F, Huelsenbeck JP (2003) MrBayes3: Bayesian phylogenetic inference under mixed models. Bioinform. 19:1572–1574

Saitoh T, Sugita N, Someya S, Iwami Y, Kobayashi S, Kamigaichi H, Higuchi A, Asai S, Yamamoto Y, Nishiumi I. DNA barcoding reveals 24 distinct lineages as cryptic bird species candidates in and around the Japanese archipelago. Mol Ecol Res(2013)

Sato F, Karino K, Oshiro A, Sugawa H, Hirai M (2010) Breeding of Swinhoe's Storm-petrel Ocandodroma monorhis in the Kutsujima islands, Kyoto, Japan. Mar Ornithol 38:133–136

Smith AL, Monteiro L, Hasegawa O, Friesen VL (2007) Global phylogeography of the Band-rumped Storm-petrel (Oceanodroma castro; Procellariiformes: Hydrobatidae). Mol Phyl Evol 43:755–773

Stamatakis A, Hoover P, Rougemont J (2008) A rapid bootstrap algorithm for the RAxML web-servers. Syst Biol 75:758–771

Taoka M, Won P-O, Okumura H (1989) Vocal behavior of Swinhoe's Storm-petrel (Oceanodroma monorhis). Auk 106:471–474
Acknowledgments
Thanks are due to S. Birks from the Burke Museum, University of Washington, for help obtaining tissue samples and to C. Fernandes for helpful discussions. This work was financed by Fundação para a Ciência e a Tecnologia (FCT), Portugal, through research projects PTDC/BIA-BDE/100118/2008, PTDC/MAR/121071/2010, Pest-OE/MAR/UI0331/2013 and UID/AMB/50017/2013. Thanks are due to the Serviço do Parque Natural da Madeira for their permission to undertake the work at the Selvagem Grande Island. T. Catry, M. Dias, C. Pérez, P. Lourenço, H. Alonso and other researchers helped searching and catching petrels in the Selvagens, and their effort is gratefully acknowledged. MCS was supported by the post-doctoral fellowship SFRH/BPD/85700/2012 from FCT. The blood samples were collected with the permission of the Parque Natural da Madeira, and the work complied with current Portuguese laws.
About this article
Cite this article
Silva, M.C., Matias, R., Ferreira, V. et al. Searching for a breeding population of Swinhoe's Storm-petrel at Selvagem Grande, NE Atlantic, with a molecular characterization of occurring birds and relationships within the Hydrobatinae. J Ornithol 157, 117–123 (2016). https://doi.org/10.1007/s10336-015-1257-7
Received:

Revised:

Accepted:

Published:

Issue Date:

DOI: https://doi.org/10.1007/s10336-015-1257-7
Keywords
Oceanodroma monorhis

Selvagem Grande

Long-distance dispersal

COI

Control region

Hydrobatinae