Abstract
Small-sized nocturnal Procellariiformes are abundant predators in oceanic areas worldwide and are thought to play an important role in many marine food webs as consumers of superabundant mesopelagic prey. However, the spatial ecology and foraging behaviour of the great majority of these species remain largely unknown. We studied the non-breeding distribution and at-sea activity of a migratory small-sized Procellariiform, the Bulwer's petrels Bulweria bulwerii, from the Selvagem Island colony (subtropical Northeast Atlantic). We found that soon after breeding Bulwer's petrels migrate towards deep (mean depth of 4416 m), open oceanic waters of the tropical Atlantic, spending the winter far from shelf and shelf-break areas, on regions avoided by most other avian migrants in the Atlantic. When at sea, Bulwer's petrels spent more time flying during the night (>90 %, all year round) than any other seabird studied so far. This nighttime activity was not influenced by the lunar cycle, suggesting that this highly specialised nocturnal seabird is probably very well adapted to locating and capturing prey even in very dark conditions. The results from the present study may have important implications for the identification of important bird areas in the marine realm, whose boundaries have been delineated so far mostly on the basis of the distribution and behaviour of better studied medium- to large-sized seabirds.
Zusammenfassung
Wanderer über der Tiefsee: Zugverhalten und Verbreitung des hochgradig pelagischen Bulwersturmvogels
Kleine nachtaktive Röhrennasenarten (Procellariiformes) sind häufige Prädatoren ozeanischer Lebensräume weltweit und spielen als Konsumenten der reichlichst vorhandenen mesopelagischen Beutetiere vermutlich eine wichtige Rolle in vielen marinen Nahrungsnetzen. Allerdings sind die Raumnutzungsökologie und das Nahrungssuchverhalten der allermeisten dieser Arten noch weitestgehend unbekannt. Wir untersuchten die Verbreitung außerhalb der Brutzeit sowie die Aktivität auf See bei einer ziehenden kleinen Röhrennasenart, dem Bulwersturmvogel Bulweria bulwerii, anhand der Kolonie auf der Insel Selvagem (Portugal) im subtropischen Nordostatlantik. Wir stellten fest, dass die Bulwersturmvögel kurz nach dem Ende der Brutzeit zu tiefen (mittlere Tiefe 4.416 m), offenen ozeanischen Gewässern des tropischen Atlantiks aufbrechen und den Winter fern von Schelf- und Schelfrandbereichen verbringen, in Gebieten, die von den meisten anderen Zugvögeln des Atlantiks gemieden werden. Waren sie über dem Meer, verbrachten die Bulwersturmvögel mehr Zeit mit nächtlichen Flügen (ganzjährig >90 %) als alle anderen bislang untersuchten Seevögel. Diese nächtliche Aktivität wurde nicht von der Mondphase beeinflusst, was nahelegt, dass dieser hochspezialisierte nachtaktive Seevogel vermutlich sehr gut daran angepasst ist, seine Beute selbst unter sehr dunklen Bedingungen zu entdecken und zu fangen. Die Ergebnisse der vorliegenden Studie könnten weitreichende Konsequenzen für die Ausweisung von Vogelschutzgebieten (Important Bird Areas, IBAs) im marinen Bereich haben, deren Grenzen bisher hauptsächlich auf der Grundlage von Verbreitung und Verhalten der besser untersuchten mittelgroßen bis großen Seevögel festgelegt wurden.
Access options
Buy single article
Instant access to the full article PDF.
USD 39.95
Price excludes VAT (USA)
Tax calculation will be finalised during checkout.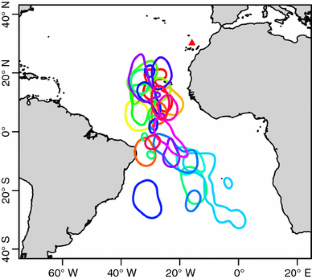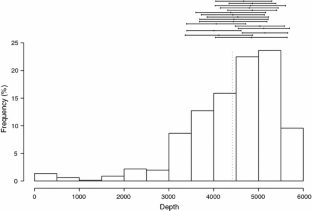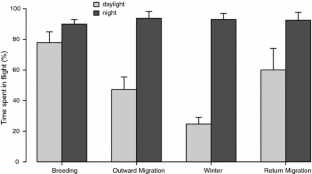 References
BirdLife International (2010) Marine important bird areas toolkit: standardised techniques for identifying priority sites for the conservation of seabirds at sea. BirdLife International, Cambridge

Block BA, Jonsen ID, Jorgensen SJ, Winship AJ, Shaffer SA, Bograd SJ, Hazen EL, Foley DG, Breed GA, Harrison AL, Ganong JE, Swithenbank A, Castleton M, Dewar H, Mate BR, Shillinger GL, Schaefer KM, Benson SR, Weise MJ, Henry RW, Costa DP (2011) Tracking apex marine predator movements in a dynamic ocean. Nature 475:86–90. doi:10.1038/nature10082

Burger AE, Shaffer SA (2008) Application of tracking and data-logging technology in research and conservation of seabirds. Auk 125:253–264. doi:10.1525/auk.2008.1408

Carvalho AT (2012) Ecologia alimentar de duas aves pelágicas das Ilhas Selvagens. Dissertation, University of Lisbon

Catry P, Dias MP, Phillips RA, Granadeiro JP (2013) Carry-over effects from breeding modulate the annual cycle of a long-distance migrant: an experimental demonstration. Ecology 94:1230–1235. doi:10.1890/12-2177.1

Catul V, Gauns M, Karuppasamy PK (2011) A review on mesopelagic fishes belonging to family Myctophidae. Rev Fish Biol Fish 21:339–354. doi:10.1007/s11160-010-9176-4

Croxall JP, Butchart SHM, Lascelles B, Stattersfield AJ, Sullivan B, Symes A, Taylor P (2012) Seabird conservation status, threats and priority actions: a global assessment. Bird Cons Int 22:1–34. doi:10.1017/S0959270912000020

Dias MP, Granadeiro JP, Phillips RA, Alonso H, Catry P (2011) Breaking the routine: individual Cory's shearwaters shift winter destinations between hemispheres and across ocean basins. Proc R Soc B 278:1786–1793. doi:10.1098/rspb.2010.2114

Dias MP, Granadeiro JP, Catry P (2012a) Do seabirds differ from other migrants in their travel arrangements? On route strategies of Cory's shearwater during its trans-equatorial journey. PLoS One 7:e49376. doi:10.1371/journal.pone.0049376

Dias MP, Granadeiro JP, Catry P (2012b) Working the day or the night shift? Foraging schedules of Cory's shearwaters vary according to marine habitat. Mar Ecol Prog Ser 467:245–252. doi:10.3354/meps09966

Dias MP, Granadeiro JP, Catry P (2013) Individual variability in the migratory path and stopovers of a long-distance pelagic migrant. Anim Behav 86:359–364. doi:10.1016/j.anbehav.2013.05.026

Felicísimo AM, Munõz J, González-Solís J (2008) Ocean surface winds drive dynamics of transoceanic aerial movements. PLoS One 3:e2928. doi:10.1371/journal.pone.0002928

Gjøsaeter J, Kawaguchi K (1980) A review of the world resources of mesopelagic fish. FAO Fish Tech Pap 193:1–51

Guilford T, Meade J, Willis J, Phillips RA, Boyle D, Roberts S, Collett M, Freeman R, Perrins CM (2009) Migration and stopover in a small pelagic seabird, the Manx shearwater Puffinus puffinus: insights from machine learning. Proc R Soc B276:1215–1223. doi:10.1098/rspb.2008.1577

Guinet C, Cherel Y, Ridoux V, Jouventin P (1996) Consumption of marine resources by seabirds and seals in Crozet and Kerguelen waters—changes in relation to consumer biomass 1962–65. Antarc Sci 8:23–30. doi:10.1017/S0954102096000053

Harrison P (1983) Seabirds, an identification guide. Houghton Mifflin, Boston

Harrison CS, Hida TS, Seki MP (1983) Hawaiian seabird feeding ecology. Wildl Monogr 85:1–71

Hedd A, Montevecchi WA, Otley H, Phillips RA, Fifield D (2012) Trans-equatorial migration and habitat use by sooty shearwaters Puffinus griseus from the South Atlantic during the nonbreeding season. Mar Ecol Prog Ser 449:277–290. doi:10.3354/meps09538

Kopp M, Peter H-U, Mustafa O, Lisovski S, Ritz MS, Phillips RA, Hahn S (2011) South polar skuas from a single breeding population overwinter in different oceans though show similar migration patterns. Mar Ecol Prog Ser 435:263–267. doi:10.3354/meps09229

Kozlov AN (1995) A review of the trophic role of mesopelagic fish of the family Myctophidae in the Southern Ocean ecosystem. CCAMLR Sci 2:71–77

Lascelles BG, Langham GM, Ronconi RA, Reid JB (2012) From hotspots to site protection: identifying marine protected areas for seabirds around the globe. Biol Conserv 156:5–14. doi:10.1016/j.biocon.2011.12.008

Le Corre M, Jaeger A, Pinet P, Kappes M, Weimerskirch H, Catry T, Ramos J, Russell J, Shah N, Jaquemet S (2012) Tracking seabirds to identify potential marine protected areas in the tropical western Indian Ocean. Biol Conserv 156:83–93. doi:10.1016/j.biocon.2011.11.015

Mackley EK, Phillips RA, Silk JRD, Wakefield ED, Afanasyev V, Fox JW, Furness RW (2010) Free as a bird? Activity patterns of albatrosses during the nonbreeding period. Mar Ecol Prog Ser 406:291–303. doi:10.3354/meps08532

Mackley EK, Phillips RA, Silk JRD, Wakefield ED, Afanasyev V, Furness RW (2011) At-sea activity patterns of breeding and nonbreeding white-chinned petrels Procellaria aequinoctialis from South Georgia. Mar Biol 158:429–438. doi:10.1007/s00227-010-1570-x

Mougin J-L, Mougin MC (2000) Maximum diving depths for feeding attained by Bulwer's petrels (Bulweria bulwerii) during the incubation period. J Zool 250:75–77

Navarro J, Votier SC, Aguzzi J, Chiesa JJ, Forero MG, Phillips RA (2013) Ecological segregation in space, time and trophic niche of sympatric planktivorous petrels. PLoS One 8:e62897. doi:10.1371/journal.pone.0062897

Neves VC, Nolf D, Clarke MR (2011) Diet of Bulwer's petrel (Bulweria bulwerii) in the Azores, NE Atlantic. Waterbirds 34:357–362. doi:10.1675/063.034.0310

Nunes M, Vicente L (1998) Breeding cycle and nestling growth of Bulwer's petrel on the Desertas Islands, Portugal. Colon Waterbirds 21:198–204

Nybakken JW (2001) Marine biology, an ecological approach. Benjamin Cummings, San Francisco

Péron C, Delord K, Phillips RA, Charbonnier Y, Marteau C, Louzao M, Weimerskirch H (2010) Seasonal variation in oceanographic habitat and behaviour of white-chinned petrels Procellaria aequinoctialis from Kerguelen Island. Mar Ecol Prog Ser 416:267–284. doi:10.3354/meps08785

Phalan B, Phillips RA, Silk JRD, Afanasyev V, Fukuda A, Fox J, Catry P, Higuchi H, Croxall JP (2007) Foraging behaviour of four albatross species by night and day. Mar Ecol Prog Ser 340:271–286. doi:10.3354/meps340271

Phillips R, Silk J, Croxall J, Afanasyev V, Briggs D (2004) Accuracy of geolocation estimates for flying seabirds. Mar Ecol Progr Ser 266:265–272. doi:10.3354/meps266265

Pinet P, Jaeger A, Cordier E, Potin G, Le Corre M (2011) Celestial moderation of tropical seabird behavior. PLoS One 6:e27663. doi:10.1371/journal.pone.0027663

Pinto M (2013) Brooding behaviour and influence of moon cycle on chick provisioning in a pelagic seabird, the Bulwer's petrel (Bulweria bulwerii). Dissertation, University of Lisbon

Pollet IL, Hedd A, Taylor PD, Montevecchi WA, Shutler D (2014a) Migratory movements and wintering areas of Leach's storm-petrels tracked using geolocators. J Field Ornithol 85:321–328. doi:10.1111/jofo.12071

Pollet IL, Ronconi RA, Jonsen ID, Leonard ML, Taylor PD, Shutler D (2014b) Foraging movements of Leach's storm-petrels Oceanodroma leucorhoa during incubation. J Avian Biol 45:305–314. doi:10.1111/jav.00361

Quillfeldt P, McGil RAR, Furness RW, Möstlm E, Ludynia K, Masello JF (2012) Impact of miniature geolocation loggers on a small petrel, the thin-billed prion Pachyptila belcheri. Mar Biol 159:1809–1816

R Core Team (2012) R: a language and environment for statistical computing. R Foundation for Statistical Computing, Vienna

Ramírez I, Paiva VH, Menezes D, Silva I, Phillips RA, Ramos JA, Garthe S (2013) Year-round distribution and habitat preferences of the Bugio petrel. Mar Ecol Prog Ser 476:269–284. doi:10.3354/meps10083

Ramos R, Granadeiro JP, Nevoux M, Mougin J-L, Dias MP, Catry P (2012) Combined spatio-temporal impacts of climate and longline fisheries on the survival of a trans-equatorial marine migrant. PLoS One 7:e40822. doi:10.1371/journal.pone.0040822

Rayner MJ, Hauber ME, Steeves TE, Lawrence HA, Thompson DR, Sagar PM, Bury SJ, Landers TJ, Phillips RA, Ranjard L, Shaffer SA (2011) Contemporary and historical separation of transequatorial migration between genetically distinct seabird populations. Nat Commun 2:332. doi:10.1038/ncomms1330

Rayner MJ, Taylor GA, Gummer HD, Phillips RA, Sagar PM, Shaffer SA, Thompson DR (2012) The breeding cycle, year-round distribution and activity patterns of the endangered chatham petrel (Pterodroma axillaris). Emu 112:107–116. doi:10.1071/MU11066

Ronconi RA (2007) The spectacular migration of greater shearwaters. Birdwatch Can 39:4–7

Roper CFE, Young RE (1975) Vertical distribution of pelagic cephalopods. Smithson Contrib Zool 209:1–51

Sittler B, Aebischer A, Gilg O (2011) Post-breeding migration of four long-tailed skuas (Stercorarius longicaudus) from North and East Greenland to West Africa. J Ornithol 152:375–381. doi:10.1007/s10336-010-0597-6

Spear LB, Ainley DG, Walker WA (2007) Foraging dynamics of seabirds in the eastern tropical pacific ocean. Stud Avian Biol 35:1–99

Stenhouse IJ, Egevang C, Phillips RA (2012) Trans-equatorial migration, staging sites and wintering area of Sabine's Gulls Larussabini in the Atlantic Ocean. Ibis 154:42–51. doi:10.1111/j.1474-919X.2011.01180.x

Wakefield ED, Phillips RA, Matthiopoulos J (2009) Quantifying habitat use and preferences of pelagic seabirds using individual movement data: a review. Mar Ecol Prog Ser 391:165–182. doi:10.3354/meps08203

Weimerskirch H, Cherel Y, Delord K, Jaeger A, Patrick SC, Riotte-Lambert L (2014) Lifetime foraging patterns of the wandering albatross: life on the move! J Exp Mar Biol Ecol 450:68–78. doi:10.1016/j.jembe.2013.10.021

Yamamoto T, Takahashi A, Yoda K, Katsumata N, Watanabe S, Sato K, Trathan PN (2008) The lunar cycle affects at-sea behaviour in a pelagic seabird, the streaked shearwater, Calonectris leucomelas. Anim Behav 76:1647–1652. doi:10.1016/j.anbehav.2008.07.019

Zino F, Phillips RA, Biscoito M (2011) Zino's petrel movements at sea—a preliminary analysis of datalogger results. Bird World 24:216–219

Zino F, Phillips RA, Biscoito M (2013) Bulwer's petrel movements at sea—a preliminary analysis of data logger results from Selvagem Grande (30º09′N, 15º52′W). Bird World 26:79–81

Zonfrillo B (1986) Diet of Bulwer's petrel Bulweria bulwerii in the Madeiran Archipelago. Ibis 128:570–572
Acknowledgments
This study was funded by Fundação para a Ciência e a Tecnologia (FCT, Portugal) and the European Regional Development Fund through the PTDC/MAR/121071/2010 and PEst-OE/MAR/UI0331/2011 projects and a postdoctoral fellowship (MD; FCT-BPD/46827/08). Serviço do Parque Natural da Madeira (Paulo Oliveira, Dília Menezes, Carolina Santos, Jaques da Mata and Clemente Abreu) provided permission and logistic support to work on Selvagem Grande. Teresa Catry, Silke Waap, Hany Alonso, Letízia Campioni, Pedro Lourenço, Maria Pinto, Cristobal Pérez and Rui Rebelo helped with fieldwork.
All work was approved by the relevant authorities (Instituto da Conservação da Natureza e da Biodiversidade and Serviço do Parque Natural da Madeira; research permits 107/2006, 116/2007 and 107/2010/CAPT) and carried out in compliance with current Portuguese laws.
Additional information
Communicated by N. Chernetsov.
About this article
Cite this article
Dias, M.P., Alho, M., Granadeiro, J.P. et al. Wanderer of the deepest seas: migratory behaviour and distribution of the highly pelagic Bulwer's petrel. J Ornithol 156, 955–962 (2015). https://doi.org/10.1007/s10336-015-1210-9
Received:

Revised:

Accepted:

Published:

Issue Date:

DOI: https://doi.org/10.1007/s10336-015-1210-9
Keywords
At-sea activity

Bulwer's petrels

Migration

Procellariiformes

Seabirds