Abstract
The avian dawn chorus is a daily period of high song output performed predominantly during the breeding season. Dawn chorus performance varies at both the individual and species level. The many extrinsic factors that may relate to dawn chorus start times for different North American bird species have received little attention. In this study, we consider relationships between dawn chorus start times and ambient temperature, precipitation, cloud cover, lunar phase, and Julian date for six common bird species living in a northern temperate rural area. Overall, birds began singing earlier with full or third quarter moon (when moonlight is present at dawn) and with increasing temperature at nautical twilight, and birds began singing later with the presence of cloud cover and precipitation. Our results indicate that a different suite of environmental factors influenced the chorus start times of different species and to different degrees. Alder flycatchers begin singing earliest in this group of birds, followed by Song Sparrows, White-throated Sparrows, American Robins, Eastern Phoebes, and Black-capped Chickadees. This investigation reveals that extrinsic abiotic factors have a significant effect on the dawn chorus start times of north temperate birds, and represents the first comprehensive study of dawn chorus start time variation in North American birds.
Zusammenfassung
Variation im Beginn des Morgengesangs in einer Brutvogelgemeinschaft gemäßigter Zonen: Beziehungen mit Saisonalität, Wetter und Umgebungslicht
Der Morgengesang von Vögeln ist täglich eine Periode hoher Gesangsaktivität vorwiegend während der Brutzeit. Die Darbietung des Morgengesangs variiert sowohl auf dem Individuen- als auch auf dem Artniveau. Den vielen extrinsischen Faktoren, mit denen der Beginn des morgendlichen Gesangs verschiedener nordamerikanischer Vogelarten zusammenhängt, wurde wenig Beachtung geschenkt. In dieser Studie betrachten wir die Zusammenhänge zwischen dem Beginn des Morgengesangs und der Umgebungstemperatur, Niederschlag, Bewölkung, Mondphase und Julianisches Datum für sechs verbreitete Vogelarten in einem nördlichen gemäßigten ländlichen Gebiet. Insgesamt begannen die Vögel früher zu singen bei Voll- oder Dreiviertelmond (Mondlicht noch in der Dämmerung) und mit ansteigender Temperatur während der nautischen Dämmerung. Die Vögel begannen später zu singen bei Bewölkung und Niederschlag. Unsere Ergebnisse deuten darauf hin, dass unterschiedliche Umweltfaktoren den Gesangsbeginn verschiedener Arten in unterschiedlicher Weise beeinflussen. Erlentyrannen beginnen am frühestens mit dem Gesang, gefolgt von Singammer, Weißkehlammer, Wanderdrossel, Weißbauch-Phoebetyrann und Schwarzkopfmeise. Die Untersuchung zeigte, dass extrinsische abiotische Faktoren einen signifikanten Effekt auf den Beginn des Morgengesangs von Vögeln nördlicher gemäßigter Zonen haben. Diese Studie ist zudem die erste Umfassende zu Variationen im Beginn des Morgengesangs nordamerikanischer Vögel.
Access options
Buy single article
Instant access to the full article PDF.
US$ 39.95
Tax calculation will be finalised during checkout.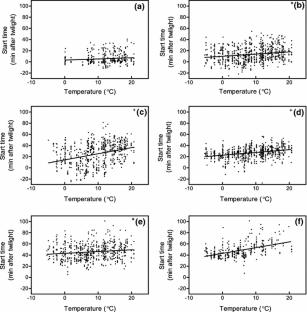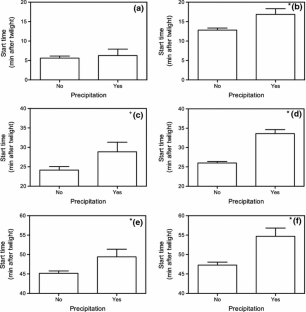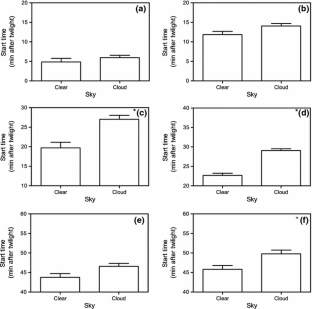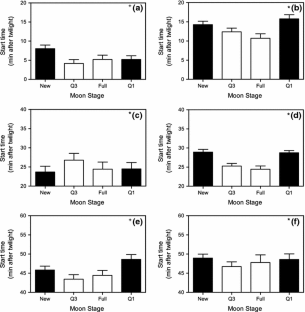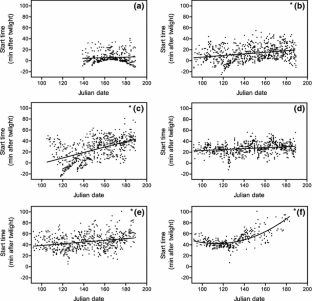 References
Allard HA (1930) The first morning song of some birds of Washington, D.C.; its relation to light. Am Nat 64:436–469

Allen FH (1913) More notes on the morning awakening. Auk 30:229–235

Alonso JA, Alonso JC, Veiga JP (1985) The influence of moonlight on the timing of roosting flights in Common Cranes Grus grus. Ornis Scand 16:314–318

Arcese P, Sogge MK, Marr AB, Patten MA (2002) Song Sparrow (Melospiza melodia). In: Poole A (Ed) The Birds of North America Online. Cornell Lab of Ornithology, Ithaca. Retrieved from the Birds of North America. doi:10.2173/bna.704

Aström G (1976) Environmental influence on daily song activity of the reed bunting Emberiza schoeniclus. Zoon Suppl 2:1–82

Bale J, Masters G, Hodkinson I et al (2002) Herbivory in global climate change research: direct effects of rising temperature on insect herbivores. Glob Change Biol 8:1–16

Barnett CA, Briskie JV (2007) Energetic state and the performance of dawn chorus in silvereyes (Zosterops lateralis). Behav Ecol Sociobiol 61:579–587

Berg KS, Brumfield R, Apanius V (2006) Phylogenetic and ecological determinants of the neotropical dawn chorus. P Roy Soc B-Biol Sci 273:999–1005

Brown RG (1962) The behaviour of the Willow Warbler (Phylloscopus trochilus) in continuous daylight. Ibis 105:63–75

Burt JM, Vehrencamp SL (2005) Dawn chorus as an interactive communication network. Animal communication network. In: McGregor PK (ed) Animal communication networks. Cambridge University Press, Cambridge, pp 320–343

Davis J (1958) Singing behavior and the gonad cycle of the Rufous-sided Towhee. Condor 60:308–336

Falls JB, Kopachena JG (2010) White-throated Sparrow (Zonotrichia albicollis). In: Poole A (ed) The Birds of North America Online. Cornell Lab of Ornithology, Ithaca. Retrieved from the Birds of North America. doi:10.2173/bna.128

Foote JR, Mennill DJ, Ratcliffe LM, Smith SM (2010) Black-capped Chickadee (Poecile atricapillus). In: Poole A (ed) The Birds of North America Online. Cornell Lab of Ornithology, Ithaca. Retrieved from the Birds of North America. doi:10.2173/bna.39

Garson PJ, Hunter ML (1979) Effects of temperature and time of year on the singing behaviour of Wrens Troglodytes troglodytes and Great Tits Parus major. Ibis 121:481–487

Gil D, Gahr M (2002) The honesty of bird song: multiple constraints for multiple traits. Trends Ecol Evol 17:133–141

Gottlander K (1987) Variation in the song rate of the male pied flycatcher Ficadula hypoleuca: causes and consequences. Anim Behav 35:1037–1043

Graham E, Mulkey S, Kitajima K, Phillips N, Wright S (2003) Cloud cover limits net CO2 uptake and growth of a rainforest tree during tropical rainy seasons. P Natl Acad Sci USA 100:572–576

Hasan N (2010) The effect of environmental conditions on start of dawn singing of blackbirds (Turdus merula) and Bulbuls (Pyconotidae). Jordan J Biol Sci 3:13–16

Henwood K, Fabrick A (1979) A quantitative analysis of the dawn chorus: temporal selection for communicatory optimization. Am Nat 114:260–274

Holmes WG, Dirks SJ (1978) Daily song patterns in Golden-crowned Sparrows at 62° N latitude. Condor 80:92–94

Julien-Laferrière D (1997) The influence of moonlight on activity of woolly opossums (Caluromys philander). J Mammal 78:251–255

Keast A (1994) Temporal vocalization patterns in members of a eucalypt forest bird community: the effects of weather on song production. Emu 94:172–180

Kempenaers B, Borgström P, Loës P, Schlicht E, Valcu M (2010) Artificial night lighting affects dawn song, extra-pair siring success, and lay date in songbirds. Current Biol 20:1735–1739

La VT (2012) Diurnal and nocturnal birds vocalize at night: a review. Condor 114:245–257

Leopold A, Eynon AE (1961) Avian daybreak and evening song in relation to time and light intensity. Condor 63:269–293

Link A, Galvis N, Fleming E, Di Fiore A (2011) Patterns of mineral lick visitation by spider monkeys and howler monkeys in Amazonia: are licks perceived as risky areas? Am J Primatol 73:386–396

Liu WC (2004) The effect of neighbours and females on dawn and daytime singing behaviours by male chipping sparrows. Anim Behav 68:39–44

Lowther PE (1999) Alder Flycatcher (Empidonax alnorum). In: Poole A (ed) The Birds of North America Online. Cornell Lab of Ornithology, Ithaca. Retrieved from the Birds of North America. doi:10.2173/bna.446

Mace RH (1987) Why do birds sing at dawn? Ardea 75:123–132

McNeil R, McSween A, Lachapelle P (2005) Comparison of the retinal structure and function in four bird species as a function of the time they start singing. Brain Behav Evol 62:202–214

Miller MW (2006) Apparent effects of light pollution on singing behavior of American Robins. Condor 108:130–139

Otter K, Chruszcz B, Ratcliffe L (1992) Honest advertisement and song output during the dawn chorus of black-capped chickadees. Behav Ecol 8:167–173

Pépin D, Fouquet M (1992) Factors affecting the incidence of dawn calling in red-legged and grey partridges. Behav Process 26:167–176

Poesel A, Kunc HP, Foerster F, Johnsen A, Kempenaers B (2006) Early birds are sexy: male age, dawn song and extrapair paternity in blue tits, Cyanistes (formerly Parus) caeruleus. Anim Behav 72:531–538

Russell HN (1916) On the albedo of the planets and their satellites. P Natl Acad Sci USA 2:74–77

Sallabanks R, James FC (1999) American Robin (Turdus migratorius). In: Poole A (ed) The Birds of North America Online. Cornell Lab of Ornithology, Ithaca. Retrieved from the Birds of North America. doi:10.2173/bna.462

Slagsvold T (1977) Bird song activity in relation to breeding cycle, spring weather, and environmental phenology. Ornis Scand 8:197–222

Staicer CA, Spector DA, Horn AG (1996) The dawn chorus and other diel patterns in acoustic signaling. In: Kroodsma DE, Miller EH (eds) Ecology and evolution of acoustic communication in birds. Cornell University Press, Ithaca, pp 426–453

Thomas RJ (1999) Two tests of the stochastic dynamic programming model of daily singing behaviour in birds. Anim Behav 57:277–284

Thomas RJ, Széskely T, Cuthill IC, Harper DG, Newson SE, Frayling TD, Wallis P (2002) Eye size in birds and the timing of song at dawn. P Roy Soc B-Biol Sci 269:831–837

Weeks HP Jr (2011) Eastern Phoebe (Sayornis phoebe). In: Poole A (ed) The Birds of North America Online. Cornell Lab of Ornithology, Ithaca. Retrieved from the Birds of North America. doi:10.2173/bna.94

Welling P, Koivula K, Lahti K (1995) The dawn chorus is linked with female fertility in the Willow Tit Parus montanus. J Avian Biol 26:241–246

York JE, Young AJ, Radford AN (2014) Singing in the moonlight: dawn song performance of a diurnal bird varies with lunar phase. Biol Lett 10 (in press)
Acknowledgments
We thank L. Lobert and K. Longo for field assistance. We thank residents of Echo Bay, Ontario for access to property. We thank the Editor and two anonymous reviewers for helping us to improve the manuscript. We thank the Natural Sciences and Engineering Research Council of Canada (NSERC), the Canada Foundation for Innovation, the Ontario Ministry of Research and Innovation, the University of Windsor, and Algoma University for funding. The research described complies with the current laws of Canada and received Algoma University Animal Care Committee approval (2012-JF-R01).
Additional information
Communicated by O. Krüger.
Electronic supplementary material
Below is the link to the electronic supplementary material.
Fig. S1 Sound spectrograms of the six focal species : (a) Alder Flycatcher, (b) Song Sparrow, (c) White-throated Sparrow, (d) Eastern Phoebe, and (f) Black-capped Chickadee (PPTX 254 kb)
Fig. S2 Variation in dawn chorus start times is exhibited by different north temperate bird species living in the same area. Alder Flycatchers (ALFL) begin dawn chorusing earliest in relation to nautical twilight, followed respectively by Song Sparrows (SOSP), White-throated Sparrows (WTSP), American Robins (AMRO), Eastern Phoebes (EAPH), and Black-capped Chickadees (BCCH). Error bars represent standard deviation (EPS 58 kb)
About this article
Cite this article
Bruni, A., Mennill, D.J. & Foote, J.R. Dawn chorus start time variation in a temperate bird community: relationships with seasonality, weather, and ambient light. J Ornithol 155, 877–890 (2014). https://doi.org/10.1007/s10336-014-1071-7
Received:

Revised:

Accepted:

Published:

Issue Date:
Keywords
Ambient light

Animal behaviour

Dawn chorus

Phenology of song

Temperate birds

Weather