Abstract
It has been shown that songbird migrants can use several compass cues for orientation (e.g. sun position at sunset and possibly sunrise and related polarised light cues, stars and the geomagnetic field); therefore, the obtained information is redundant. This suggests that compasses of migratory birds must have certain hierarchical relationships and be calibrated. Currently, it is not known how avian compass calibration is accomplished. We report the results of our experiments with Garden Warblers Sylvia borin, long-distance songbird migrants. We tested the birds in two experimental conditions: in a local magnetic field with access to a starry sky (Control group) and in a vertical magnetic field that does not provide magnetic compass information with access to stars (Clear sky experimental group) or without it (Overcast experimental group), and analysed locomotor activity and orientation in all three groups. For the Garden Warblers from the control and experimental groups, we revealed two periods of activity separated by a quiescent period: twilight and nocturnal periods. The average direction for both periods of activity showed no significant difference in the control group. Birds from the experimental group were disoriented in both periods. Birds from the clear sky and overcast groups were also disoriented. These data suggest that long-distance songbird migrants, particularly the Garden Warbler, need information from the geomagnetic field, but not from the stars, at sunset and during twilight in order to choose the correct migratory direction. The nocturnal period of migratory activity probably represents actual migratory flight, while the nature of the twilight period remains unknown. The results of the present work and data from prior cue-conflict experiments on other species suggest that the twilight period may correspond to compass calibration activity.
Zusammenfassung
Dient die frühabendliche Aktivität ziehender Gartengrasmücken Sylvia borin der Kompasskalibrierung?
Es ist bekannt, dass Singvögel auf dem Zug verschiedene Kompassinformationen (zum Beispiel den Sonnenstand bei Sonnenuntergang und möglicherweise bei Sonnenaufgang sowie damit zusammenhängende Polarisationsverhältnisse, die Sterne und das Erdmagnetfeld) zur Orientierung nutzen können; daher beinhalten diese Informationen eine gewisse Redundanz. Dies legt nahe, dass die Kompasssysteme von Zugvögeln einer bestimmten Hierarchie unterliegen und kalibriert werden müssen. Derzeit ist nicht bekannt, wie Vögel diese Kompasskalibrierung bewerkstelligen. Hier stellen wir die Ergebnisse unserer Versuche an Gartengrasmücken Sylvia borin, einer langstreckenziehenden Singvogelart, vor. Die Vögel wurden unter zwei verschiedenen Versuchsbedingungen getestet: in einem lokalen Magnetfeld mit Zugang zum Sternenhimmel (Kontrollgruppe) beziehungsweise in einem vertikalen Magnetfeld, welches keine magnetischen Kompassinformationen liefert, jeweils mit (Versuchsgruppe bei klarem Himmel) oder ohne (Versuchsgruppe bei bewölktem Himmel) Zugang zum Sternenhimmel; die lokomotorische Aktivität und die Orientierungsrichtung aller drei Gruppen wurden anschließend analysiert. Gartengrasmücken aus Kontroll- und Versuchsgruppen zeigten zwei von einer Ruheperiode unterbrochene Aktivitätsphasen, jeweils zur Dämmerung beziehungsweise während der Nacht. Die Durchschnittsrichtung beider Aktivitätsphasen wies bei der Kontrollgruppe keinen signifikanten Unterschied auf. Die Vögel der Versuchsgruppen zeigten während beider Phasen Desorientierung. Sowohl die Vögel bei klarem als auch die bei bewölktem Himmel waren desorientiert. Diese Befunde legen nahe, dass langstreckenziehende Singvögel, speziell die Gartengrasmücke, bei Sonnenuntergang und in zur Dämmerungszeit zwar erdmagnetische Informationen benötigen, um die richtige Zugrichtung zu wählen, aber dafür nicht auf den Sternenhimmel angewiesen sind. Die nächtliche Phase der Zugaktivität repräsentiert möglicherweise den eigentlichen Migrationsflug, während die Funktion der Dämmerungsphase unbekannt bleibt. Die Ergebnisse aktueller Versuche und Daten aus früheren Sinneskonflikt-Experimenten an anderen Arten legen nahe, dass die Dämmerungsphase möglicherweise Aktivität zur Kompasskalibrierung widerspiegelt.
Access options
Buy single article
Instant access to the full article PDF.
US$ 39.95
Tax calculation will be finalised during checkout.
Subscribe to journal
Immediate online access to all issues from 2019. Subscription will auto renew annually.
US$ 79
Tax calculation will be finalised during checkout.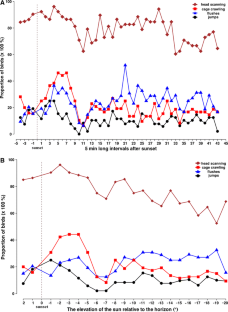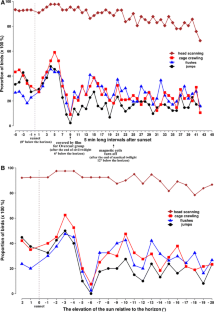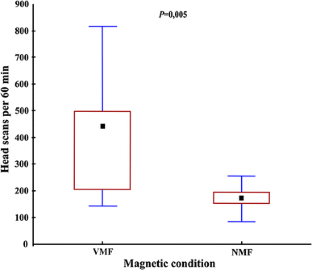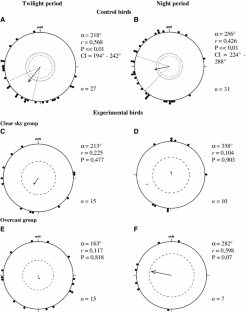 References
Able KP, Able MA (1990) Ontogeny of migratory orientation in the Savannah sparrow, Passerculus sandwichensis: calibration of the magnetic compass. Anim Behav 39:905–913

Able KP, Able MA (1995a) Interactions in the flexible orientation system of a migratory bird. Nature 375:230–232

Able KP, Able MA (1995b) Manipulations of polarized skylight calibrate magnetic orientation in a migratory bird. J Comp Physiol A 177:351–356

Åkesson S, Alerstam T, Hedenström A (1996) Flight initiation of nocturnal passerine migrants in relation to celestial orientation conditions at twilight. J Avian Biol 27:95–102

Batschelet E (1981) Circular statistics in biology. Academic, London

Beck W, Wiltschko W (1982) The magnetic field as reference system for the genetically encoded migratory direction in Pied Flycatchers, Ficedula hypoleuca. Z Tierpsychol 60:41–46

Bingman VP, Wiltschko W (1988) Orientation of dunnocks, Prunella modularis, at sunset. Ethology 77:1–9

Bolshakov CV, Chernetsov N (2004) Initiation of nocturnal flight in two species of long-distance migrants (Ficedula hypoleuca and Acrocephalus schoenobaenus) in spring: a telemetry study. Avian Ecol Behav 12:63–76

Bolshakov CV, Chernetsov N, Mukhin A, Bulyuk V, Kosarev VV, Ktitorov P, Leoke D, Tsvey A (2007) Time of nocturnal departures in European robins, Erithacus Rubecula, in relation to celestial cues, season, stopover duration and fat score. Anim Behav 74:855–865

Bolshakov CV, Shapoval AP, Zelenova NP (2009) Results of bird trapping and ringing by the Biological Station "Rybachy" on the Courish Spit in 2008. Avian Ecol Behav 16:53–89

Chernetsov N, Kishkinev D, Kosarev V, Bolshakov CV (2011) Not all songbirds calibrate their magnetic compass from twilight cues: a telemetry study. J Exp Biol 214:2540–2543

Cochran WW, Mouritsen H, Wikelski M (2004) Migrating songbirds recalibrate their magnetic compass daily from twilight cues. Science 304:405–408

Dolnik VR (1981) Navigational movements of nocturnal migratory birds. Ornithologiya 16:58–63 (in Russian)

Emlen ST (1967) Migratory orientation in the Indigo Bunting, Passerina cyanea. Part I: evidence for use of celestial cues. Auk 84:309–342

Emlen ST (1975) The stellar orientation system of a migratory bird. Sci Am 233:102–111

Emlen ST, Emlen JT (1966) A technique for recording orientation of captive birds. Auk 83:361–367

Gaggini V, Baldaccini NE, Spina F, Giunchi D (2010) Orientation of the pied flycatcher Ficedula hypoleuca: cue-conflict experiments during spring migration. Behav Ecol Sociobiol 64:1333–1342

Kaiser A (1993) A new multi-category classification of subcutaneous fat deposits of songbirds. J Field Ornithol 64:246–255

Kramer G (1950) Weitere Analyse der Faktoren, welche die Zugaktivität des gekäfigten Vogels orientieren. Naturwissenschaften 37:377–378

Liu X, Chernetsov N (2012) Avian orientation: multi-cue integration and calibration of compass systems. Chin Birds 3:1–8

Michalik A, Bianca A, Engels S, Lefeldt N, Mouritsen H (2014) Star compass learning: how long does it take? J Ornithol 115:225–234

Moore FR (1986) Sunrise, sky polarization and the early morning orientation of night-migrating warblers. Condor 88:493–498

Moore FR, Phillips JB (1988) Sunset, skylight polarization and the migratory orientation of yellow-rumped warblers, Dendroica coronata. Anim Behav 36:1770–1778

Moreau RE (1972) The Palaeartic-African bird migration system. Academic, London

Mouritsen H (1998) Redstarts, Phoenicurus phoenicurus, can orient in a true-zero magnetic field. Anim Behav 55:1311–1324

Mouritsen H (2013) The magnetic senses. In: Galizia CG, Lledo P-M (eds) Neurosciences––from molecule to behaviour: a university textbook. Springer, Berlin, pp 427–443

Mouritsen H, Feenders G, Liedvogel M, Kropp W (2004) Migratory birds use head scans to detect the direction of the Earth's magnetic field. Curr Biol 14:1946–1949

Muheim R, Moore FR, Phillips JB (2006a) Calibration of magnetic and celestial compass cues in migratory birds––a review of cue-conflict experiments. J Exp Biol 20:2–17

Muheim R, Åkesson S, Phillips JB (2006b) Polarized light cues underlie compass calibration in migratory songbirds. Science 31:837–839

Muheim R, Åkesson S, Phillips JB (2007) Magnetic compass of migratory Savannah Sparrows is calibrated by skylight polarization at sunrise and sunset. J Ornithol 148:485–494

Prinz K, Wiltschko W (1992) Migratory orientation of pied flycatchers: interaction of stellar and magnetic information during ontogeny. Anim Behav 44:539–545

Rabøl J (2010) Orientation by passerine birds under conflicting magnetic and stellar conditions: no calibration in relation to the magnetic field. Dansk Ornithol Foren Tidsskr 104:85–102

Sandberg R (1994) Interaction of body condition and magnetic orientation in autumn migrating robins, Erithacus rubecula. Anim Behav 47:679–686

Sandberg R, Moore FR (1996) Migratory orientation of red-eyed vireos, Vireo olivaceus, in relation to energetic condition and ecological context. Behav Ecol Sociobiol 39:1–10

Sandberg R, Bäckman J, Moore FR, Lõhmus M (2000) Magnetic information calibrates celestial cues during migration. Anim Behav 60:453–462

Sauer F (1957) Die Sternenorientierung nächtlich ziehender Grasmücken (Sylvia atricapilla, borin und curruca). Z Tierpsychol 14:20–70

Schmaljohann H, Liechti F, Bruderer B (2007) Songbird migration across the Sahara––the non-stop hypothesis rejected! Proc R Soc Lond B 274:735–739

Schmaljohann H, Rautenberg T, Muheim R, Naef-Daenzer B, Bairlein F (2013a) Response of a free-flying songbird to an experimental shift of the light polarization pattern around sunset. J Exp Biol 216:1381–1387

Schmaljohann H, Korner-Nievergelt F, Naef-Daenzer B, Nagel R, Maggini I, Bulte M, Bairlein F (2013b) Stopover optimization in a long-distance migrant: the role of fuel load and nocturnal take-off time in Alaskan northern wheatears (Oenanthe oenanthe). Front Zool 10:26

Svensson L (2009) Birds of Europe, 2nd edn. Princeton University Press, Princeton

Weindler P, Beck W, Liepa V (1995) Development of migratory orientation in pied flycatchers in different magnetic inclinations. Anim Behav 49:227–234

Weindler P, Böhme F, Liepa V (1998) The role of daytime cues in the development of magnetic orientation in a night-migrating bird. Behav Ecol Sociobiol 42:289–294

Wiltschko W, Gwinner E (1974) Evidence for an innate magnetic compass in garden warblers. Naturwissenschaften 61:406

Wiltschko W, Wiltschko R (1972) Magnetic compass of European robins. Science 176:62–64

Wiltschko W, Wiltschko R (1975) The interaction of stars and magnetic field in the orientation system of night migrating birds. Z Tierpsychol 37:337–355

Wiltschko W, Wiltschko R (1976) Interrelation of magnetic compass and star orientation in night-migrating birds. J Comp Physiol 109:91–99

Wiltschko W, Daum P, Fergenbauer-Kimmel A, Wiltschko R (1987) The development of the star compass in garden warblers, Sylvia borin. Ethology 74:285–292

Wiltschko W, Wiltschko R, Munro U, Ford H (1998) Magnetic versus celestial cues: cue-conflict experiments with migrating silvereyes at dusk. J Comp Physiol A 182:521–529

Wiltschko R, Munro U, Ford H, Wiltschko W (2001) Orientation in migratory birds: time-associated relearning of celestial cues. Anim Behav 62:245–250

Wiltschko R, Munro U, Ford H, Wiltschko W (2008) Contradictory results on the role of polarized light in compass calibration in migratory songbirds. J Ornithol 149:607–614

Zapka M, Heyers D, Hein CM, Engels S, Schneider N-L, Hans J, Weiler S, Dreyer D, Kishkinev D, Wild JM, Mouritsen H (2009) Visual but not trigeminal mediation of magnetic compass information in a migratory bird. Nature 461:1274–1277
Acknowledgments
We are most grateful to Vitaly Grinkevich, Dmitry Kobylkov and Natalia Danilkiv who helped us in catching and keeping the birds, and in preparing and conducting our experiments. We thank Vadim Kotov and Dmitry Kishkinev for their valuable comments on the manuscript. The authors are grateful to two reviewers, Henrik Mouritsen and Heiko Schmaljohann, whose constructive comments helped us revise an earlier draft. This study was supported by grant 12-04-00296a from the Russian Foundation for Basic Research.
About this article
Cite this article
Pakhomov, A., Chernetsov, N. Early evening activity of migratory Garden Warbler Sylvia borin: compass calibration activity?. J Ornithol 155, 621–630 (2014). https://doi.org/10.1007/s10336-014-1044-x
Received:

Revised:

Accepted:

Published:

Issue Date:
Keywords
Garden Warbler

Sylvia borin

Migration

Orientation

Vertical magnetic field

Compass calibration

Songbird migrant