Abstract
The use of tracking devices to monitor the movements of parrots can benefit conservation and management efforts in species for which there is scant information on their habitat use and distribution. Before such studies can proceed, there is a clear need to assess the efficacy of tag attachment so as not to create welfare issues for the target individuals or negate the scientific value of subsequent tracking results. We developed a harness and trialled it as a method of attaching 5-g non-operational satellite tags to captive Princess Parrots Polytelis alexandrae. The influence of the harness package on the parrots' activity budgets and body mass was investigated, and comparisons were made with control individuals not fitted with harness packages. The attachment of harness packages led to an initial increase in preening rates at the expense of resting and foraging behaviour, but did not affect the duration of eating and drinking behaviours. Despite an initial difference between the behaviours of tagged parrots and control parrots, after 3 weeks the rates of behaviour of tagged parrots matched those of the controls, suggesting they were more accepting of the harness and satellite tag by this time. The harness package had no effect on body mass; a similar pattern was observed for mean weight change per fortnight between tagged and control parrots. Three-quarters of all harness packages were worn by the tagged parrots for the full captive trial (98 days) without harness damage. The harness design tested here is likely transferable to other bird species that display similar structure and wing-loadings, and as such is a valuable contribution to avian tracking studies.
Zusammenfassung
Mit Schlaufengeschirr befestigte Ortungsgeräte beeinflussen das Verhalten jedoch nicht die Körpermasse von Alexandrasittichen Polytelis alexandrae
Die Verwendung von Ortungsgeräten, um die Bewegungen von Papageien zu verfolgen, kann sich positiv auf Schutzund Managementbemühungen für Arten auswirken, über deren Habitatnutzung und Verbreitung nur wenig bekannt ist. Bevor solche Studien fortgesetzt werden können, ist es notwendig, die Wirksamkeit der Befestigung der Geräte abzuschätzen, um das Wohlergehen der Tiere nicht zu beeinträchtigen oder den wissenschaftlichen Nutzen späterer Ortungsdaten nicht zunichte zu machen. Wir haben ein Schlaufengeschirr entwickelt und als Methode zur Befestigung von 5 g schweren, nicht betriebsbereiten Satellitengeräten an in Gefangenschaft gehaltenen Alexandrasittichen Polytelis alexandrae ausprobiert. Der Einfluss des Schlaufengeschirrs auf das Aktivitätsbudget und die Körpermasse der Papageien wurde untersucht und Vergleiche mit Kontrolltieren ohne Schlaufengeschirr angestellt. Das Anbringen der Pakete führte zunächst zu verstärktem Putzverhalten auf Kosten von Ruhe- und Nahrungssuchverhalten, beeinflusste jedoch nicht die Dauer von Fress- und Trinkverhalten. Trotz eines anfänglichen Unterschieds im Verhalten markierter und unmarkierter Papageien hatten sich die Anteile bestimmter Verhaltensweisen markierter Papageien nach drei Wochen denen unmarkierter Papageien angeglichen, was auf eine stärkere Akzeptanz von Schlaufengeschirr und Satellitengerät nach dieser Zeit hindeutet. Das Schlaufengeschirr hatte keinen Effekt auf die Körpermasse, und ein ähnliches Muster wurde für die mittlere Masseänderung pro 14 Tage bei markierten und unmarkierten Papageien beobachtet. Drei Viertel aller Schlaufengeschirre wurden von den markierten Papageien bis zum Versuchsende (nach 98 Tagen) getragen, ohne dass das Geschirr beschädigt wurde. Das hier getestete Schlaufendesign lässt sich wahrscheinlich auf andere Vogelarten übertragen, die ähnliche Struktur und Tragflächenbelastung haben, und stellt daher einen nützlichen Beitrag zu Ortungsstudien an Vögeln dar.
This is a preview of subscription content, log in to check access.
Access options
Buy single article
Instant access to the full article PDF.
US$ 39.95
Price includes VAT for USA
Subscribe to journal
Immediate online access to all issues from 2019. Subscription will auto renew annually.
US$ 99
This is the net price. Taxes to be calculated in checkout.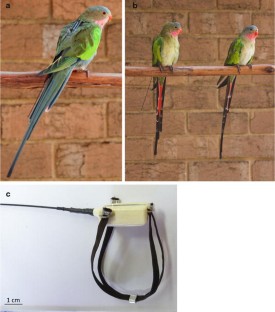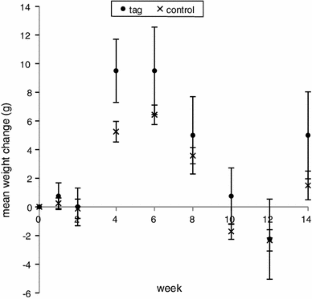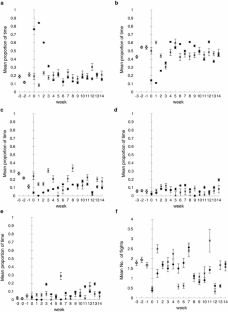 References
Baker-Gabb D, Hurley VG (2011) National recovery plan for the regent parrot (eastern subspecies) Polytelis anthepopeplus monarchoides. Department of Sustainability and Environment, Melbourne

Barron DG, Brawn JD, Weatherhead PJ (2010) Meta-analysis of transmitter effects on avian behaviour and ecology. Method Ecol Evol 1:180–187

Boag DA (1972) Effect of radio packages on behaviour of captive red grouse. J Wildl Manag 36:511–518

Boyd J, Brightsmith DJ (2010) Large macaw satellite telemetry: 2010. Unpublished report

Brandt MJ, Cresswell W (2008) Breeding behaviour, home range and habitat selection in rock Firefinches Lagonosticta sanguinodorsalis in the wet and dry season in central Nigeria. Ibis 150:495–507

Bridge ES, Thorup K, Bowlin MS, Chilson PB, Diehl RH, Fléron RW, Hartl P, Kays R, Kelly JF, Robinson D, Wikelski M (2011) Technology on the move: recent and forthcoming innovations for tracking migratory birds. Bioscience 61:689–698

Caccamise DF, Hedin RS (1985) An aerodynamic basis for selecting transmitter loads in birds. Wilson Bull 97:306–318

Carneiro APB, Jimenez JE, White TH Jr (2012) Post-fledging habitat selection by the Slender-billed Parakeet (Enicognathus leptorhynchus) in a fragmented agricultural landscape of southern Chile. Condor 114:166–172

Cumming GS, Ndlovu M (2011) Satellite telemetry of Afrotropical ducks: methodological details and assessment of success rates. Afr Zool 46:425–434

Davis AK, Diggs NE, Cooper RJ, Marra PP (2008) Haematological stress indices reveal no effect of radio-transmitters on wintering Hermit Thrushes. J Field Ornithol 79:293–297

Elliot GP, Dilks PJ, O'Donnell CFJ (1996) The ecology of yellow-crowned parakeets (Cyanoramphus auriceps) in Nothofagus forest in Fiordland, New Zealand. NZ J Zool 23:249–265

Fiedler W (2009) New technologies for monitoring bird migration and behaviour. Ring Migr 24:175–179

Garnett ST, Szabo JK, Dutson G (2011) The action plan for Australian birds 2010. CSIRO, Australia

Godfrey JD, Bryant DM, Williams MJ (2003) Radio-telemetry increases free-living energy costs in the endangered Takahe Porphyrio mantelli. Biol Conserv 114:35–38

Goth A, Jones DN (2001) Transmitter attachment and its effects on Australian brush-turkey hatchlilngs. Wildl Res 28:73–78

Greenwood RJ, Sargeant AB (1973) Influence of radio packs on captive mallards and blue-winged teal. J Wildl Manag 37:3–9

Hamel NJ, Parrish JK, Conquest LL (2004) Effects of tagging on behaviour, provisioning, and reproduction in the common murre (Uria aalge), a diving seabird. Auk 121:1161–1171

Hernández F, Arredondo JA, Hernandez F, Hewitt DG, DeMaso SJ, Bingham RL (2004) Effects of radiotransmitters on bodymass, feed consumption, and energy expenditure of northern bobwhites. Wildl Soc Bull 32:394–400

Higgins PJ (ed) (1999) Handbook of Australian, New Zealand and Antarctic Birds. Volume 4: Parrots to Dollarbird. Oxford University Press, Melbourne

Hill IF, Cresswell BH, Kenward RE (1999) Field-testing the suitability of a new back-pack harness for radio-tagging passerines. J Avian Biol 30:135–142

Houston RA, Greenwood RT (1993) Effects of radio transmitters on nesting captive mallards. J Wildl Manag 57:703–709

Hoye BJ, Buttemer WA (2011) Inexplicable inefficiency of Avian molt? Insights from an opportunistically breeding arid-zone species, Lichenostomus penicillatus. PLoS ONE 6(2):e16230

Hubbard MW, Garner DL, Klaas EE (1999) Wild Turkey poult survival in southcentral Iowa. J Wildl Manag 63:199–203

IUCN (2012) The IUCN Red List of Threatened Species. Version 2012.2 . http://www.iucnredlist.org Downloaded 07 June 2013

Jordan R (1988) The use of mist nets and radio-telemetry in the study of the Ground Parrot Pezoporus wallicus in Barren Grounds Nature Reserve, New South Wales. Corella 12:18–21

Le Souef AT, Stojanovic D, Burbidge AH, Vitali SD, Heinsohn R, Dawson R, Warren KS (2013) Retention of transmitter attachments on black cockatoos (Calyptorhynchus spp.). Pac Conserv Biol 19:55–57

Ludynia K, Dehnhard N, Poisbleau M, Demongin L, Masello JF et al (2012) Evaluating the impact of handling and logger attachment on foraging parameters and physiology in southern rockhopper penguins. PLoS ONE 7(11):e50429. doi:10.1371/journal.pone.0050429

Manning AD, Lindenmayer DB, Barry SC, Nix HA (2006) Multi-scale site and landscape effects on the vulnerable superb parrot of south-eastern Australia during the breeding season. Landsc Ecol 21:1119–1133

Manning AD, Lindenmayer DB, Barry SC, Nix HA (2007) Large-scale spatial and temporal dynamics of the vulnerable and highly mobile superb parrot. J Biogeogr 34:289–304

Masello JF, Pagnossin ML, Sommer C, Quillfeldt P (2006) Population size, provisioning frequency, flock size and foraging range at the largest known colony of Psittaciformes: the Burrowing Parrots of the north-eastern Patagonian coastal cliffs. Emu 106:69–79

Mateo-Moriones A, Villafuerte R, Ferreras P (2012) Evaluation of radiotagging techniques and their application to survival analyses of red-legged partridge Alectoris rufa chicks. Ibis 154:508–519

McFarland DC (1991) The biology of the Ground Parrot, Pezoporus wallicaus, in Queensland. I. Microhabitat use, activity cycle and diet. Wildl Res 18:169–184

Meyburg B-U, Howey PW, Meyburg C, Fiuczynski KD (2011) Two complete migration cycles of an adult Hobby tracked by satellite. Br Birds 104:2–15

Myers MC, Vaughan C (2004) Movement and behaviour of Scarlet Macaws (Ara macao) during the post-fledging dependence period: implications for in situ versus ex situ management. Biol Conserv 118:411–420

Navarro J, González-Solís J, Viscor G, Chastel O (2008) Ecophysiological response to an experimental increase of wing loading in a pelagic seabird. J Exp Mar Biol Ecol 358:14–19

Neudorf DL, Pitcher TE (1997) Radio transmitters do not affect nestling feeding rates by female hooded warblers. J Field Ornithol 68:64–68

Pavey C, Nano C, Cole J, McDonald P, Nunn P, Silcocks A, Clarke R (2013) The breeding and foraging ecology and abundance of the Prncess Parrot, Polytelis alexandrae, during a population irruption. Emu (in press)

Peniche G, Vaughan-Higgins R, Carter I, Pocknell A, Simpson D, Sainsbury A (2011) Long-term health effects of harness-mounted radio transmitters in red kites (Milvus milvus) in England. Vet Rec 169:311–316

Pennycuick CJ, Fast PLF, Ballerstadt N, Rattenborg N (2012) The effect of an external transmitter on the drag coefficient of a bird's body, and hence on migration range, and energy reserves after migration. J Ornithol 153:633–644

Pepperberg IM (2006) Ordinality and inferential abilities of a grey parrot (Psittacus erithacus). J Comp Psychol 120:205–216

Perry MC, Hass GH, Carpenter JW (1981) Radio transmitters for mourning doves: a comparison of attachment techniques. J Wildl Manag 45:524–527

Petrie SA, Rogers KH, Baloyi FR (1996) Effects of harness-attached satellite transmitters on captive whitefaced ducks Dendrocygna viduata. S Afr J Wildl Res 26:93–95

Powell LA, Krementz DG, Lang JD, Conroy MJ (1998) Effects of radio transmitters on migrating wood thrushes. J Field Ornithol 69:306–315

Powlesland RG, Roberts A, Lloyd BD, Merton DV (1995) Number, fate, and distribution of kakapo (Strigops habroptilus) found on Stewart Island, New Zealand, 1979–92. NZ J Zool 22:239–248

Powlesland RG, Greene TC, Dilks PJ, Moorhouse RJ, Moran LR, Taylor G, Jones A, Wills DE, August CK, August ACL (2009) Breeding biology of the New Zealand kaka (Nestor meridionalis) (Psittacidae, Nestorinae). Notornis 56:11–33

Robinet O, Bretagnolle V, Clout M (2003) Activity patterns, habitat use, foraging behaviour and food selection of the Ouvea Parakeet (Eunymphicus cornutus uvaeensis). Emu 103:71–80

Roshier DA, Asmus MW (2009) Use of satellite telemetry on small-bodied waterfowl in Australia. Mar Freshw Res 60:229–305

R Development Core Team (2008) R: A language and environment for statistical computing. R Foundation for Statistical Computing, Vienna, Austria. ISBN 3-900051-07-0. http://www.R-project.org

Salinas-Melgoza A, Renton K (2010) Postfledging survival and development of juvenile Lilac-crowned Parrots. J Wildl Manag 71:43–50

Sanz V, Grajal A (1998) Successful reintroduction of captive-raised Yellow-shouldered Amazon parrots on Margarita Island, Venezuela. Conserv Biol 12:430–441

Sanzenbacher PM, Haig SM, Oring LW (2000) Application of a modified harness design for attachment of radio transmitters to shorebirds. WSG Bull 91:16–20

Sheldon RD, Koshkin MA, Kamp J, Dereliev S, Donald PF, Jbour S (Compilers) (2012) International single species action plan for the conservation of the sociable lapwing Vanellus gregarius. African-Eurasian Waterbird Agreement Technical Series No 2. Ministry of Agriculture, Nature Management and Fisheries, Netherlands

Shepard M (2000) Aviculture in Australia: keeping and breeding aviary birds. Reed New Holland, Sydney

Small MF, Rosales R, Baccus JT, Weckerly FW, Phalen DN, Roberson JA (2004) A comparison of effects of radiotransmitter attachment techniques on captive white-winged doves. Wildl Soc Bull 32:627–637

Snyder NFR, Joenig SE, Koschmann J, Snyder HA, Johnson TB (1994) Thick-billed Parrot releases in Arizona. Condor 96:845–862

Snyder N, McGowan P, Gilardi J, Grajal A (eds) (2000) Parrots: status survey and conservation action plan 2000-2004. IUCN, Gland

Suedkamp Wells KM, Washburn BE, Millspaugh JJ, Ryan MR, Hubbard MW (2003) Effects of radio-transmitters on fecal glucocorticoid levels in captive dickcissels. Condor 105:805–810

Sykes PW, Carpenter JW, Holzman S, Geissler PH (1990) Evaluation of three miniature radio transmitter attachment methods for small passerines. Wildl Soc Bull 18:41–48

Vandenabeele SP, Wilson RP, Wikelski M (2013) New tracking philosophy for birds. Front Ecol Environ 11:10–12

White TH Jr, Collazo JA, Vilella FJ (2005) Survival of captive-reared Puerto Rican Parrots released in the Caribbean National Forest. Condor 107:424–432

Woolnough AP, Kirkpatrick WE, Lowe TJ, Rose K (2004) Comparison of three techniques for the attachment of radio transmitters to European Starlings. J Field Ornithol 75:330–336
Acknowledgments
The trial was conducted under Monash University Animal Ethics Permit BSCI/2011/12. Within the School of Biological Sciences, Monash University we thank Ricardo San Martin and Stewart Crowley for providing assistance with captive husbandry, and Jim Thompson for valuable assistance with data modelling and analyses. We are grateful for advice and information received on harness material from John McEvoy, School of Life and Environmental Science, Deakin University, and on harness design from Helen Trefrey, Environment Canada, Alberta, Canada, and Chris Hewson, British Trust for Ornithology, Thetford, UK. Two anonymous reviewers provided useful comments on the manuscript.
Additional information
Communicated by F. Bairlein.
Electronic supplementary material
Below is the link to the electronic supplementary material.
About this article
Cite this article
Herrod, A., King, M., Ingwersen, D. et al. Tracking devices attached with harnesses influence behaviour but not body mass of Princess Parrots Polytelis alexandrae . J Ornithol 155, 519–529 (2014). https://doi.org/10.1007/s10336-013-1034-4
Received:

Revised:

Accepted:

Published:

Issue Date:
Keywords
Radio tracking

Transmitter

Harness

Preening

Threatened bird

Movements

Captive trial