Abstract
The explanation for extra-pair paternity (EPP) variation continues to attract research interest in the area of avian breeding systems. Comparisons among closely related species are recommended to explore factors that affect EPP rate variations. We utilised microsatellite markers to investigate extra-pair paternity in two sympatric populations of congeneric Black-throated Tits, Aegithalos concinnus, and Silver-throated Tits, A. glaucogularis. The two species share a similar breeding period at our study site and have helpers during breeding at some nests. The results suggest that the two species had low levels of extra-pair paternity: 5.7 % of the offspring in the Black-throated Tits and 6.8 % of the offspring in the Silver-throated Tits. The proportion of broods with extra-pair paternity in the Silver-throated Tits (33.3 %) was higher overall than the Black-throated Tits (17.2 %). This difference is consistent with the prediction by their different male attendance of incubation, but failed to be explained by major ecological factors. On the one hand, we conducted the study at the same site during the same time, which therefore limited the potential effect of different environmental conditions and habitat on their EPP incidence. On the other hand, other factors such as the inter-nest distances failed to explain the observed pattern. Current results also could not rule out an effect of evolutionary history on the EPP patterns of these two related species. Our research on their cooperative breeding system found a low proportion of cooperative breeding nests with offspring sired by helpers (Black-throated Tit, 8.3 % and Silver-throated Tit, 25.0 %), indicating that a direct reproductive benefit is not a likely major reason for the existence of the helpers in these two species.
Zusammenfassung
Fremdvaterschaften bei zwei sympatrisch vorkommenden Aegithalos -Arten: Muster und Schlussfolgerungen
Die Erklärung der Variation von Fremdvaterschaften zieht nach wie vor das Forschungsinteresse im Bereich der Brutsysteme von Vögeln auf sich. Zur Analyse der Faktoren, die Variationen im Anteil von Fremdvaterschaften beeinflussen, wird der Vergleich von nah verwandten Arten empfohlen. Mittels Mikrosatellitenmarkern untersuchten wir Fremdvaterschaften bei zwei sympatrisch vorkommenden Populationen gattungsverwandter Schwarzkehl-Schwanzmeisen Aegithalos concinnus und Silberkehl-Schwanzmeisen A. glaucogularis. Beide Arten brüten in unserem Untersuchungsgebiet zu ähnlichen Zeiten und haben Bruthelfer an manchen Nestern. Unsere Ergebnisse legen nahe, dass es bei beiden Arten nur einen geringen Anteil an Fremdvaterschaften gibt: 5,7 % des Nachwuchses der Schwarzkehl-Schwanzmeisen und 6,8 % der jungen Silberkehl-Schwanzmeisen. Der Anteil von Bruten mit Fremdvaterschaften war bei den Silberkehl-Schwanzmeisen (33,3 %) insgesamt höher als bei den Schwarzkehl-Schwanzmeisen (17,2 %). Dieser Unterschied deckt sich mit den Erwartungen aufgrund der verschiedenen Anteile der Männchen beim Brüten, ließ sich aber nicht durch die hauptsächlichen ökologischen Faktoren erklären. Einerseits wurde die Studie am selben Ort über denselben Zeitraum durchgeführt, wodurch der mögliche Einfluss verschiedener Umweltbedingungen und des Habitats auf den Anteil der Fremdvaterschaften eingeschränkt wurde. Andererseits konnten weitere Faktoren, wie beispielsweise die Abstände der Nester zueinander, das beobachtete Muster nicht erklären. Der derzeitige Ergebnisstand schließt also einen Effekt der Evolutionsgeschichte auf die Muster der Fremdvaterschaften bei diesen beiden verwandten Arten nicht aus. Unsere Untersuchungen an ihren kooperativen Brutsystemen ergaben einen geringen Anteil von den Helfern gezeugter Nachkommen in Nestern mit kooperativer Brut (Schwarzkehl-Schwanzmeise, 8,3 % und Silberkehl-Schwanzmeise, 25,0 %), was darauf hindeutet, dass ein direkter reproduktiver Vorteil vermutlich keine große Bedeutung für die Existenz von Helfern bei diesen zwei Arten hat.
Access options
Buy single article
Instant access to the full article PDF.
USD 39.95
Price excludes VAT (USA)
Tax calculation will be finalised during checkout.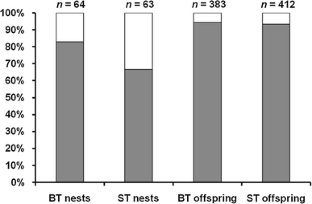 References
Addicott A (1938) Behavior of the bush-tit in the breeding season. Condor 40:49–63

Arnold KE, Owens IPF (2002) Extra-pair paternity and egg dumping in birds: life history, parental care and the risk of reraliation. Proc R Soc Lond B 269:1263–1269

Bouwman KM, Komdeur J (2006) Weather conditions affect levels of extra-pair paternity in the reed bunting Emberiza schoeniclus. J Avian Biol 37:238–244

Brouwer L, Van De Pol M, Atema ELS, Cockburn A (2011) Strategic promiscuity helps avoid inbreeding at multiple levels in a cooperative breeder where both sexes are philopatric. Mol Ecol 20:4796–4807. doi:10.1111/j.1365-294X.2011.05325.x

Bruce JP, Quinn JS, Sloane SA, White BN (1996) DNA fingerprinting reveals monogamy in the bushtit, a cooperatively breeding species. Auk 113:511–516

Charmantier A, Perret P (2004) Manipulation of nest-box density affects extra-pair paternity in a population of blue tits (Parus caeruleus). Behav Ecol Sociobiol 56:360–365

Cornwallis CK, West SA, Davis KE, Griffin AS (2010) Promiscuity and the evolutionary transition to complex societies. Nature 466:969–972

Dawson D, Horsburgh G, Küpper C, Stewart I, Ball A, Durrant K, Hansson B, Bacon I, Bird S, Klein A (2010) New methods to identify conserved microsatellite loci and develop primer sets of high cross-species utility—as demonstrated for birds. Mol Ecol Resrour 10:475–494

Dixon A, Ross D, O'Malley SLC, Burke T (1994) Paternal investment inversely related to degree of extra-pair paternity in the reed bunting. Nature 371:698–700

Du B, Lu X (2009) Bi-parental vs. cooperative breeding in a passerine: fitness-maximizing strategies of males in response to risk of extra-pair paternity? Mol Ecol 18:3929–3939. doi:10.1111/j.1365-294X.2009.04336.x

Emlen ST, Wrege PH (1991) Breeding biology of white-fronted bee-eaters at Nakuru: the influence of helpers on breeder fitness. J Anim Ecol 60:309–326

Griffith SD, Owens IPF, Thuman KA (2002) Extra pair paternity in birds: a review of interspecific variation and adaptive function. Mol Ecol 11:2195–2212

Hatchwell BJ, Ross DJ, Chaline N, Fowlie MK, Burke T (2002) Parentage in the cooperative breeding system of long-tailed tits, Aegithalos caudatus. Anim Behav 64:55–63

Hatchwell BJ, Russell AF, MacColl ADC, Ross DJ, Fowlie MK, McGowan A (2004) Helpers increase long-term but not short-term productivity in cooperatively breeding long-tailed tits. Behav Ecol 15:1–10

Haydock J, Koenig W, Stanback M (2001) Shared parentage and incest avoidance in the cooperatively breeding acorn woodpecker. Mol Ecol 10:1515–1525

Hoi-Leitner M, Hoi H, Romero-Pujante M, Valera F (1999) Female extra-pair behaviour and environmental quality in the serin (Serinus serinus): a test of the 'constrained female hypothesis'. Proc R Soc Lond B 266:1021–1026

Johnsen A, Lifjeld JT (2003) Ecological constraints on extra-pair paternity in the bluethroat. Oecologia 136:476–483

Johnson P, Haydon D (2007) Maximum-likelihood estimation of allelic dropout and false allele error rates from microsatellite genotypes in the absence of reference data. Genetics 175:827

Jones OR, Wang J (2010) COLONY: a program for parentage and sibship inference from multilocus genotype data. Mol Ecol Resour 10:551–555

Kalinowski ST, Taper ML, Marshall TC (2007) Revising how the computer program CERVUS accommodates genotyping error increases success in paternity assignment. Mol Ecol 16:1099–1106

Ketterson ED, Nolan Jr V (1994) Male parental behavior in birds. Annu Rev Ecol Syst 25:601–628

LaBarbera K, Llambías PE, Cramer ERA, Schaming TD, Lovette IJ (2010) Synchrony does not explain extrapair paternity rate variation in northern or southern house wrens. Behav Ecol 21:773

Li J, Lin S, Wang Y, Zhang Z (2009) Nest-dismantling behavior of the hair-crested drongo in central china: an adaptive behavior for increasing fitness? Condor 111:197–201

Li J, Lv L, Wang Y, Xi B, Zhang Z (2012) Breeding biology of two sympatric Aegithalos tits with helpers at the nest. J Ornithol 153:273–283. doi:10.1007/s10336-011-0740-z

Lu X, Wang C, Du B (2012) Reproductive skew in an avian cooperative breeder: an empirical test for theoretical models. Behav Ecol 23:11–17

MacColl ADC, Hatchwell BJ (2004) Determinants of lifetime fitness in a cooperative breeder, the long-tailed tit Aegithalos caudatus. J Anim Ecol 73:1137–1148

Møller AP, Cuervo JJ (2000) The evolution of paternity and paternal care in birds. Behav Ecol 11:472–485

Mulder R, Dunn P, Cockburn A, Lazenby-Cohen K, Howell M (1994) Helpers liberate female fairy-wrens from constraints on extra-pair mate choice. Proc R Soc Lond B 255:223–229

Neodorf DLH (2004) Extrapair paternity in birds: understanding variation among species. Auk 121:302–307

O'Brien EL, Dawson RD (2011) Plumage color and food availability affect male reproductive success in a socially monogamous bird. Behav Ecol 22:66

Petrie M, Kempenaers B (1998) Extra-pair paternity in birds: explaining variation between species and populations. Trends Ecol Evol 13:52–58

Richardson DS, Burke T (2001) Extrapair paternity and variance in reproductive success related to breeding density in Bullock's orioles. Anim Behav 62:519–525

Richardson DS, Jury FL, Blaakmeer K, Komdeur J, Burke T (2001) Parentage assignment and extra-group paternity in a cooperative breeder: The Seychelles warbler (Acrocephalus sechellensis). Mol Ecol 10:2263–2273

Robertson BC, Degnan SM, Kikkawa J, Moritz CC (2001) Genetic monogamy in the absence of paternity guards: the Capricorn silvereye, Zosterops lateralis chlorocephalus, on Heron Island. Behav Ecol 12:666–673

Rubenstein DR (2007) Female extrapair mate choice in a cooperative breeder: trading sex for help and increasing offspring heterozygosity. Proc R Soc Lond B 274:1895–1903

Russell AF, Hatchwell BJ (2001) Experimental evidence for kin-biased helping in a cooperatively breeding vertebrate. Proc R Soc Lond B 268:2169–2174

Schwagmeyer P, St. Clair RC, Moodie JD, Lamey TC, Schnell GD, Moodie MN (1999) Species differences in male parental care in birds: a reexamination of correlates with paternity. Auk 116:487–503

Simeoni M, Dawson DA, Ross DJ, Chaline N, Burke T, Hatchwell BJ (2007) Characterization of 20 microsatellite loci in the long-tailed tit Aegithalos caudatus (Aegithalidae, AVES). Mol Ecol Notes 7:1319–1322. doi:10.1111/j.1471-8286.2007.01868.x

Stewart SLM, Westneat DF, Ritchison G (2010) Extra-pair paternity in eastern bluebirds: effects of manipulated density and natural patterns of breeding synchrony. Behav Ecol Sociobiol 64:463–473

Stutchbury BJM (1998) Female mate choice of extra-pair males: breeding synchrony is important. Behav Ecol Sociobiol 43:213–215

Stutchbury BJM, Morton ES, Piper WH (1998) Extra-pair mating system of a synchronously breeding tropical songbird. J Avian Biol 29:72–78

Tarof SA, Stutchbury BJM, Piper WH, Fleischer RC (1998) Does breeding density covary with extra-pair fertilizations in hooded warblers? J Avian Biol 29:145–154

Townsend AK, Bowman R, Fitzpatrick JW, Dent M, Lovette IJ (2011) Genetic monogamy across variable demographic landscapes in cooperatively breeding Florida scrub-jays. Behav Ecol 22:464–470

Wang J (2004) Sibship reconstruction from genetic data with typing errors. Genetics 166:1963–1979

Westneat DF, Stewart IRK (2003) Extra-pair paternity in birds: causes, correlates, and conflict. Annu Rev Ecol Evol 34:365–396

Xu J-L, Zhang X-H, Sun Q-H, Zheng G-M, Wang Y, Zhang Z-W (2009) Home range, daily movements and site fidelity of male Reeves's pheasants Syrmaticus reevesii in the Dabie Mountains, Central China. Wildl Biol 15:338–344. doi:10.2981/08-032

Zheng G (2011) A checklist on the classification and distribution of the birds of China, 2nd edn. Science Press, Beijing
Acknowledgments
This study was supported by the National Natural Science Foundation of China (No. 31101644; No. 31272296), and USDA Evens-Allen grant through Alabama A&M University. Yong Wang's research in China was supported by funds from Beijing Normal University and Alabama A&M University. We are most grateful to the field assistants, the members of bird study group of Beijing Normal University and the staffs of Dongzhai National Nature Reserve for their great help with the work and Shou-Hsien Li, Ning Wang, Yang Liu, Xiangjiang Zhan, Langyu Gu, Deborah Dawson for their valuable suggestions and/or assistance to the laboratory work. We also thank Andrew Cantrell and anonymous reviewers for their constructive comments on the manuscript. Our research abided by the Law of the People's Republic of China on the Protection of Wildlife (Aug 28, 2004).
Additional information
Communicated by T. Friedl.
About this article
Cite this article
Li, J., Liu, Y., Wang, Y. et al. Extra-pair paternity in two sympatric Aegithalos tits: patterns and implications. J Ornithol 155, 83–90 (2014). https://doi.org/10.1007/s10336-013-0989-5
Received:

Revised:

Accepted:

Published:

Issue Date:

DOI: https://doi.org/10.1007/s10336-013-0989-5
Keywords