Abstract
The Blue Chaffinch (Fringilla teydea) is endemic to the Canary Islands and restricted to the pine forests on Tenerife (ssp. teydea) and Gran Canaria (ssp. polatzeki). While the teydea population is large and stable, the polatzeki population underwent a dramatic decline in the twentieth century and currently numbers less than 200 individuals. Here, we show that microsatellite allelic diversity is lower in polatzeki than in teydea, consistent with a genetic bottleneck scenario. Our genotyped polatzeki individuals, which were wild-caught but currently used in a captive breeding programme, have the same allelic diversity as free-ranging birds. However, the captive polatzeki males seem to have reduced sperm motility as compared with captive teydea males, which could be an effect of reduced genetic diversity. Because polatzeki and teydea are phylogenetically distinct, they should be recognized as Evolutionarily Significant Units by conservation authorities. We also recommend maintaining the captive polatzeki population as a pre-emptive measure against extinction in the wild.
Zusammenfassung
Eingeschränkte genetische Vielfalt und Spermienbeweglichkeit beim vom Aussterben bedrohten Teide-Blaufinken ( Fringilla teydea polatzeki ) auf Gran Canaria
Der Teide-Blaufink (Fringilla teydea polatzeki) ist auf den Kanarischen Inseln endemisch und lebt ausschließlich in den Pinienwäldern auf Teneriffa (ssp. teydea) und Gran Canaria (ssp. polatzeki). Während die Population auf Teneriffa groß und stabil ist, erfuhr die Population auf Gran Canaria im 20. Jahrhundert einen dramatischen Rückgang und umfasst zur Zeit weniger als 200 Individuen. In dieser Arbeit zeigen wir, dass die allelische Vielfalt der Mikrosatelliten bei Polatzeki geringer als bei Teydea ist, was im Einklang mit einem genetischen "Engpass-Szenario"steht. Unsere genotypisch eindeutig identifizierten Polatzeki-Individuen, die Wildfänge waren und jetzt in Gefangenschaft in einem Brutprogramm eingesetzt werden, zeigten die gleiche allelische Vielfalt wie die Tiere im Freiland. Aber die gefangenen Polatzeki-Männchen scheinen gegenüber den Teydea-Männchen eine reduzierte Spermienbeweglichkeit zu haben, was an einer geringeren genetischen Vielfalt liegen könnte. Weil Polatzeki und Teydea phylogenetisch unterschiedlich sind, sollten sie vom Naturschutz offiziell als Evolutionary Significant Units (ESU) anerkannt werden. Wir empfehlen außerdem, die derzeit in Gefangenschaft gehaltene Polatzeki-Population weiterzuführen als Vorsichtsmaßnahme gegen die mögliche Ausrottung im Freiland.
This is a preview of subscription content, log in to check access.
Access options
Buy single article
Instant access to the full article PDF.
US$ 39.95
Price includes VAT for USA
Subscribe to journal
Immediate online access to all issues from 2019. Subscription will auto renew annually.
US$ 99
This is the net price. Taxes to be calculated in checkout.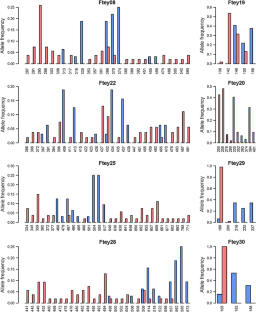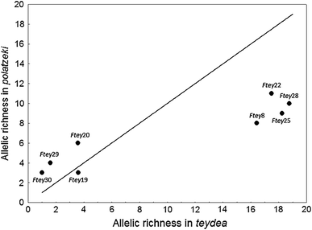 References
Anmarkrud JA, Kleven O, Augustin J, Bentz KH, Blomqvist D, Fernie KJ, Magrath MJL, Pärn H, Quinn JS, Robertson RJ, Szép T, Tarof S, Wagner RH, Lifjeld JT (2011) Factors affecting germline mutations in a hypervariable microsatellite: a comparative analysis of six species of swallows (Aves: Hirundinidae). Mut Res/Fund Mol Mech Mutagen 708:37–43

Bannerman DA (1922) The Canary Islands. Their history, natural history and scenery. Gurney and Jackson, London

Bannerman DA (1963) Birds of the Atlantic islands, vol. 1. A history of the birds of the Canary Islands and of the Salvages. Oliver and Boyd, Edinburgh, London

Beissinger SR, McCullough DR (2002) Population viability analysis. University of Chicago Press, Chicago

BirdLife International (2000) Threatened birds of the world. Lynx and BirdLife International, Barcelona, Cambridge

BirdLife International (2012) Fringilla teydea. In: IUCN Red List of Threatened Species. http://www.iucnredlist.org. Accessed 30 Sept 2012

Carrascal LM, Seoane J (2008) Método de censo y estima de población del pinzón azul de Gran Canaria. http://www.lmcarrascal.eu/pdf/ft08.pdf

del Hoyo J, Elliott A, Christie DA (2010) Handbook of the birds of the world, vol. 15, Weavers to New World warblers. Lynx, Barcelona

Excoffier LGL, Schneider S (2005) ARLEQUIN ver 3.0: an integrated software package for population genetics data analysis. Evol Bioinf Online 1:47–50

Fitzpatrick JL, Evans JP (2009) Reduced heterozygosity impairs sperm quality in endangered mammals. Biol Lett 5:320–323

Frankham R (2010) Where are we in conservation genetics and where do we need to go? Conserv Genet 11:661–663

Gage MJG, Surridge AK, Tomkins JL, Green E, Wiskin L, Bell DJ, Hewitt GM (2006) Reduced heterozygosity depresses sperm quality in wild rabbits, Oryctolagus cuniculus. Curr Biol 16:612–617

Garcia-del-Rey E, Gil L, Nanos N, López-de-Heredia U, Muñoz PG, Fernández-Palacios JM (2009) Habitat characteristics and seed crops used by blue chaffinches Fringilla teydea in winter: implications for conservation management. Bird Study 56:168–176

Garcia-del-Rey E, Otto R, Fernández-Palacios JM (2010) Medium-term response of breeding blue chaffinch Fringilla teydea teydea to experimental thinning in a Pinus canariensis plantation (Tenerife, Canary Islands). Ornis Fenn 87:180–188

Garcia-del-Rey E, Nanos N, López-de-Heredia U, Muñoz PG, Otto R, Fernández-Palacios JM, Gil L (2011) Spatiotemporal variation of a Pinus seed rain available for an endemic finch in an insular environment. Eur J Wildl Res 57:337–347

Gill F, Donsker D (2012) IOC World Bird Names (v.3.1). http://www.worldbirdnames.org

Goudet J (2001) FSTAT, a program to estimate and test gene diversities and fixation indices (v.2.9.3). http://www.unil.ch/izea/softwares/fstat.html

Hardy OJ, Vekemans X (2002) SPAGeDi: a versatile computer program to analyse spatial genetic structure at the individual or population levels. Mol Ecol Notes 2:618–620

IUCN 2012. The IUCN Red List of Threatened Species. V.2012.1 http://www.iucnredlist.org

Jamieson IG (2007) Has the debate over genetics and extinction of island endemics truly been resolved? Anim Conserv 10:139–144

Johnson TH, Stattersfield AJ (1990) A global review of island endemic birds. Ibis 132:167–180

Kalinowski ST, Taper ML, Marshall TC (2007) Revising how the computer program CERVUS accommodates genotyping error increases success in paternity assignment. Mol Ecol 16:1099–1106

Kleven O, Fossøy F, Laskemoen T, Robertson RJ, Rudolfsen G, Lifjeld JT (2009) Comparative evidence for the evolution of sperm swimming speed by sperm competition and female sperm storage duration in passerine birds. Evolution 63:2466–2473

Leberg PL (2002) Estimating allelic richness: effects of sample size and bottlenecks. Mol Ecol 11:2445–2449

Li Y-C, Korol AB, Fahima T, Beiles A, Nevo E (2002) Microsatellites: genomic distribution, putative functions and mutational mechanisms: a review. Mol Ecol 11:2453–2465

Moritz C (1994) Defining 'Evolutionarily Significant Units' for conservation. Trends Ecol Evol 9:373–375

Nei M, Maruyama T, Chakraborty R (1975) Bottleneck effect and genetic variability in populations. Evolution 29:1–10

Pestano J, Brown R, Rodriguez F, Moreno A (2000) Mitochondrial DNA control region diversity in the endangered blue chaffinch, Fringilla teydea. Mol Ecol 9:1421–1425

Phillimore AB, Owens IPF (2006) Are subspecies useful in evolutionary and conservation biology? Proc R Soc Lond B 273:1049–1053

Primmer CR, Møller AP, Ellegren H (1996) A wide-range survey of cross-species microsatellite amplification in birds. Mol Ecol 5:365–378

Queller DC, Goodnight KF (1989) Estimating relatedness using genetic markers. Evolution 43:258–275

R Development Core Team (2010) R: a language and environment of statistical computing. Vienna, Austria

Rodríguez F, Moreno A (2004) Pinzón Azul de Gran Canaria, Fringilla teydea polatzeki. In: Madroño A, González C, Atienza JC (eds) Libro Rojo de las Aves de España. Dirección General para la Biodiversidad-SEO/BirdLife, Madrid

Rodríguez F, Moreno AC (2008) Breeding biology of the endangered blue chaffinch Fringilla teydea polatzeki in Gran Canaria (Canary Islands). Acta Ornithol 43:207–215

Ryder OA (1986) Species conservation and systematics: the dilemma of subspecies. Trends Ecol Evol 1:9–10

Spencer CC, Neigel JE, Leberg PL (2000) Experimental evaluation of the usefulness of microsatellite DNA for detecting demographic bottlenecks. Mol Ecol 9:1517–1528

Suárez NM, González A, Betancor E, Pestano JJ (2009) Microsatellite loci isolation in the endangered Gran Canarian blue chaffinch (Fringilla teydea polatzeki) and their utility in closely related taxa. Conserv Genet 10:581–583

Suárez NM, Betancor E, Fregel R, Rodríguez F, Pestano J (2012) Genetic signature of a severe forest fire on the endangered Gran Canaria blue chaffinch (Fringilla teydea polatzeki). Conserv Genet 13:499–507

Zink RM (2004) The role of subspecies in obscuring avian biological diversity and misleading conservation policy. Proc R Soc Lond B 271:561–564
Acknowledgments
We thank Jostein Gohli and Even Stensrud for assistance in the field on Tenerife, and Becky Cramer, Melissah Rowe and two anonymous referees for comments. Financial support was received from the Research Council of Norway. Permits for blood and sperm sampling were issued by Excmo. Cabildo de Tenerife and the Canarian Government. The experimental work complies with the current laws of Spain and Norway.
About this article
Cite this article
Garcia-del-Rey, E., Marthinsen, G., Calabuig, P. et al. Reduced genetic diversity and sperm motility in the endangered Gran Canaria Blue Chaffinch Fringilla teydea polatzeki . J Ornithol 154, 761–768 (2013). https://doi.org/10.1007/s10336-013-0940-9
Received:

Revised:

Accepted:

Published:

Issue Date:
Keywords
Allelic richness

Canary Islands

Extinction

Microsatellites

Sperm swimming speed