Abstract
Southern Ground-Hornbills (Bucorvus leadbeateri) are co-operative breeders that occur in groups of 2–9 individuals. Long life spans, large territory sizes (100 km2), and low reproductive rates render these birds vulnerable to threats such as loss of habitat, persecution, poisoning and loss of suitable nesting sites. In the Limpopo Valley of South Africa, the species is currently re-establishing after a serious decline in numbers. In this study, we use observation, capture and population genetics approaches to gain insights into the nature of the re-colonisation of the Limpopo Valley. We determined the effective population size, genetic diversity estimates, relatedness, parentage, sex ratios, age structure and productivity. The re-colonisation of the Limpopo Valley was shown to have occurred by a number of unrelated individuals. This was demonstrable by the very low levels of average relatedness of the population, as well as the favourable levels of heterozygosity across age and sex categories. Within-group relatedness was as expected, with juveniles related to at least one parent from their natal group. Inferences on breeding behaviour based on genetic testing results provides the first evidence that SGH are not as monogamous as previously thought, with two instances recorded of extra pair copulations. Finally, we demonstrate the application of microsatellite markers to enumerate processes that are difficult to quantify through observation.
Zusammenfassung
Molekulare Einblicke in die Wiederbesiedlung des Limpopo Valley, Südafrika, durch Südliche Hornraben
Südliche Hornraben (Bucorvus leadbeateri) sind kooperative Brutvögel, die in Gruppen von 2–9 Individuen brüten. Lange Lebensspannen, große Brutterritorien (100 km2) und niedrige Reproduktionsraten machen diese Vogelart anfällig für Gefährdungen wie Lebensraumverlust, Verfolgung, Vergiftung und Verlust von geeigneten Nistplätzen. Im Limpopo Valley in Südafrika erholt sich aktuell das Vorkommen dieser Art nach einem deutlichen Bestandsrückgang. In dieser Studie nutzten wir Beobachtungs- und Fangdaten sowie populationsgenetische Ansätze um einen tieferen Einblick in die Struktur der Wiederbesiedlung des Limpopo Valley. Wir bestimmten die aktuelle Populationsgröße, genetische Diversität, Verwandtschaftsverhältnisse, Abstammung, Geschlechterverhältnisse, Altersstruktur und Produktivität. Die Wiederbesiedlung des Limpopo Valley zeigte, dass eine Anzahl nicht-verwandter Individuen auftrat. Dies konnte belegt werden durch ein sehr niedriges Niveau der Verwandtschaftsgrade innerhalb der Population, so wie durch günstige Heterozygositätsgrade über Altersund Geschlechterkategorien. Verwandtschaftsverhältnisse innerhalb einer Gruppe konnten wie erwartet nachgewiesen werden, wobei Juvenile mit mindestens einem Elterntier aus ihrer eigenen Geburtsgruppe verwandt waren. Brutverhaltne und genetische Daten geben erste Belege dafür, dass Südliche Hornraben nicht so monogam sind wie zuvor angenommen: zweimal konnten Kopulationen außerhalb des Paarverbundes nachgewiesen werden. Schließlich zeigen wir die Anwendbarkeit von Mikrosatellitenmarkern zur Verdeutlichung von Prozessen, die durch reine Beobachtungen nur schwer zu quantifizieren sind.
Access options
Buy single article
Instant access to the full article PDF.
USD 39.95
Price includes VAT (USA)
Tax calculation will be finalised during checkout.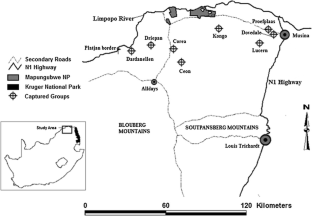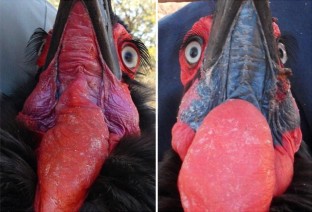 References
Cunningham PL (1996) Prospects for sustained harvesting of mopane (Colophospermum mopane) on the Venetia Limpopo Nature Reserve and its implications for browsing ungulates. Dissertation, University of Stellenbosch, South Africa

Du Plessis MA, Siegfried WR, Armstrong AJ (1995) Ecological and life-history correlates of cooperative breeding in South African Birds. Oecologia 102:180–188

Excoffier L, Laval G, Schneider S (2005) Arlequin, version 3.0: an integrated software package for population genetics data analysis. Computational and Molecular Population Genetics Laboratory (CMPG), Institute of Zoology, University of Berne, Switzerland

Fridolfsson AK, Ellegren H (1999) A simple and universal method for molecular sexing of non-ratite birds. J Avian Biol 30:116–121

Griffiths R, Double MC, Orr K, Dawson RJG (1998) A DNA test to sex most birds. Mol Ecol 7:1071–1075. doi:10.1046/j.1365-294x.1998.00389.x

Jones OR, Wang J (2010) COLONY: a program for parentage and sibship inference from multilocus genotype data. Mol Ecol Resour 10:551–555. doi:10.1111/j.1755-0998.2009.02787.x

Kemp AC (2000) Southern Ground Hornbill. In: Barnes KN (ed) The Eskom red data book of birds of South Africa, Lesotho and Swaziland. Birdlife South Africa, Johannesburg, pp 117–119

Kemp AC, Kemp MI (1980) The biology of the Southern Ground Hornbill Bucorvus leadbeateri (Vigors) (Aves: Bucerotidae). Ann Transvaal Mus 32:65–100

Kemp MI, Kemp AC (1991) Timing of egg laying by Southern Ground Hornbills Bucorvus leadbeateri in the central Kruger National Park, South Africa. Ostrich 62:80–82

Knight GM (1990) Status, distribution and foraging ecology of the Southern Ground Hornbill (Bucorvuscafer) in Natal. Dissertation, University Natal, Durban

Molecular Ecology Resources Primer Development Consortium, Aggarwal RK, Allainguillaume J et al (2011) Permanent genetic resources added to molecular ecology resources database 1 August 2010–30 September 2010. Mol Ecol Resour 11:219–222. doi:10.1111/j.1755-0998.2010.02944.x

Morrison K, Daly B, Burden D, Engelbrecht D, Jordan M, Kemp A, Kemp M, Potgieter C, Turner A, Friedmann Y (ed) (2005) Southern Ground Hornbill (Bucorvus leadbeateri) PHVA workshop report. Conservation Breeding Specialist Group (SSC/IUCN)/CBSG South Africa; Endangered Wildlife Trust

Neff BD, Gross MR (2001) Microsatellite evolution in vertebrates: inference from AC dinucleotide repeats. Evolution 55:1717–1733. doi:10.1111/j.0014-3820.2001.tb00822.x

Nei M (1978) Estimation of average heterozygosity and genetic distance from a small number of individuals. Genetics 89:583–590

Park SDE (2001) Trypanotolerance in West African cattle and the population genetic effects of selection. Dissertation, University of Dublin

Vernon CJ (1984) The Ground Hornbill at the Southern extremity of its range. Ostrich 57:16–24

Wang J (2002) An estimator for pairwise relatedness using molecular markers. Genetics 160:1203–1215

Wang J (2004) Sibship reconstruction from genetic data with typing errors. Genetics 166:1963–1979. doi:10.1534/genetics.166.4.1963

Wang J (2009) A new method for estimating effective population sizes from a single sample of multilocus genotypes. Mol Ecol 18:2148–2164. doi:10.1111/j.1365-294X.2009.04175.x

Wang J (2010) COANCESTRY: a program for simulating, estimating and analysing relatedness and inbreeding coefficients. Mol Ecol Resour 11(1):141–145. doi:10.1111/j.1755-0998.2010.02885.x

Wang J, Santure AW (2009) Parentage and sibship inference from multilocus genotype data under polygamy. Genetics 181:1579–1594. doi:10.1534/genetics.108.100214
Acknowledgments
We thank the Percy FitzPatrick Institute (University of Cape Town) for donating samples from the Kruger National Park. Sub-samples of all individuals were sent for biomaterial banking at the National Zoological Gardens of South Africa. Our gratitude to the many farmers in the Limpopo Valley who contributed to this study. We further acknowledge the Mabula Ground Hornbill Project for providing valuable information and the National Research Foundation for financial support towards the molecular genetic analysis. The proposal for this project has been reviewed by the Ethics and Scientific Committee of the National Zoological Gardens of South Africa. Furthermore, all relevant permits and permission from landowners were acquired before capture and sampling of SGH in the Limpopo Province. Finally, we acknowledge the helpful inputs of two anonymous reviewers.
About this article
Cite this article
Theron, N., Dalton, D., Grobler, J.P. et al. Molecular insights on the re-colonization of the Limpopo Valley, South Africa, by Southern Ground-Hornbills. J Ornithol 154, 727–737 (2013). https://doi.org/10.1007/s10336-013-0937-4
Received:

Revised:

Accepted:

Published:

Issue Date:
Keywords
Southern Ground-Hornbill

Microsatellite

Genetic diversity

Relatedness

Co-operative breeding

Conservation genetics