Abstract
Birds are thought to possess two magnetosensory systems: (1) a chemical sensor in the bird's eye, and (2) a magnetoreceptor innervated by the ophthalmic branch of the trigeminal nerve (V1) and presumably located in the upper beak. It has been recently demonstrated that the visually mediated magnetosensory system is crucial to the magnetic compass of the European Robin (Erithacus rubecula). In contrast, the trigeminal nerve system, despite neuronal responses to magnetic stimuli, is neither necessary nor sufficient for magnetic compass orientation in this species. Unfortunately, the potential role of the trigeminal organ is unlikely to be elucidated by the classical behavioral paradigm of the orientation cage, because it tests only for spontaneous compass responses. An operant conditioning study by Mora et al. (Nature 432:508–511, 2004) demonstrated that Homing Pigeons can be conditioned to discriminate the presence and absence of a strong gradient magnetic field stimulus. This discrimination depended on intact ophthalmic branches of the trigeminal nerves. Here, we report detailed attempts aimed at adapting the behavioral paradigm used by the above study for a model migratory bird, the European Robin. We tested three variants of a conditioning procedure very similar to that of Mora et al. (Nature 432:508–511, 2004). Despite extensive training, we were not able to demonstrate that our experimental birds were able to discriminate the magnetic stimuli presented to them. This was, however, not due to a general unsuitability of the conditioning setup for this species, because the robins were able to successfully discriminate the presence and absence of an auditory stimulus in the same setup.
Zusammenfassung
Ansätze zur Entwicklung eines operanten Konditionierungsparadigmas zur Untersuchung der Magnetperzeption eines ziehenden Singvogels
Nach derzeitigem Forschungsstand verfügen Vögel vermutlich über zwei magnetosensorische Systeme: einen quantenphysikalisch begreiflichen Mechanismus im Vogelauge, und einen mit dem Trigiminalnerv assoziierten Sensor im Oberschnabel. Aktuelle Studien konnten zeigen, dass der magnetischen Kompass von Rotkehlchen (Erithacus rubecula) auf dem visuellen System basiert, und bestärken somit den erstgenannten Mechanismus. Im Gegensatz dazu scheint das mit dem Trigeminalnerv assoziierte System dieser Art weder notwendig noch ausreichend zur Detektion der Kompassrichtung zu sein. Indes bestehen Hinweise, dass über diesen Nerv Magnetfeldinformationen vermittelt werden. Welche Rolle das trigeminale System für die Orientierung der Vögel spielt wird mit den klassischen Trichterexperimenten kaum zu beantworten sein, da dieses Paradigma allein auf spontaner gerichteter lokomotorischer Aktivität der Vögel während der Zugzeit basiert. Eine operante Konditionierungsstudie von Mora et al. (Nature 432:508–511, 2004) zeigte, dass Brieftauben auf die Unterscheidung zwischen der An- und Abwesenheit eines starken Magnetstimulus konditioniert werden konnten. Diese Unterscheidung war abhängig von einem intakten ophthalmischen Ast des trigeminalen Nervs. In der vorliegenden Studie beschreiben wir detaillierte Versuche, das von Mora et al. (Nature 432:508–511, 2004) beschriebenen Paradigma auf eine Zugvogelart (Rotkehlchen) zu übertragen. Dafür haben wir drei verschiedene Konditionierungsvarianten durchgeführt. Trotz langer Trainingsperioden waren wir nicht in der Lage die Tiere auf unterschiedliche Magnetstimuli zu konditionieren. Offenkundig lag dies jedoch nicht an dem Paradigma selbst, da die Konditionierung auf auditorische Stimuli mit dem gleichen Versuchsaufbau erfolgreich verlief.
This is a preview of subscription content, log in to check access.
Access options
Buy single article
Instant access to the full article PDF.
US$ 39.95
Price includes VAT for USA
Subscribe to journal
Immediate online access to all issues from 2019. Subscription will auto renew annually.
US$ 99
This is the net price. Taxes to be calculated in checkout.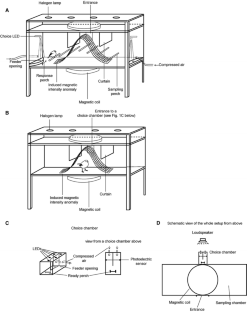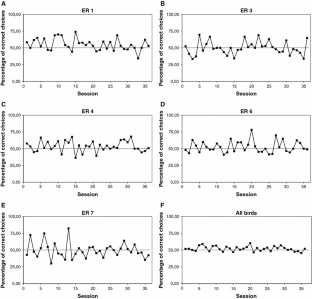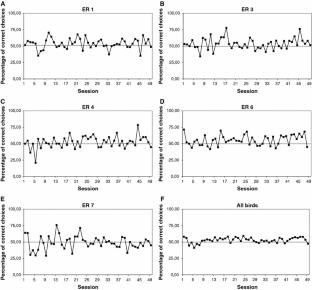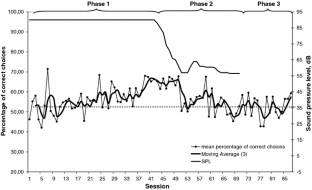 References
Alsop B (1987) A failure to obtain magnetic discrimination in the Pigeon. Anim Learn Behav 15:110–114

Beaugrand JP (1976) An attempt to confirm magnetic sensitivity in the Pigeon, Columba livia. J Comp Physiol 110:343–355

Bookman MA (1977) Sensitivity of the Homing Pigeon to an earth-strength magnetic field. Nature 276:340–342

Carman GJ, Walker MM, Lee AK (1987) Attempts to demonstrate magnetic discrimination by Homing Pigeons in flight. Anim Lear Behav 15:124–129

Couvillon PA, Asam AM, Bitterman ME (1992) Further efforts at training Pigeons to discriminate changes in the geomagnetic field. J Exp Biol 173:295–299

Emlen ST, Emlen JT (1966) A technique for recording migratory orientation of captive birds. Auk 83:361–367

Falkenberg G, Fleissner G, Schuchardt K, Kuehbacher M, Thalau P, Mouritsen H, Heyers D, Wellenreuther G, Fleissner G (2010) Avian magnetoreception: elaborate iron mineral containing dendrites in the upper beak seem to be a common feature of birds. PLoS One 5:e9231. doi:10.1371/journal.pone.0009231. http://www.plosone.org/article/info

Fleissner G, Holtkamp-Rötzler E, Hanzlik M, Winklhofer M, Fleissner G, Petersen N, Wiltschko W (2003) Ultrastructural analysis of a putative magnetoreceptor in the beak of Homing Pigeons. J Comp Neurol 458:350–360

Fleissner G, Stahl B, Thalau P, Falkenberg G, Fleissner G (2007) A novel concept of Fe-mineral-based magnetoreception: histological and physicochemical data from the upper beak of Homing Pigeons. Naturwiss 94:631–642

Freire R, Munro U, Rogers L, Wiltschko R, Wiltschko W (2005) Chickens orient using a magnetic compass. Curr Biol 15:R620

Haugh C, Walker M (1998) Magnetic discrimination learning in Rainbow Trout (Oncorhynchus mykiss). J Inst Navig 51:35–45

Hein CM, Engels S, Kishkinev D, Mouritsen H (2011). Robins have a magnetic compass in both eyes. Nature 471:E1. http://www.nature.com/nature/journal/v471/n7340/full/nature09875.html

Heyers D, Manns M, Luksch H, Güntürkün O, Mouritsen H (2007) A visual pathway links brain structures active during magnetic compass orientation in migratory birds. PLoS ONE 2(9):e937

Heyers D, Zapka M, Hoffmeister M, Wild JM, Mouritsen H (2010) Magnetic field changes activate the trigeminal brainstem complex in a migratory bird. Proc Natl Acad Sci USA 107:9394–9399

Holland R (2010) Differential effects of magnetic pulses on the orientation of naturally migrating birds. J R Soc Interface 7:1617–1625

Kirschvink JL, Winklhofer M, Walker MM (2010) Biophysics of magnetic orientation: strengthening the interface between theory and experimental design. J R Soc Interface 7:S179–S191

Kreithen ML, Keeton WT (1974) Attempts to condition Homing Pigeons to magnetic stimuli. J Comp Physiol A 91:355–362

Liedvogel M, Mouritsen H (2010) Cryptochromes—a potential magnetoreceptor: what do we know and what do we want to know? J R Soc Interface 7(Suppl 2):S147–S162

Liedvogel M, Feenders G, Wada K, Troje NF, Jarvis ED, Mouritsen H (2007) Lateralized activation of Cluster N in the brains of migratory songbirds. Eur J Neurosci 25:1166–1173. doi:10.1111/j.1460-9568.2007.05350.x

Meyer ME, Lambe DR (1966) Sensitivity of the Pigeon to changes in the magnetic field. Psychon Sci 5:349–350

Moore BR, Stanhope KJ, Wilcox D (1987) Pigeons fail to detect low-frequency magnetic fields. Anim Lear Behav 15:115–117

Mora CV, Davison M, Wild JM, Walker MM (2004) Magnetoreception and its trigeminal mediation in the Homing Pigeon. Nature 432:508–511

Mora CM, Davison M, Walker MM (2009) Conditioning as a technique for studying the sensory systems involved in animal orientation, homing and navigation—a review. J Inst Navig 62:571–585

Mouritsen H, Feenders G, Liedvogel M, Wada K, Jarvis ED (2005) Night-vision brain area in migratory songbirds. Proc Natl Acad Sci USA 102:8339–8344

Orgel AR, Smith JC (1954) Test of the magnetic theory of homing. Science 120:891–892

Reille A (1968) Essai de mis en évidence d'une sensibilité du pigeon au champ magnétique à l'aide d'un conditionnement nociceptif. J Physiol 50:81–92

Ritz T, Adem S, Schulten K (2000) A model for photoreceptor-based magnetoreception in birds. Biophys J 78:707–718

Ritz T, Ahmad M, Mouritsen H, Wiltschko R, Wiltschko W (2010) Photoreceptor-based magnetoreception: optimal design of receptor molecules, cells, and neuronal processing. J Royal Soc Interface 7:S135–S146

Shcherbakov VP, Winklhofer M (2010) Theoretical analysis of flux amplification by soft magnetic material in a putative biological magnetic-field receptor. Phys Rev E 81:031921

Shcherbakov D, Winklhofer M, Petersen N, Steidle J, Hilbig R, Blum M (2005) Magnetosensation in zebrafish. Curr Biol 15:R161–R162

Thalau P, Holtkamp-Rötzler E, Fleissner G, Wiltschko W (2007) Homing pigeons (Columba livia f. domestica) can use magnetic cues for locating food. Naturwiss 94:813–819

Treiber CD, Salzer MC, Riegler J, Edelman N, Sugar C, Breuss M, Pichler P, Cadiou H, Saunders M, Lythgoe M, Shaw J, Keays DA (2012) Clusters of iron-rich cells in the upper beak of pigeons are macrophages not magnetosensitive neurons. Nature 484:367–370. doi:10.1038/nature11046

Voss J, Keary N, Bischof HJ (2007) The use of the geomagnetic field for short distance orientation in Zebra Finches. NeuroReport 18:1053–1057

Walker MM (1984) Learned magnetic field discrimination in Yellow-fin Tuna, Thunnus albacares. J Comp Physiol A 155:673–679

Walker MM, Bitterman ME (1985) Conditioned responding to magnetic fields by Honeybees. J Comp Physiol A 157:67–71

Walker MM, Diebel CE, Haugh CV, Pankhurst PM, Montgomery JC, Green CR (1997) Structure and function of the vertebrate magnetic sense. Nature 390:371–376

Walker MM, Diebel CE, Kirschvink JL (2003) Detection and use of the Earth's magnetic field by aquatic vertebrates. In: Collin SP, Marshall NJ (eds) Sensory processing in aquatic environments. Springer, New York, pp 53–74

Wiltschko W (1978) Further analysis of the magnetic compass of migratory birds. In: Schmidt-Koenig K, Keeton W (eds) Animal migration, navigation and homing. Springer, Berlin, pp 301–310

Wiltschko W, Wiltschko R (1972) Magnetic compass of European robins. Science 176:62–64

Wiltschko R, Wiltschko W (1995) Magnetic orientation in animals. Springer, Berlin

Wiltschko R, Wiltschko W (1996) Magnetoreception: why is conditioning so seldom successful? Naturwiss 83:241–247

Wiltschko W, Munro U, Beason RC, Ford H, Wiltschko R (1994) A magnetic pulse leads to a temporal deflection in the orientation of migratory birds. Experientia 50:697–700

Wiltschko R, Schiffner I, Wiltschko W (2009) A strong magnetic anomaly affects pigeon navigation. J Exp Biol 212:2983–2990

Wilzeck C, Wiltschko W, Güntürkün O, Buschmann J-U, Wiltschko R, Prior H (2010) Learning of magnetic compass directions in Pigeons. Anim Cogn 13:443–451

Zapka M, Heyers D, Hein CM, Engels S, Schneider N-L, Hans J, Weiler S, Dreyer D, Kishkinev D, Wild JM, Mouritsen H (2009) Visual but not trigeminal mediation of magnetic compass information in a migratory bird. Nature 461:1274–1277
Acknowledgments
We are most grateful to the following people for helping us in this study: the staff at the University of Oldenburg workshop, who built and maintained our experimental equipment; Dr. Russell Mora, who designed, custom-wrote, and supported the software used to automate our conditioning procedures; various members of the Animal Physiology and Behaviour Laboratory (AG Zoophysiologie und Verhalten), especially Prof. Dr. G. Klump, Dr. Ulrike Langemann and Nina Pohl, who generously let us perform some of the experiments in their laboratory, supplied us with equipment to produce and measure the auditory stimuli used in experiment III, and gave practical advice; all members of the Animal Navigation Laboratory (AG Neurosensorik) for their assistance with this study. This work has been supported by funds from the German Academic Exchange Service (DAAD: a 10-month scientific visit fellowship to D. K.), International Graduate School for Neurosensory Science and Systems (a Ph.D. fellowship to D. K.), Alexander von Humboldt Stiftung (GAFOS-Connect Scholarship to C. V. M.), and a Lichtenberg Grant from Volkswagen-Stiftung (to H. M.). All the experiments comply with the current laws of Germany, where they all were performed. The authors declare that they have no conflict of interest.
Additional information
Communicated by F. Bairlein.
About this article
Cite this article
Kishkinev, D., Mouritsen, H. & Mora, C.V. An attempt to develop an operant conditioning paradigm to test for magnetic discrimination behavior in a migratory songbird. J Ornithol 153, 1165–1177 (2012). https://doi.org/10.1007/s10336-012-0847-x
Received:

Revised:

Accepted:

Published:

Issue Date:
Keywords
European Robin

Magnetoreception

Operant conditioning

Magnetic stimulus

Navigation