Abstract
Sexual size dimorphism results in asymmetric sibling competition, and nestlings of the smaller sex are expected to prioritise the development of those morphological characters that maximise effective sibling competition. In this study, we test the prediction that female Blue Tit Cyanistes caeruleus nestlings, which are smaller than males, preferentially develop relative gape area in a trade-off against growth of mass and head-bill length. We found that whilst male nestlings were heavier, female and male nestlings had similar head-bill lengths, but females had relatively larger gape areas. Therefore, female nestlings were investing relatively more resources in gape area than males because of their overall smaller body size, presumably because gapes are an integral part of the process used by nestlings to solicit food from their parents.
Zusammenfassung
Geschlechtsdimorphismus und Wachstum der Jungen: kleinere weibliche Blaumeisen-Nestlinge entwickeln relativ größere Schnabelöffnungen beim Sperren.
Geschlechtsbedingte Unterschiede in der Körpergröße führen bei Nestlingen zu asymmetrischer Geschwister-Konkurrenz, wobei man von den Nestlingen des kleineren Geschlechts erwarten würde, dass sie diejenigen morphologischen Eigenheiten besonders entwickeln, die ihnen in der Konkurrenz mit den Geschwistern speziell helfen. In unserer Untersuchung testeten wir die Voraussage, dass weibliche Blaumeisen-Nestlinge (Cyanistes caeruleus), die kleiner als ihre männlichen Geschwister sind, die Größe ihrer Schnabelöffnungen bevorzugt entwickeln, im Kompromiss mit dem entsprechenden Wachstum von Schnabellänge und -masse. Wir fanden, dass die weiblichen und männlichen Nestlinge ähnlich große Schnabellängen hatten, obwohl die männlichen Nestlinge schwerer waren, dass aber die weiblichen relativ größere Schlundöffnungen zeigten. Also investieren weibliche Nestlinge bei generell geringerer Körpergröße relativ mehr Ressourcen als die männlichen in die Größe der Schnabelöffnungen. Der Grund hierfür liegt vermutlich darin, dass die Schnabelöffnungen als Sperren ein integraler Bestandteil des Prozesses ist, mit dem die Jungen Futter von ihren Eltern erbetteln.
Access options
Buy single article
Instant access to the full article PDF.
USD 39.95
Price excludes VAT (USA)
Tax calculation will be finalised during checkout.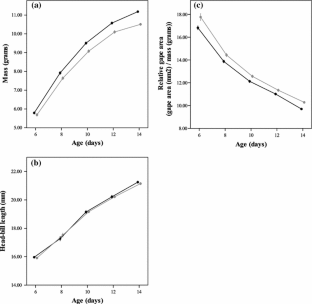 References
Clark AB (1995) Gapes of sexually dimorphic blackbird nestlings do not show sexually dimorphic growth. Auk 112:364–374

Cramp S, Perrins CM (1993) The birds of the western Palearctic, vol 7: flycatchers to shrikes. Oxford University Press, Oxford

Crawley MJ (1993) GLIM for ecologists. Blackwell, Oxford

Dhondt AA, Hochhachka WM (2001) Adaptive sex ratios and parent–offspring conflict. Trends Ecol Evol 16:61–62

Dhondt AA, Eykerman R, Hublé J (1983) Laying interruptions in tits Parus spp. Ibis 125:370–376

Dickens M, Hartley IR (2007) Differences in parental food allocation rules: evidence for sexual conflict in the blue tit? Behav Ecol 18:674–679

Dickens M, Berridge D, Hartley IR (2007) Biparental care and offspring begging strategies: hungry nestling blue tits move towards the father. Anim Behav 75:167–174

Dubiec A, Cichoń M, Deptuch K (2006) Sex-specific development of cell-mediated immunity under experimentally altered rearing conditions in blue tit nestlings. Proc R Soc Lond B 273:1759–1764

Gil D, Bulmer E, Celis P, López I (2008) Adaptive developmental plasticity in growing nestlings: sibling competition induces differential gape growth. Proc R Soc Lond B 275:549–554

Griffiths R, Double MC, Orr K, Dawson RJG (1998) A DNA test to sex most birds. Mol Ecol 7:1071–1075

Hunt S, Kilner RM, Langmore NE, Bennett ATD (2003) Conspicuous, ultraviolet-rich mouth colours in begging chicks. Proc R Soc Lond B 270(Suppl):S25–S28

Kalmbach E, Benito MM (2007) Sexual size dimorphism and offspring vulnerability in birds. In: Fairburn DJ, Blanckenborn WU, Székely T (eds) Sex, size and gender roles: evolutionary studies of sexual size dimorphism. Oxford University Press, Oxford, pp 133–142

Kawasaki ES (1990) PCR protocols: a guide to methods and applications. Academic, San Diego

Kilner RM (1999) Family conflicts and the evolution of nestling mouth colour. Behaviour 136:779–804

Kilner RM, Davies NB (1999) How selfish is a cuckoo chick? Anim Behav 58:797–808

Kilner RM, Noble DG, Davies NB (1999) Signals of need in parent–offspring communication and their exploitation by the common cuckoo. Nature 6721:667–672

Kunz C, Ekman J (2000) Genetic and environmental components of growth in nestling blue tits (Parus caeruleus). J Evol Biol 13:199–212

Lambrechts MM et al (2010) The design of artificial nestboxes for the study of secondary hole-nesting birds: a review of methodological inconsistencies and potential biases. Acta Ornithol 45:1–26

Mainwaring MC, Dickens M, Hartley IR (2010a) Sexual dimorphism and growth trade-offs in blue tit Cyanistes caeruleus nestlings. Ibis 153:175–179

Mainwaring MC, Dickens M, Hartley IR (2010b) Environmental and not maternal effects determine variation in offspring phenotypes in a passerine bird. J Evol Biol 23:1302–1311

Mainwaring MC, Lucy D, Hartley IR (2011) Parentally biased favouritism in relation to offspring sex in zebra finches. Behav Ecol Sociobiol 65:2261–2268

Murtaugh PA (2009) Performance of several variable-selection methods applied to real ecological data. Ecol Lett 12:1061–1068

Nilsson J-Å, Gårdmark A (2001) Sibling competition affects individual growth strategies in marsh tit, Parus palustris, nestlings. Anim Behav 61:357–365

Oddie KR (2000) Size matters: competition between male and female great tit offspring. J Anim Ecol 69:903–912

Ortega CP, Cruz A (1992) Differential growth patterns of nestling brown-headed cowbirds and yellow-headed blackbirds. Auk 109:368–376

Pinheiro JC, Bates DM (2000) Mixed-effects models in S and S-PLUS. Springer, New York

Råberg L, Stjernman M, Nilsson J-Å (2005) Sex and environmental sensitivity in blue tit nestlings. Oecologia 145:496–503

Saino N, Ninni P, Calza S, Martinelli R, DeBernardi F, Møller AP (2000) Better red than dead: carotenoid-based mouth coloration reveals infection in barn swallow nestlings. Proc R Soc Lond B 267:57–61

Schew WA, Ricklefs RE (1998) Developmental plasticity. In: Starck JM, Ricklefs RE (eds) Avian growth and development: evolution within the altricial-precocial spectrum. Oxford University Press, Oxford, pp 288–304

Slagsvold T, Wiebe KL (2007) Hatching asynchrony and early nestling mortality: the feeding constraint hypothesis. Anim Behav 73:691–700

Tanaka KD, Ueda K (2005) Horsfield's hawk-cuckoo nestlings simulate multiple gapes for begging. Science 308:653

Wiebe KL, Slagsvold T (2009) Mouth coloration in nestling birds: increasing detection or signalling quality? Anim Behav 78:1413–1420
Acknowledgments
We thank Terry Burke, Andy Krupa, Gavin Horsburgh, Clemens Küpper, Maria Elena Mannarelli and Deborah Dawson at the NERC Biomolecular Analysis Facility at Sheffield for helping M.C.M. to determine the sex of the nestlings; Ian Owens, Jan-Åke Nilsson, Tore Slagsvold, Karen Wiebe and Ken Wilson for useful comments; and the Natural Environment Research Council for funding via studentships to M.C.M. (NER/S/A.2003/11263) and to M.D. (NER/S/A/2002/10396).
Additional information
Communicated by T. Friedl.
About this article
Cite this article
Mainwaring, M.C., Dickens, M. & Hartley, I.R. Sexual dimorphism and offspring growth: smaller female Blue Tit nestlings develop relatively larger gapes. J Ornithol 153, 1011–1016 (2012). https://doi.org/10.1007/s10336-012-0828-0
Received:

Revised:

Accepted:

Published:

Issue Date:

DOI: https://doi.org/10.1007/s10336-012-0828-0
Keywords
Sibling competition

Sexual dimorphism

Resource allocation

Blue Tit