Abstract
Over 90% of birds breed in socially monogamous partnerships. Among monogamous passerines, species vary from those with extra-pair copulations and short-term partnerships to others with exclusive and long-term partnerships. Study of long-term monogamy in passerines has lagged behind other forms of monogamy, and the factors favouring this extreme mating system are unclear. I investigated five hypotheses for long-term monogamy (LTM) in Neotropical Buff-breasted Wrens (Cantorchilus leucotis). Familiarity with breeding partners did not increase reproductive success relative to naïve pairs, which is inconsistent with the mate familiarity hypothesis. Experienced females, and possibly males, had greater reproductive success than those breeding for the first time, supporting the hypothesis that LTM may be favoured by improved reproductive performance of individuals as they gain breeding experience. The low resource availability hypothesis was supported as territory availability was low, mates were rapidly replaced, and searching for alternative territories was costly, as birds did not always re-acquire territories following experimental removals. Evidence for territorial defence hypotheses was mixed, as pair members coordinated aggressive responses to intruders while simultaneously exhibiting sex-specific aggression. These results suggest fitness advantages, low resource availability and selection for resource monopolization by males and females may have favoured long-term monogamy in Buff-breasted Wrens.
Access options
Buy single article
Instant access to the full article PDF.
US$ 39.95
Tax calculation will be finalised during checkout.
Subscribe to journal
Immediate online access to all issues from 2019. Subscription will auto renew annually.
US$ 79
Tax calculation will be finalised during checkout.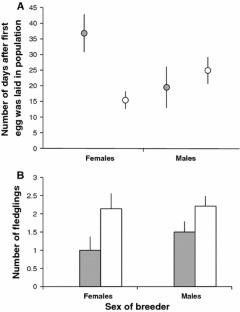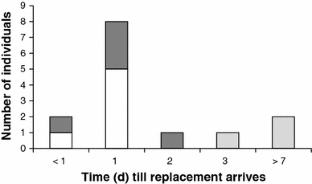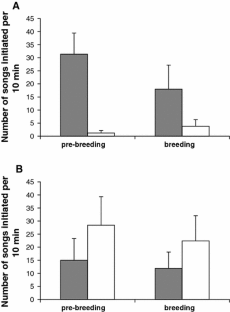 References
Benedict L (2008) Occurrence and life history correlates of vocal duetting in North American passerines. J Avian Biol 39:57–65

Black JM (1996) Partnerships in birds. The study of monogamy. Oxford University Press, Oxford

Black JM (2001) Fitness consequences of long-term pair bonds in Barnacle Geese: monogamy in the extreme. Behav Ecol 12:640–645

Bried J, Pontier D, Jouventin P (2003) Mate fidelity in monogamous birds: a re-examination in Procellariiformes. Anim Behav 65:235–246

Clutton-Brock TH (1989) Mammalian mating systems. Proc R Soc Lond 236:339–372

Dhondt AA, Adriaensen F (1994) Causes and consequences of divorce in the Blue Tit Parus caeruleus. J Anim Ecol 63:979–987

Dubois F, Cézilly F (2002) Breeding success and mate retention in birds: a meta-analysis. Behav Ecol Sociobiol 52:357–364

Emlen ST, Oring LW (1977) Ecology, sexual selection, and the evolution of mating systems. Science 197:215–223

Farabaugh SM (1982) The ecological and social significance of duetting. In: Kroodsma DE, Miller EH (eds) Acoustic communication in birds. Academic, New York, pp 85–124

Field A (2005) Discovering statistics using SPSS. Sage, London

Freed LA (1987) The long-term pair bond of tropical house wrens: advantage or constraint? Amer Nat 130:507–525

Gill SA (2004) First record of cooperative breeding in a Thryothorus wren. Wilson Bull 116:337–341

Gill SA, Stutchbury BJM (2005) Nest building is an indicator of parental quality in a monogamous, tropical wren Thryothorus leucotis. Auk 122:1169–1181

Gill SA, Stutchbury BJM (2006) Long-term mate and territory fidelity in Neotropical Buff-breasted Wrens (Thryothorus leucotis). Behav Ecol Sociobiol 61:245–253

Gill SA, Stutchbury BJM (2010) Delayed dispersal and territory acquisition in Neotropical Buff-breasted Wrens (Thryothorus leucotis). Auk 127:372–378

Gill SA, Vonhof MJ (2006) Sexing monochromatic birds in the field: cryptic sexual size dimorphism in buff-breasted wrens (Thryothorus leucotis). Ornitol Neotrop 17:409–419

Gill SA, Vonhof MJ, Stutchbury BJM, Morton ES, Quinn JS (2005) No evidence for acoustic mate guarding in duetting buff-breasted wrens (Thryothorus leucotis). Behav Ecol Sociobiol 57:557–565

Gill SA, Alfson ED, Hau M (2007) Context matters: female aggression and testosterone in a year-round territorial neotropical songbird (Thryothorus leucotis). Proc R Soc Lond 274:2187–2194

Gill SA, Costa LM, Hau M (2008) Males of a single-brooded tropical bird species do not show increases in testosterone during social challenges. Horm Behav 54:115–124

Grafe TU, Bitz JH (2004) Functions of duetting in the Tropical Boubou, Laniarius aethiopicus: territorial defence and mutual mate guarding. Anim Behav 68:193–201

Greenberg R, Gradwohl J (1997) Territoriality, adult survival, and dispersal in the checker-throated Antwren in Panama. J Avian Biol 28:103–110

Griffith SC, Owens APF, Thuman KA (2002) Extra pair paternity in birds: a review of interspecific variation and adaptive function. Mol Ecol 11:2195–2212

Haggerty TM, Morton ES, Fleischer RC (2001) Genetic monogamy in Carolina Wrens (Thryothorus ludovicianus). Auk 118:215–219

Hall ML (2000) The function of duetting in magpie-larks: conflict, cooperation, or commitment? Anim Behav 60:667–677

Hall ML (2004) A review of hypotheses for the functions of avian duetting. Behav Ecol Sociobiol 55:415–430

Hall ML, Peters A (2008) Coordination between the sexes for territorial defence in a duetting fairy-wren. Anim Behav 76:65–73

Hannon SJ (1983) Spacing and breeding density of Willow Ptarmigan in response to an experimental alteration of sex ratio. J Anim Ecol 52:807–820

Hatch MI, Westneat DF (2008) Familiarity between mates improves few aspects of reproductive performance in house sparrows. Behaviour 145:365–376

Henderson IG, Hart PJB, Burke T (2000) Strict monogamy in a semi-colonial passerine: the Jackdaw Corvus monedula. J Avian Biol 31:177–182

Kleimann DG (1977) Monogamy in mammals. Q Rev Biol 52:39–69

Lack D (1968) Ecological adaptations for breeding in birds. Chapman and Hall, London

Langmore NE (1998) Functions of duet and solo songsof female birds. Trends Ecol Evol 13:136–140

Levin RN (1996) Song behaviour and reproductive strategies in a duetting wren, Thryothorus nigricapillus: II. Playback experiments. Anim Behav 52:1107–1117

Logue DM (2005) Cooperative defence in duet singing birds. Cogn Brain Behav 9:497–510

Logue DM, Gammon DE (2004) Duet song and sex roles during territory defence in a tropical bird, the black-bellied wren, Thryothorus fasciatoventris. Anim Behav 68:721–731

Mathews LM (2002) Territorial cooperation and social monogamy: factors affecting intersexual behaviours in pair-living snapping shrimp. Anim Behav 63:767–777

Mennill DJ (2006) Aggressive responses of male and female rufous-and-white wrens to stereo duet playback. Anim Behav 71:219–226

Morton ES, Derrickson KC, Stutchbury BJM (2000) Territory switching behavior in a sedentary tropical passerine, the Dusky Antbird (Cercomacra tyrannina). Behav Ecol 11:648–653

Naves LC, Cam E, Monnat JY (2007) Pair duration, breeding success and divorce in a long-lived seabird: benefits of mate familiarity? Anim Behav 73:433–444

Nelson JB (1972) Evolution of the pair bond in Sulidae. Int Ornithol Congr 15:371–388

Neudorf DLH (2004) Extrapair paternity in birds: understanding variation among species. Auk 121:302–307

Perrins CM, McCleery RH (1985) The effect of age and pair bond on the breeding success of Great Tits Parus major. Ibis 127:306–315

Price JJ (2009) Evolution and life-history correlates of female song in the New World blackbirds. Behav Ecol 20:967–977

Robertson BC, Degnan SM, Kikkawa J, Moritz CC (2001) Genetic monogamy in the absence of paternity guards: the Capricorn Silvereye, Zosterops lateralis chlorocephalus, on Heron Island. Behav Ecol 12:666–673

Rowley I (1983) Re-mating in birds. In: Bateson P (ed) Mate choice. Cambridge University Press, Cambridge, pp 332–360

Székely T, Kosztolányi A, Küpper C, Thomas GH (2007) Sexual conflict over parental care: a case study of shorebirds. J Ornithol 148:S211–S217

Tobias JA, Seddon N (2009) Signal jamming mediates sexual conflict in a duetting bird. Curr Biol 19:577–582

Whiteman EA, Côté IM (2004) Monogamy in marine fishes. Biol Rev 79:351–375

Wickler W, Seibt U (1983) Monogamy in Crustacea and man. Z Tierpsychol 57:215–234

Wilson EO (1975) Sociobiology. Harvard University Press, Cambridge

Wittenberger JF, Tilson RL (1980) The evolution of monogamy: hypotheses and evidence. Ann Rev Ecol Syst 11:197–232
Acknowledgments
This research has been supported by the American Museum of Natural History, American Ornithologist's Union, Animal Behavior Society, Government of Ontario, Natural Sciences and Engineering Research Council of Canada, National Science Foundation, Sigma Xi, Western Michigan University, and York University. I thank Autoridad Nacional del Ambiente for permission to conduct this research, the Smithsonian Tropical Research Institute for logistical support, and S. Alessi, E. Alfson, L. Costa, C. Edwards, M. Hau, J. Knowlton, M. Mico, B.J.M. Stutchbury, L. VanBladeren, and M.J. and A. Vonhof for research assistance and support. M. Vonhof and two anonymous reviewers kindly provided thorough and helpful comments on the manuscript. This research complied with Canadian, Panamanian, and US guidelines for the use of animals in research.
Additional information
Communicated by Scott V. Edwards.
About this article
Cite this article
Gill, S.A. Testing hypotheses for the evolution of long-term monogamy in Neotropical Buff-breasted Wrens (Cantorchilus leucotis). J Ornithol 153, 125–134 (2012). https://doi.org/10.1007/s10336-011-0804-0
Received:

Revised:

Accepted:

Published:

Issue Date:
Keywords
Monogamy

Partnership

Reproductive success

Resource availability

Resource monopolization

Thryothorus

Troglodytidae