Abstract
We analyzed temporal and spatial variation in timing of breeding of a highly resident bird species, the Crested Tit (Lophophanes cristatus), over the past 86 years in southern Finland. Besides describing temporal changes in breeding times over this exceptionally long time series, we wanted to compare three different data types (nest card data, ringing data, and intensive population monitoring data) for their consistency in relation to temporal changes in laying dates. In the longest time series, the nest card data, the laying dates of L. cristatus show a quadratic trend over the years, delaying from the 1920s and 1930s towards the 1950s and 1960s, and advancing from the 1960s towards the 2000s. L. cristatus now starts laying c. 9 days earlier than in the 1960s and c. 6 days earlier than in the 1920s and 1930s. This is partly explained by increased March–April temperatures in southern Finland, but advancement of laying dates has been greater than expected on the basis of just temperature change. All data types showed very similar temporal trends for L. cristatus laying dates for the overlapping periods. As long as the yearly number of observations is reasonable and spatial variation is adequately controlled, all data types give reliable information on breeding times and their changes. Our results emphasize that, besides nest card data, the ringing data are a valuable source of information on breeding phenology, and allow the avoidance of the potential problem of generalizing temporal changes based on a handful of model species for which intensive monitoring data are available.
Zusammenfassung
Brutzeittrends der Haubenmeise ( Lophophanes cristatus ) in Südfinnland—ein Vergleich von Datenquellen
Wir haben zeitliche und räumliche Schwankungen in den Brutzeiten eines ausgeprägten Standvogels, der Haubenmeise (Lophophanes cristatus), im Verlauf der letzten 86 Jahre in Südfinnland analysiert. Neben der Beschreibung der Veränderungen der Brutzeiten über diese außergewöhnlich lange Zeitspanne wollten wir drei verschiedene Datentypen (Nestkartendaten, Beringungsdaten und intensive Populationskontrolldaten) hinsichtlich ihrer Übereinstimmung in Bezug auf zeitliche Veränderungen der Legedaten vergleichen. In der längsten Zeitreihe, den Nestkartendaten, zeigen die Legedaten von L. cristatus einen quadratischen Trend über die Jahre-von den 1920ern und 1930ern bis zu den 1950ern und 1960ern verspätete sich der Legebeginn und rückte dann von den 1960ern bis zu den 2000ern wieder vor. L. cristatus beginnt mit der Eiablage nun etwa neun Tage früher als in den 1960ern und etwa sechs Tage früher als in den 1920ern und 1930ern. Dies lässt sich zum Teil mit erhöhten März-April-Temperaturen in Südfinnland erklären, doch die Legedaten sind stärker vorgerückt, als sich allein aufgrund von Temperaturveränderungen erwarten ließe. Alle Datentypen zeigten sehr ähnliche zeitliche Trends für die Legedaten von L. cristatus für die überlappenden Zeitabschnitte. Solange die Zahl der jährlichen Beobachtungen angemessen ist und räumliche Schwankungen adäquat berücksichtigt werden, liefern alle Datentypen verlässliche Informationen über Brutzeiten und ihre Veränderungen. Unsere Ergebnisse unterstreichen, dass außer Nestkartendaten auch Beringungsdaten wertvolle Informationen über die Brutphänologie liefern, und erlauben es, das potenzielle Problem zu vermeiden, zeitliche Veränderungen basierend auf einer Handvoll Modellarten, für die intensive Beobachtungsdaten vorliegen, zu verallgemeinern.
Access options
Buy single article
Instant access to the full article PDF.
USD 39.95
Price excludes VAT (USA)
Tax calculation will be finalised during checkout.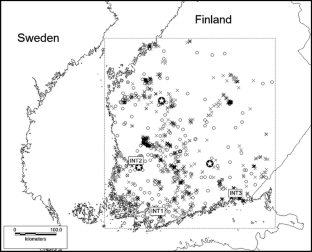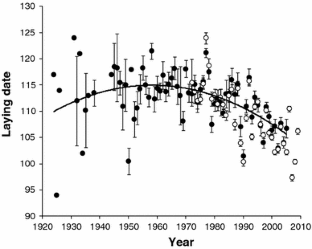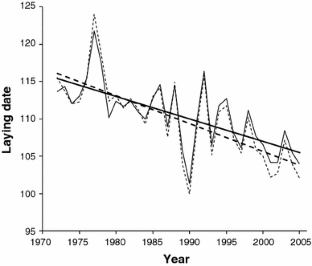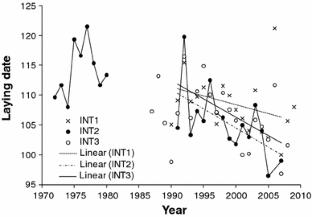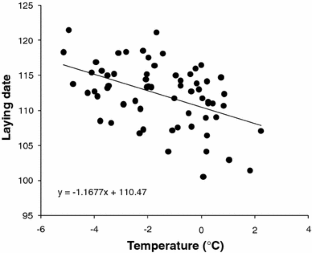 References
Ahola M, Laaksonen T, Sippola K, Eeva T, Rainio K, Lehikoinen E (2004) Variation in climate warming along the migration route uncouples arrival and breeding dates. Glob Change Biol 10:1610–1617

Ahola MP, Laaksonen T, Eeva T, Lehikoinen E (2009) Great tits lay increasingly smaller clutches than selected for: a study of climate- and density-related changes in reproductive traits. J Anim Ecol 78:1298–1306

Both C, Piersma T, Roodbergen SP (2005) Climatic change explains much of the 20th century advance in laying date of northern lapwing Vanellus vanellus in The Netherlands. Ardea 93:79–88

Charmantier A, McCleery RH, Cole LR, Perrins C, Kruuk LEB, Sheldon BC (2008) Adaptive phenotypic plasticity in response to climate change in a wild bird population. Science 320:800–803

Cramp S, Perrins CM (1993) The birds of the western Palearctic, vol 7. Oxford University Press, Oxford

Crick HQP, Sparks TH (1999) Climate change related to egg-laying trends. Nature 399:423–424

Dormann CF (2007) Effects of incorporating spatial autocorrelation into the analysis of species distribution data. Glob Ecol Biogeogr 16:129–138

Dunn P (2004) Breeding dates and reproductive performance. In: Møller AP, Fiedler W, Berthold P (eds) Effects of climatic change on birds. Elsevier, Amsterdam, pp 69–87

Dunn PO, Winkler DW (2010) Effects of climate change on timing of breeding and reproductive success in birds. In: Møller AP, Fiedler W, Berthold P (eds) Effects of climate change on birds. Oxford University Press, Oxford, pp 113–128

Glutz von Blotzheim UN, Bauer KM (1993) Handbuch der Vögel Mitteleuropas. Band 13/1, Parus cristatus—Haubenmeise. AULA, Wiesbaden, pp 482–523

Haftorn S (1957) Opplysninger om stedbundethet og "total-revir" hos toppmeis, Parus cristatus L., og granmeis, P. montanus Bald. K Nor Vidensk Selsk Forh 30:144–149

Lehikoinen E, Sparks TH (2010) Changes in migration. In: Møller AP, Fiedler W, Berthold P (eds) Effects of climate change on birds. Oxford University Press, Oxford, pp 89–112

Lehikoinen A, Byholm P, Ranta E, Saurola P, Valkama J, Korpimäki E, Pietiäinen H, Henttonen H (2009) Reproduction of the common buzzard at its northern range margin under climatic change. Oikos 118:829–836

Ludwig GX, Alatalo RV, Helle P, Linden H, Lindström J, Siitari H (2006) Short- and long-term population dynamical consequences of asymmetric climate change in black grouse. Proc R Soc Lond B 273:2009–2016

Matthysen E, Adriaensen F, Dhondt AA (2011) Multiple responses to increasing spring temperatures in the breeding cycle of blue and great tits (Cyanistes caeruleus, Parus major). Glob Change Biol 17:1–16

Møller AP, Flensted-Jensen E, Mardal W (2006) Rapidly advancing laying date in a seabird and the changing advantage of early reproduction. J Anim Ecol 75:657–665

Nielsen JT, Møller AP (2006) Effects of food abundance, density and climate change on reproduction in the sparrowhawk Accipiter nisus. Oecologia 149:505–518

Ojanen M, Orell M (1985) Changes in the breeding parameters of the crested tit Parus cristatus. Ornis Fenn 62:161–167

Orell M, Ojanen M (1983) Timing and length of the breeding season of the great tit Parus major and the Willow Tit P. montanus near Oulu, Northern Finland. Ardea 71:183–198

Pakkala H, Ader A, Baumanis J, Busse P, Leivits A, Miettinen J, Ojanen M, Tynjälä M, Vilbaste E (1995) The migratory movements of the crested tit (Parus cristatus) a monitoring aspect. Ring 17:38–45

Perrins CM (1970) The timing of birds' breeding seasons. Ibis 112:242–255

Saino N, Ambrosini R, Rubolini D, Hardenberg Jv, Provenzale A, Hüppop K, Hüppop O, Lehikoinen A, Lehikoinen E, Rainio K, Romano M, Sokolov L (2010) Climate warming, ecological mismatch at arrival and population decline in migratory birds. Proc R Soc Lond B. doi:https://doi.org/10.1098/rspb.2010.1778

SAS (2008) SAS/STAT ® 9.2 User's Guide. SAS Institute, Cary

Saurola P (2001) The Finnish ringing scheme. EURING Newsletter 3. http://www.euring.org/about_euring/newsletter3/saurola.htm

Tietäväinen H, Tuomenvirta H, Venäläinen A (2010) Annual and seasonal mean temperatures in Finland during the last 160 years based on gridded temperature data. Int J Climatol 30:2247–2256

Väisänen RA (1999) The Finnish nest record scheme. Linnut-vuosikirja 1998:76–93

Väisänen RA (2008) Talitiaisen pesyekoko ja pesinnän ajoittuminen Suomen pesäkorttiaineiston valossa. Linnut-vuosikirja 2008:1–14

von Brömssen A, Jansson C (1980) Effects of food addition to willow tit Parus montanus and crested tit P. cristatus at the time of breeding. Ornis Scand 11:173–178

von Haartman L (1969) The nesting habits of Finnish birds. I. Passeriformes. Comment Biol Soc Sci Fenn 32:1–187

von Haartman L (1974) Finnish nest records. Ornis Fenn 51:48–58
Acknowledgments
We thank Risto A. Väisänen and Jari Valkama from the Finnish Museum of Natural History for their help with time series. Heimo Törmä and Mia Rönkä are acknowledged for the breeding time data series from Huittinen. Finnish volunteer ornithologists, who have collected a major part of the data in this study, are acknowledged for their huge effort. Our study was financied by the Academy of Finland (to TE, project 8119367) and Kone Foundation (to EL).
Additional information
Communicated by F. Bairlein.
About this article
Cite this article
Eeva, T., Andelmin, P., Hokkanen, T. et al. Breeding time trends of the Crested Tit (Lophophanes cristatus) in southern Finland: comparison of data sources. J Ornithol 153, 653–661 (2012). https://doi.org/10.1007/s10336-011-0783-1
Received:

Revised:

Accepted:

Published:

Issue Date:

DOI: https://doi.org/10.1007/s10336-011-0783-1
Keywords
Breeding phenology

Climate change

Laying date

Migration strategy

Spring temperatures