Abstract
A member of the New Zealand endemic family (Aves: Aptornithidae) is described from the Early Miocene St Bathans Fauna of Central Otago, South Island, New Zealand. The new species, based on two thoracic vertebrae, is provisionally referred to the highly distinctive Late Pleistocene–Holocene extinct genus Aptornis Mantell, 1848 (in Quart J Geol Soc Lond 4:225–238, 1848). It differs from both Recent species by slightly smaller size, greater pneumaticity of the corpus vertebrae and differences of the processus spinosus and processus transversi. We refer a distal femur, another vertebral fragment, a phalange and tentatively a tibial fragment, also from the St Bathans Fauna, to this new taxon.
Zusammenfassung
Ein Mitglied der in Neuseeland endemischen Familie der Aptornithidae wird für die früh-miozänische St. Bathans Fauna von Zentral-Otago, Südinsel, Neuseeland beschrieben. Basierend auf zwei thorakalen Wirbeln wird die neue Art vorläufig der stark verschiedenen, ausgestorbenen Gattung Aptornis Mantell, 1848 (in Quart J Geol Soc Lond 4:225–238, 1848) aus dem späten Pleistozän–Holozän zugeordnet. Sie unterscheidet sich von beiden rezenten Arten durch eine etwas geringere Größe, ausgeprägtere Hohlkammerung des Corpus Vertebrae, sowie Unterschiede des Processus Spinosus und des Processus Transversi. Wir ordnen ein distales Femur- und ein anderes Wirbelfragment, ein Fingerglied und vorläufig auch ein Tibiafragment, ebenfalls von der St. Bathans Fauna, diesem neuen Taxon zu.
Access options
Buy single article
Instant access to the full article PDF.
US$ 39.95
Tax calculation will be finalised during checkout.
Subscribe to journal
Immediate online access to all issues from 2019. Subscription will auto renew annually.
US$ 79
Tax calculation will be finalised during checkout.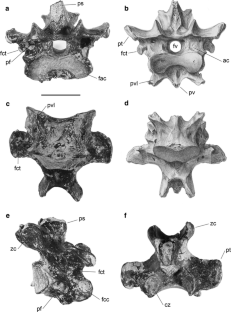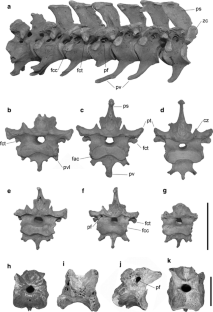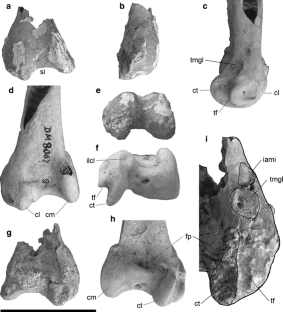 References
Apte S, Smith PJ, Wallis GP (2007) Mitochondrial phylogeography of the New Zealand freshwater crayfishes, Paranephrops spp. Mol Ecol 16:1897–1908

Baumel JJ, Witmer LM (1993) Osteologia. In: Handbook of avian anatomy: nomina anatomica avium, 2nd edn. Nuttall Ornithol Club, Cambridge, pp 45–132

Beddard FE (1898) The structure and classification of birds. Green, & Co, London, Longmans

Bonaparte CSA (1856) Conspectus Ineptorum Et Struthionum. C.R. Hebd. Seances Acad Sci 43(18):840–841

Campbell H, Hutching G (2007) In search of ancient New Zealand. Penguin and GNS Sciences, Wellington

Chambers GK, Boon WM, Buckley TR, Hitchmough RA (2001) Using molecular methods to understand the Gondwanan affinities of the New Zealand biota: three case studies. Aust J Bot 49:377–387

Cooper A, Cooper RA (1995) The Oligocene bottleneck and New Zealand biota: genetic record of a past environmental crisis. Proc R Soc B 261:293–302

Cracraft J (1982) Phylogenetic relationships and trans-Atlantic biogeography of some gruiform birds. Geobios Mem Spec 6:393–402

Cracraft J (2001) Avian evolution, Gondwana biogeography and the Cretaceous–Tertiary mass extinction event. Proc R Soc Lond B 268:459–469

Douglas BJ (1986) Lignite resources of Central Otago. Manuherikia Group of Central Otago, New Zealand: stratigraphy, depositional systems, lignite resource assessment and exploration models, vol 2. New Zealand Energy Research and Development Committee, University of Auckland, Auckland

Driskell A, Christidis L, Gill BJ, Boles WE, Barker FK, Longmore NW (2007) A new endemic family of New Zealand passerine birds: adding heat to a biodiversity hotspot. Aust J Zool 55:73–78

Fain MG, Krajewski C, Houde P (2007) Phylogeny of "core Gruiformes" (Aves: Grues) and resolution of the Limpkin–Sungrebe problem. Mol Phylo Evol 43:515–529

Fleming CA (1979) The geological history of New Zealand and its life. Auckland University Press/Oxford University Press, Auckland

Fürbringer M (1888) Untersuchungen zur Morphologie und systematik der Vogel II. Amsterdam, Allgemeiner Theil Van Holkema

Gibbs G (2006) Ghosts of Gondwana. The history of life in New Zealand. Craig Potton Publ, Nelson

Goldberg J, Trewick SA, Paterson AM (2008) Evolution of New Zealand's terrestrial fauna: a review of molecular evidence. Phil Trans R Soc B 363:3319–3334

Graf DL, Ó Foighil D (2000) Molecular phylogenetic analysis of 28S rDNA supports a Gondwanan origin for Australasian Hyriidae (Mollusca: Bivalvia: Unionoida). Vie Milieu 50(4):245–254

Hackett JS, Kimball RT, Reddy S, Bowie RCK, Braun EL, Chojnowski JL, Cox WA, Han KL, Harshman J, Huddleston CJ, Marks BD, Miglia KJ, Moore WS, Sheldon FH, Steadman DW, Witt CC, Yuri T (2008) A phylogenomic study of birds reveals their evolutionary history. Science 320:1763–1768

Hamilton A (1892) On the Genus Aptornis, with more especial reference to Aptornis defossor, Owen. Trans Proc N Z Inst 24:175–184

Hand S, Beck R, Worthy T, Archer M, Sigé B (2007) Australian and New Zealand bats: the origin, evolution, and extinction of bat lineages in Australasia. J Vert Paleontol 27(3): abstr 86A

Houde P (2009) Cranes, rails, and allies (Gruiformes). In: SB Hedges, S Kumar (eds) The timetree of life. New York, Oxford University Press, pp 440–444, 572 pp

Houde P, Cooper A, Leslie E, Shand AE, Montano GA (1997) Phylogeny and evolution of 12S rDNA in gruiformes (Aves). In: Mindell DP (ed) Avian molecular evolution and systematics. San Diego, Academic Press, pp. 117-154, 382 pp

Jones MEH, Tennyson AJD, Worthy JP, Evans SE, Worthy TH (2009) A sphenodontine (Rhynchocephalia) from the Miocene of New Zealand and palaeobiogeography of the tuatara (Sphenodon). Proc R Soc B 276:1385–1390. doi:https://doi.org/10.1098/rspb.2008.1785

King CM, Roberts CD, Bell BD, Fordyce RE, Nicoll RS, Worthy TH, Paulin CD, Hitchmough RA, Keyes IW, Baker AN, Stewart AL, Hiller N, McDowall BM, Holdaway RN, McPhee RP, Schwarzhans WW, Tennyson AJD, Rust S, McCadie I (2009) Phylum chordata: lancelets, fishes, amphibians, reptiles, birds, and mammals. In: Gordon DP (ed) New Zealand inventory of biodiversity, vol 1: kingdom Animalia. Christchurch, Canterbury University Press, pp 431–527

Knapp M, Mudaliar R, Havell D, Wagstaff SJ, Lockhart PJ (2007) The drowning of New Zealand and the problem of Agathis. Syst Biol 56(5):862–870

Landis CA, Campbell HJ, Begg JG, Mildenhall DC, Paterson AM, Trewick SA (2008) The Waipounamu Erosion Surface: questioning the antiquity of the New Zealand land surface and terrestrial fauna and flora. Geol Mag 145(2):173–197

Landolt R, Zweers G (1985) Anatomy of the muscle-bone apparatus of the cervical system in the mallard (Anas platyrhynchos L.). Neth J Zool 35(4):611–670

Lee MSY, Hutchinson MN, Worthy TH, Archer M, Tennyson AJD, Worthy JP, Scofield RP (2009) Miocene skinks and geckos reveal long-term conservatism of New Zealand's lizard fauna. Biol Lett 5(6):833–837. doi:https://doi.org/10.1098/rsbl.2009.0440

Livezey BC (1998) A phylogenetic analysis of the Gruiformes (Aves) based on morphological characters, with an emphasis on the rails (Rallidae). Phil Trans R Soc B 353(1378):2077–2151

Livezey BC, Zusi RL (2006) Higher-order phylogeny of modern birds (Theropoda, Aves: Neornithes) based on comparative anatomy. I. Methods and Characters. Bull Carnegie Mus Nat Hist 37:1–544

Livezey BC, Zusi RL (2007) Higher-order phylogeny of modern birds (Theropoda, Aves: Neornithes) based on comparative anatomy. II. Analysis and discussion. Zool J Linn Soc 149:1–95

Lowe PR (1926) More notes on the quadrate as a factor in avian classification. Ibis 68:152–188

Mantell GA (1848) On the fossil remains of birds collected in various parts of New Zealand by Mr Walter Mantell, of Wellington. Quart J Geol Soc Lond 4:225–238

Mayr G (2002) A new specimen of Salmila robusta (Aves: Gruiformes: Salmilidae n. fam.) from the Middle Eocene of Messel. Paläontol Z 76(2):305–316

Mayr G (2005) A chicken-sized crane precursor from the early Oligocene of France. Naturwissenschaften 92:389–393

Molnar RE, Pole M (1997) A Miocene crocodilian from New Zealand. Alcheringa 21:65–70

Olson SL (1985) The fossil record of birds. In: Farner DS, King JR, Parkes KC (eds) Avian biology, vol 8. New York, Academic Press, pp 79–256, 256 pp

Owen R (1848). On Dinornis (part 3): containing a description of the skull and beak of that genus, and of the same characteristic parts of Palapteryx, and of two other genera of birds, Notornis and Nestor; forming part of an extensive collection of ornithic remains discovered by Mr Walter Mantell at Waingongoro, North Island of New Zealand. Trans Zool Soc Lond 3(5):345–378, plates 52–56

Owen R (1871) On Dinornis (part 15): containing a description of the skull, femur, tibia, fibula, and metatarsus of Aptornis defossor, Owen, from near Oamaru, Middle Island, New Zealand; with additional observations on Aptornis otidiformis, on Notornis mantelli, and on Dinornis curtus. Trans Zool Soc Lond 7(5):353–380, plates 40–46

Owen R (1872) On Dinornis (part 17): containing a description of the sternum and pelvis, with an attempted restoration, of Aptornis defossor, Ow. Trans Zool Soc Lond 8(3):119–126

Owen R (1875) On Dinornis (Part 20): containing a restoration of the skeleton of Cnemiornis calcitrans, Ow., with remarks on its affinities in the Lamellirostral group. Trans Zool Soc Lond 9(3):253–272, plates 35–39

Owen R (1879) Memoirs on the extinct wingless birds of New Zealand, with an appendix on those of England, Australia, Newfoundland, Mauritius and Rodriguez, vols 1 and 2. London, John van Voorst

Parker WK (1866) On the structure and development of the skull in the ostrich tribe. Phil Trans R Soc Lond 156:113–183

Phillips MJ, Gibb GC, Crimp EA, Penny D (2010) Tinamous and moa flock together: mitochondrial genome sequence analysis reveals independent losses of flight among ratites. Syst Biol 59:90–107

Pole M, Douglas B, Mason G (2003) The terrestrial Miocene biota of southern New Zealand. J R Soc N Z 33:415–426

Pratt RC, Morgan-Richards M, Trewick SA (2008) Diversification of New Zealand weta (Orthoptera: Ensifera: Anostostomatidae) and their relationships in Australasia. Phil Trans R Soc B 363:3427–3437

Scofield RP, Worthy TH, Tennyson AJD (2010) A heron (Aves: Ardeidae) from the Early Miocene St Bathans fauna of southern New Zealand. Rec Aust Mus 62:89–104

Shepherd LD, Lambert DM (2007) The relationships and origins of the New Zealand wattlebirds (Passeriformes, Callaeatidae) from DNA sequence analyses. Mol Phylo Evol 43:480–492

Tavares ES, Baker AJ, Pereira SL, Miyaki CY (2006) Phylogenetic relationships and historical biogeography of neotropical parrots (Psittaciformes: Psittacidae: Arini) inferred from mitochondrial and nuclear DNA sequences. Syst Biol 55:454–470

Tennyson AJD (2009) The origin and history of New Zealand's terrestrial vertebrates. N Z J Ecol 34:6–27

Tennyson AJD, Worthy TH, Jones CM, Scofield RP, Hand SJ (2010) Moa's Ark: Miocene fossils reveal the great antiquity of moa (Aves: Dinornithiformes) in Zealandia. Rec Aust Mus 62:105–114

Trewick SA, Gibb GC (2010) Vicars, tramps and assembly of the New Zealand avifauna: a review of molecular phylogenetic evidence. Ibis 152:226–253

Weber E, Hesse A (1995) The systematic position of Aptornis, a flightless bird from New Zealand. Courier Forschunginstitut Senckenberg 181:293–301

Worthy TH (2009) Descriptions and phylogenetic relationships of two new genera and four new species of Oligo-Miocene waterfowl (Aves: Anatidae) from Australia. Zool J Linn Soc 156:411–454

Worthy TH, Holdaway RN (2002) The lost world of the moa: Prehistoric life of New Zealand. Bloomington, Indiana University Press

Worthy TH, Lee MSY (2008) Affinities of Miocene (19–16 Ma) waterfowl (Anatidae: Manuherikia, Dunstanetta and Miotadorna) from the St Bathans Fauna, New Zealand. Palaeontology 51(3):677–708

Worthy TH, Tennyson AJD, Archer M, Musser AM, Hand SJ, Jones C, Douglas BJ, McNamara JA, Beck RMD (2006) Miocene mammal reveals a Mesozoic ghost lineage on insular New Zealand, southwest Pacific. Proc Natl Acad Sci USA 103(51):19419–19423

Worthy TH, Tennyson AJD, Jones C, McNamara JA, Douglas BJ (2007) Miocene waterfowl and other birds from Central Otago, New Zealand. J Syst Palaeontol 5(1):1–39. doi:1017/S1477201906001957

Worthy TH, Tennyson AJD, Hand SJ, Scofield RP (2008) A new species of the diving duck Manuherikia and evidence for geese (Aves: Anatidae: Anserinae) in the St Bathans Fauna (Early Miocene), New Zealand. J Roy Soc N Z 38(2):97–114

Worthy TH, Hand SJ, Worthy JP, Tennyson AJD, Scofield RP (2009) A large fruit pigeon (Columbidae) from the Early Miocene of New Zealand. Auk 126(3):649–656

Worthy TH, Tennyson AJD, Archer M, Scofield RP (2010a) First record of Palaelodus (Aves: Phoenicopteriformes) from New Zealand. Rec Aust Mus 62:77–88

Worthy TH, Hand SJ, Nguyen JMT, Tennyson AJD, Worthy JP, Scofield RP, Boles WE, Archer M (2010b) Biogeographical and phylogenetic implications of an Early Miocene wren (Aves: Passeriformes: Acanthisittidae) from New Zealand. J Vert Palaeontol 30:479–498. doi:https://doi.org/10.1080/02724631003618033
Acknowledgments
The authors are indebted to the unstinting efforts of many field assistants in the St Bathans Fauna project, especially Jenny Worthy, Jacqui Nguyen, Walter Boles and Aaron Camens and the rest of the volunteers for 2008–2010 who helped in excavations that revealed the key fossils described here. We are particularly thankful for the continued generous support to this project by the land owners Ann and Euan Johnstone. This research was part of the project DP0770660 funded by the Australian Research Council, and was also supported by the authors' institutions. We thank Alexander Fergus for placing the femur fragment he collected in the Otago University Geology Department collections and providing locality details. We thank Jean-Claude Stahl and Raymond Coory (NMNZ) for providing images of the fossil femur and Gerald Mayr and another referee for comments that helped improve the text.
Additional information
Communicated by F. Bairlein.
About this article
Cite this article
Worthy, T.H., Tennyson, A.J.D. & Scofield, R.P. Fossils reveal an early Miocene presence of the aberrant gruiform Aves: Aptornithidae in New Zealand. J Ornithol 152, 669–680 (2011). https://doi.org/10.1007/s10336-011-0649-6
Received:

Revised:

Accepted:

Published:

Issue Date:
Keywords
Aptornis

Aptornithidae

Early Miocene

Bannockburn Formation

New Zealand