Abstract
Detailed studies of parental care of woodpeckers are restricted to a handful of species in the northern hemisphere. The Magellanic Woodpecker Campephilus magellanicus is the largest Neotropical picid and the southernmost distributed woodpecker worldwide. We investigated sex-specific parental care behaviour of Magellanic Woodpeckers at 11 nests by dawn to dusk monitoring, once a week throughout the nesting season. Behavioural observations were complemented with frequent inspections of all nests and video recordings at 3 nests. One or two hatchlings were produced; when two, the second-born was soon left to die from starvation, so a single young was reared at any nest. Observed parental care included incubation, brooding, nest sanitation and feeding of nestlings. Parental care was divided almost equally between partners for most activities except nest sanitation and night care, where males dominated. Contributions of the two sexes to parental care changed during progress of the breeding period. Feeding rates were similar between parents, but males delivered larger prey. Parental care in the Magellanic Woodpecker seems to be in accordance with the breeding behaviour exhibited by the majority of woodpecker species, nevertheless some differences may derive from particularities of the Austral temperate forest (i.e. food availability) and features of the species like one nestling brood size along with behavioural constraints on juvenile dispersal.
Access options
Buy single article
Instant access to the full article PDF.
USD 39.95
Price includes VAT (USA)
Tax calculation will be finalised during checkout.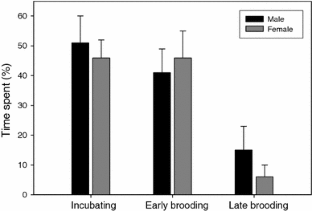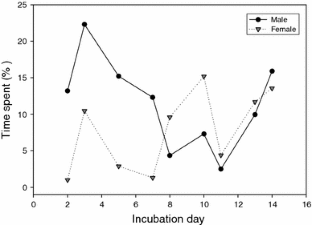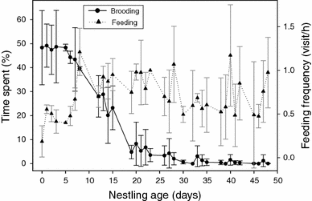 References
Allen AA, Kellogg PP (1937) Recent observations on the ivory-billed woodpecker. Auk 54:164–184

Altmann J (1974) Observational study of behavior: sampling methods. Behaviour 49:227–267

Black JM (1996) Introduction: pair bonds and partnership. In: Black JM (ed) Partnerships in birds: the study of monogamy. Oxford University Press, Oxford, pp 3–20

Blume D (1981) Schwarzspecht, Grünspecht, Grauspecht. Neue Brehm-Bücherei, Ziemsen

Bull EL, Jackson JA (1995) Pileated woodpecker (Dryocopus pileatus). In: Poole A, Gill FB (eds) The birds of North America, No 148. The Academy of Natural Sciences, Philadelphia

Bull EL, Meslow EC (1988) Breeding biology of the pileated woodpecker management implications. Research note PNW-RN-474. Pacific Northwest Research Station, Forest Service, US Department of Agriculture, Portland

Chazarreta ML (2007) Comportamiento reproductivo del carpintero gigante Campephilus magellanicus en bosques del Parque Nacional Nahuel Huapi, Argentina. Dissertation, Universidad Nacional del Comahue, Argentina

Ciudad C, Robles H, Matthysen E (2009) Postfledging habitat selection of juvenile middle spotted woodpeckers: a multi-scale approach. Ecography 32:676–682

Clark L (1985) Consequences of homeothermic capacity of nestlings on parental care in the European starling. Oecologia 65:387–393

Conner RN, Rudolph DC, Schaefer RR, Saenz D, Shackelford CE (1999) Relationships among red-cockaded woodpecker group density, nestling provisioning rates, and habitat. Wilson Bull 111:494–498

Conover WJ (1980) Practical nonparametric statistics, 2nd edn. Wiley, New York

Cramp S (ed) (1985) The birds of the western Palearctic, vol 4: terns to woodpeckers. Oxford University Press, Oxford

Crawley MJ (2007) The R book. Wiley, Chichester

Dennis JV (1948) A last remnant of ivory-billed woodpeckers in Cuba. Auk 65:497–507

Dunn E (1975) The timing of endothermy in the development of altricial birds. Condor 77:288–293

Fitzpatrick JW, Lammertink M, Luneau MD Jr, Gallagher TW et al (2005) Ivory-billed woodpecker (Campephilus principalis) persists in continental North America. Science 308:1460–1462

Greeney H, Simbaña J, Salazar VLA (2009) First description of the eggs and nestling of the powerful woodpecker (Campephilus pollens). Boletín SAO 19:5–11

Griffith SC, Owens IPF, Thuman KA (2002) Extra pair paternity in birds: a review of interspecific variation and adaptive function. Mol Ecol 11:2195–2212

Haig SM, Walters JR, Plissner JH (1994) Genetic evidence for monogamy in the cooperatively breeding red-cockaded woodpecker. Behav Ecol Sociobiol 34:295–303

Ketterson ED, Nolan V Jr (1994) Male parental behavior in birds. Annu Rev Ecol Syst 25:601–628

Kilham L (1962) Reproductive behavior of downy woodpeckers. Condor 64:126–133

Kilham L (1972) Habits of the crimson-crested woodpecker in Panama. Wilson Bull 84:28–47

Kilham L (1977) Nesting behavior of pale-billed woodpeckers in Guatemala. Auk 94:773–774

Kilham L (1983) Life history studies of woodpeckers of eastern North America. Nuttall Ornithol Club Pub No 20

Koenig WD, Pitelka FA, Carmen WJ, Mumme RL, Stanback MT (1992) The evolution of delayed dispersal in cooperative breeders. Q Rev Biol 67:111–150

Lack D (1968) Ecological adaptations for breeding in birds. Chapman and Hall, London

Lammertink M (2004) Grouping and cooperative breeding in the great slaty woodpecker. Condor 106:309–319

Ligon JD (1999) The evolution of avian breeding systems. Oxford University Press, Oxford

Michalek KG, Winkler H (2001) Parental care and parentage in monogamous great spotted woodpeckers (Picoides major) and middle spotted woodpeckers (Picoides medius). Behaviour 138:1259–1285

Mumme RL, Koenig WD, Pitelka FA (1990) Individual contributions to cooperative nest care in the acorn woodpecker. Condor 92:360–368

Nelson EW (1898) The imperial ivory-billed woodpecker, Campephilus imperialis (Gould). Auk 15:217–223

Ojeda VS (2004) Breeding biology and social behaviour of Magellanic woodpeckers (Campephilus magellanicus) in Argentine Patagonia. Eur J Wildl Res 50:18–24

Ojeda VS (2006) Selección de sitios de nidificación y biología reproductiva del carpintero gigante Campephilus magellanicus (Aves, Picidae) en el noroeste de la Patagonia, Argentina. PhD thesis, Universidad Nacional del Comahue, Argentina

Ojeda VS, Chazarreta ML (2006) Provisioning of Magellanic woodpecker (Campephilus magellanicus) nestlings with vertebrate prey. Wilson J Ornithol 118:251–254

Owens IPF (2002) Male only care and classical polyandry in birds: phylogeny, ecology and sex differences in remating opportunities. Philos Trans R Soc Lond B 357:283–293

Paruelo JM, Beltrán A, Jobbágy E, Sala OE, Golluscio RA (1998) The climate of Patagonia: general patterns and controls on biotic processes. Ecol Austral 8:85–101

Pasinelli G (2006) Population biology of European woodpecker species: a review. Ann Zool Fenn 43:96–111

Pechacek P (2006) Breeding performance, natal dispersal, and nest site fidelity of the three-toed woodpecker in the German Alps. Ann Zool Fenn 43:165–176

Pechacek P, Michalek KG, Winkler H, Blomqvist D (2005) Monogamy with exceptions: social and genetic mating system in a bird species with high paternal care. Behaviour 142:1093–1114

Rodríguez Donaire SP (2001) Análisis preliminar de cavidades arbóreas del Carpintero Negro (Campephilus magellanicus) en el Parque Nacional Nahuelbuta, IX Región, Chile. Memoria de Título, Facultad de Medicina Veterinaria, Universidad de Concepción, Chillán

Rossmanith E, Höntsch K, Blaum N, Jeltsch F (2007) Reproductive success and nestling diet in the lesser spotted woodpecker (Picoides minor): the early gets the caterpillar. J Ornithol 148:323–332

Rossmanith E, Blaum N, Höntsch K, Jeltsch F (2009) Sex-related parental care strategies in the lesser spotted woodpecker Picoides minor: of flexible mothers and dependable fathers. J Avian Biol 40:28–33

Short LL (1970) The habits and relationships of the Magellanic woodpecker. Wilson Bull 82:115–129

Short LL (1982) Woodpeckers of the world. Delaware Museum of Natural History, Greenville

Tanner JT (1942) The ivory-billed woodpecker. Dover, New York

Tanner JT (1964) The decline and present status of the imperial woodpecker of Mexico. Auk 81:74–81

Vergara P, Schlatter RP (2004) Magellanic woodpecker (Campephilus magellanicus) abundance and foraging in Tierra del Fuego, Chile. J Ornithol 145:343–351

Walters JR, Doerr PD, Carter JH III (1992) Delayed dispersal and reproduction as a life-history tactic in cooperative breeders: fitness calculations from red-cockaded woodpeckers. Am Nat 139:623–643

Weathers WW, Koenig WD, Stanback MT (1990) Breeding energetics and thermal ecology of the acorn woodpecker in Central Coastal California. Condor 92:341–359

Wiebe KL (2005) Asymmetric costs favor female desertion in the facultatively polyandrous northern flicker (Colaptes auratus): a removal experiment. Behav Ecol Sociobiol 57:429–437

Wiebe KL (2008) Division of labour during incubation in a woodpecker Colaptes auratus with reversed sex roles and facultative polyandry. Ibis 150:115–124

Wiebe KL, Kempenaers B (2009) The social and genetic mating system in flickers linked to partially reversed sex roles. Behav Ecol 20:453–458

Wiktander U, Olsson O, Nilsson SG (2000) Parental care and social mating system in the lesser spotted woodpecker Dendrocopos minor. J Avian Biol 31:447–456

Winkler H, Christie DA, Nurney D (1995) Woodpeckers: an identification guide to the woodpeckers of the world. Houghton Mifflin, Boston, MA

Winkler H, Christie D (2002) Family Picidae (woodpeckers). In: del Hoyo J, Elliott A, Sargatal J (eds) Handbook of the birds of the world. Lynx, Barcelona, pp 296–555

Woźniak A, Mazgajski TD (2003) Division of parental labour in the great spotted woodpecker. In: Pechacek P, D'Oleire-Oltmanns W (eds) Fifth international woodpecker symposium. Proceedings. Forschungsbericht 48, Berchtesgaden, pp 173–178

Yom-Tov Y, Ar A (1993) Incubation and fledging durations of woodpeckers. Condor 95:282–287
Acknowledgments
Two anonymous reviewers made very useful suggestions that improved this manuscript. We are most grateful to Juan Karlanian, Adrián Ortiz, Claudio Bacchi, Soledad Díaz, Ferrán Juárez Pluvins, Federico Ginanni and Gala Ortiz, for providing valuable help in field activities, and to Susana Seijas for carrying out the necropsy at the laboratory of the Comehue University. We also thank Natalie Dudinszky for her helpful comments on this manuscript. The statistical analyses were performed with the collaboration of Gilda Garibotti and Lucas Garibaldi. We thank IDEA WILD (Fort Collins, CO, USA), Birders' Exchange (Colorado Springs, CO, USA) and J. Masello for their donations of equipment fundamental to this study. This research was mainly supported by CANON USA Inc. through its National Parks Science Scholars Program for the Americas, which supported Valeria Ojeda' s doctoral research. The present study complies with the current laws of the Argentine Republic.
Conflict of interest
None.
Additional information
Communicated by F. Bairlein.
About this article
Cite this article
Chazarreta, M.L., Ojeda, V.S. & Trejo, A. Division of labour in parental care in the Magellanic Woodpecker Campephilus magellanicus . J Ornithol 152, 231–242 (2011). https://doi.org/10.1007/s10336-010-0570-4
Received:

Revised:

Accepted:

Published:

Issue Date:
Keywords
Parental behaviour

Neotropical picids

Austral temperate forest

Argentine Patagonia