Abstract
Harsh weather in spring presents energetic challenges to birds during migration and upon reaching the breeding grounds, and yet, birds often arrive well before breeding begins. We studied a population of Eastern Kingbirds in eastern Oregon from 2004 through 2007. Early arriving kingbirds faced the poorest weather conditions, and therefore we predicted that benefits of early arrival must exist to balance the presumed costs. Early-arriving kingbirds were more likely to both acquire a high-quality territory and to replace nests after failure. Early-arriving birds also bred early, and early breeding led to larger clutches and greater production of young. Early-arriving males also sired more extra-pair young than later arrivers. Our data suggest that arrival date is in part influenced by individual quality, and that arrival date has reproductive consequences, with the primary benefits of early arrival being the acquisition of a high-quality territory, early breeding, and increased probability of replacing failed initial nests.
Access options
Buy single article
Instant access to the full article PDF.
US$ 39.95
Tax calculation will be finalised during checkout.
Subscribe to journal
Immediate online access to all issues from 2019. Subscription will auto renew annually.
US$ 79
Tax calculation will be finalised during checkout.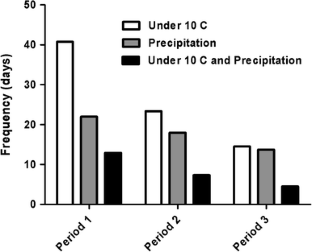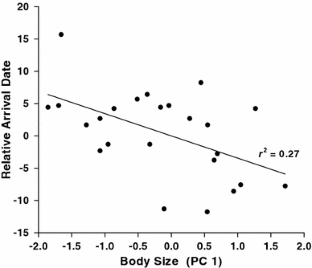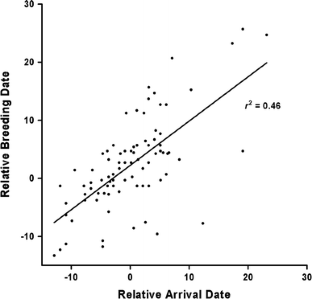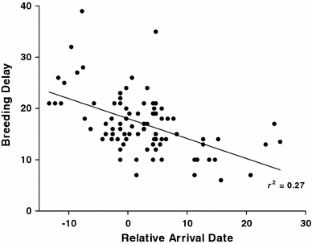 References
Aebischer A, Perrin N, Krieg M et al (1996) The role of territory choice, mate choice and arrival date on breeding success in the Savi's warbler Locustella Luscinioides. J Avian Biol 27:143–152

Arvidsson BL, Neergaard R (1991) Mate choice in the willow warbler—a field experiment. Behav Ecol Sociobiol 29:225–229

Bêty J, Gauthier G, Giroux J-F (2003) Body condition, migration, and timing of reproduction in snow geese: a test of the condition-dependent model of optimal clutch size. Am Nat 162:110–121

Bêty J, Giroux J-F, Gauthier G (2004) Individual variation in timing of migration: causes and reproductive consequences in greater snow geese (Anser caerulescens atlanticus). Behav Ecol Sociobiol 57:1–8

Birkhead TR, Møller AP (1998) Sperm competition and sexual selection. Academic, London

Both C, Visser ME (2000) Breeding territory size affects fitness: an experimental study on competition at the individual level. J Anim Ecol 69:1021–1030

Brown CR, Brown MB (1998) Intense natural selection on body size and wing and tail asymmetry in cliff swallows during severe weather. Evolution 52:1461–1475

Brown CR, Brown MB (2000) Weather-mediated natural selection on arrival time in cliff swallows (Petrochelidon pyrrhonota). Behav Ecol Sociobiol 47:339–345

Bryant DM (1973) The factors influencing the selection of food by the house martin (Delichon urbica). J Anim Ecol 42:539–564

Cooper NW, Murphy MT, Redmond LJ (2009a) Age- and sex-dependent spring arrival dates of eastern kingbirds. J Field Ornithol 80(1):35–41

Cooper NW, Murphy MT, Redmond LJ et al (2009b) Density-dependent age at first reproduction in the eastern kingbird. Oikos 118:413–419

Cristol DA (1995) Early arrival, initiation of nesting, and social status: an experimental study of breeding female red-winged blackbirds. Behav Ecol 6:87–95

Dolan AC, Murphy MT, Redmond LJ et al (2007) Extrapair paternity and the opportunity for sexual selection in a socially monogamous passerine. Behav Ecol 18:985–993

Field A (2005) Discovering statistics using SPSS. Sage, London

Francis CM, Cooke F (1986) Differential timing of spring migration in wood warblers (Parulinae). Auk 103:548–556

Hespenheide HA (1975) Selective predation by two swifts and a swallow in Central America. Ibis 117:82–99

Hill DA (1984) Laying date, clutch size, and egg size of the mallard Anas platyrhynchos and tufted duck Aythya fuligula. Ibis 126:484–495

Kingsolver JG (1983) Thermoregulation and flight in Colias butterflies: elevational patterns and mechanistic limitations. Ecology 64:534–545

Langefors A, Hasselquist D, Schantz T (1998) Extra-pair fertilizations in the sedge warbler. J Avian Biol 29:134–144

Lozano GA, Perreault S, Lemon RE (1996) Age, arrival date and reproductive success of male American redstarts Setophaga ruticilla. J Avian Biol 27:164–170

Marra PP, Hobson KA, Holmes RT (1998) Linking winter and summer events in a migratory bird by using stable-carbon isotopes. Science 282:1884–1886

Martin TE, Li P (1992) Life history traits of open- vs. cavity-nesting birds. Ecology 73:579–592

Møller AP (1994) Phenotype-dependent arrival time and its consequences in a migratory bird. Behav Ecol Sociobiol 35:115–122

Møller AP, Brohede J, Cuervo JJ et al (2003) Extrapair paternity in relation to sexual ornamentation, arrival date, and condition in a migratory bird. Behav Ecol 14:707–712

Murphy MT (1986) Temporal components of reproductive variability in eastern kingbirds (Tyrannus tyrannus). Ecology 67:1483–1492

Murphy MT (1987) The impact of weather on kingbird foraging behavior. Condor 89:721–730

Murphy MT (1996a) Eastern kingbird (Tyrannus tyrannus). In: Poole A (ed) The birds of North America, no. 253. Birds of North America, Philadelphia, pp 1–24

Murphy MT (1996b) Survivorship, breeding dispersal, and mate fidelity in eastern kingbirds. Condor 98:82–92

Murphy MT (2000) Evolution of clutch size in the eastern kingbird: tests of alternative hypotheses. Ecol Monogr 70:1–20

Murphy MT, Armbrecht B, Vlamis E et al (2000) Is reproduction by tree swallows (Tachycineta bicolor) cost-free? Auk 117:902–912

Murphy MT, Sexton K, Dolan AC et al (2008) Dawn song of the eastern kingbird: an honest signal of male quality? Anim Behav 75:1075–1084

Murray BG, Nolan V (2007) A more informative method for analyzing reproductive success. J Field Ornithol 78:401–406

Neto JM, Gosler AG (2005) Breeding biology of the Savi's warbler Locustella luscinioides in Portugal. Ardea 93:89–100

Ninni P, de Lope F, Saino N, Haussy C, Møller AP (2004) Antioxidants and condition-dependence of arrival date in a migratory passerine. Oikos 105:55–64

Nolan VJ (1978) Ecology and behavior of the prairie warbler, Dendroica discolor. Ornithol Monogr 26:1–595

Nooker J, Dunn PO, Whittingham LA (2005) Effects of food abundance, weather, and female condition on reproduction in tree swallows (Tachycineta bicolor). Auk 122:1225–1238

Norris RD, Marra PP, Kyser KT, Sherry TW, Ratcliffe LM (2004) Tropical winter habitat limits reproductive success on the temperate breeding grounds in a migratory bird. Proc R Soc Lond B Biol Sci 271:59–64

Patterson CB, Erckmann WJ, Orians GH (1980) An experimental study of parental investment and polygyny in male blackbirds. Am Nat 116:757–769

Potti J (1998) Arrival time from spring migration in male pied flycatchers: individual consistency and familial resemblance. Condor 100:702–708

Redmond LJ, Murphy MT, Dolan AC (2007) Nest reuse by Eastern Kingbirds: adaptive behavior or ecological constraint? Condor 109:463–468

Redmond LJ, Murphy MT, Dolan AC, Sexton K (2009) Public information facilitates habitat selection of a territorial species: the eastern kingbird. Anim Behav 77:457–463

Ricklefs RE (1969) An analysis of nesting mortality in birds. Smithson Contrib Zool 9:1–48

Rowe DL, Murphy MT, Fleischer RC, Wolf PG (2001) High frequency of extra-pair paternity in eastern kingbirds. Condor 103:845–851

Rubolini D, Spina F, Saino N (2004) Protandry and sexual dimorphism in trans-Saharan migratory birds. Behav Ecol 15:592–601

Sexton K, Murphy MT, Redmond LJ, Dolan AC (2007) Dawn song of eastern kingbirds: intrapopulation variability and sociobiological correlates. Behaviour 144:1273–1295

Shutler D, Clark RG, Fehr C, Diamond AW (2006) Time and recruitment costs as currencies in manipulation studies on the costs of reproduction. Ecology 87:2938–2946

Siegal S, Castellan NJ (1988) Nonparametric statistics for the behavioral sciences. McGraw-Hill, New York

Smith RJ, Moore FR (2003) Arrival fat and reproductive performance in a long-distance passerine migrant. Oecologia 134:325–331

Smith RJ, Moore FR (2005a) Arrival timing and seasonal reproductive performance in a long-distance migratory landbird. Behav Ecol Sociobiol 57:231–239

Smith RJ, Moore FR (2005b) Fat stores of American redstarts Setophaga ruticilla arriving at northerly breeding grounds. J Avian Biol 36:117–126

Verboven N, Visser ME (1998) Seasonal variation in local recruitment of great tits: the importance of being early. Oikos 81:511–524

Visscher PK, Seeley TD (1982) Foraging strategy of honeybee colonies in a temperate deciduous forest. Ecology 63:1790–1801

Webb DR, King JR (1984) Effects of wetting on insulation of bird and mammal coats. J Therm Biol 9:189–191

Whitmore RC, Mosher JA, Frost HH (1977) Spring migrant mortality during unseasonable weather. Auk 94:778–781

Zumeta DC, Holmes RT (1978) Habitat shift and roadside mortality of scarlet tanagers during a cold wet New England spring. Wilson Bull 90:575–586
Acknowledgments
We are greatly indebted to Malheur National Wildlife Refuge for providing access to the study site, and to Cal and Alice Elshoff for providing housing. Portland State University supported NWC and LJR through separate Forbes-Lea Research Grants in 2006. A National Science Foundation Grant to MTM (IOB-0639370) supported all research activities in 2007. We also thank Amy Dolan and Karen Sexton for assistance in the field in 2004 and 2005. A special thanks goes to B.K. Cooper and S.C.M. Hunter for their ongoing inspiration and encouragement. All work performed complied with applicable federal laws, and permits were obtained where necessary.
Additional information
Communicated by F. Bairlein.
About this article
Cite this article
Cooper, N.W., Murphy, M.T., Redmond, L.J. et al. Reproductive correlates of spring arrival date in the Eastern Kingbird Tyrannus tyrannus . J Ornithol 152, 143–152 (2011). https://doi.org/10.1007/s10336-010-0559-z
Received:

Revised:

Accepted:

Published:

Issue Date:
Keywords
Arrival date

Migration

Extra-pair fertilization

Renesting

Tyrannus tyrannus

Weather