Abstract
This paper reports analyses of a capture–mark–recapture (CMR) dataset of 149 Azores Bullfinches ringed on São Miguel island (Azores) between 2005 and 2007, and recaptured–resighted on a monthly basis over a 4-year period (2005–2008) throughout their breeding range. We examined the effect of time, age (adults vs. juveniles), gender (adult males and females), and environmental covariates (temperature, rainfall, NAO index) on survival probabilities. The modelling found a high and constant monthly survival probability (mean ± SE) estimated at 0.96 ± 0.01, similar between both adults and juveniles and independent of environmental conditions and gender. These findings agree with expectations from island-based life-history theory where relatively mild conditions and lack of predators should favour high survival rates to compensate for the low reproductive output. The annual survival rate was estimated at 0.62, which was also consistent with this pattern when compared with survival estimates of mainland bullfinch and passerine species on other subtropical islands obtained in similar CMR studies. Based on a canonical estimator, the size of the studied population (mean ± SE) was estimated at 1608 ± 326 individuals. Given that the population size was only around 120–400 individuals in the early 1990s, we suggest that the high survival probabilities currently applying to this critically endangered species may have substantially contributed to the recent recovery of this population. Future research studies on the species' demography should continue to monitor survival in order to measure the effect of management interventions currently taking place within the range of the Azores Bullfinch, including the restoration of the biodiversity rich laurel forest, but also focusing on nest success, which is important for understanding population dynamics.
Access options
Buy single article
Instant access to the full article PDF.
US$ 39.95
Tax calculation will be finalised during checkout.
Subscribe to journal
Immediate online access to all issues from 2019. Subscription will auto renew annually.
US$ 79
Tax calculation will be finalised during checkout.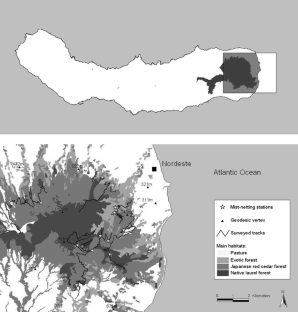 References
Akaike H (1973) Information theory and an extension of the maximum likelihood principle. In: Petran BN, Csaki F (eds) International symposium on information theory. Akademiai Kiadi, Budapest, pp 267–281

Arosa ML, Ramos JA, Valkenburg T, Ceia R, Laborda H, Quintanilla LG, Heleno R (2009) Fern feeding ecology of the Azores Bullfinch (Pyrrhula murina): the selection of fern species and the influence of nutritional composition in fern choice. Ardeola 56:71–84

Bannerman D, Bannerman BK (1966) Birds of the Atlantic Islands: a history of the birds of the Azores. Oliver & Boyd, Edinburgh

Bibby CJ, Charlton TD (1991) Observations on the São Miguel Bullfinch. Açoreana 7:297–304

BirdLife International (2008) Species factsheet: Pyrrhula murina. http://www.birdlife.org, last accessed 16 Apr 2010

Blondel J (2000) Evolution and ecology of birds on islands: trends and prospects. Vie Milieu 50:205–220

British Trust for Ornithology (2009) Birdfacts: Bullfinch Pyrrhula pyrrhula [Linnaeus, 1758]. http://blx1.bto.org/birdfacts/results/bob17100.htm and http://www.bto.org/birdtrends2008/wcrbullf.shtml, last accessed 16 Feb 2010

Brouwer L, Richardson DS, Eikenaar C, Komdeur J (2006) The role of group size and environmental factors on survival in a cooperatively breeding tropical passerine. J Anim Ecol 75:1321–1329

Burnham KP, Anderson DR (2002) Model selection and multimodel inference: a practical information-theoretic approach, 2nd edn. Springer, New York

Caswell H, Fujiwara M (2004) Beyond survival estimation: mark–recapture, matrix population models, and population dynamics. Anim Biodivers Conserv 27:471–488

Ceia R (2008) Monitorização da população de Priolo. Relatório da acção F6 do Projecto LIFE Priolo. Sociedade Portuguesa para o Estudo das Aves, Lisboa

Ceia R, Heleno R, Ramos JA (2009) Summer abundance and ecological distribution of passerines in native and exotic forests in São Miguel, Azores. Ardeola 56:25–39

Choquet R, Reboulet AM, Lebreton J-D, Gimenez O, Pradel R (2005) U-CARE 2.2 user's manual. CEFE, Montpellier

Clark ME, Martin TE (2007) Modeling tradeoffs in avian life history traits and consequences for population growth. Ecol Model 209:110–120

Clobert J, Perrins CM, McCleery RH, Gosler AG (1988) Survival rate in the Great Tit (Parus major) in relation to sex, age, and immigration status. J Animal Ecol 57:287–306

Cooch EG, White GC (2006) MARK: an introductory guide. http://www.phidot.org/software/docs/book/, last accessed 1 March 2009

Covas R, Brown RC, Anderson MD, Brown MB (2004) Juvenile and adult survival in the sociable weaver (Philetairus socius), a southern-temperate colonial cooperative breeder in Africa. Auk 121:1199–1207

Dean T (1999) Second-growth habitat use and survival rates of migrant and resident land birds, North Andros Island, Bahamas (MSc. thesis). The University of New Brunswick, Fredericton

Faaborg J, Arendt WJ (1995) Survival rates of Puerto Rican birds: are islands really that different? Auk 112:503–507

Fructuoso G (1561) In: Rodrigues JBO (ed) Saudades da Terra, 6 volumes from 1978 to 1983, 2nd edn. Instituto Cultural de Ponta Delgada, Ponta Delgada (Azores)

Griffiths R, Double M, Orr K, Dawson R (1998) A DNA test to sex most birds. Mol Ecol 7:1071–1075

Haggar JP (1988) The structure, composition and status of the cloud forests of Pico Island in the Azores. Biol Conserv 46:7–22

Hartert E, Ogilvie-Grant W (1905) On the birds of the Azores. Novit Zool 12:80–128

Heleno RH, Lacerda IC, Ramos JA, Memmott J (2010) Evaluation of restoration effectiveness: community response to the removal of alien plants. Ecol Appl (in press)

Hurrell JW (1995) Decadal trends in the North Atlantic oscillation: regional temperatures and precipitation. Science 269:676–679

Komdeur J (1994) Conserving the Seychelles warbler Acrocephalus sechellensis by translocation from Cousin Island to the islands of Aride and Cousine. Biol Conserv 67:143–152

Le Grand G (1983) Der Wiederentdeckte Azorengimpel. Wir und Vogel 15:37–38

Lebreton JD, Burnham KP, Clobert J, Anderson DR (1992) Modeling survival and testing biological hypotheses using marked animals: a unified approach with case studies. Ecol Monogr 62:67–118

Martin TE (1996) Life history evolution in tropical and south temperate birds: what do we really know? J Avian Biol 27:263–272

McNamara JM, Barta Z, Wikelski M, Houston AI (2008) A theoretical investigation of the effect of latitude on avian life histories. Am Nat 172:331–345

Møller AP (2007) Senescence in relation to latitude and migration in birds. J Evol Biol 20:750–757

Peach WJ, Hanmer DB, Oatley TB (2001) Do southern African songbirds live longer than their European counterparts? Oikos 93:235–249

Perkins DW, Vickery PD (2001) Annual survival of an endangered passerine, the Florida Grasshopper sparrow. Wilson Bull 113:211–216

Post P, Götmark F (2006) Predation by sparrowhawks Accipiter nisus on male and female pied flycatchers Ficedula hypoleuca in relation to their breeding behaviour and foraging. J Avian Biol 37:158–168

Ramos JA (1994) The annual cycle of the Azores Bullfinch, Pyrrhula murina Goldman, 1866 (Aves: Passeriformes). Arquipélago. Life Mar Sci 12A:101–109 Ponta Delgada. ISSN 0870-6851

Ramos JA (1995) The diet of the Azores Bullfinch Pyrrhula murina and floristic variation within its range. Biol Conserv 71:237–249

Ramos JA (1996a) Introduction of exotic tree species as a threat to the Azores Bullfinch population. J Appl Ecol 33:710–722

Ramos JA (1996b) The influence of size, shape and phenolic content on the selection of winter foods by the Azores Bullfinch. J Zool 238:415–433

Ramos JA (1998) Biometrics, weights, breeding and moulting seasons of passerines in an Azores cloud forest. Ringing Migr 19:17–22

Robinson RA, Baillie SR, Crick HQP (2007) Weather-dependent survival: implications of climate change for passerine population processes. Ibis 149:357–364

Saether B-E, Engen S, Matthysen E (2002) Demographic characteristics and population dynamical patterns of solitary birds. Science 295:2070–2073

Schaefer H-C, Eshiamwata GW, Munyekenye FB, Griebeler EM, Bohning-Gaese K (2006) Monthly survival of African Sylvia warblers in a seasonally arid tropical environment. Ibis 148:411–424

Silva LD (2001) Plantas vasculares invasoras no Arquipélago dos Açores (Ph.D. thesis). University of the Azores, Ponta Delgada

Siriwardena GM, Baillie SR, Wilson JD (1999) Temporal variation in the annual survival rates of six granivorous birds with contrasting population trends. Ibis 141:621–636

Stearns SC (1992) The evolution of life histories. Oxford University Press, Oxford

Steifetten O, Dale S (2006) Viability of an endangered population of ortolan buntings: the effect of a skewed operational sex ratio. Biol Conserv 132:88–97

White GC, Burnham KP (1999) Program MARK: survival estimation from populations of marked animals. Bird Study 46(Suppl):120–139

Williams BK, Nichols JD, Conroy MJ (2002) Analysis and management of animal populations. Academic, San Diego
Acknowledgments
We thank everyone involved in the capture–mark–recapture data collection on São Miguel between 2005 and 2008, the Portuguese Society for the Study of Birds and the team from the LIFE-Priolo conservation project, as well as the Administração Florestal at Nordeste for logistic support. We are also indebted to Dr Morten Frederiksen for helpful comments and suggestions during data modelling. Earlier drafts of this paper benefited greatly from the comments of two anonymous reviewers.
Additional information
Communicated by P. H. Becker.
About this article
Cite this article
Monticelli, D., Ceia, R., Heleno, R. et al. High survival rate of a critically endangered species, the Azores Bullfinch Pyrrhula murina, as a contribution to population recovery. J Ornithol 151, 627–636 (2010). https://doi.org/10.1007/s10336-010-0501-4
Received:

Revised:

Accepted:

Published:

Issue Date:
Keywords
Individual covariates

Mark–recapture

Population management

Pyrrhula murina

Azores

Survival