Abstract
There is concern that predation of Lapwing Vanellus vanellus nests may create additional pressure on declining populations of this species in Europe. At seven sites in England and Wales, daily nest predation rates on 1,390 nests were related to variables using Generalised Linear Mixed Models. The strongest predictor was Lapwing nest density (number of nests within 100 m): predation rates declined as nest density increased. Since nocturnal species, probably mammals, have been identified as the major predators of Lapwing nests at these sites, these results suggest that Lapwings are able to deter mammalian predators or may settle to nest at high densities in areas with low predation pressure. At the site level, there was no relationship between Lapwing nesting density and fox density, and a positive relationship with Carrion Crow Corvus corone nesting density. There was a weaker effect of distance to field boundary: nests closer to boundaries were more likely to be predated. Weak interactive effects between crow density and both nest visibility and distance to vantage point were identified in models using a reduced subset of nests. These were counter-intuitive, did not persist in the larger data set, and do not have obvious explanations. If Lapwings nesting at high density are able to deter predators, there are implications for land management. Smaller areas could be managed within potential breeding habitat to encourage Lapwings to nest in dense colonies. Selection of larger fields for such management, where nests could be located far from the field boundary should improve the value of such measures.
Access options
Buy single article
Instant access to the full article PDF.
USD 39.95
Price excludes VAT (USA)
Tax calculation will be finalised during checkout.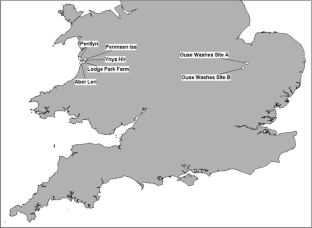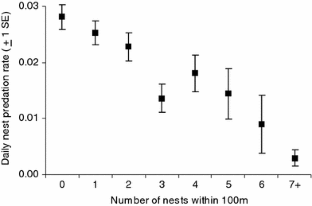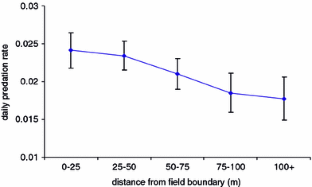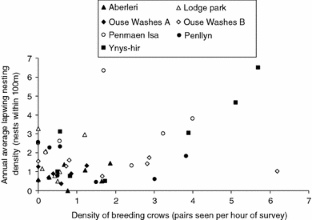 References
Aebischer NJ (1999) Multi-way comparisons and generalized linear models of nest success: extensions of the Mayfield method. Bird Study 46:522–531

Bellebaum J (2001) Breeding success of lapwing Vanellus vanellus at two German wetland reserves: stable numbers in spite of high predation rates. Wader Study Group Bull 96:21

Bellebaum J (2002) Prädation als Gefährdung bodenbrüter Vögel in Deutschland - eine Übersicht (in German with English summary: Predation as a threat to ground-nesting birds in Germany—a review). Ber Vogelsch 39:95–117

Berg Å (1996) Predation on artificial, solitary and aggregated wader nests on farmland. Oecologia 107:343–346

Berg Å, Lindberg T, Kallebrink KG (1992) Hatching success of lapwings on farmland: differences between habitats and colonies of different sizes. J Anim Ecol 61:469–476

Blühdorn I (2002) Bestandsentwicklung und Brutbiologie einer Kiebitzkolonie (Vanellus vanellus) während der Extensivierung ihres Brutgebietes [in German with an English summary]. PhD thesis, Westfälischen Wilhelms-Universitat, Münster

Bolton M, Tyler G, Smith KW, Bamford R (2007) The impact of experimental fox and crow control on lapwing Vanellus vanellus breeding success on wet grassland nature reserves. J Appl Ecol 44:534–544

Boschert M (2005) Analysis of nest losses of the Eurasian Curlew Numenius arquata in the upper Rhine Valley of Baden—a comparison between results from 2000 to 2002 and former periods with focus on predation (in German with an English summary). Vogelwelt 126:321–332

Chamberlain DE, Crick HP (2003) Temporal and spatial associations in aspects of reproductive performance of lapwings Vanellus vanellus in the United Kingdom, 1962–1999. Ardea 91:183–196

Colwell MA (1992) Wilson's phalarope nest success is not influenced by vegetation concealment. Condor 94:767–772

Elliot RD (1982) Nesting dispersion of lapwings in relation to predation and anti-predator defence. PhD thesis, University of Aberdeen

Galbraith H (1987) Marking and visiting lapwing Vanellus vanellus nests does not affect clutch survival. Bird Study 34:137–138

Galbraith H (1988) Effects of agriculture on the breeding ecology of lapwings Vanellus vanellus. J Appl Ecol 25:487–503

Grant MC, Orsman C, Easton J, Lodge C, Smith M, Thompson G, Rodwell S, Moore N (1999) Breeding success and causes of breeding failure of curlew Numenius arquata in Northern Ireland. J Appl Ecol 36:59–74

Green RE (1984) Nomograms for estimating the stage of incubation of wader eggs in the field. Wader Study Group Bull 42:36–39

Green RE (1988) Effects of environmental factors on the timing and success of breeding of common snipe Gallinago gallinago (Aves: Scolopacidae). J Appl Ecol 25:79–93

Green RE, Hirons GJ, Kirby JS (1990) The effectiveness of nest defence by black-tailed godwits Limosa limosa. Ardea 78:405–413

Hart JD, Milsom TP, Baxter A, Kelly PF, Parkin WF (2002) The impact of livestock on lapwing Vanellus vanellus breeding densities and performance on coastal grazing marsh. Bird Study 49:67–78

Hodson NL (1962) Lapwing's persistent attack on fox. Br Birds 55:590

Johansson T (2001) Habitat selection, nest predation and conservation biology in a black-tailed godwit (Limosa limosa) population. PhD thesis, University of Uppsala

Junker S, Düttman H, Ehrnsberger R (2006) Hatching success and chick survival of lapwings (Vanellus vanellus) breeding in grasslands with different agricultural management—results of a long-term study in the Stollhammer Wisch (Wesermarsch district, Lower Saxony). Paper presented at Ökologie und Schutz von Wisenvögeln in Mitteleuropa, Vechtaer Fachdidaktische Forschungen und Berichte

Littell RC, Milliken GA, Stroup WW, Wolfinger RD (1996) SAS system for mixed models. SAS Institute, Cary

Manolis JC, Andersen DE, Cuthbert FJ (2000) Uncertain nest fates in songbird studies and variation in Mayfield estimation. Auk 117:615–626

Mayfield H (1961) Nesting success calculated from exposure. Wilson Bull 73:255–261

Mayfield H (1975) Suggestions for calculating nest success. Wilson Bull 87:456–466

Milsom TP (2005) Decline of northern lapwing Vanellus vanellus breeding on arable farmland in relation to loss of spring tillage. Bird Study 52:297–306

Moore RP, Robinson WD (2004) Artificial bird nests, external validity, and bias in ecological field studies. Ecology 85:1562–1567

O'Brien MG (2001) Factors affecting breeding wader populations on upland enclosed farmland in northern Britain. Institute of Cell, Animal and Population Biology, University of Edinburgh

Olsen H (2002) Patterns of predation on ground nesting birds. PhD thesis, Royal Veterinarian and Agricultural University, Copenhagen

Ottvall R (2005) Breeding success and adult survival of redshank Tringa totanus on coastal meadows in SE Sweden. Ardea 93:225–236

Ottvall R, Larsson K, Smith HG (2005) Nesting success in redshank Tringa totanus breeding on coastal meadows and the importance of habitat features used as perches by avian predators. Bird Study 52:289–296

Peach WJ, Thompson PS, Coulson JC (1994) Annual and long-term variation in the survival rates of British lapwings Vanellus vanellus. J Anim Ecol 63:60–70

Phillips ML, Clark WR, Nusser SM, Sovada MA, Greenwood RJ (2004) Analysis of predator movement in prairie landscapes with contrasting grassland composition. J Mammal 85:187–195

Sasvári L, Hegyi Z (2000) Avian predators influence the daily time budget of lapwings Vanellus vanellus. Folia Zool 49:211–219

Seymour AS (1999) The ecology of nest predation by red foxes Vulpes vulpes. PhD thesis, University of Bristol

Seymour AS, Harris S, Ralston C, White PCL (2003) Factors influencing the nesting success of lapwing Vanellus vanellus and behaviour of red fox Vulpes vulpes in lapwing nesting sites. Bird Study 50:39–46

Sharpe FE (2006) Productivity and population trends of northern lapwing (Vanellus vanellus) in Britain. PhD thesis, University of Bath

Sheldon RD (2002) Factors affecting the distribution, abundance and chick survival of the lapwing (Vanellus vanellus). PhD thesis, Harper Adams University College, Newport

Shrubb M (1990) Effects of agricultural change on nesting lapwings Vanellus vanellus in England and Wales. Bird Study 37:115–127

Smart J (2005) Strategies of sea-level rise mitigation for breeding redshank. PhD thesis, University of East Anglia

Stillman RA, MacDonald MA, Bolton MR, Durell SEA, le V dit, Caldow AWG, West AD (2006) Management of wet grassland habitat to reduce the impact of predation on breeding waders: Phase 1. Report to DEFRA. CEH, Winfrith, Dorset

Teunissen W, Schekkerman H, Willems F (2005) Predatie bij weidevogels: Op zoek naar de mogelijke effecten van predatie op de weidevogelstand (in Dutch with an English summary): Sovon Vogelonderzoek Nederland

Thyen S, Exo K-M (2005) Interactive effects of time and vegetation on reproduction of redshanks (Tringa totanus) breeding in Wadden Sea salt marshes. J Ornithol 146:215–225

Valkama J, Currie D, Korpimäki E (1999) Differences in the intensity of nest predation in the curlew Numenius arquata: a consequence of land use and predator densities? Ecoscience 6:497–504

Vickery PD, Hunter MLJ, Wells JV (1992) Evidence of incidental nest predation and its effects on nests of threatened grassland birds. Oikos 63:281–288

Webbon C, Baker PJ, Harris S (2004) Faecal density counts for monitoring changes in red fox numbers in rural Britain. J Appl Ecol 41:768–779

Whittingham MJ, Evans KL (2004) The effects of habitat structure on predation risk of birds in agricultural landscapes. Ibis 146(Suppl. 2):210–220

Wilson AM, Ausden M, Milsom TP (2004) Changes in breeding wader populations on lowland wet grasslands in England and Wales: causes and potential solutions. Ibis 146(Suppl. 2):32–40
Acknowledgments
We thank the many reserve staff and research assistants for collection of data on nest survival and predator densities. We are grateful to landowners and CCW for access permission to sites that were not RSPB reserves. Steven Ewing assisted with the data preparation. Paul Britten gave GIS support, and Stijn Bierman (BIOSS) gave statistical support. We thank Defra for funding the data analysis, under contract no. C03043, and for comments by Richard Stillman, Sarah Durell, Andy West and Richard Caldow. We thank a reviewer for comments that have improved this manuscript. All work carried out for this study complies with the current laws of the United Kingdom.
Additional information
Communicated by F. Bairlein.
About this article
Cite this article
MacDonald, M.A., Bolton, M. Predation of Lapwing Vanellus vanellus nests on lowland wet grassland in England and Wales: effects of nest density, habitat and predator abundance. J Ornithol 149, 555–563 (2008). https://doi.org/10.1007/s10336-008-0303-0
Received:

Revised:

Accepted:

Published:

Issue Date:

DOI: https://doi.org/10.1007/s10336-008-0303-0
Keywords
Lapwing

Nest predation

Wet grassland

Field boundary

Nest density