Abstract
In the last German breeding area of the rapidly declining "Pomeranian" population of the Aquatic Warbler (Acrocephalus paludicola), the Lower Oder Valley National Park, we investigated changes in habitat suitability between 1993 and 2006 by combining monitoring results with repeated assessments of vegetation structure and composition, site conditions, and land use. Sites with recent Aquatic Warbler records showed shorter and sparser vegetation, a thinner litter layer, and a higher total plant species richness and cover of small and least competitive (CSR) species than abandoned or unoccupied sites. On a long-term study plot, during a period of late mowing and subsequent cessation of land use, vegetation height increased, the cover of CSR species decreased, and the site became abandoned by Aquatic Warblers. The probability of Aquatic Warbler occurrence was dependent on elevation and increased with the proportion of early mown or grazed area in the preceding year, with early use being most important on slightly higher elevated sites. This rapid deterioration of eutrophic habitats by delayed or discontinued land use is atypical for the majority of Aquatic Warbler breeding habitats. We conclude that both late or no land use and land use during the breeding season negatively affect the Pomeranian breeding sites and that a more sophisticated and flexible land management is urgently needed.
This is a preview of subscription content, log in to check access.
Access options
Buy single article
Instant access to the full article PDF.
US$ 39.95
Tax calculation will be finalised during checkout.
Subscribe to journal
Immediate online access to all issues from 2019. Subscription will auto renew annually.
US$ 79
Tax calculation will be finalised during checkout.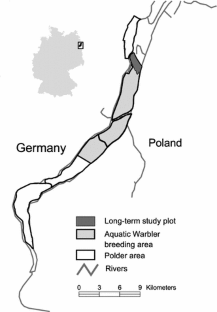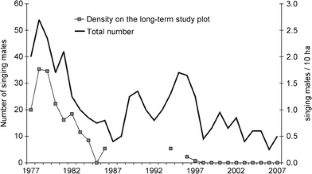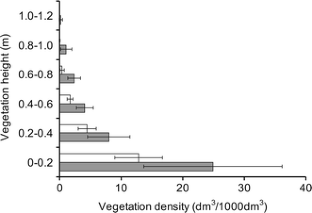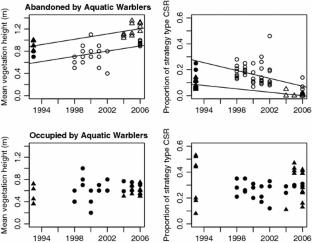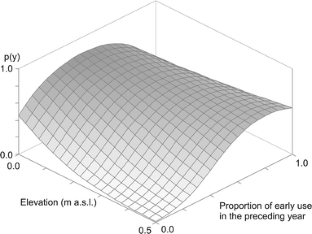 References
AG Boden (2005) Bodenkundliche Kartieranleitung, 5th edn. Bundesanstalt für Geowissenschaften und Rohstoffe, Hannover

Aquatic Warbler Conservation Team (1999) World population, trends and conservation status of the Aquatic Warbler Acrocephalus paludicola. Vogelwelt 120:65–89

Bakker JP, Elzinga JB, de Vries Y (2002) Effects of long-term cutting in a grassland system: perspectives for restoration of plant communities on nutrient-poor soils. Appl Veg Sci 5:107–120

Battin J (2004) When good animals love bad habitats: ecological traps and the conservation of animal populations. Conserv Biol 18:1482–1491

Bibby CJ, Burgess ND, Hill DA (1992) Bird census techniques. Academic, London

Billeter R, Hooftman DRP, Diemer M (2003) Differential and reversible responses of common fen meadow species to abandonment. Appl Veg Sci 6:3–12

Dierschke H (1994) Pflanzensoziologie. Grundlagen und Methoden. Ulmer, Stuttgart

Dittberner H, Dittberner W (1976) Der Seggenrohrsänger im Bezirk Frankfurt/Oder. Falke 23:78–81

Dittberner W, Mädlow W (1998) Zur Siedlungsdichte von Vögeln in naturnahen Lebensräumen des Unteren Odertals. Veröffentlichungen des Potsdam-Museums 32 (Beiträge zur Tierwelt der Mark 13):15–32

Dyrcz A, Zdunek W (1993) Breeding ecology of the Aquatic Warbler Acrocephalus paludicola on the Biebrza marshes, northeast Poland. Ibis 135:181–189

Falińska K (1999) Seed bank dynamics in abandoned meadows during a 20-year period in the Białowieża National Park. J Ecol 87:461–475

Fartmann T, Mattes H (1997): Heuschreckenfauna und Grünland––Bewirtschaftungsmaßnahmen und Biotopmanagement. In: Mattes H (ed) Ökologische Untersuchungen zur Heuschreckenfauna in Brandenburg und Westfalen. Arbeiten aus dem Institut für Landschaftsökologie der Westfälischen Wilhelms-Universität Münster 3, pp 179–188

Flade M, Giessing B, Pain D, Kozulin A (2006) Partial extinction: the case of the globally threatened Aquatic Warbler. J Ornithol 147(suppl):79

Frank D, Klotz S (eds) (1990) Biologisch-ökologische Daten zur Flora der DDR. Wiss. Beitr. Martin-Luther-Univ. Halle-Wittenberg 41:1–167

Giessing B (2002) Viele Väter für eine Brut––vorteilhaft oder unausweichlich für das Weibchen? Zum Paarungssystem und zur Populationsgenetik des Seggenrohrsängers (Acrocephalus paludicola). PhD thesis, Köln University

Grime JP (1974) Vegetation classification by reference to strategies. Nature 250:26–31

Grime JP, Hodgson JG, Hunt R (1988) Comparative plant ecology: a functional approach to common British species. Unwin Hyman, London

Güsewell S, Le Nédic C (2004) Effects of winter mowing on vegetation succession in a lakeshore fen. Appl Veg Sci 7:41–48

Heise G (1970) Zur Brutbiologie des Seggenrohrsängers (Acrocephalus paludicola). J Ornithol 111:54–67

HELCOM (2006) Estimation of atmospheric nitrogen deposition to the Baltic Sea in 2010 based on agreed emission ceilings under the EU NEC directive and the Gothenburg Protocol. Norwegian Meteorological Institute, Oslo. Unpublished report

Helmecke A, Sellin D, Fischer S, Sadlik J, Bellebaum J (2003) Die aktuelle Situation des Seggenrohrsängers Acrocephalus paludicola in Deutschland. Ber Vogelschutz 40:81–89

Hodgson JG, Wilson PJ, Hunt R, Grime JP, Thompson K (1999) Allocating C–S–R plant functional types: a soft approach to a hard problem. Oikos 85:282–294

Hodgson JG, Grime JP, Wilson PJ, Thompson K, Band RS (2005) The impacts of agricultural change (1963–2003) on the grassland flora of central England: processes and prospects. Basic Appl Ecol 6:107–118

Jehle P, Pankoke K (1999) Die Pflanzengesellschaften ausgewählter Totalreservatsflächen im Nationalpark Unteres Odertal. In: Dohle W, Bornkamm R, Weigmann G (eds) Das Untere Odertal. Limnologie aktuell 9. Schweizerbart, Stuttgart, pp 123–146

Jensen K, Schrautzer J (1999) Consequences of abandonment for a regional fen flora and mechanisms of successional change. Appl Veg Sci 2:79–88

Just P (2005) Entwicklung eines statistischen Habitateignungsmodells zur räumlichen Vorhersage der Vorkommenswahrscheinlichkeit des Wachtelkönigs (Crex crex L.) im Nationalpark Unteres Odertal. Ein landschaftsökologischer Beitrag zum Schutz einer gefährdeten Vogelart. PhD thesis, Göttingen University, Göttingen

Kozulin A, Flade M (1999) Breeding habitat, abundance and conservation status of the Aquatic Warbler Acrocephalus paludicola in Belarus. Vogelwelt 120:97–111

Kratz R, Belting S, Fischer M, Gasse M, Hielscher K, Huk T, Sandkühler K, Suhling F (2001) Management für Tierarten im Niedermoorgrünland. In: Kratz R, Pfadenhauer J (eds) Ökosystemmanagement für Niedermoore: Strategien und Verfahren zur Renaturierung. Ulmer, Stuttgart, pp 154–176

Krogulec J, Kloskowski J (1999) Habitat selection of Aquatic Warbler Acrocephalus paludicola in Poland: consequences for conservation of the breeding areas. Vogelwelt 120:113–120

Leisler B (1975) Die Bedeutung der Fußmorphologie für die ökologische Sonderung mitteleuropäischer Rohrsänger (Acrocephalus) und Schwirle (Locustella). J Ornithol 116:117–153

Leisler B (1981) Die ökologische Einnischung der mitteleuropäischen Rohrsänger (Acrocephalus, Sylviinae). I. Habitattrennung. Vogelwarte 31:45–74

Leyer I (2002) Auengrünland der Mittelelbe-Niederung. Vegetationskundliche und -ökologische Untersuchungen in der rezenten Aue, der Altaue und am Auenrand der Elbe. Dissertationes Botanicae 363. J. Cramer, Berlin, Stuttgart

Londo G (1984) The decimal scale for relevés permanent quadrats. In: Knapp R (ed.): Sampling methods and taxon analysis in vegetation science. Handbook of vegetation science 4. Junk, The Hague, pp 45–49

Mammen U, Bahner T, Bellebaum J, Eikhorst W, Fischer S, Geiersberger I, Helmecke A, Hoffmann J, Kempf G, Kühnast O, Pfützke S, Schoppenhorst A (2005) Grundlagen und Maßnahmen für die Erhaltung des Wachtelkönigs und anderer Wiesenvögel in Feuchtgrünlandgebieten. BfN-Skripten 141

Moog D, Kahmen S, Poschlod P (2005) Application of CSR- and LHS-strategies for the distinction of differently managed grasslands. Basic Appl Ecol 6:133–143

Pain D, Green RE, Giessing B, Kozulin A, Poluda A, Ottosson U, Flade M, Hilton G (2004) Using stable isotopes to investigate wintering areas and migratory connectivity of the globally threatened Aquatic Warbler Acrocephalus paludicola. Oecologia 138:168–174

Pfadenhauer J, Höper H, Borkowsky O, Roth S, Seeger T, Wagner C (2001) Entwicklung pflanzenartenreichen Niedermoorgrünlands. In: Kratz R, Pfadenhauer J (eds) Ökosystemmanagement für Niedermoore. Strategien und Verfahren zur Renaturierung. Ulmer, Stuttgart, pp 134–153

Quinn GP, Keough MJ (2002) Experimental design and data analysis for biologists. Cambridge University Press, Cambridge

Robien P (1920) Die Vogelwelt des Bezirks Stettin, Teil 1. Saunier, Stettin

Rosenthal G, Müller J (1988) Wandel der Grünlandvegetation im mittleren Ostetal––ein Vergleich 1952–1987. Tuexenia 8:79–99

Schalitz G (1970) Einige spezielle Probleme des Standortes und der Vegetation der Oderpolder bei Schwedt. Zeitschr Landeskultur 11:375–386

Schalitz G, Puhlmann G, Puhlmann M (1984) Intensivierung des Überschwemmungsgraslandes an der unteren Oder unter Berücksichtigung gesamtgesellschaftlicher Interessen und der Erhaltung der Ökosysteme. Arch Naturschutz u Landschaftsforsch 24:249–258

Schalitz G, Käding H, Leipnitz W (1997) Ergebnisse der Renaturierung standorttypischer Grünlandgesellschaften an der Unteren Oder. Arch Acker-Pfl Boden 41:181–188

Schöpp W, Posch M, Mylona S, Johansson M (2003) Long-term development of acid deposition (1880–2030) in sensitive freshwater regions in Europe. Hydrol Earth Syst Sci 7:436–446

Schulze-Hagen K (1991) Acrocephalus paludicola (Vieillot 1817)––Seggenrohrsänger. In: Glutz von Blotzheim UN (eds) Handbuch der Vögel Mitteleuropas. Aula, Wiesbaden, pp 252–291

Schulze-Hagen K, Leisler B, Schäfer HM, Schmidt V (1999): The breeding system of the Aquatic Warbler Acrocephalus paludicola––a review of new results. Vogelwelt 120:87–96

Schumann M, Bartels A, Heil J, Bornkamm R (1999) Zur Populationsökologie dominanter Pflanzenarten im Unteren Odertal. In: Dohle W, Bornkamm R, Weigmann G (eds) Das Untere Odertal. Limnologie aktuell 9. Schweizerbart, Stuttgart, pp 63–77

Sellin D (1989) Vergleichende Untersuchungen zur Habitatstruktur des Seggenrohrsängers Acrocephalus paludicola. Vogelwelt 110:198–208

Succow M, Joosten H (eds) (2001) Landschaftsökologische Moorkunde. Schweizerbart, Stuttgart

Sutherland WJ, Green RE (2004) Habitat assessment. In: Sutherland WJ, Newton I, Green RE (eds) Bird ecology and conservation. Oxford University Press, Oxford, pp 251–268

Tanneberger F, Joosten H, Flade M (2005) An Introduction to Aquatic Warbler conservation in Western Pomerania. In: Kotowski W (ed) Anthropogenic influence on wetlands biodiversity and sustainable management of wetlands. Warsaw Agricultural University Press, Warsaw, pp 97–106

Vergeichik L, Kozulin A (2006) Changing nesting dates and nest placement as adaptations of Aquatic Warbler Acrocephalus paludicola to unstable nesting conditions on fen mires in Belarus. Vogelwelt 127:145–155

Wagner M, Poschlod P, Setchfield RP (2003) Soil seed bank in managed and abandoned semi-natural meadows in Soomaa National Park, Estonia. Ann Bot Fenn 40:87–100

Wassen MJ, Joosten JHJ (1999) In search of a hydrological explanation for vegetation changes along a fen gradient in the Biebrza Upper Basin (Poland). Vegetation 124:191–209

Wawrzyniak H, Sohns G (1977) Der Seggenrohrsänger. Ziemsen, Wittenberg-Lutherstadt

Weber CA (1907) Wiesen und Weiden an der Oder. Mitteilungen der Deutschen Landwirtschaftsgesellschaft Stück VIII:89–91

Wilson JD, Whittingham MJ, Bradbury RB (2005) The management of crop structure: a general approach to reversing the impacts of agricultural intensification on birds? Ibis 147:453–463
Acknowledgments
We thank Kerstin Pankoke, Stefan Fischer, the rangers from "Naturwacht Unteres Odertal" and students from Greifswald University for help during fieldwork, and all persons who contributed to the annual Aquatic Warbler counts in Lower Oder Valley National Park. We are grateful for financial support from the Federal Agency for Nature Conservation, German Research Foundation graduate research programme "Valuation and conservation of biodiversity"), Landesumweltamt Brandenburg, and Deutsche Bundesstiftung Umwelt. Nils Anthes, Martin Flade, and Hans Joosten provided valuable comments on drafts of this paper.
Additional information
Communicated by F. Bairlein.
About this article
Cite this article
Tanneberger, F., Bellebaum, J., Fartmann, T. et al. Rapid deterioration of Aquatic Warbler Acrocephalus paludicola habitats at the western margin of the breeding range. J Ornithol 149, 105–115 (2008). https://doi.org/10.1007/s10336-007-0241-2
Received:

Revised:

Accepted:

Published:

Issue Date:
Keywords
Land use

Timing of mowing

Habitat change

Habitat management

Species conservation