Abstract
Introduction
We explored the use of a perfluoro-15-crown-5 ether nanoemulsion (PFC) for measuring tissue oxygenation using a mouse model of vascular cognitive impairment.
Methods
Seventeen C57BL/6 mice underwent stereotactic injection of PFC coupled to a fluorophore into the striatum and corpus callosum. Combined 1H/19F magnetic resonance imaging (MRI) to localize the PFC and R1 mapping to assess pO2 were performed. The effect of gas challenges on measured R1 was investigated. All mice then underwent bilateral implantation of microcoils around the common carotid arteries to induce global cerebral hypoperfusion. 19F-MRI and R1 mapping were performed 1 day, 1 week, and 4 weeks after microcoil implantation. In vivo R1 values were converted to pO2 through in vitro calibration. Tissue reaction to the PFC was assessed through ex vivo immunohistochemistry of microglial infiltration.
Results
R1 increased with increasing oxygen concentrations both in vitro and in vivo and the strength of the 19F signal remained largely stable over 4 weeks. In the two mice that received all four scans, tissue pO2 decreased after microcoil implantation and recovered 4 weeks later. We observed infiltration of the PFC deposits by microglia.
Discussion
Despite remaining technical challenges, intracerebrally injected PFC is suitable for monitoring brain oxygenation in vivo.
This is a preview of subscription content, log in to check access.
Access options
Buy single article
Instant access to the full article PDF.
US$ 39.95
Tax calculation will be finalised during checkout.
Subscribe to journal
Immediate online access to all issues from 2019. Subscription will auto renew annually.
US$ 99
Tax calculation will be finalised during checkout.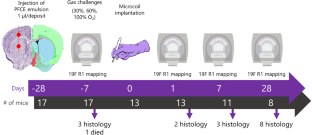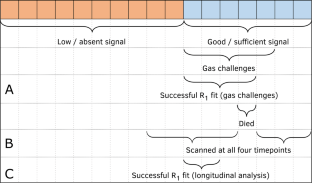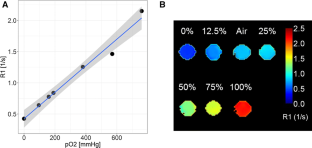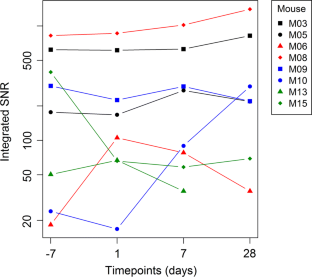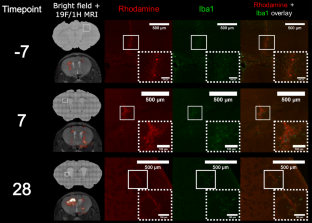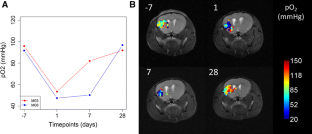 References
1.

Filippi M (2015) Oxford textbook of neuroimaging. https://doi.org/10.1093/med/9780199664092.001.0001

2.

Flögel U, Ding Z, Hardung H, Jander S, Reichmann G, Jacoby C, Schubert R, Schrader J (2008) In vivo monitoring of inflammation after cardiac and cerebral ischemia by fluorine magnetic resonance imaging. Circulation 118:140–148

3.

Ruiz-Cabello J, Walczak P, Kedziorek DA, Chacko VP, Schmieder AH, Wickline SA, Lanza GM, Bulte JWM (2008) In vivo "hot spot" MR imaging of neural stem cells using fluorinated nanoparticles. Magn Reson Med 60:1506–1511

4.

Srinivas M, Boehm-Sturm P, Figdor CG, de Vries IJ, Hoehn M (2012) Labeling cells for in vivo tracking using19F MRI. Biomaterials 33:8830–8840

5.

Waiczies H, Lepore S, Drechsler S, Qadri F, Purfürst B, Sydow K, Dathe M, Kühne A, Lindel T, Hoffmann W, Pohlmann A, Niendorf T, Waiczies S (2013) Visualizing brain inflammation with a shingled-leg radio-frequency head probe for 19F/1H MRI. Sci Rep 3:1280

6.

Pittman RN (2011) Regulation of tissue oxygenation. Colloq Ser Integr Syst Physiol From Mol Funct. https://doi.org/10.4199/c00029ed1v01y201103isp017

7.

Spiess BD (2009) Perfluorocarbon emulsions as a promising technology: a review of tissue and vascular gas dynamics. J Appl Physiol 106:1444–1452

8.

Riess JG, Riess JG (2001) Oxygen carriers ("blood substitutes")—raison d'etre, chemistry, and some physiology. Chem Rev 101:2797–2919

9.

Parhami P, Fung BM (1983) Fluorine-19 relaxation study of perfluoro chemicals as oxygen carriers. J Phys Chem 87:1928–1931

10.

Jordan BF, Cron GO, Gallez B (2009) Rapid monitoring of oxygenation by 19F magnetic resonance imaging: simultaneous comparison with fluorescence quenching. Magn Reson Med 61:634–638

11.

Mason RP, Hunjan S, Constantinescu A, Song Y, Zhao D, Hahn EW, Antich PP, Peschke P (2003) Tumor oximetry: comparison of 19F MR EPI and electrodes. Adv Exp Med Biol 530:19–27

12.

Zhao D, Jiang L, Mason RP (2004) Measuring changes in tumor oxygenation. Methods Enzymol 386:378–418

13.

Dichgans M, Leys D (2017) Vascular cognitive impairment. Circ Res 120:573–591

14.

Wakita H, Tomimoto H, Akiguchi I, Kimura J (1994) Glial activation and white matter changes in the rat brain induced by chronic cerebral hypoperfusion: an immunohistochemical study. Acta Neuropathol 87:484–492

15.

Shibata M, Ohtani R, Ihara M, Tomimoto H (2004) White matter lesions and glial activation in a novel mouse model of chronic cerebral hypoperfusion. Stroke 35:2598–2603

16.

Boehm-Sturm P, Füchtemeier M, Foddis M, Mueller S, Trueman RC, Zille M, Rinnenthal JL, Kypraios T, Shaw L, Dirnagl U, Farr TD (2017) Neuroimaging biomarkers predict brain structural connectivity change in a mouse model of vascular cognitive impairment. Stroke 48:468–475

17.

Waiczies S, Millward JM, Starke L, Delgado PR, Huelnhagen T, Prinz C, Marek D, Wecker D, Wissmann R, Koch SP, Boehm-Sturm P, Waiczies H, Niendorf T, Pohlmann A (2017) Enhanced fluorine-19 MRI sensitivity using a cryogenic radiofrequency probe: technical developments and ex vivo demonstration in a mouse model of neuroinflammation. Sci Rep 7:9808

18.

Ebner B, Behm P, Jacoby C, Burghoff S, French BA, Schrader J, Flögel U (2010) Early assessment of pulmonary inflammation by 19F MRI in vivo. Circ Cardiovasc Imaging 3:202–210

19.

Grapentin C, Mayenfels F, Barnert S, Süss R, Schubert R, Temme S, Jacoby C, Schrader J, Flögel U (2014) Optimization of perfluorocarbon nanoemulsions for molecular imaging by 19F MRI. In: Seifalian A, de Mel A, Kalaskar D (eds) Nanomedicine, One Central Press, pp 268–286

20.

Kowalewski J, Levy GC, Johnson LF, Palmer L (1977) A three-parameter non-linear procedure for fitting inversion-recovery measurements of spin-lattice relaxation times. J Magn Reson 26:533–536

21.

Core Team R (2016) R: a language and environment for statistical computing. R Foundation for Statistical Computing, Vienna

22.

Schneider CA, Rasband WS, Eliceiri KW (2012) NIH Image to ImageJ: 25 years of image analysis. Nat Methods 9:671–675

23.

Ito D, Imai Y, Ohsawa K, Nakajima K, Fukuuchi Y, Kohsaka S (1998) Microglia-specific localisation of a novel calcium binding protein, Iba1. Mol Brain Res 57:1–9

24.

Jacoby C, Temme S, Mayenfels F, Benoit N, Krafft MP, Schubert R, Schrader J, Flögel U (2014) Probing different perfluorocarbons for in vivo inflammation imaging by19F MRI: image reconstruction, biological half-lives and sensitivity. NMR Biomed 27:261–271

25.

Constantinides C, Maguire ML, Stork L, Swider E, Srinivas M, Carr CA, Schneider JE (2017) Temporal accumulation and localization of isoflurane in the C57BL/6 mouse and assessment of its potential contamination in19F MRI with perfluoro-crown-ether-labeled cardiac progenitor cells at 9.4 Tesla. J Magn Reson Imaging 45:1659–1667

26.

Baltes C, Radzwill N, Bosshard S, Marek D, Rudin M (2009) Micro MRI of the mouse brain using a novel 400 MHz cryogenic quadrature RF probe. NMR Biomed 22:834–842

27.

Mignion L, Magat J, Schakman O, Marbaix E, Gallez B, Jordan BF (2013) Hexafluorobenzene in comparison with perfluoro-15-crown-5-ether for repeated monitoring of oxygenation using 19F MRI in a mouse model. Magn Reson Med 69:248–254

28.

Jadavji NM, Farr TD, Lips J, Khalil AA, Boehm-Sturm P, Foddis M, Harms C, Füchtemeier M, Dirnagl U (2015) Elevated levels of plasma homocysteine, deficiencies in dietary folic acid and uracil-DNA glycosylase impair learning in a mouse model of vascular cognitive impairment. Behav Brain Res 283:215–226

29.

Temma T, Yamazaki M, Miyanohara J, Shirakawa H, Kondo N, Koshino K, Kaneko S, Iida H (2017) Sequential PET estimation of cerebral oxygen metabolism with spontaneous respiration of 15 O-gas in mice with bilateral common carotid artery stenosis. J Cereb Blood Flow Metab 37:3334–3343

30.

Sakadžić S, Roussakis E, Yaseen MA, Mandeville ET, Srinivasan VJ, Arai K, Ruvinskaya S, Devor A, Lo EH, Vinogradov SA, Boas DA (2010) Two-photon high-resolution measurement of partial pressure of oxygen in cerebral vasculature and tissue. Nat Methods 7:755–759

31.

Zhang C, Bélanger S, Pouliot P, Lesage F (2015) Measurement of local partial pressure of oxygen in the brain tissue under normoxia and epilepsy with phosphorescence lifetime microscopy. PLoS One 10:e0135536

32.

Lyons DG, Parpaleix A, Roche M, Charpak S (2016) Mapping oxygen concentration in the awake mouse brain. Elife. https://doi.org/10.7554/elife.12024

33.

Robinson SP, Griffiths JR (2004) Current issues in the utility of 19F nuclear magnetic resonance methodologies for the assessment of tumour hypoxia. Philos Trans R Soc Lond B Biol Sci 359:987–996

34.

Dardzinski BJ, Sotak CH (1994) Rapid tissue oxygen tension mapping using 19F inversion-recovery echo-planar imaging of P erfluoro-15-crown-5-ether. Magn Reson Med 32:88–97

35.

Yu JX, Cui W, Zhao D, Mason RP (2008) Non-invasive physiology and pharmacology using 19F magnetic resonance. In: Tressaud A, Haufe G (eds) Fluorine and Health. Elsevier, Amsterdam, pp 197–276

36.

Mason RP, Antich PP, Babcock EE, Gerberich JL, Nunnally RL (1989) Perfluorocarbon imaging in vivo: a 19F MRI study in tumor-bearing mice. Magn Reson Imaging 7:475–485

37.

Mason RP, Antich PP, Babcock EE, Constantinescu A, Peschke P, Hahn EW (1994) Non-invasive determination of tumor oxygen tension and local variation with growth. Int J Radiat Oncol Biol Phys 29:95–103

38.

Mcintyre DJO, McCoy CL, Griffiths JR (1999) Tumour oxygenation measurements by F-19 magnetic resonance imaging of perfluorocarbons. Curr Sci 76:753–762

39.

Baete SH, Vandecasteele J, De Deene Y (2011) 19F MRI oximetry: simulation of perfluorocarbon distribution impact. Phys Med Biol 56:2535–2557

40.

Srinivas M, Cruz LJ, Bonetto F, Heerschap A, Figdor CG, de Vries IJM (2010) Customizable, multi-functional fluorocarbon nanoparticles for quantitative in vivo imaging using 19F MRI and optical imaging. Biomaterials 31:7070–7077

41.

Xue M, Del Bigio MR (2000) Intracerebral injection of autologous whole blood in rats: time course of inflammation and cell death. Neurosci Lett 283:230–232

42.

Aucott H, Lundberg J, Salo H, Klevenvall L, Damberg P, Ottosson L, Andersson U, Holmin S, Erlandsson Harris H (2018) Neuroinflammation in response to intracerebral injections of different HMGB1 redox isoforms. J Innate Immun 10:215–227

43.

Boehm-Sturm P, Aswendt M, Minassian A, Michalk S, Mengler L, Adamczak J, Mezzanotte L, Löwik C, Hoehn M (2014) A multi-modality platform to image stem cell graft survival in the naïve and stroke-damaged mouse brain. Biomaterials 35:2218–2226

44.

Christen T, Bolar DS, Zaharchuk G (2013) Imaging brain oxygenation with MRI using blood oxygenation approaches: methods, validation, and clinical applications. Am J Neuroradiol 34:1113–1123
Acknowledgements
The authors thank Dr. med. Esmeralda Heiden and Christa Josties for their valuable assistance in establishing the histology protocol used in this study. This work was supported by the Stiftung Charité (BIH_PRO_317), the DFG Cluster of Excellence NeuroCure (Exc 257), SFB 1116, DFG grants FL 303/6-1/TE 1209/1-1, and the Federal Ministry of Education and Research (BMBF; 01EO0801, Center for Stroke Research Berlin). Funders played no role in the design, analysis, or reporting of this study.
Ethics declarations
Conflict of interest
The authors declare that they have no conflict of interest.
Ethical approval
All procedures performed in studies involving animals were in accordance with the ethical standards of the institution or practice at which the studies were conducted.
Electronic supplementary material
Below is the link to the electronic supplementary material.
About this article
Cite this article
Khalil, A.A., Mueller, S., Foddis, M. et al. Longitudinal 19F magnetic resonance imaging of brain oxygenation in a mouse model of vascular cognitive impairment using a cryogenic radiofrequency coil. Magn Reson Mater Phy 32, 105–114 (2019). https://doi.org/10.1007/s10334-018-0712-x
Received:

Revised:

Accepted:

Published:

Issue Date:
Keywords
Oxygenation

Vascular cognitive impairment

19F-MRI

Perfluoro-15-crown-5-ether