Abstract
Irrigation methods and rice straw incorporation (RSI) are two major factors influencing CH4 emissions from paddy fields. However, their effects have never been studied in an RSI/alternate-year system in the cold region of Northeast China. The present study involved a 2-year field experiment analyzing the effects of irrigation method and RSI on CH4 emissions. Our results showed that controlled irrigation (CI) significantly decreased cumulative CH4 emissions by 55% when compared to flood irrigation (FI). RSI increased CH4 emissions in both CI and FI. CI accelerated the decreasing rate of straw residual while decreasing the total cumulative CH4 over the 2 years. The cumulative CH4 emissions of treatments with RSI were higher in the first year than in the second year. Our results suggest that CI with 6 t hm−2 of RSI is an ideal strategy to mitigate CH4 emissions in an RSI/alternate-year system in Northeast China.
Access options
Buy single article
Instant access to the full article PDF.
US$ 39.95
Tax calculation will be finalised during checkout.
Subscribe to journal
Immediate online access to all issues from 2019. Subscription will auto renew annually.
US$ 79
Tax calculation will be finalised during checkout.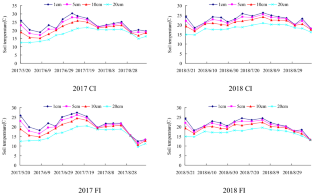 References
Brye KR, Rogers CW, Smartt AD, Norman RJ (2013) Soil texture effects on methane emissions from direct-seeded, delayed-flood rice production in Arkansas. Soil Sci 178:519–529

Buendia LV, Neue HU, Wassmann R, Lantin RS, Javellana AM (1997) Understanding the nature of methane emission from rice ecosystems as basis of mitigation strategies. Appl Energy 56:433–444

Cai Z, Xing G, Yan X, Hua X, Tsuruta H, Yagi K, Minami K (1997) Methane and nitrous oxide emissions from rice paddy fields as affected by nitrogen fertilisers and water management. Plant Soil 196:7–14

Devêvre OC, Horwáth WR (2000) Decomposition of rice straw and microbial carbon use efficiency under different soil temperatures and moistures. Soil Biol Biochem 32:1773–1785

FAO (2018) FAO statistical databases. FAO, Rome. http://faostat.fao.org. Accessed 11 Aug 2019

Gadde B, Bonnet S, Menke C, Garivait S (2009) Air pollutant emissions from rice straw open field burning in India, Thailand and the Philippines. Environ Pollut 157:1554–1558

Gaihre YK, Wassmann R, Villegas-Pangga G (2013) Impact of elevated temperatures on greenhouse gas emissions in rice systems: interaction with straw incorporation studied in a growth chamber experiment. Plant Soil 373:857–875

Gupta PK, Sahai S, Singh N, Dixit CK, Singh DP, Sharma C (2004) Residue burning in rice-wheat cropping system: causes and implications. Currentence 87:1713–1717

Gupta DK, Bhatia A, Kumar A, Das TK, Jain N, Tomer R, Malyan SK, Fagodiya RK, Dubey R, Pathak H (2016) Mitigation of greenhouse gas emission from rice–wheat system of the indo-gangetic plains: through tillage, irrigation and fertilizer management. Agric Ecosyst Environ 230:1–9

Hays MD, Fine PM, Geron CD, Kleeman MJ, Gullett BK (2005) Open burning of agricultural biomass: physical and chemical properties of particle-phase emissions. Atmos Environ 39:6747–6764

Hou H, Yang S, Wang F, Li D, Xu J (2016) Controlled irrigation mitigates the annual integrative global warming potential of methane and nitrous oxide from the rice-winter wheat rotation systems in southeast China. Ecol Eng 86:239–246

Huang Y, Sass RS, Fisher FM (1997) Methane emission from Texas rice paddy soils. 1. Quantitative multi-year dependence of methane emission on soil, cultivar and grain yield. Glob Change Biol 3:479–489

IPCC (2014) Climate change 2014: synthesis report. In: Core Writing Team, Pachauri RK, Meyer LA (eds) Contribution of working groups I, II and III to the fifth assessment report of the Intergovernmental Panel on Climate Change. IPCC, Geneva

Khalil MAK, Rasmussen RA, Wang MX, Ren L (1991) Methane emissions from rice fields in China. Environ Sci Technol 25:979–981

Kimura M, Murase J, Lu Y (2004) Carbon cycling in rice field ecosystems in the context of input, decomposition and translocation of organic materials and the fates of their end products (CO2, and CH4). Soil Biol Biochem 36:1399–1416

Kludze HK, Delaune RD (1995) Straw application effects on methane and oxygen exchange and growth in rice. Soil Sci Soc Am J 59:824–830

Ma J, Li XL, Xu H, Han Y, Cai ZC, Yagi K (2007) Effects of nitrogen fertiliser and wheat straw application on CH4 and N2O emissions from a paddy rice field. Aust J Soil Res 45:359–367

Naser HM, Nagata O, Tamura S, Hatano R (2007) Methane emissions from five paddy fields with different amounts of rice straw application in central Hokkaido, Japan. Soil Sci Plant Nutr 53:95–101

Pandey A, Mai VT, Vu DQ, Bui TPL, Mai TLA, Jensen LS, Neergaard AD (2014) Organic matter and water management strategies to reduce methane and nitrous oxide emissions from rice paddies in Vietnam. Agric Ecosyst Environ 196:137–146

Peng S, Hou H, Xu J, Mao Z, Abudu S, Luo Y (2011) Nitrous oxide emissions from paddy fields under different water managements in Southeast China. Paddy Water Environ 9:403–411

Peng S, He Y, Yang S, Xu J, Hou H (2013) Mitigation of methane emissions from paddy fields under controlled irrigation. Trans CSAE 29:100–107 (in Chinese)

Rogers CW, Brye KR, Norman RJ, Gbur EE, Mattice JD, Parkin TB, Roberts TL (2013) Methane emissions from drill-seeded, delayed-flood rice production on a silt-loam soil in Arkansas. J Environ Qual 42:1059–1069

Sanchis E, Ferrer M, Torres AG, Cambralópez M, Calvet S (2012) Effect of water and straw management practices on methane emissions from rice fields: a review through a meta-analysis. Environ Eng Sci 29:1053–1062

Sander BO, Samson M, Buresh RJ (2014) Methane and nitrous oxide emissions from flooded rice fields as affected by water and straw management between rice crops. Geoderma 235–236:355–362

Sass RL, Fisher FM, Lewis ST, Jund MF, Turner FT (1994) Methane emissions from rice fields: effect of soil properties. Glob Biogeochem Cycle 8:135–140

Schütz H, Holzapfel-Pschorn A, Conrad R, Rennenberg H, Seiler W (1989) A 3-year continuous record on the influence of daytime, season, and fertilizer treatment on methane emission rates from an Italian rice paddy. J Geophys Res Atmos 94:16405–16416

Smith P, Martino D, Cai Z, Gwary D, Janzen H, Kumar P, McCarl B, Oleg S, O'Mara F, Rice C, Scholes B, Sirotenko O, Howden M, McAllister T, Pan G, Romanenkov V, Schneider U, Towprayoon S, Wattenbach M, Smith J (2008) Greenhouse gas mitigation in agriculture. Philos Trans Biol Sci 363:789–813

Tariq A, Jensen LS, Sander BO, Tourdonnet SD, Ambus PL, Thanh PH, Neergaard AD (2018) Paddy soil drainage influences residue carbon contribution to methane emissions. J Environ Manag 225:168–176

Wang M, Zhang Z, Lv C, Lin Y (2016a) CH4 and N2O emissions from rice paddy field and their GWPs research in different irrigation modes in cold region. Res Soil Water Conserv 23:95–100 (in Chinese)

Wang M, Zhang Z, Lin Y, Lv C, Xu D (2016b) Methane and nitrous oxide emissions and their GWPs: research on different irrigation modes in a rice paddy field. Int J Environ Eng 8:267–279

Wassmann R, Neue HU, Bueno C, Lantin RS, Alberto MCR, Buendia LV, Bronson K, Papen H, Rennenberg H (1998) Methane production capacities of different rice soils derived from inherent and exogenous substrates. Plant Soil 203:227–237

Xu H, Hosen Y (2010) Effects of soil water content and rice straw incorporation in the fallow season on CH4, emissions during fallow and the following rice-cropping seasons. Plant Soil 335:373–383

Xu Y, Ge J, Tian S, Li S, Nguy-Robertson AL, Zhan M, Cao C (2015) Effects of water-saving irrigation practices and drought resistant rice variety on greenhouse gas emissions from a no-till paddy in the central lowlands of China. Sci Total Environ 505:1043–1052

Yan X, Akiyama H, Yagi K, Akimoto H (2009) Global estimations of the inventory and mitigation potential of methane emissions from rice cultivation conducted using the 2006 Intergovernmental Panel on Climate Change Guidelines. Glob Biogeochem Cycle 23:20–23

Yang S, Peng S, Xu J, Luo Y, Li D (2012) Methane and nitrous oxide emissions from paddy field as affected by water-saving irrigation. Phys Chem Earth 53–54:30–37

Yuan Q, Judith P, Ralf C (2012) Partitioning of CH4 and CO2 production originating from rice straw, soil and root organic carbon in rice microcosms. PLoS ONE 7:e49073

Zhou M, Wang X, Wang Y, Zhu B (2018) A three-year experiment of annual methane and nitrous oxide emissions from the subtropical permanently flooded rice paddy fields of china: emission factor, temperature sensitivity and fertilizer nitrogen effect. Agric For Meteorol s250–251:299–307

Zou J, Huang Y, Jiang J, Zheng X, Sass RL (2005) A 3-year field measurement of methane and nitrous oxide emissions from rice paddies in China: effects of water regime, crop residue, and fertilizer application. Glob Biogeochem Cycle 19:GB2021
Acknowledgements
This work was supported by the National Natural Science Foundation of China (51779046).
About this article
Cite this article
Nie, T., Chen, P., Zhang, Z. et al. Effects of irrigation method and rice straw incorporation on CH4 emissions of paddy fields in Northeast China. Paddy Water Environ 18, 111–120 (2020). https://doi.org/10.1007/s10333-019-00768-5
Received:

Revised:

Accepted:

Published:

Issue Date:
Keywords
Methane

Irrigation methods

Rice straw incorporation

Paddy field