Abstract
The diversification of farming landscapes is proposed as a method to increase farm productivity while at the same time enhancing pest regulation services provided by the natural enemies of insect herbivores. In this study, areas of diversified and conventional rice fields (with 2–14 fields per area = 0.42–1.31 ha) were established at three sites in the Philippines. The diversified areas had a series (> 40 per hectare) of small (< 2 m2) vegetable patches interspersed along rice bunds (levees). The abundance of planthopper and lepidopteran pests in these areas was monitored during two consecutive cropping seasons using sweep nets with rice yield and damage recorded at the end of each season. Mortality of brown planthopper (Nilaparvata lugens) and yellow stemborer (Scirpophaga incertulas) eggs was monitored through field exposures of infested rice plants. There were no differences in rice yields between the conventional and diversified areas; however, a range of vegetables were produced as a supplementary product from the diversified rice areas. Diversification had no effect on planthopper or leaffolder (Cnaphalocrocis medinalis) abundance at the sites. Adult stemborers (Scirpophaga incertulas) were more abundant in the diversified areas; however, stemborer damage was similar between area treatments in both years. Vegetable patches did not increase parasitism of planthopper eggs; however, egg parasitism was highest close to the vegetable patches, suggesting that egg parasitoids interacted with the patches. Mortality of stemborer eggs was higher in the diversified areas than in the conventional areas. Parasitism due to Trichogramma japonicum and other egg parasitoids was also higher in the diversified areas. These results indicate the potential for vegetable patches to enhance the biological control services provided by egg parasitoids in rice fields; however, the study also indicates a need to carefully select vegetable crops that avoid any potential benefits for rice pests. We discuss the need for further research into diversified farms as a means of achieving sustainable rice production in Asia.
Access options
Buy single article
Instant access to the full article PDF.
US$ 39.95
Tax calculation will be finalised during checkout.
Subscribe to journal
Immediate online access to all issues from 2019. Subscription will auto renew annually.
US$ 79
Tax calculation will be finalised during checkout.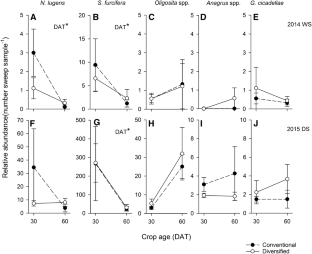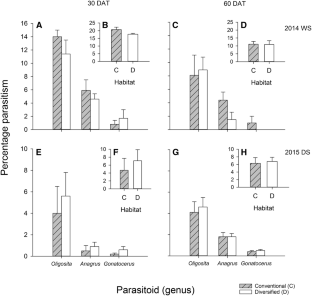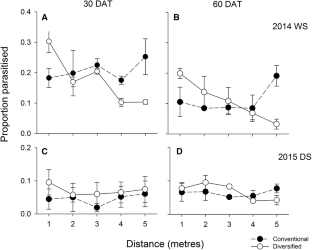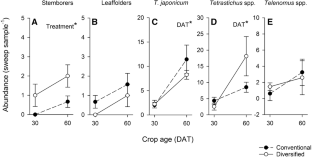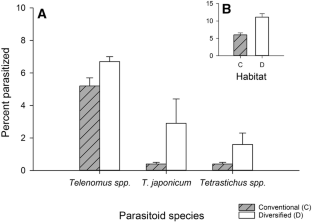 References
Azzam S, Wang F, Wu J-C, Shen J, Wang L-P, Yang G-Q, Guo Y-R (2009) Comparisons of stimulatory effects of a series of concentrations of four insecticides on reproduction in the rice brown planthopper Nilaparvata lugens Stål (Homoptera: Delphacidae). Int J Pest Manag 55:347–358

Baggen LR, Gurr GM (1998) The influence of food on Copidosoma koehleri (Hymenoptera: Encyrtidae), and the use of flowering plants as a habitat management tool to enhance biological control of potato moth, Phthorimaea operculella (Lepidoptera: Gelechiidae). Biol Control 11:9–17

Cai Z, Xing G, Yan X, Xu H, Tsuruta H, Yagi K, Minami K (1997) Methane and nitrous oxide emissions from rice paddy fields as affected by nitrogen fertilisers and water management. Plant Soil 196:7–14

Cassman KG (1999) Ecological intensification of cereal production systems: yield potential, soil quality, and precision agriculture. Proc Natl Acad Sci US 96:5952–5959

de Freitas Bueno RCO, Carneiro TR, de Freitas Bueno A, Pratissoli D, Fernandes OA, Vieira SS (2010) Parasitism capacity of Telenomus remus Nixon (Hymenoptera: Scelionidae) on Spodoptera frugiperda (Smith) (Lepidoptera: Noctuidae) eggs. Braz Arch Biol Technol 53:133–139

Dominik C, Seppelt R, Horgan FG, Marquez L, Settele J, Vaclavik T (2017) Regional-scale effects override the influence of fine-scale landscape heterogeneity on rice arthropod communities. Agric Ecosyst Environ 246:269–278

Foronda VR (2007) Agricultural biodiversity conservation toward sustainable rice-based farming systems. J Dev Sustain Agric 2:167–191

Godfray HCJ, Beddington JR, Crute IR, Haddad L, Lawrence D, Muir JF, Pretty J, Robinson S, Thomas SM, Toulmin C (2010) Food security: the challenge of feeding 9 billion people. Science 327:812–818

GRiSP (Global Rice Science Partnership) (2013) Rice Almanac, 4th edn. International Rice Research Institute, Los Baños, Philippines, 283 p

Gurr GM (2009) Prospects for ecological engineering for planthoppers and other arthropod pests in rice. In: Heong KL, Hardy B (eds) Planthoppers: new threats to the sustainability of intensive rice production systems in Asia. International Rice Research Institute, Los Baños, pp 371–388

Gurr GM, Lu Z, Zheng X, Xu H, Zhu P, Chen G, Yoa X, Cheng J, Zhu Z, Catindig JL, Villareal S, Chien HV, Cuong LQ, Channoo C, Chengwattana N, Lan LP, Hai LH, Chaiwong J, Nicol HI, Perovic DJ, Wratten SD, Heong KL (2016) Multi-country evidence that crop diversification promotes ecological intensification of agriculture. Nat Plants 14:1–4

Hafeez MM, Bouman BAM, Van de Giesen N, Vlek P (2007) Scale effects on water use and water productivity in a rice-based irrigation system (UPRIIS) in the Philippines. Agric Water Manag 92:81–89

Horgan FG (2017) Integrated pest management for sustainable rice cultivation: a holistic approach. In: Sasaki T (ed) Achieving sustainable cultivation of rice. Burleigh Dodds Science, Oxford, pp 309–342

Horgan FG, Ramal AF, Bernal CC, Villegas JM, Stuart AM, Almazan MLP (2016) Applying ecological engineering for sustainable and resilient rice production systems. Procedia Food Sci 6:7–15

Horgan FG, Ramal AF, Villegas JM, Almazan MLP, Bernal CC, Jamoralin A, Pasang JM, Orboc G, Agreda V, Arroyo C (2017a) Ecological engineering with high diversity vegetation patches enhances bird activity and ecosystem services in Philippine rice fields. Reg Environ Change 17:1355–1367

Horgan FG, Ramal AF, Villegas JM, Jamoralin A, Bernal CC, Perez MO, Pasang JM, Naredo AI, Almazan MLP (2017b) Effects of bund crops and insecticides on arthropod diversity and herbivore regulation in tropical rice fields. J Appl Entomol 141:587–599. https://doi.org/10.1111/jen.12383

Jones CR, Lorica MRP, Villegas JM, Ramal AF, Horgan FG, Singleton GR, Stuart AM (2017) The stadium effect: rodent damage patterns in rice fields explored using giving-up densities. Integr Zool 12:438–445

Krechemer FS, Foerster LA (2015) Temperature effects on the development and reproduction of three Trichogramma (Hymenoptera: Trichogrammatidae) species reared on Trichoplusiani (Lepidoptera: Noctuidae) eggs. J Insect Sci 15:90

Landis DA, Wratten SD, Gurr GM (2000) Habitat management to conserve natural enemies of arthropod pests in agriculture. Annu Rev Entomol 45:175–201

Laurance WF, Sayer J, Cassman KG (2014) Agricultural expansion and its impacts on tropical nature. Trends Ecol Evol 29:107–116

Lin S, You MS, Yang G, Chen LL (2011) Can polycultural manipulation effectively control rice planthoppers in rice-based ecosystems? Crop Prot 30:279–284

Lu ZX, Zhu PY, Gurr GM, Zheng XS, Read DM, Heong KL, Yang YJ, Xu HX (2014) Mechanisms for flowering plants to benefit arthropod natural enemies of insect pests: prospects for enhanced use in agriculture. Insect Sci 21:1–12

Lu Z, Zhu P, Gurr GM, Zheng Z, Chen G, Heong KL (2015) Rice pest management by ecological engineering: a pioneering attempt in China. In: Heong KL, Cheng JA, Escalada MM (eds) Rice planthoppers: ecology, management, socio economics and policy. Zhejiang University Press and Springer, Hangzhou, pp 161–178

Mitsch WJ, Jørgensen SE (2004) Ecological engineering and ecosystem restoration. Wiley, NJ, p 424

Pereira HM, Leadley PW, Proença V, Alkernade R, Scharlemann JPW, Fernandez-Manjarrés JF, Araújo MB, Balvanera P, Biggs R, Cheung WWL, Chini L, Cooper HD, Gilman EL, Guénette S, Hurtt GC, Huntington HP, Mace GM, Oberdorff T, Revenga C, Rodrigues P, Scholes RJ, Sumaila UR, Walpole M (2010) Scenarios for global biodiversity in the 21st century. Science 330:1496–1501

Phelps J, Carrasco LR, Webb EL, Koh LP, Pascual U (2013) Agricultural intensification escalates future conservation costs. Proc Natl Acad Sci 110:7601–7606

Romeis J, Babendreier D, Wäckers FL, Shanower TG (2005) Habitat and plant specificity of Trichogramma egg parasitoids—underlying mechanisms and implications. Basic Appl Ecol 6:215–236

Settele J, Spangenberg JH, Heong KL, Burkhard B, Bustamante JV, Cabbigat J, Chien HV, Escalada M, Grescho V, Hai LH, Harpke A, Horgan FG, Hotes S, Jahn R, Kühn I, Marquez L, Schädler M, Tekken V, Vetterlein D, Villareal SB, Westphal C, Weimers M (2015) Agricultural landscapes and ecosystem services in South-East Asia—the LEGATO-project. Basic Appl Ecol 8:661–664

Singh S, Kushwaha KS, Sharma PD, Singh S (1995) Resurgence of rice leaffolder Cnaphalocrocis medinalis Guénee due to application of carbofuran granules. Indian J Entomol 57:366–372

Stewart WM, Dibb DW, Johnston AE, Smyth TJ (2005) The contribution of commercial fertilizer nutrients to food production. Agron J 97:1–6

Suri KS, Singh G (2011) Insecticide-induced resurgence of the whitebacked planthopper Sogatella furcifera (Horvath) (Hemiptera: Delphacidae) on rice varieties with different levels of resistance. Crop Prot 30:118–124

Van Nguyen N, Ferrero A (2006) Meeting the challenges of global rice production. Paddy Water Environ 4:1–9

Wang A-H, Wu J-C, Shu Y-S, Liu J-L, Yue J-F, Wang M-Y (2005) Selective insecticide-induced stimulation of fecundity and biochemical changes in Tryporyza incertulas (Lepidoptera: Pyralidae). J Econ Entomol 98:1144–1149

Way M, Javier G (2001) Approaches to a relevant understanding of biodiversity for tropical irrigated rice pest management. In: Mew TW, Borromeo E, Hardy B (eds) Exploiting biodiversity for sustainable pest management. International Rice Research Institute, Los Baños, pp 3–14

Westphal C, Vidal S, Horgan FG, Gurr GM, Escalada M, van Chien H, Tscharntke T, Heong KL, Settele J (2015) Managing multiple ecosystem services with flower strips and participatory approaches in rice production landscapes. Basic Appl Ecol 16:681–689

Wu J, Xu J, Yuan S, Liu J, Jiang Y, Xu J (2001) Pesticide-induced susceptibility of rice to brown planthopper Nilaparvata lugens. Entomol Exp Appl 100:119–126

Yao FL, You MS, Vasseur L, Yang G, Zheng YK (2012) Polycultural manipulation for better regulation of planthopper populations in irrigated rice-based ecosystems. Crop Prot 34:104–111

Zheng X, Yu X, Lu Z, Xu H (2003) Effects of different nutritional resources on the longevity and parasitic ability of egg parasitoid Anagrus nilaparvatae. J Appl Ecol 14:1751–1755

Zheng X, Lu Y, Zhu P, Zhang F, Tian J, Xu H, Chen G, Nansen C, Lu Z (2017) Use of banker plant system for sustainable management of the most important insect pest in rice fields. Sci Rep 7:25581

Zhu P, Gurr GM, Lu Z, Heong K, Chen G, Zheng X, Xu H, Yang Y (2013a) Laboratory screening supports the selection of sesame (Sesamum indicum) to enhance Anagrus spp. Parasitoids. Biol Control 64:83–89

Zhu PY, Sheng XQ, Feng DH, Chen GH, Lu ZX (2013b) Effects of feeding parental adults with plant flowers on growth and predatory capacity of next generation of mirid bug Cyrtorhinus lividipennis. China Plant Prot 33:17–21
Acknowledgements
The authors thank Alberto Naredo, Reyuel Quintana, Vincent Vertudes, Eduard Tongohan, Arriza Arida, Jesus Yanes Figueroa and Ellen Genil for advice and assistance throughout this study. We thank anonymous reviewers for helpful comments on the manuscript. This project was funded by the Philippine Department of Agriculture—Bureau of Agricultural Research (Project: Developing ecological engineering approaches to restore and conserve ecosystem services for pest management for sustainable rice production in the Philippines), the German Ministry of Science and Education (BMBF; Project: Land-use intensity and Ecological Engineering—Assessment Tools for risks and Opportunities in irrigated rice based production systems [LEGATO]; funding code: 01LL0917A), the Global Rice Science Partnership (GRiSP) and the Faculty of Life Sciences of the University of Technology Sydney.
About this article
Cite this article
Vu, Q., Ramal, A.F., Villegas, J.M. et al. Enhancing the parasitism of insect herbivores through diversification of habitat in Philippine rice fields. Paddy Water Environ 16, 379–390 (2018). https://doi.org/10.1007/s10333-018-0662-y
Received:

Revised:

Accepted:

Published:

Issue Date:
Keywords
Biodiversity

Crop diversification

Ecosystem services

Ecological engineering

Stemborers

Planthoppers

Flower strips