Abstract
Pesticide use in developing countries increases rapidly. In many regions, we miss knowledge of how frequently pesticides are applied and which active ingredients are used. We present a new cost-efficient and rapid assessment method of recording pesticides diversity in rice-dominated landscapes and present some evidence of the misuse of active ingredients in our study regions. We investigated 17 rice fields in two regions of Northern Vietnam in 2014 and 2015. At each region, we explore the abundance of pesticides used with three methods including (1) the novel approach of collecting pesticide packages close to our target rice fields, (2) observations of farmers spraying pesticides in the surrounding and (3) interviewing local farmers. By collecting pesticide packages, we found 811 packages containing 74 different active ingredients. On average, 19 active ingredients (ranging from four to 40 active ingredients) were applied with an average content of 275.3 g of active ingredients per site. Insecticide packages (39%) were most abundant followed by those of fungicides (31%), herbicides (16%) and other active ingredients (14%). On all sites, active ingredients banned in the European Union were applied by the farmers. Collecting pesticide packages proved to be an efficient and rapidly implemented method to obtain some baseline information about pesticide application (for Northern Vietnam). We suspect that improved agricultural extension services could contribute to good agricultural practices in pest management. Generally, better information and education for local farmers for appropriate use of pesticides seem a necessity.
Access options
Buy single article
Instant access to the full article PDF.
USD 39.95
Price excludes VAT (USA)
Tax calculation will be finalised during checkout.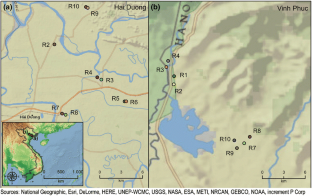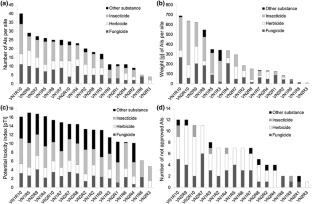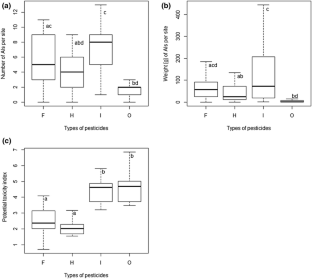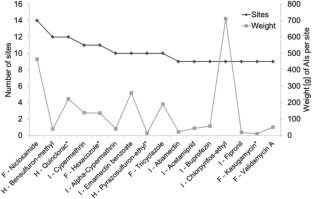 References
Amweg EL, Weston DP, Ureda NM (2005) Use and toxicity of pyrethroid pesticides in the Central Valley, California, USA. Environ Toxicol Chem 24:966–972. https://doi.org/10.1897/04-146R1.1

Bateman R (2007) Biopesticides. www.dropdata.net/biopesticides

Bates D, Maechler M, Bolker B, Walker S (2013) lme4: linear mixed-effects models using Eigen and S4. R Packag Version 1:1–23

Berg H (2001) Pesticide use in rice and rice–fish farms in the Mekong Delta, Vietnam. Crop Prot 20:897–905

Berg H, Tam NT (2012) Use of pesticides and attitude to pest management strategies among rice and rice-fish farmers in the Mekong Delta, Vietnam. Int J Pest Manag 58:153–164. https://doi.org/10.1080/09670874.2012.672776

Blacquière T, Smagghe G, van Gestel CAM, Mommaerts V (2012) Neonicotinoids in bees: a review on concentrations, side-effects and risk assessment. Ecotoxicology 21:973–992. https://doi.org/10.1007/s10646-012-0863-x

Bolker BM, Brooks ME, Clark CJ et al (2009) Generalized linear mixed models: a practical guide for ecology and evolution. Trends Ecol Evol 24:127–135. https://doi.org/10.1016/j.tree.2008.10.008

Bonmatin J-M, Giorio C, Girolami V et al (2015) Environmental fate and exposure; neonicotinoids and fipronil. Environ Sci Pollut Res 22:35–67. https://doi.org/10.1007/s11356-014-3332-7

Bradburn NM, Rips LJ, Shevell SK (1987) Answering autobiographical questions: the impact of memory and inference on surveys. Science 236:157–161. https://doi.org/10.1126/science.3563494

Brose U, Martinez ND, Williams RJ (2003) Estimating species richness: sensitivity to sample coverage and insensitivity to spatial patterns. Ecology 84:2364–2377. https://doi.org/10.1890/02-0558

Cassman KG, Pingali PL (1995) Intensification of irrigated rice systems: learning from the past to meet future challenges. GeoJournal 35:299–305. https://doi.org/10.1007/BF00989137

Chau NDG, Sebesvari Z, Amelung W, Renaud FG (2015) Pesticide pollution of multiple drinking water sources in the Mekong Delta, Vietnam: evidence from two provinces. Environ Sci Pollut Res Int 12:9042–9058

Chien HV, Cuong LQ, Heong KL (2009) Farms that apply insecticides for leaf folder control are 10 times more at risk to hopperburn. http://ricehoppers.net/2009/09/farms-that-apply-insecticides-for-leaf-folder-control-are-10-times-more-at-risk-to-hopperburn/. Accessed 14 Jul 2015

Crawley MJ (2012) The R Book. Wiley, Chichester

Czaja K, Góralczyk K, Struciński P et al (2014) Biopesticides—towards increased consumer safety in the European Union. Pest Manag Sci 71:3–6. https://doi.org/10.1002/ps.3829

Dasgupta S, Meisnera C, Wheeler D et al (2007) Pesticide poisoning of farm workers-implications of blood test results from Vietnam. Int J Hyg Environ Health 210:121–132

Dixon P (2003) Vegan, a package of R functions for community ecology. J Veg Sci 14:927–930. https://doi.org/10.1111/j.1654-1103.2003.tb02228.x

Ecobichon DJ (2001) Pesticide use in developing countries. Toxicology 160:27–33

Ellis EC, Kaplan JO, Fuller DQ et al (2013) Used planet: a global history. Proc Natl Acad Sci U S A 110:7978–7985. https://doi.org/10.1073/pnas.1217241110

Evenson RE, Gollin D (2003) Assessing the impact of the Green Revolution, 1960 to 2000. Science 300:758–762. https://doi.org/10.1126/science.1078710

FAO (2015) Plant production and protection division: highly hazardous pesticides (HHPs). http://www.fao.org/agriculture/crops/thematic-sitemap/theme/pests/code/hhp/en/. Accessed 15 Jul 2015

Gangurde S (2007) Aboveground arthropod pest and predator diversity in irrigated rice (Oryza sativa L.) production systems of the Philippines. J Trop Agric 45:1–8

Gibbs HK, Ruesch AS, Achard F et al (2010) Tropical forests were the primary sources of new agricultural land in the 1980s and 1990s. Proc Natl Acad Sci 107:16732–16737. https://doi.org/10.1073/pnas.0910275107

GRiSP (2013) Rice almanac source book for one of the most important economic activities on earth, 4th edn. International Rice Research Institute, Los Baños

Gupta S, Dikshit AK (2010) Biopesticides: an ecofriendly approach for pest control. J Biopestic 3:186–188

Heong KL, Escalada MM, Lazaro AA (1995) Misuse of pesticides among rice farmers in Leyte, Philippines. In: Pingali PL, Roger PA (eds) Impact of pesticides on farmer health and the rice environment. Kluwer Academic Publisher, pp 97–108

Heong KL, Wong L, Reyes JHDL (2013) Addressing planthopper threats to Asian rice farming and food security: fixing insecticide misuse. Manila

Heong K, Escalada M, Chien H, Delos Reyes J (2015) Are there productivity gains from insecticide applications in rice production? In: Heong K, Cheng J, Escalada M (eds) Rice planthoppers: ecology, management, socio economics and policy. Zhejiang University Press, Hangzhou and Springer Science + Business Media, Dordrecht, pp 181–192

Jones JPG, Andriamarovololona MM, Hockley N et al (2008) Testing the use of interviews as a tool for monitoring trends in the harvesting of wild species. J Appl Ecol 45:1205–1212

Kishi M (2002) Acutely toxic pesticides. IFCS, pp 1–46. http//www.who.int/heli/risks/toxics/bibliographyikishi.pdf

Klotzbücher T, Marxen A, Vetterlein D et al (2015) Plant-available silicon in paddy soils as a key factor for sustainable rice production in Southeast Asia. Basic Appl Ecol 16:665–673

Kogan M (1998) Integrated pest management: historical perspectives and contemporary developments. Annu Rev Entomol 43:243–270

Köhler HR, Triebskorn R (2013) Wildlife ecotoxicology of pesticides: can We track effects to the population level and beyond? Science 341:759–765. https://doi.org/10.1126/science.1237591

Kottek M, Grieser J, Beck C et al (2006) World map of the Köppen–Geiger climate classification updated. Meteorol Z 15:259–263. https://doi.org/10.1127/0941-2948/2006/0130

La N, Lamers M, Nguyen VV, Streck T (2013) Modelling the fate of pesticides in paddy rice-fish pond farming systems in northern Vietnam. Pest Manag Sci 70:70–79. https://doi.org/10.1002/ps.3527

La N, Lamers M, Bannwarth M et al (2015) Imidacloprid concentrations in paddy rice fields in northern Vietnam: measurement and probabilistic modeling. Paddy Water Environ. https://doi.org/10.1007/s10333-014-0420-8

Lamers M, Anyusheva M, La N et al (2011) Pesticide pollution in surface- and groundwater by paddy rice cultivation: a case study from northern Vietnam. Clean Soil Air Water 39:356–361. https://doi.org/10.1002/clen.201000268

Matson P, Parton WJ, Power AG et al (1997) Agricultural intensification and ecosystem properties. Science 277:504–509. https://doi.org/10.1126/science.277.5325.504

Matteson PC (2000) Insect pest management intropical Asian irrigated rice. Annu Rev Ecol Syst 45:549–574

Norton G, Heong KL, Johnson D, Savary S (2010) Rice pest management: issues and opportunities. In: Pandey S, Byerlee D, Dawe D et al (eds) Rice in the global economy: strategic research and policy issues for food security. International Rice Research Institute, Los Banos, pp 297–332

Nowell LH, Norman JE, Moran PW et al (2014) Pesticide toxicity index—a tool for assessing potential toxicity of pesticide mixtures to freshwater aquatic organisms. Sci Total Environ 476–477:144–157. https://doi.org/10.1016/j.scitotenv.2013.12.088

Oksanen AJ, Blanchet FG, Kindt R, et al (2015) Package "vegan". https://cran.r-project.org/web/packages/vegan/vegan.pdf

Palmer MW (1990) The estimation of species richness by extrapolation. Ecology 71:1195–1198

Peter JV, Sudarsan TI, Moran JL (2014) Clinical features of organophosphate poisoning: a review of different classification systems and approaches. Indian Soc Crit Care Med 11:735–745

Phung DT, Connell D, Miller G et al (2012) Pesticide regulations and farm worker safety: the need to improve pesticide regulations in Viet Nam. Bull World Health Organ 90:468–473. https://doi.org/10.2471/BLT.11.096578

Pisa LW, Amaral-Rogers V, Belzunces LP et al (2014) Effects of neonicotinoids and fipronil on non-target invertebrates. Environ Sci Pollut Res 22:68–102. https://doi.org/10.1007/s11356-014-3471-x

R Foundation for Statistical Computing (2014) R: a language and environment for statistical computing. Vienna. http://www.r-project.org/

Rasmussen JJ, Reiler EM, Carazo E et al (2015) Influence of rice field agrochemicals on the ecological status of a tropical stream. Sci Total Environ 542:12–21. https://doi.org/10.1016/j.scitotenv.2015.10.062

Richards AJ (2001) Does low biodiversity resulting from modern agricultural practice affect crop pollination and yield? Ann Bot 88:165–172. https://doi.org/10.1006/anbo.2001.1463

Rundlöf M, Andersson GKS, Bommarco R et al (2015) Seed coating with a neonicotinoid insecticide negatively affects wild bees. Nature 521:77–80. https://doi.org/10.1038/nature14420

Ruxton GD, Beauchamp G (2008) Time for some a priori thinking about post hoc testing. Behav Ecol 19:690–693. https://doi.org/10.1093/beheco/arn020

Samson BO, Sander M, Buresh RJ (2014) Methane and nitrous oxide emissions from flooded rice fields as affected by water and straw management between rice crops. Geoderma 235–236:355–362

Sattler C, Kächele H, Verch G (2007) Assessing the intensity of pesticide use in agriculture. Agric Ecosyst Environ 119:299–304. https://doi.org/10.1016/j.agee.2006.07.017

Schreinemachers P, Afari-Sefa V, Heng CH et al (2015) Safe and sustainable crop protection in Southeast Asia: status, challenges and policy options. Environ Sci Policy 54:357–366. https://doi.org/10.1016/j.envsci.2015.07.017

Settele J, Spangenberg JH, Heong KL et al (2015) Agricultural landscapes and ecosystem services in South-East Asia—the LEGATO-project. Basic Appl Ecol 16:661–664. https://doi.org/10.1016/j.baae.2015.10.003

Settle WH, Ariawan H, Astuti ET et al (1996) Managing tropical rice pests through conservation of generalist natural enemies and alternative prey. Ecology 77:1975–1988. https://doi.org/10.2307/2265694

Sheil D, Wunder S (2002) The value of tropical forest to local communities: complications, caveats, and cautions. Conserv Ecol 6:1–14

Spangenberg JH, Beaurepaire AL, Bergmeier E et al (2017) The LEGATO cross-disciplinary integrated ecosystem service research framework: an example of integrating research results from the analysis of global change impacts and the social, cultural and economic system dynamics of irrigated rice production. Paddy Water Environ. https://doi.org/10.1007/s10333-017-0628-5

Steffan-Dewenter I, Schiele S (2008) Do resources or natural enemies drive bee population dynamics in fragmented habitats? Ecology 89:1375–1387

Thang TC (2017) Current status of Vietnam Rice export quality. http://ap.fftc.agnet.org/ap_db.php?id=782. Accessed 23 Jan 2018

Thatheyus AJ, Gnana Selvam AD (2013) Synthetic pyrethroids: toxicity and biodegradation. Appl Ecol Environ Sci 1:33–36. https://doi.org/10.12691/aees-1-3-2

Tilman D, Balzer C, Hill J, Befort BL (2011) Global food demand and the sustainable intensification of agriculture. Proc Natl Acad Sci 108:20260–20264. https://doi.org/10.1073/pnas.1116437108

Tscharntke T, Klein AM, Kruess A et al (2005) Landscape perspectives on agricultural intensification and biodiversity on ecosystem service management. Ecol Lett 8:857–874. https://doi.org/10.1111/j.1461-0248.2005.00782.x

Tscharntke T, Clough Y, Jackson L et al (2012) Global food security, biodiversity conservation and the future of agricultural intensification. Biol Conserv 151:53–59. https://doi.org/10.1016/j.biocon.2012.01.068

Tylianakis JM, Tscharntke T, Lewis OT (2007) Habitat modification alters the structure of tropical host-parasitoid food webs. Nature 445:202–205. https://doi.org/10.1038/nature05429

Van der Sluijs JP, Amaral-Rogers V, Belzunces LP et al (2015) Conclusions of the worldwide integrated assessment on the risks of neonicotinoids and fipronil to biodiversity and ecosystem functioning. Environ Sci Pollut Res 22:148–154. https://doi.org/10.1007/s11356-014-3229-5

Van Hoi P, Mol A, Oosterveer P (2013) State governance of pesticide use and trade in Vietnam. NJAS—Wagening J Life Sci 67:19–26. https://doi.org/10.1016/j.njas.2013.09.001

Van Toan P, Sebesvari Z, Bläsing M et al (2013) Pesticide management and their residues in sediments and surface and drinking water in the Mekong Delta, Vietnam. Sci Total Environ 452–453:28–39. https://doi.org/10.1016/j.scitotenv.2013.02.026

Vitousek PM, Mooney HA, Lubchenco J, Melillo JM (1997) Human domination of earth's ecosystems. Science 277:494–499. https://doi.org/10.1126/science.277.5325.494

Wang Y, Chen J, Zhu YC et al (2008) Susceptibility to neonicotinoids and risk of resistance development in the brown planthopper, Nilaparvata lugens (Stal) (Homoptera: Delphacidae). Pest Manag Sci 64:1278–1284. https://doi.org/10.1002/ps.1629

Way MJ, Heong KL (1994) The role of biodiversity in the dynamics and management of insect pests of tropical irrigated rice—a review. Bull Entomol Res 84:567. https://doi.org/10.1017/S000748530003282X

Westphal C, Vidal S, Horgan FG et al (2015) Promoting multiple ecosystem services with flower strips and participatory approaches in rice production landscapes. Basic Appl Ecol 16:681–689

WHO (2015) Land use in the world. http://data.worldbank.org/indicator/AG.LND.AGRI.ZS/countries

Yáñez L, Ortiz D, Calderón J et al (2002) Overview of human health and chemical mixtures: problems facing developing countries. Environ Health Perspect 110:901–909. https://doi.org/10.1289/ehp.02110s6901

Zbinden G, Flury-Roversi M (1981) Significance of the LD50-test for the toxicological evaluation of chemical substances. Arch Toxicol 47:77–99
Acknowledgements
This study was carried out within the LEGATO project (Settele et al. 2015) and funded by the German Federal Ministry of Education and Research (BMBF; 01LL0917A), within the BMBF-Funding Measure "Sustainable Land Management" (http://nachhaltiges-landmanagement.de). We would like to thank Le Quang Tuan, Nguyen Hung Manh and Nguyen van Sinh, Institute of Ecology and Biological Resources (IEBR) in Hanoi, for the technical support during the field work. Furthermore, we would like thank two reviewers for the supportive comments.
About this article
Cite this article
Sattler, C., Schrader, J., Farkas, V.M. et al. Pesticide diversity in rice growing areas of Northern Vietnam. Paddy Water Environ 16, 339–352 (2018). https://doi.org/10.1007/s10333-018-0637-z
Received:

Revised:

Accepted:

Published:

Issue Date:

DOI: https://doi.org/10.1007/s10333-018-0637-z
Keywords
Agrochemicals

Agroecosystem insecticides

Active ingredients

Red River Delta

Rice fields