Abstract
Bees are important pollinators of wild plants and crops, but little is known about bee habitat requirements and pollinator management in tropical mountainous agricultural regions. Here, smallholder farmers produce fruits and vegetables in homegardens that depend upon or benefit from bee pollination. We hypothesized that abundance and richness of wild and domesticated bees and the complexity of plant–pollinator interactions are higher in homegardens surrounded by woody habitats than in homegardens found farther from woodlands. Bees were sampled in 20 homegardens in the rice terraces of the Philippine Cordilleras. We used linear mixed effect models to analyse effects of woody habitats around homegardens on bee richness and abundance. Based on pooled observations for each garden category, we built pollinator–plant interactions networks to illustrate shifts in interaction frequencies. We recorded 354 bee individuals of 13 wild and one domesticated bee species (Apis cerana). Wild bee richness was significantly higher in homegardens surrounded by woody habitats. Bee abundance increased significantly with increasing flower cover. Wild bees visited cultivated plants significantly more often than domesticated bees. Six vegetable species and 76% of all flower visits on cultivated plants in total were performed by wild bees and three plant species and 24% by domesticated bees. Pollinator–plant networks were more complex in homegardens surrounded by woody habitats. We conclude that woody habitats increase abundance and richness of wild and domesticated bees. Increasing availability of floral resources also promotes bee abundance. In order to promote pollination services in the landscape mosaic of smallholder rice farms, woody habitats and forest fragments together with numerous floral resources should be protected and restored.
Access options
Buy single article
Instant access to the full article PDF.
USD 39.95
Price excludes VAT (USA)
Tax calculation will be finalised during checkout.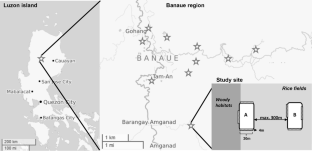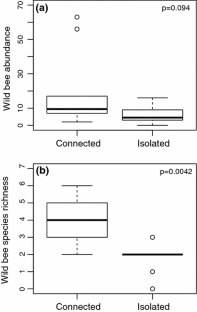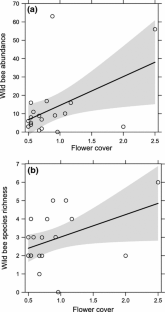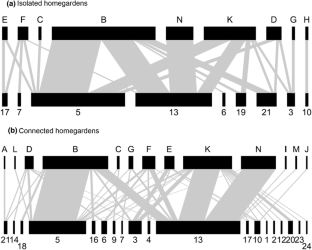 References
Biesmeijer JC, Roberts SPM, Reemer M et al (2006) Parallel declines in pollinators and insect-pollinated plants in Britain and the Netherlands. Science 313:351–354. doi:10.1126/science.1127863

Blanche KR, Ludwig JA, Cunningham SA (2006) Proximity to rainforest enhances pollination and fruit set in orchards. J Appl Ecol 43:1182–1187. doi:10.1111/j.1365-2664.2006.01230.x

Brose U, Martinez ND, Williams RJ (2003) Estimating species richness: sensitivity to sample coverage and insensitivity to spatial patterns. Ecology 84:2364–2377. doi:10.1890/02-0558

Brosi BJ, Daily GC, Shih TM et al (2007) The effects of forest fragmentation on bee communities in tropical countryside. J Appl Ecol 45:773–783. doi:10.1111/j.1365-2664.2007.01412.x

Carvalheiro LG, Seymour CL, Veldtman R, Nicolson SW (2010) Pollination services decline with distance from natural habitat even in biodiversity-rich areas. J Appl Ecol 47:810–820. doi:10.1111/j.1365-2664.2010.01829.x

Chacoff NP, Aizen MA (2006) Edge effects on flower-visiting insects in grapefruit plantations bordering premontane subtropical forest. J Appl Ecol 43:18–27. doi:10.1111/j.1365-2664.2005.01116.x

Clough Y, Ekroos J, Báldi A et al (2014) Density of insect-pollinated grassland plants decreases with increasing surrounding land-use intensity. Ecol Lett 17:1168–1177. doi:10.1111/ele.12325

Corlett RT (2004) Flower visitors and pollination in the Oriental (Indomalayan) Region. Biol Rev 79:497–532. doi:10.1017/S1464793103006341

Cruz-Garcia GS, Price LL (2011) Ethnobotanical investigation of "wild" food plants used by rice farmers in Kalasin. Northeast Thailand. J Ethnobiol Ethnomed. doi:10.1186/1746-4269-7-33

Dormann CF (2011) How to be a specialist? Quantifying specialisation in pollination networks. Netw Biol 1:1–20

Dormann CF, Fründ J, Blüthgen N, Gruber B (2009) Indices, graphs and null models: analyzing bipartite ecological networks. Open Ecol J 2:7–24

Drechsler M, Settele J (2001) Predator–prey interactions in rice ecosystems: effects of guild composition, trophic relationships, and land use changes—a model study exemplified for Philippine rice terraces. Ecol Model 137:135–159. doi:10.1016/S0304-3800(00)00423-3

Ebeling A, Klein A-M, Schumacher J et al (2008) How does plant richness affect pollinator richness and temporal stability of flower visits? Oikos 117:1808–1815. doi:10.1111/j.1600-0706.2008.16819.x

Fernandes ECM, Nair PKR (1986) An evaluation of the structure and function of tropical homegardens. Agric Syst 21:279–310

Fried O, Kühn I, Schrader J et al (2017) Plant diversity and community composition of rice agroecosystems in Vietnam and the Philippines. Phytocoenologia 47:49–66. doi:10.1127/phyto/2017/0123

Garibaldi LA, Steffan-Dewenter I, Winfree R et al (2013) Wild pollinators enhance fruit set of crops regardless of honey bee abundance. Science 339:1608–1611. doi:10.1126/science.1230200

Ghazoul J (2005) Buzziness as usual? Questioning the global pollination crisis. Trends Ecol Evol 20:367–373. doi:10.1016/j.tree.2005.04.026

Grombone-Guaratini MT, Solferini VN, Semir J (2004) Reproductive biology in species of Bidens L. (Asteraceae). Sci Agric 61:185–189. doi:10.1590/S0103-90162004000200010

Heaney LR (2001) Small mammal diversity along elevational gradients in the Philippines: an assessment of patterns and hypotheses. Glob Ecol Biogeogr 10:15–39. doi:10.1046/j.1466-822x.2001.00227.x

Hoehn P, Tscharntke T, Tylianakis JM, Steffan-Dewenter I (2008) Functional group diversity of bee pollinators increases crop yield. Proc R Soc B 275:2283–2291. doi:10.1098/rspb.2008.0405

Hoehn P, Steffan-Dewenter I, Tscharntke T (2010) Relative contribution of agroforestry, rainforest and openland to local and regional bee diversity. Biodivers Conserv 19:2189–2200. doi:10.1007/s10531-010-9831-z

Holzschuh A, Steffan-Dewenter I, Tscharntke T (2010) How do landscape composition and configuration, organic farming and fallow strips affect the diversity of bees, wasps and their parasitoids? J Anim Ecol 79:491–500. doi:10.1111/j.1365-2656.2009.01642.x

Holzschuh A, Dudenhöffer JH, Tscharntke T (2012) Landscapes with wild bee habitats enhance pollination, fruit set and yield of sweet cherry. Biol Conserv 153:101–107. doi:10.1016/j.biocon.2012.04.032

Kennedy CM, Lonsdorf E, Neel MC et al (2013) A global quantitative synthesis of local and landscape effects on wild bee pollinators in agroecosystems. Ecol Lett 16:584–599. doi:10.1111/ele.12082

Kleijn D, van Langevelde F (2006) Interacting effects of landscape context and habitat quality on flower visiting insects in agricultural landscapes. Basic Appl Ecol 7:201–214. doi:10.1016/j.baae.2005.07.011

Klein A-M, Steffan-Dewenter I, Buchori D, Tscharntke T (2002) Effects of land-use intensity in tropical agroforestry systems on coffee flower-visiting and trap-nesting bees and wasps. Conserv Biol 16:1003–1014. doi:10.1046/j.1523-1739.2002.00499.x

Klein A-M, Vaissière BE, Cane JH et al (2007) Importance of pollinators in changing landscapes for world crops. Proc R Soc B 274:303–313. doi:10.1098/rspb.2006.3721

Klein A-M, Brittain C, Hendrix SD et al (2012) Wild pollination services to California almond rely on semi-natural habitat. J Appl Ecol 49:723–732. doi:10.1111/j.1365-2664.2012.02144.x

Klein A-M, Hendrix SD, Clough Y et al (2014) Interacting effects of pollination, water and nutrients on fruit tree performance. Plant Biol. doi:10.1111/plb.12180

Klotzbücher T, Marxen A, Vetterlein D et al (2014) Plant-available silicon in paddy soils as a key factor for sustainable rice production in Southeast Asia. Basic Appl Ecol. doi:10.1016/j.baae.2014.08.002

Liow LH, Sodhi NS, Elmqvist T (2001) Bee diversity along a disturbance gradient in tropical lowland forests of south-east Asia. J Appl Ecol 38:180–192. doi:10.1046/j.1365-2664.2001.00582.x

Marshall EJP, Moonen AC (2002) Field margins in northern Europe: integrating agricultural, environmental and biodiversity functions. Agric Ecosyst Environ 89:5–21. doi:10.1016/S0167-8809(01)00315-2

Michener CD (1979) Biogeography of the bees. Ann Mo Bot Gard 66:277–347. doi:10.2307/2398833

Michener CD (2007) The bees of the world, 2nd edn. Johns Hopkins University Press, Baltimore

Morandin L, Winston M (2005) Wild bee abundance and seed production in conventional, organic, and genetically modified canola. Ecol Appl 15:871–881. doi:10.1890/03-5271

Motzke I, Tscharntke T, Wanger TC, Klein A-M (2015) Pollination mitigates cucumber yield gaps more than pesticide and fertilizer use in tropical smallholder gardens. J Appl Ecol 52:261–269. doi:10.1111/1365-2664.12357

Myers N, Mittermeier RA, Mittermeier CG et al (2000) Biodiversity hotspots for conservation priorities. Nature 403:853–858. doi:10.1038/35002501

Oksanen J, Blanchet FG, Kindt R et al (2013) Package "vegan". Community Ecol, Packag

Ollerton J, Johnson SD, Hingston AB (2006) Geographical variation in diversity and specificity of pollination systems. University of Chicago Press, Chicago

Ollerton J, Winfree R, Tarrant S (2011) How many flowering plants are pollinated by animals? Oikos 120:321–326. doi:10.1111/j.1600-0706.2010.18644.x

Palmer MW (1990) The estimation of species richness by extrapolation. Ecology 71:1195–1198. doi:10.2307/1937387

Pinheiro J, Bates D, DebRoy S, Sarkar D (2014) Package "nlme."

Posa MRC, Diesmos AC, Sodhi NS, Brooks TM (2008) Hope for threatened tropical biodiversity: lessons from the Philippines. Bioscience 58:231. doi:10.1641/B580309

Potts SG, Vulliamy B, Dafni A et al (2003) Linking bees and flowers: how do floral communities structure pollinator communities? Ecology 84:2628–2642. doi:10.1890/02-0136

Potts SG, Biesmeijer JC, Kremen C et al (2010) Global pollinator declines: trends, impacts and drivers. Trends Ecol Evol 25:345–353. doi:10.1016/j.tree.2010.01.007

R Core Team (2014) R: a language and environment for statistical computing. R Foundation for Statistical Computing, Vienna, Austria. https://www.R-project.org/

Ricketts TH (2004) Tropical forest fragments enhance pollinator activity in nearby coffee crops. Conserv Biol 18:1262–1271. doi:10.1111/j.1523-1739.2004.00227.x

Ricketts TH, Regetz J, Steffan-Dewenter I et al (2008) Landscape effects on crop pollination services: are there general patterns? Ecol Lett 11:499–515. doi:10.1111/j.1461-0248.2008.01157.x

Roubik DW (1992) Ecology and natural history of tropical bees. Cambridge University Press, Cambridge

Rundlöf M, Nilsson H, Smith HG (2008) Interacting effects of farming practice and landscape context on bumble bees. Biol Conserv 141:417–426. doi:10.1016/j.biocon.2007.10.011

Schoenly K, Cohen JE, Heong KL et al (1996) Food web dynamics of irrigated rice fields at five elevations in Luzon, Philippines. Bull Entomol Res 86:451–466. doi:10.1017/S0007485300035033

Settele J, Spangenberg JH, Heong KL et al (2015) Agricultural landscapes and ecosystem services in South-East Asia—the LEGATO-project. Basic Appl Ecol 8:661–664. doi:10.1016/j.baae.2015.10.003

Stang M, Klinkhamer P, Van Der Meijden E (2006) Size constraints and flower abundance determine the number of interactions in a plant–flower visitor web. Oikos 112:111–121. doi:10.1111/j.0030-1299.2006.14199.x

Steffan-Dewenter I, Westphal C (2007) The interplay of pollinator diversity, pollination services and landscape change. J Appl Ecol 45:737–741. doi:10.1111/j.1365-2664.2008.01483.x

Tilman D, Fargione J, Wolff B et al (2001) Forecasting agriculturally driven global environmental change. Science 292:281–284. doi:10.1126/science.1057544

Trinh LN, Watson JW, Hue NN et al (2003) Agrobiodiversity conservation and development in Vietnamese home gardens. Agric Ecosyst Environ 97:317–344. doi:10.1016/S0167-8809(02)00228-1

Tscharntke T, Gathmann A, Steffan-Dewenter I (1998) Bioindication using trap-nesting bees and wasps and their natural enemies: community structure and interactions. J Appl Ecol 35:708–719. doi:10.1046/j.1365-2664.1998.355343.x

Tylianakis JM, Klein A-M, Lozada T, Tscharntke T (2006) Spatial scale of observation affects alpha, beta and gamma diversity of cavity-nesting bees and wasps across a tropical land-use gradient. J Biogeogr 33:1295–1304. doi:10.1111/j.1365-2699.2006.01493.x

Tylianakis JM, Laliberté E, Nielsen A, Bascompte J (2010) Conservation of species interaction networks. Biol Conserv 143:2270–2279. doi:10.1016/j.biocon.2009.12.004

Weinberger K (2013) Home and community gardens in Southeast Asia: potential and opportunities for contributing to nutrition-sensitive food systems. Food Secur 5:847–856. doi:10.1007/s12571-013-0299-z

Westphal C, Bommarco R, Carré G et al (2008) Measuring bee diversity in different European habitats and biogeographical regions. Ecol Monogr 78:653–671. doi:10.1890/07-1292.1

Westphal C, Vidal S, Horgan FG et al (2015) Promoting multiple ecosystem services with flower strips and participatory approaches in rice production landscapes. Basic Appl Ecol 16:681–689. doi:10.1016/j.baae.2015.10.004

Winfree R, Griswold T, Kremen C (2007) Effect of human disturbance on bee communities in a forested ecosystem. Conserv Biol 21:213–223. doi:10.1111/j.1523-1739.2006.00574.x

Winfree R, Williams NM, Gaines H et al (2008) Wild bee pollinators provide the majority of crop visitation across land-use gradients in New Jersey and Pennsylvania, USA. J Appl Ecol 45:793–802. doi:10.1111/j.1365-2664.2007.01418.x

Zamora OB, de Guzman LEP, Saguiguit SLC et al (2013) Leveraging agriculture to improve nutrition in the Philippines. Food Secur 5:873–886. doi:10.1007/s12571-013-0306-4
Acknowledgements
Bee species identification was conducted by Stefan Risch (Leverkusen, Germany). We thank Jesus Victor Bustamante and Abner Ulat for assistance in the field, and we thank Oliver Fried for assistance in plant identification. We are grateful to Kimihito Nakamura and two anonymous reviewers who provided valuable comments on the manuscript. Many thanks for the linguistic improvements of the manuscript that were done by Emmeline N. Topp. The work has been conducted within the LEGATO project (http://www.legato-project.net/; Settele et al. (2015)), which is funded within the BMBF (German Federal Ministry of Education and Research) Framework Programme Research for Sustainable Development (FONA, FKZ: 01LL0917A). Julian Schrader was funded by a scholarship from the Deutsche Gesellschaft für Internationale Zusammenarbeit (GIZ).
Ethics declarations
Conflict of interest
The authors declare that they have no conflict of interest.
Additional information
The original version of this article was revised: One of the coauthor's last name was published incorrectly and it has been corrected in this article.
Electronic supplementary material
Below is the link to the electronic supplementary material.
About this article
Cite this article
Schrader, J., Franzén, M., Sattler, C. et al. Woody habitats promote pollinators and complexity of plant–pollinator interactions in homegardens located in rice terraces of the Philippine Cordilleras. Paddy Water Environ 16, 253–263 (2018). https://doi.org/10.1007/s10333-017-0612-0
Received:

Revised:

Accepted:

Published:

Issue Date:

DOI: https://doi.org/10.1007/s10333-017-0612-0
Keywords
Philippines

Wild bees

Domesticated bees

Woody habitats

Flower cover

Biodiversity hotspot