Abstract
Silicon (Si) mitigates abiotic and biotic stresses for rice plants (Oryza sativa L.). Here, we test relationships between Si cycling, plant growth, and pest and fungal attacks in rice agroecosystems. We conducted a plot experiment on Si fertilization in a Southern Vietnamese paddy, where plant-available Si was inherently low. For two cropping seasons, we investigated the temporal dynamics of Si in soil solution, plant Si uptake, and the occurrence of leaf folders (Cnaphalocrocis medinalis) and rice blast caused by the fungus Magnaporthe oryzae. Silicon application increased Si concentrations in soil solutions collected in the field as expected from previous laboratory experiments. Soil solution Si concentrations were furthermore affected by Si uptake by plants and by recycling Si with rice straw ash. Silicon concentrations in rice leaves at tillering stage increased with increasing Si application. However, surprisingly, no relationship between Si in soil solution and Si concentration in straw at maturity stage was found. The occurrences of leaf folders and rice blast disease were mitigated by increased Si uptake. However, rice biomass production was not affected, probably because the biotic stress level was generally low. Our field data emphasize the importance of recycling crop residues in rice fields for the Si supply to plants, especially in regions with low Si availability. They furthermore show that under field conditions, the relationship between dissolved Si in soil solution and Si uptake by rice plants is not as straightforward as expected and thus needs to be further investigated.
Access options
Buy single article
Instant access to the full article PDF.
US$ 39.95
Tax calculation will be finalised during checkout.
Subscribe to journal
Immediate online access to all issues from 2019. Subscription will auto renew annually.
US$ 79
Tax calculation will be finalised during checkout.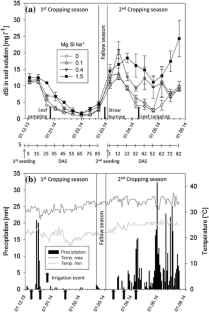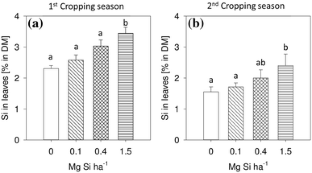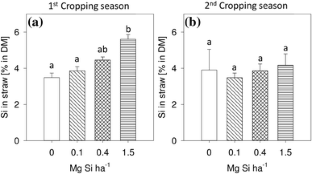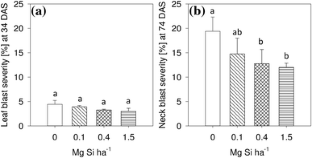 References
Bonman J, Estrada B, Bandong J (1989) Leaf and neck blast resistance in tropical lowland rice cultivars. Plant Dis 73(5):388–390

Cooke J, Leishman MR (2011) Silicon concentration and leaf longevity: is silicon a player in the leaf dry mass spectrum? Funct Ecol 25:1181–1188

Datnoff LE, Deren CW, Snyder GH (1997) Silicon fertilization for disease management of rice in Florida. Crop Prot 16:525–531

Desplanques V, Cary L, Mouret J-C, Trolard F, Bourrié G, Grauby O et al (2006) Silicon transfers in a rice field in Camargue (France). J Geochem Explor 88:190–193

Dobermann A, Fairhurst T (2000) Rice: nutrient disorders & nutrient management. International Rice Research Institute, Manila

FAO (2006) Guidelines for soil description. Food and Agriculture Organisation of the United Nations, Rome

Fleck AT (2013) Silicon effects on arsenic uptake in rice, exodermis development and expression of genes related to suberin and lignin metabolism. Dissertation, Leibniz University Hannover

Fraysse F, Pokrovsky OS, Schott J, Meunier J-D (2006) Surface properties, solubility and dissolution kinetics of bamboo phytoliths. Geochim Cosmochim Acta 70:1939–1951

Gocke M, Liang W, Sommer M, Kuzyakov Y (2013) Silicon uptake by wheat: effects of Si pools and pH. J Plant Nutr Soil Sci 176:551–560

Guntzer F, Keller C, Meunier J-D (2012) Benefits of plant silicon for crops: a review. Agron Sustain Dev 32(1):201–213

Han Y, Lei W, Wen L, Hou M (2015) Silicon-mediated resistance in a susceptible rice variety to the rice leaf folder, Cnaphalocrocis medinalis Guenée (Lepidoptera: Pyralidae). PLoS ONE 10(4):e0120557

Haynes RJ (2014) A contemporary overview of silicon availability in agricultural soils. J Plant Nutr Soil Sci 177:831–844

Hossain KA, Horiuchi T, Miyagawa S (2001) Effects of silicate materials on growth and grain yield of rice plants grown in clay loam and sandy loam soils. J Plant Nutr 24(1):1–13

IRRI (1996) Standard evaluation system for rice. International Rice Research Institute, Manila

IUSS Working Group (2014) World reference base for soil classification, world soil resources report 106. Food and Agriculture Organisation of the United Nations, Rome

Jones LHP, Handreck KA (1967) Silica in soils, plants, and animals. Adv Agron 19:107–149

Klotzbücher T, Marxen A, Vetterlein D, Schneiker J, Türke M, Sinh NV et al (2015a) Plant-available silicon in paddy soils as a key factor for sustainable rice production in Southeast Asia. Basic Appl Ecol 16:665–673

Klotzbücher T, Leuther F, Marxen A, Vetterlein D, Horgan FG, Jahn R (2015b) Forms and fluxes of potential plant-available silicon in irrigated lowland rice production (Laguna, the Philippines). Plant Soil 393:177–191

Ma JF, Takahashi E (2002) Soil, fertilizer, and plant silicon research in Japan. Elsevier, Amsterdam

Marxen A, Klotzbücher T, Jahn R, Kaiser K, Nguyen VS, Schmidt A et al (2016) Interaction between silicon cycling and straw decomposition in a silicon deficient rice production system. Plant Soil 398:153–163

Meharg C, Meharg AA (2015) Silicon, the silver bullet for mitigating biotic and abiotic stress, and improving grain quality, in rice? Environ Exp Bot 120:8–17

Mihara C, Makabe-Sasaki S, Watanabe A (2016) Dynamics of dissolved silicon in rice paddies under conditions of water conservation irrigation. J Soils Sediments 16:547–556

Nguyen MN, Dultz S, Guggenberger G (2014) Effects of pretreatment and solution chemistry on solubility of rice-straw phytoliths. J Plant Nutr Soil Sci 177:349–359

Nguyen MN, Dultz S, Picardalc F, Bui ATK, Pham QV, Dam TTN (2016) Simulation of silicon leaching from flooded rice paddy soils in the Red River Delta, Vietnam. Chemosphere 145:450–456

Ou SH (1985) Rice diseases. International Rice Research Institute, Manila

Raven JA (1983) The transport and function of silicon in plants. Biol Rev 58:179–207

Reynolds OL, Keeping MG, Meyer JH (2009) Silicon-augmented resistance of plants to herbivorous insects: a review. Ann Appl Biol 155:171–186

Sauer D, Saccone L, Conley DJ, Herrmann L, Sommer M (2006) Review of methodologies for extracting plant-available and amorphous Si from soils and aquatic sediments. Biogeochemistry 80:89–108

Seebold KW, Datnoff LE, Correa-Victoria FJ, Kucharek TA, Snyder GH (2000) Effect of silicon rate and host resistance on blast, scald, and yield of upland rice. Plant Dis 84:871–876

Seebold KW, Datnoff LE, Correa-Victoria FJ, Kucharek TA, Snyder GH (2004) Effects of silicon and fungicides on the control of leaf and neck blast in upland rice. Plant Dis 88:253–258

Seyfferth AL, Kocar BD, Lee JA, Fendorf S (2013) Seasonal dynamics of dissolved silicon in a rice cropping system after straw incorporation. Geochim Cosmochim Acta 123:120–133

Tsujimoto Y, Muranaka S, Saito K, Asai H (2014) Limited Si-nutrient status of rice plants in relation to plant-available Si of soils, nitrogen fertilizer application, and rice-growing environments across Sub-Saharan Africa. Field Crop Res 155:1–9

Tubana BS, Babu T, Datnoff LE (2016) A review of silicon in soils and plants and its role in US agriculture: history and future perspectives. Soil Sci 181:393–411

Watanabe T, Luu HN, Nguyen NH, Ito O, Inubushi K (2013) Combined effects of the continual application of composted rice straw and chemical fertilizer on rice yield under a double rice cropping system in the Mekong Delta, Vietnam. JARQ-Jpn Agric Res Q 47(4):397–404

Webster RK, Gunnell PS (1992) Compendium of rice diseases. American Phytopathological Society, St. Paul

Yamaj N, Sakurai G, Mitani-Ueno N, Ma JF (2015) Orchestration of three transporters and distinct vascular structures in node for intervascular transfer of silicon in rice. PNAS 112:11401–11406
Acknowledgements
This work has been financed by the LEGATO project (Funding Codes: 01LL0917A and 01LL0917N) of the Federal Ministry for Education and Research (BMBF). We thank the farmer, Mai Van Tu, for allowing us to establish the experiment on his paddy field. Tran Van Chau and his colleagues from the SRPPC helped us with the field work. Alexandra Boritzki, Aleksey Prays, Susanne Horka, Andreas Rämmler, Jutta Fröhlich, and Bernd Apelt did the laboratory work.
Electronic supplementary material
Below is the link to the electronic supplementary material.
About this article
Cite this article
Klotzbücher, A., Klotzbücher, T., Jahn, R. et al. Effects of Si fertilization on Si in soil solution, Si uptake by rice, and resistance of rice to biotic stresses in Southern Vietnam. Paddy Water Environ 16, 243–252 (2018). https://doi.org/10.1007/s10333-017-0610-2
Received:

Accepted:

Published:

Issue Date:
Keywords
Dissolved silicon

Leaf folder

Rice

Rice blast

Silicon fertilization