Abstract
The Nilwala Ganga Basin of Sri Lanka includes important natural wetlands that are habitat for vulnerable animal and plant species. Flood protection and intensive rice production in the Basin have resulted in degraded acid soils and declining rice yields. However, traditional 'maavee' rice production outside the flood protection scheme has continued to generate a high-value rice product. This study reports on interviews conducted with farmers and other stakeholders to document the production practices and the potential environmental and economic benefits associated with maavee rice paddies. The maavee production system has prevailed for at least several decades. Farmers apply no chemicals to their paddies, relying instead on alluvial deposits as a source of nutrients, and on the natural pest and disease resistance of their traditional varieties. The maavee rice product can attain three times the selling price of rice from conventional farms making it more economically viable than conventional rice production. However, much of maavee production is for home consumption and the system is threatened by increasing labour costs, an ageing farming population and pressures to increase rice yields. Non-invasive production practices and the proximity of maavee paddies to regenerating wetlands in the Kirala Kele Sanctuary suggest that traditional paddies may constitute an important habitat for vulnerable wildlife; however, maavee farmers also perceive wetland birds as potentially damaging to rice. Based on a SWOT (strengths, weaknesses, opportunities and threats) analysis, we make recommendations for future research needs and potential management actions to safeguard the environmental and economic sustainability of the maavee system.
Access options
Buy single article
Instant access to the full article PDF.
US$ 39.95
Tax calculation will be finalised during checkout.
Subscribe to journal
Immediate online access to all issues from 2019. Subscription will auto renew annually.
US$ 79
Tax calculation will be finalised during checkout.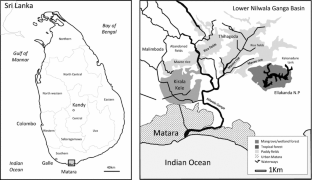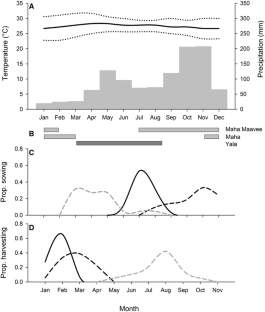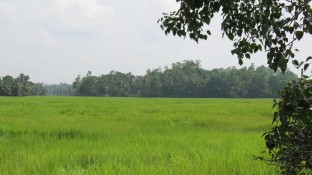 References
Ahamed AI, Somaratne WG, Simmons M (2007) Analysis of the marketing potential of SRI Rice in Kegalle District, Sri Lanka. Report to Oxfam Australia

Aheeyar MMM, Henegedara GM, Rupasena LP (2005) The cost of production of rice in Kegalle and Kurunegala Districts of Sri Lanka. Research study No. 115: Hector Kobbekaduwa Agrarian Research and Training Institute, Colombo, Sri Lanka

Bambaradeniya CNB, Amerasinghe FP (2003) Biodiversity associated with rice field agroecosystem in Asian countries: a brief review. Working paper 63, International Water Management Institute, Colombo, Sri Lanka

Boyd CE (2003) Guidelines for aquaculture effluent management at the farm-level. Aquaculture 226:101–112

Castonguay AC, Burkhard B, Müller F, Horgan FG, Settele J (2016) Resilience and adaptability of rice terrace social-ecological systems: a case study of a local community's perception in Banaue, Philippines. Ecol Soc 21:15

Catling D (1992) Rice in deep water. Macmillan Press, London

Chandana EPS, Rajapaksha ACD, Samarasekara WGKH (2012) A survey of odonate assemblages associated with selected wetland localities in southern Sri Lanka. Asian J Conserv Biol 1:67–73

Chandrabose AS (2014) Cultural identity of Indian Tamils in Sri Lanka: a measurement of multi-dimensional status of the Indian Tamil society in Sri Lanka. In: Garg S (ed) Circulation of cultures and culture of circulation: diasporic cultures of South Asia during 18th to 20th centuries. SAARC Culture Centre, Galle, pp 145–163

Clements T, Milner-Gullard EJ (2015) Impact of payments for environmental services and protected areas on local livelihoods and forest conservation in northern Cambodia. Conserv Biol 29:78–87

De Alwis Goonatilake S (2012) The taxonomy and conservation status of freshwater fishes in Sri Lanka. In: Weerakoon DK, Wijesundara S (eds) The national red list 2012 of Sri Lanka: conservation status of the fauna and flora. Ministry of Environment, Colombo, pp 77–81

De Silva CS, Weatherhead EK, Knox JW, Rodriguez-Diaz JA (2007) Predicting the impacts of climate change—a case study of paddy irrigation water requirements in Sri Lanka. Agric Water Manag 93:19–29

De Silva BCJ, Gayathri-R HW, Nilmini-NH HM, Pathum-S AM, Chathuranga WD, Mahesh-BR Ranasinghage, de Amarasinghe-NJ S, Chandana EPS (2015) Notes on lesser whistling duck and other aquatic birds in 'Kirala Kele' sanctuary, Matara, Sri Lanka. Int J Anim Biol 1:215–218

Department of Agriculture (2016) Performance report 2015. Peradeniya, Sri Lanka

Deturck P, Weerasinghe KDN, Gunarathna DABN, Lexa JP, Vlassak K (1993) Rice production on acid sulfate soils of Sri Lanka. International Institute for Land Reclamation and Improvement, Wageningen

Fernando SLJ, Shariff NM (2015) The relationship between land use/land cover change and factors for ecotourism development in the partial nature based wetland using remote sensing and GIS techniques. Int J Sci Res Innov Technol 2:82–92

Fernando GWAR, Suranganee RKN (2009) Development of acid sulfate soils in Nilwala Flood Protection area, Matara, Sri Lanka. J Geol Soc Sri Lanka 13:71–82

Fujita D, Kohli A, Horgan FG (2013) Rice resistance to planthoppers and leafhoppers. Crit Rev Plant Sci 32:162–191

Gleissman SR, Garcia RE, Amador MA (1981) The ecological basis for the application of traditional agricultural technology in the management of tropical agro-ecosystems. Agro-ecosystems 7:173–185

Godfray HCJ, Beddington JR, Crute IR, Haddad L, Lawrence D, Muir JF, Pretty J, Robinson S, Thomas SM, Toulmin C (2010) Food security: the challenge of feeding 9 billion people. Science 327:812–818

Gunaratne A, Bentota A, Cai YZ, Collado L, Corke H (2011) Functional digestibility, and antioxidant properties of brown and polished rice flour from traditional and new-improved varieties grown in Sri Lanka. Starch 63:485–492

Gunaratne A, Wu K, Li D, Bentota A, Corke H, Cai Y-Z (2013) Antioxidant activity and nutritional quality of traditional red-grained rice varieties containing proanthocyanidins. Food Chem 138:1153–1161

Gurr GM, Lu Z, Zheng X, Xu H, Zhu P, Chen G, Yao X, Cheng J, Zhu Z, Catindig JL, Villareal S, Chien HV, Cuong LQ, Channoo C, Chengwattana N, Lan LP, Hai LH, Chaiwong J, Nicol HI, Perovic DJ, Wratten SD, Heong KL (2016) Multi-country evidence that crop diversification promotes ecological intensification of agriculture. Nat Plants 2:16014

Hettiarachchi P, Jiffry MTM, Jansz ER, Wickramasinghe AR, Fernando DJS (2001) Glycaemic indices of different varieties of rice grown in Sri Lanka. Ceylon Med J 46:11–14

Horgan FG, Felix IM, Portalanza DE, Sánchez L, Moya Rios WM, Farah SE, Wither JA, Andrade CI, Espin EB (2014) Responses by farmers to the apple snail invasion of Ecuador's rice fields and attitudes toward predatory snail kites. Crop Prot 62:135–143

Horgan FG, Ramal AF, Bernal CC, Villegas JM, Stuart AM, Almazan ML (2016) Applying ecological engineering for sustainable and resilient rice production systems. Proc Food Sci 6:7–15

Horgan FG, Ramal AF, Villegas JM, Almazan MLP, Bernal CC, Jamoralin A, Pasang JM, Orboc G, Agreda V, Arroyo C (2017) Ecological engineering with high diversity vegetation patches enhances bird activity and ecosystem services in Philippine rice fields. Reg Environ Change 17:1355–1367

Hossain ML, Sarker SU, Sarker NJ (2008) Ecology of spotted flapshell turtle, Lissemys punctate (Lacepede, 1788) in Bangladesh. Ecoprint 15:59–67

Husson O, Thanh Phung M, Van Mensvoort MEF (2000) Soil and water indicators for optimal practices when reclaiming acid sulfate soils in the Plain of Reeds, Viet Nam. Agric Water Manag 45:127–143

Hyne RV, Spolyarich N, Wilson SP, Patra RW, Byrne M, Gordon G, Sanchez-Bayo F, Palmer CG (2009) Distribution of frogs in rice bays within an irrigated agricultural area: links to pesticides usage and farm practices. Environ Toxicol Chem 28:1255–1265

Kamprath E (1980) Soil acidity in well-drained soils of the tropics as a constraint to food production. In: International Rice Research Institute (ed) Priorities for alleviating soil-related constraints to food production in the tropics. International Rice Research Institute and Cornell University, Los Baños, pp 171–188

Karunanayake MM (1979) Traditional exchange-labour in hill country Sri Lanka: a study of the attam institution. Sri Lanka J Soc Sci 1:109–118

Katoh K, Sakai S, Takahashi T (2009) Factors maintaining species diversity in satoyama, a traditional agricultural landscape of Japan. Biol Conserv 142:1930–1936

Kumara GDCP, Pethiyagoda NA, Gunawardena WWDA (2012) Avifaunal diversity of Kirala Kele: a man-influenced wetland ecosystem. In: Wijeratne WMMP (ed) Proceedings of the international symposium on agriculture and environment 2012. Ruhuna, Wellmadama, Matara, Sri Lanka, pp 112–114

Kurechi M (2007) Restoring rice paddy wetland environments and the local sustainable society—project for achieving co-existence of rice paddy agriculture with waterbirds at Kabukuri-numa, Miyagi Prefecture, Japan. Glob Environ Res 12:141–152

Lal T-W (2002) Promoting sustainable tourism in Sri Lanka. In: Hundloe TJ (ed) Linking green productivity to ecotourism. Asian Productivity Organization, Tokyo, pp 208–214

Lane SJ, Fujioka M (1998) The impact of changes in irrigation practices on the distribution of foraging egrets and herons (Ardeide) in rice fields of central Japan. Biol Cons 83:221–230

Lawler SP (2001) Rice fields as temporary wetlands: a review. Israel J Zool 47:513–528

Liyanage AW (2012) The possibility for developing a sustainable strategy to solve the conflict between local people and elephants in Hambantota District, Sri Lanka. M.Sc. Thesis University of Agder, Kristiansand, Sri Lanka

Madduma Bandara CM (2009) Exploring the link between culture and biodiversity in Sri Lanka. SANSAI 4:1–23

Manamendra-Arachchi K, Meegaskumbura M (2012) The taxonomy and conservation status of freshwater fishes in Sri Lanka. In: Weerakoon DK, Wijesundara S (eds) The national red list 2012 of Sri Lanka: conservation status of the fauna and flora. Ministry of Environment, Colombo, pp 88–91

Mansfield B (2004) Organic views of nature: the debate over organic certification for aquatic animals. Sociol Rural 44:216–232

Marambe B, Pushpakumara G, Silva P (2012) Biodiversity and agrobiodiversity in Sri Lanka: Village tank systems. In: Nakano S-I, Yahara T, Nakashizuka T (eds) The biodiversity observation network in the Asia-Pacific region: toward further development of monitoring. Ecological Research Monographs, Springer, Tokyo, pp 403–430

Moraes BS, Loro VL, Glusczak L, Pretto A, Menezes C, Marchezan E, de Oliveira Machado S (2007) Effects of four rice herbicides on some metabolic and toxicology parameters of teleost fish (Leporinus obtusidens). Chemosphere 68:1597–1601

Muthayya S, Sugimoto JD, Montgomery S, Maberly GF (2014) An overview of global rice production, supply, trade and consumption. Ann N Y Acad Sci 1324:7–14

Myers N, Mittermeier RA, Mittermeler CG, da Fonseca GAB, Kents J (2000) Biodiversity hotspots for conservation priorities. Nature 403:853–858

Nagarajah S, Neue HU, Alberto MCR (1989) Effect of Sesbania, Azolla and rice straw incorporation on the kinetics of NH4, K, Fe, Mn, Zn and P in some flooded rice soils. Plant Soil 116:37–48

Ota H (2000) Current status of the threatened amphibians and reptiles of Japan. Popul Ecol 42:5–9

Parsons KC, Mineau P, Renfrew RB (2010) Effects of pesticide use in rice fields on birds. Waterbirds 33:193–218

Pesonen H-L, Horn S (2013) Evaluating the sustainability SWOT as a streamlined tool for life cycle sustainability assessment. Int J Life Cycle Assess 18:1780–1792

Pierluissi S (2010) Breeding waterbirds in rice fields: a global review. Waterbirds 33:123–132

Premakumara GAS, Abeysekera WKSM, Ratnasooriya WD, Chandrasekharan NV, Bentota AP (2013) Antioxidant, anti-amylase and anti-glycation potential of brans of some Sri Lankan traditional and improved rice (Oryza sativa L.) varieties. J Cereal Sci 58:451–456

Qadir M, Wichelns D, Raschid-Sally L, McCornick PG, Drechsel P, Bahri A, Minhas PS (2010) The challenges of wastewater irrigation in developing countries. Agric Water Manag 97:561–568

Rana S, Jain D (2013) Impact of modern agricultural practices on population density of Indian peafowl (Pavo cristatus) in Haryana, India. Agric Sci Dig 33:230–233

Ranganathan J, Ranjit Daniels RJ, Subash Chandran MD, Ehrlich PR, Daily GC (2008) Sustaining biodiversity in ancient tropical countryside. Proc Natl Acad Sci 105:17852–17854

Rodrigo C (2013) Traditional paddy cultivation in providing ecological services: resilience against climate change and many more. In: Proceedings of the national conference on livelihoods, biodiversity and ecosystem services, Colombo, Sri Lanka, pp 24–30

Rodrigo C, Abeysekera L (2015) Why the fertilizer subsidy should be removed: key factors that actually derive the fertilizer demand in paddy sector of Sri Lanka. Sri Lanka J Econ Res 3:71–98

Samarasekara WGKH, Chandana EPS, de Amarasinghe NJS (2013) A note on bird-habitat relationship in Kirala Kele, Sri Lanka. Taprobanica 5:97–98

Savary S, Castilla NP, Elazegui FA, Teng PS (2005) Multiple effects of two drivers of agricultural change, labour shortage and water scarcity, on rice pest profiles in tropical Asia. Field Crops Res 91:263–271

Schoenly KG, Justo HD, Barrion AT, Harris MK, Bottrell DG (1998) Analysis of invertebrate biodiversity in a Philippine farmer's irrigated rice field. Environ Entomol 27:1125–1136

Senanayake SMP, Premaratne SP (2016) An analysis of the paddy/rice value chains in Sri Lanka. Australia South Asia Research Centre working paper 2016/4, Sri Lanka

Stuart AM, Palenzuela AN, Bernal CC, Ramal AF, Horgan FG (2014) Effects of fertiliser applications on survival and recruitment of the apple snail, Pomacea canaliculata (Lamarck). Crop Prot 64:78–87

Thiruchelvam S (2005) Efficiency of rice production and issues relating to cost of production in the districts of Anuradhapura and Polonnaruwa. J Natl Sci Found Sri Lanka 33:247–256

Tilman D, Balzer C, Hill J, Befort BL (2011) Global food demand and the sustainable intensification of agriculture. Proc Natl Acad Sci USA 108:20260–20264

Torquebiau E (1992) Are tropical agroforestry home gardens sustainable? Agric Ecosyst Environ 41:189–207

Trang DT, Molbak K, Cam PD, Dalsgaard A (2007) Incidence of and risk factors for skin ailments among farmers working with wastewater-fed agriculture in Hanoi, Vietnam. Trans R Soc Trop Med Hyg 101:502–510

Tripathi R, Shukla AK, Shahid M, Nayak D, Puree C, Mohanty S, Raja R, Lal B, Gautam P, Bhattacharyya P, Panda BB, Kumar A, Jambhulkar NN, Nayak AK (2016) Soil quality in mangrove ecosystem deteriorates due to rice cultivation. Ecol Eng 90:163–169

Van Breemen N (1980) Acidity of wetland soils, including histosols, as a constraint to food production. In: Institute International Rice Research (ed) Priorities for alleviating soil-related constraints to food production in the tropics. International Rice Research Institute and Cornell University, Los Baños, pp 189–202

Van Daele W (2013) Igniting food assemblages in Sri Lanka: ritual cooking to regenerate the world and interrelations. Contrib Indian Sociol 47:33–60

Van Nguyen N, Ferrero A (2006) Meeting the challenges of global rice production. Paddy Water Environ 4:1–9

Vidanapathirana R, Rambukwella (2008) An analysis of price margins of agro-chemicals. Working paper no. 3: Hector Kobbekaduwa Agrarian Research and Training Institute, Colombo, Sri Lanka

Weerakoon DK, Gunawardena K (2012) The taxonomy and conservation status of birds in Sri Lanka. In: Weerakoon DK, Wijesundara S (eds) The national red list 2012 of Sri Lanka: conservation status of the fauna and flora. Ministry of Environment, Colombo, pp 114–117

Weerasinghe KDN, Basnayake S, Arambepola NMSI, Rathnayake U, Nawaratne C (2014) A local level technology and policy intervention approach to restore paddy ecosystems in the Nilwala downstream, affected due to Nilwala Flood Protection Scheme, southern Sri Lanka. Proc Econ Financ 18:336–344

Westphal C, Vidal S, Horgan FG, Gurr GM, Escalada M, Chien HV, Tscharntke T, Heong KL, Settele J (2015) Promoting multiple ecosystem services with flower strips and participatory approaches in rice production landscapes. Basic Appl Ecol 16:681–689

Wildlife Conservation Society (2009) The study of the faunal diversity in Matara District—southern Sri Lanka: final report. Wildlife Conservation Society—Galle, Galle, Sri Lanka
Acknowledgements
The authors thank the farmers and stakeholders for their generosity with time and information. We are particularly grateful to Ravindra Amarasinghe (Tropical Ecology Research Network) for coordinating field activities, and Nimal Dissanayake (Rice Research and Development Institute, Kandy) and Athula Weerarathne (Southern Province Development Authority) for facilitation of interviews and access to information. We thank the Natural Resources Management students (2008–2009) of Sabaragamuwa University for their support with interviews and Jennifer Hernandez for coding data. We thank two anonymous reviewers who provided valuable comments on the manuscript. Funding for this research was provided by the German Ministry of Science and Education (Project: Land-use intensity and Ecological Engineering—Assessment Tools for risks and Opportunities in irrigated rice based production systems [LEGATO]), the United Nations Development Program (Sri Lanka), the Global Rice Science Partnership (GRiSP), the Faculty of Applied Science, Sabaragamuwa University, the Faculty of Science, University of Technology Sydney (UTS), and donations to the Centre for Compassionate Conservation (UTS).
About this article
Cite this article
Horgan, F.G., Kudavidanage, E.P., Weragodaarachchi, A. et al. Traditional 'maavee' rice production in Sri Lanka: environmental, economic and social pressures revealed through stakeholder interviews. Paddy Water Environ 16, 225–241 (2018). https://doi.org/10.1007/s10333-017-0604-0
Received:

Revised:

Accepted:

Published:

Issue Date:
Keywords
Acid sulphate soils

Ecosystem services

Wildlife conservation

Farmer surveys

Human–wildlife conflict

Organic rice