Abstract
The sustainability of traditional rice (Oryza sativa L.) cultivation in many Asian countries is being questioned due to severe water shortage conditions, envisaging the need for development of water-saving rice production technologies. A 2-year-field study on a typic Haplustalf soil was conducted to compare traditional transplanted rice–maize system with water-saving aerobic rice–maize system, with an overall objective of investigating the fate of fertilizer nitrogen (N) using 15N-labeled urea. Results from the field experiments showed that the rice plants positively responded to N fertilizer application. The average fertilizer N recovery by rice crop over the 2 years in aerobic rice was 26 kg per 100 kg of applied fertilizer N in the main field and 21 kg per 100 kg of applied N in the microplot, while the recoveries were 41 and 32 kg ha−1 per 100 kg of applied N in traditionally cultivated rice under flooded conditions. The fraction of 15N that was found in soil after the harvest of rice crop ranged from 11.4 to 47.1 kg ha−1 in aerobic rice and 14.2–51.4 kg ha−1 in flooded rice. Average recovery of 15N fertilizer in maize after the first growing season was 3.3 %, and the corresponding recovery in soil was 19 %. An additional 1.3 % of the fertilizer was recovered by crops during the two subsequent seasons. This study indicates the need to develop management practices that improve N use efficiency in aerobic rice by reducing losses to improve yields and reduce N export to the environment.
Access options
Buy single article
Instant access to the full article PDF.
US$ 39.95
Tax calculation will be finalised during checkout.
Subscribe to journal
Immediate online access to all issues from 2019. Subscription will auto renew annually.
US$ 79
Tax calculation will be finalised during checkout.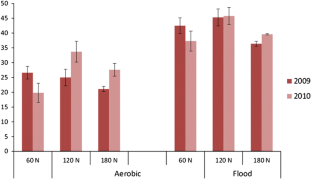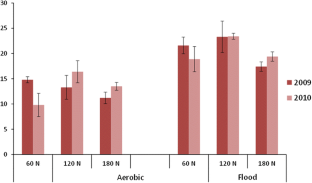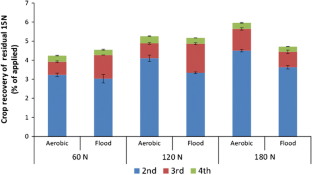 References
Barker R, Dawe D, Tuong TP, Bhuiyan SI, Guerra LC (1998) The outlook for water resources in the year 2020: challenges for research on water management in rice production. In: Assessment and orientation towards the 21st century. Proceedings of the 19th Session of the International Rice Commission, Cairo, Egypt. 7–9 Sep. 1998. FAO, Rome, pp 96–109

Bartolome VI, Casumpang RM, Ynalvez MAH, Olea AB, McLaren CG (1999) IRRISTAT for Windows—Statistical Software for Agricultural Research. Biometrics, International Rice Research Institute, LosBaños

Belder P, Bouman BAM, Spiertz JHJ, Peng S, Castaneda AR, Visperas RM (2005) Crop performance, nitrogen and water use in flooded and aerobic rice. Plant Soil 273:167–182

Bethune M, Austin N, Maher S (2001) Quantifying the water budget of irrigated rice in the Shepparton irrigation region, Australia. Irrig Sci 20:99–105

Bouman BAM, Peng S, Castaneda AR, Visperas RM (2005) Yield and water use of irrigated tropical aerobic rice systems. Agric Water Manag 74:87–105

Bremner JM, Mulvaney CS (1982) Nitrogen-Total. In: Page AL, Miller RH, Keeney DR (eds) Methods of soil analysis, part 2, 2nd edn. Agron. Monogr. 9. ASA and SSSA, Madison, pp 595–624

Bronson KF, Hussain F, Pasuquin E, Ladha JK (2000) Use of 15N-labeled soil in measuring nitrogen fertilizer recovery efficiency in transplanted rice. Soil Sci Soc Am J 64:235–239

Buresh RJ, De Datta SK (1991) Nitrogen dynamics and management in rice-legume cropping systems. Adv Agron 45:1–59

Buresh RJ, Reddy KR, van Kessel C (2008) Nitrogen transformations in submerged soils. In: Schepers JS, Raun WR (eds) Nitrogen in agricultural systems. Agron. Monogr. 49. ASA, CSSA, and SSSA, Madison, pp 401–436

Cassman KG, Kropff MJ, Gaunt J, Peng S (1993) Nitrogen use efficiency of rice reconsidered: what are the key constraints? Plant Soil 155/156:359–362

De Datta SK (1981) Chemical changes in submerged rice soils. In: De Datta SK (ed) Principles and practices of rice production. Wiley, New York, pp 89–138

De Datta SK, Buresh RJ (1989) Integrated nitrogen management in irrigated rice. Adv Soil Sci 10:143–169

De Wit CT (1992) Resource use efficiency in agriculture. Agric Syst 40:125–151

Dourado-Neto D, Powlson D, Abu Bakar R, Bacchi OOS, Basanta MV, thi Cong P, Keerthisinghe G, Ismaili M, Rahman SM, Reichardt K, Safwat MSA, Sangakkara R, Timm LC, Wang JY, Zagal E, van Kessel C (2010) Multiseason recoveries of organic and inorganic nitrogen-15 in tropical cropping systems. Soil Sci Soc Am J 74:139–152

Eriksen A, Kjeldby M, Nilsen S (1985) The effect of intermittent flooding on the growth and yield of wetland rice and nitrogen-loss mechanism with surface applied and deep placed urea. Plant Soil 84:387–401

Fujisaka S, Moody K, Ingram K (1993) A descriptive study of farming practices for dry seeded rainfed lowland rice in India, Indonesia and Myanmar. Agric Ecosyst Environ 45:115–128

George T, Ladha JK, Buresh RJ, Garrity DP (1992) Managing native and legume-fixed nitrogen in low land rice-based cropping systems. Plant Soil 141:69–91

Hauck RD, Bremner JM (1976) Use of tracers for soil and fertilizer nitrogen research. Adv Agron 28:219–266

Ichir LL, Ismaili M, Hofman G (2003) Recovery of 15N labeled wheat residue and residual effects of N fertilization in a wheat–wheat cropping system under Mediterranean conditions. Nutr Cycl Agroecosyst 66:201–207

Jackson ML (1967) Soil Chemical Analysis. Prentice Hall of India Private Limited, New Delhi

Kadiyala MDM, Mylavarapu RS, Li YC, Reddy GB, Reddy MD (2012) Impact of aerobic rice cultivation on growth, yield, and water productivity of rice-maize rotation in semiarid tropics. Agron J 104:1757–1765

Kundu DK, Ladha JK (1995) Enhancing soil nitrogen use and biological nitrogen fixation in wetland rice. Exp Agric 31:261–278

Linquist BA, Koffler K, Hill JE, Kessel CV (2011) Rice field drainage affects nitrogen dynamics and management. Calif Agric 65:80–84

Macdonald AL, Poulton PR, Stockdale EA, Jenkinson DS (2002) The fate of residual 15N-labelled fertilizer in arable soils: its availability to subsequent crops and retention in soil. Plant Soil 246:123–137

Maclean JL, Dawe DC, Hardy B, Hettel GP (eds) (2002) Rice Almanac. International Rice Research Institute (IRRI), Manila

Malhi SS, Johnston AM, Gill KS, Pennock DJ (2004) Landscape position effects on the recovery of 15N-labelled urea applied to wheat on two soils in Saskatchewan, Canada. Nutr Cycl Agroecosys 68:85–93

Molden D, Frenken K, Barker R, de Fraiture C, Mati B, Svendsen M, Sadoff C, Finlayson CM (2007) Water for food. Water for Life: a comprehensive assessment of water management in agriculture earth scan/International Water Management Institute, London/Colombo

Muhr GR, Dutta NP, Shankarsubramoncy H, Leley VK, Donahue RL (1965) Soil testing in India, 2nd edn. USAID Mission to India, New Delhi

Nie L, Peng S, Bouman BAM, Huang J, Cui K, Visperas RM, Xiang J (2008) Alleviating soil sickness caused by aerobic monocropping: responses of aerobic rice to nutrient supply. Field Crop Res 107:129–136

Olsen SR, Cole CV, Watanabe FS, Dean LA (1954) Estimation of available phosphorus in soils by extraction with sodium bicarbonate. USDA Circ 939:1–19 Gov. Printing Office Washington, DC

Pathak BK, Kazama F, Toshiaki I (2004) Monitoring of nitrogen leaching from a tropical paddy in Thailand (online). CIGR J Sci Res Dev 6:1–11

Peng SZ, Yang SH, Xu JZ, Luo YF, Hou HJ (2011) Nitrogen and phosphorus leaching losses from paddy fields with different water and nitrogen managements. Paddy Water Environ 9:333–342

Piper CS (1966) Soil and plant analysis. Hons. publishers, Bombay

Powlson DS, Barraclough D (1993) Mineralization and assimilation in soil-plant systems. In: Knowles R, Blackburn TH (eds) Nitrogen isotope techniques. Academic Press, San Diego, pp 209–242

Qian X, Shen Q, Xu G, Wang J, Zhou M (2004) Nitrogen form effects on yield and nitrogen uptake of rice grown in aerobic soil. J Plant Nutr 27:1061–1076

Raju SCh, Reddy PR (2013) Package of practices for rice in Southern Telangana Zone of Andhra Pradesh. In: Production technology for kharif crops in STZ. Proceedings of the Zonal Research and Extension Advisory Council Meeting, ANGRAU, 23–24, March. 2013. ANGRAU, Hyderabad, India, pp 1–2

Rao AN, Johnson DE, Siva Prasad B, Ladha JK, Mortimer AM (2007) Weed management in direct-seeded rice. Adv Agron 93:153–255

Reddy KR, Patrick WH Jr (1976) Yield and nitrogen utilization by rice as affected by method and time of application of labelled nitrogen. Agron J 68:965–969

Safeena AN, Wahid PA, Balachandran PV, Sachdev MS (1999) Absorption of molecular urea by rice under flooded and non-flooded soil conditions. Plant Soil 208:161–166

Safo EY (1987) Effects of 15N-nitrate fertilization on yield and dinitrogen fixation in common bean (Phaseolus vulgaris L.). Ghana J Agric Sci 20–23:61–65

Sampaio EVSB, Tiessen H, Antonino ACD, Salcedo IH (2002) Residual N and P fertilizer effect and fertilizer recovery on intercropped and sole-cropped corn and bean in semi-arid northeast Brazil. Nutr Cycl Agroecosyst 70:1–11

Schnier HF (1994) Nitrogen-15 recovery fraction in flooded tropical rice as affected by added nitrogen interaction. Eur J Agron 3:161–167

Shinde JE, Krishnayya K, Rao KV, Gandhi G (1985) Transformation of 15N-labelled urea in rice-wheat cropping system. Plant Soil 88:345–351

Shivananda TN, Kotur SC, Iyengar BRV (1996) Nitrogen management studies in tomato (Lycopersicon esculentum L.) using 15N-enriched fertilizer. Indian J Agric Sci 66:151–154

Singh B, Bronson KF, Singh Y, Khera TS, Pasuquin E (2001) Nitrogen-15 balance as affected by rice straw management in a rice-wheat rotation in northwest India. Nutr Cycl Agroecosyst 59:227–237

Singh S, Ladha JK, Gupta RK, Bhushan L, Rao AN (2008) Weed management in aerobic rice systems under varying establishment methods. Crop Prot 27:660–671

Subbiah BV, Asija GL (1956) A rapid procedure for the determination of available nitrogen in soils. Curr Sci 25:259–260

Ta TC, Tsutsumi M, Kurihara K (1981) Comparative study on the response of Indica and Japonica rice plants to ammonium and nitrate nitrogen. Soil Sci Plant Nutr 27:83–92

Timmons DR, Cruse RM (1991) Residual nitrogen-15 recovery by corn as influenced by tillage and fertilization method. Agron J 83:357–363

Tuong TP, Bouman BAM (2003) Water productivity in agriculture: limits and opportunities for improvements. In: Kijne JW et al (eds) Rice production in water scarce environments. CABI Publishing, UK, pp 53–67

Villegas-Pangga G, Blair G, Lefroy R (2000) Measurement of decomposition and associated nutrient release from straw (Oryza sativa L.) of different rice varieties using perfusion system. Plant Soil 223:1–11

Walkley A, Black CA (1934) Estimation of organic carbon by chromic acid titration method. Soil Sci 37:29–38

Willis TM, Black AS, Meyer WS (1997) Estimates of deep percolation beneath cotton in the Macquarie Valley. Irrig Sci 17:141–150

Zhang L, Lin S, Bouman BAM, Xue C, Wei F, Tao H, Yang X, Wang H, Zhao D, Dittert K (2009) Response of aerobic rice growth and grain yield to N fertilizer at two contrasting sites near Beijing, China. Field Crop Res 114:45–53

Zhou S, Nishiyama K, Watanabe Y, Hosomi M (2009) Nitrogen budget and ammonia volatilization in paddy fields fertilized with liquid cattle waste. Water Air Soil Pollut 201:135–147
About this article
Cite this article
Kadiyala, M.D.M., Mylavarapu, R.S., Li, Y.C. et al. Uptake efficiency of 15N-urea in flooded and aerobic rice fields under semi-arid conditions. Paddy Water Environ 13, 545–556 (2015). https://doi.org/10.1007/s10333-014-0473-8
Received:

Accepted:

Published:

Issue Date:
Keywords
Aerobic rice

15N-labeled nitrogen

Nitrogen use efficiency

Residual N