Abstract
Even in a country with a large population and rapid population growth, there can be labor shortages in the agricultural sector, because of outmigration of the able-bodied work force. The System of Rice Intensification (SRI) is not necessarily more labor-intensive once the methods have been learned, but the initial labor requirements can be a barrier to adoption, and farmers with large land areas cannot find the labor needed to use these more productive methods. Recognizing this problem, a set of agricultural implements have been designed for mechanizing the operations of SRI, with a view to reducing water requirements as well as labor requirements because the current conditions for agricultural production in the Punjab region of Pakistan include water scarcity and poor water quality as well as labor shortages. This article reports on the process of mechanizing SRI production in Punjab, which has been quite successful so far. Average yield is considerably increased with a 70% reduction in water requirements and a similar reduction in labor needs. The machinery and methods have been further adapted to other crops, being grown on permanent-raised beds, so that SRI with organic fertilization is combined with Conservation Agriculture. This combination is referred to as "paradoxical agriculture" because it enables farmers to achieve higher outputs with reduced inputs.
Access options
Buy single article
Instant access to the full article PDF.
USD 39.95
Price excludes VAT (USA)
Tax calculation will be finalised during checkout.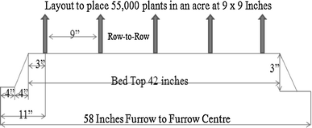 References
Arif M (2010) Effect of organic and inorganic K sources and system of rice intensification on growth and yield of genotypically varying rice cultivars. PhD thesis for Institute of Soil and Environmental Sciences, University of Agriculture, Faisalabad, Pakistan

Crowder DW, Northfield TD, Strand MR, Snyder WE (2010) Organic agriculture promotes evenness and natural pest control. Nature 466:109–112

DeDatta SK (1981) The principles and practices of rice production. Wiley, New York

Friedrich T, Kassam AH, Shaxson F (2009) Conservation agriculture. In: Agriculture for developing countries, Annex 2. Science and Technology Options Assessment (STOA) Project. European Technology Assessment Group, Karlsruhe

Kassam AH, Friedrich T, Shaxson F, Pretty J (2009) The spread of conservation agriculture: justification, sustainability and uptake. Int J Agric Sustain 7:292–320

McHugh AD, Tullberg JN, Freebairn DM (2009) Controlled traffic farming restores soil structure. Soil Tillage Res 104:172–1645

Sharif A (2010) Yield data on 'other crops' being raised on permanent raised beds using SRI principles with mechanization. http://ciifad.cornell.edu/sri/countries/pakistan/pakSCIother_crops10.pdf

Tullberg JN, Yule DF, McGarry D (2007) Controlled traffic farming—from research to adoption in Australia. Soil Tillage Res 97:272–281

Uphoff N, Kassam AH (2009) System of Rice Intensification (SRI). In: Agriculture for developing countries, Annex 3. Science and Technology Options Assessment (STOA) Project. European Technology Assessment Group, Karlsruhe

Uphoff N, Ball A, Fernandes ECM, Herren H, Husson O, Laing M, Palm CA, Pretty J, Sanchez PA, Sanginga N, Thies JE (eds) (2006) Biological approaches to sustainable soil systems. CRC Press, Boca Raton, FL

World Bank (2007) Pakistan: Promoting rural growth and poverty reduction. Report No. 39303-PK. South Asia Department, World Bank, Washington, DC. http://siteresources.worldbank.org/PAKISTANEXTN/Resources/293051-1177200597243/ruralgrowthandpovertyreduction.pdf

Yunus M (2010) Building social business: the new kind of capitalism that serves humanity's most pressing needs. Public Affairs Books, New York
About this article
Cite this article
Sharif, A. Technical adaptations for mechanized SRI production to achieve water saving and increased profitability in Punjab, Pakistan. Paddy Water Environ 9, 111–119 (2011). https://doi.org/10.1007/s10333-010-0223-5
Received:

Revised:

Accepted:

Published:

Issue Date:

DOI: https://doi.org/10.1007/s10333-010-0223-5
Keywords
Conservation agriculture

Mechanization

No-till

Organic agriculture

Paradoxical agriculture

System of rice intensification