Abstract
The objective of this research was to investigate the effect of water stress in regulated deficit irrigation (RDI) on the yield of soybean growing on Ultisol soil. This research was conducted under plastic house on the experimental farm of Lampung Polytechnique from August to November 2004. The water stress treatments in regulated deficit irrigation were ET1 (1.0 × ETc), ET2 (0.8 × ETc), ET3 (0.6 × ETc), ET4 (0.4 × ETc) and ET5 (0.2 × ETc), arranged in a randomized block design with four replications. ETc means crop evapotranspiration under standard condition, which was well watered. For example, the ET2 (0.8 × ETc) treatment means that the amount of supplied water per a day is the same as the crop adjustment evapotranspiration (ETcadj) with the value 0.8 of water stress coefficient (K s). The RDI treatments were carried out just at vegetative phase and its treatments were stopped at the beginning of flowering phase, and afterwards the treatments were watered at 1.0 × ETc. The results showed that since week II, the soybean experienced stress throughout the growth period except ET2 treatment. ET2 treatment started to be stressed at week V and continued to be stressed until the harvest time. At the ET3 treatment, the critical water content (θc) of soybean was reached at week II, and the θc was 0.24 m3/m3 on the average. The RDI at vegetative period significantly affected the yield. The highest yield was ET1 (35.2 g/plant), followed by ET2 (31.0 g/plant), ET3 (18.1 g/plant), ET4 (7.6 g/plant), and ET5 (3.3 g/plant). The optimal water management of soybean with the highest yield efficiency was regulated deficit irrigation with water stress coefficient (K s) of 0.80 for vegetative phase.
This is a preview of subscription content, log in to check access.
Access options
Buy single article
Instant access to the full article PDF.
US$ 39.95
Tax calculation will be finalised during checkout.
Subscribe to journal
Immediate online access to all issues from 2019. Subscription will auto renew annually.
US$ 79
Tax calculation will be finalised during checkout.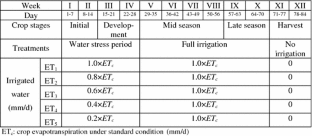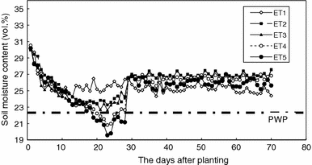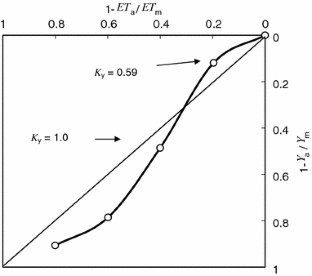 References
Allen RG, Pereira LS, Raes D, Smith M (1998) Crop evapotranspiration, guidelines for computing crop water requirements. Irrigation and drainage paper No. 56, FAO, Rome, Italy: p 301

Baharsyah Y, Suardi JD, Las I (1985) The relation between climate and soybean growth. Bogor University and the research institute for food crops. The research center and development of food crops, Bogor, pp 87–101

Bustomi Rosadi RA, Afandi, Senge M, Ito K, Adomako JT (2005) Critical water content and water stress coefficient of soybean (Glycine Max [L.] Merr.) under deficit irrigation. J Int Soc Paddy Water Environ Eng 3(4):219–223

Doorenbos J, Kassam AH (1979) Yield response to water. FAO, Roma, pp 1–57

Fagi AM, Tangkuman F (1985) Water management for soybean. Food crops research institute, Sukamandi, pp 135–138

Kirda C, Moutonnet P, Hera C, Nielsen DR (1999) Crop yield response to deficit irrigation. Kluwer, Dordrecht, The Netherlands, pp 21–38

Marwoto D, Swastika KS, Simatupang P (2005) Soybean development and research policy in Indonesia, Workshop of soybean development on sub-optimal land. Balitkabi Malang, July 26

Nautiyal PC, Yoshi YC, Dayal D (2000) Deficit irrigation practices. Water reports No. 22, FAO, Rome, Italy. http://www.fao.org/docrep/004/Y3655E/y3655e00.htm

The Indonesian central bureau of statistics (2003) Statistics Indonesia, Jakarta
Acknowledgment
Thanks are due to Omi Istiawati for her help in conducting this experiment.
About this article
Cite this article
Bustomi Rosadi, R.A., Afandi, Senge, M. et al. The effect of water stress in regulated deficit irrigation on soybean yield (Glycine max [L.] Merr.). Paddy Water Environ 5, 163–169 (2007). https://doi.org/10.1007/s10333-007-0080-z
Received:

Accepted:

Published:

Issue Date:
Keywords
Ultisol

Water stress coefficient

Yield efficiency

Optimal water management