Abstract
The origins and taxonomy of the introduced vervet monkey population in Dania Beach, Florida has been unconfirmed due to a lack of documentation and genetic research. Our goal was to determine the introduction history, species identification, and geographic origins of the monkeys. Through interviews, historical archives, and popular media, we traced the monkeys to an escape from the Dania Chimpanzee Farm in 1948. The facility imported primates from Africa for medical research purposes. Historical archives suggest the monkeys were caught in Sierra Leone. We tested the hypothesis of West African origins using three genetic markers: one mitochondrial DNA gene (cytochrome b) and two fragments from the Y-chromosome, the sex-determining gene and the zinc-finger gene. We ran Bayesian and maximum-likelihood analyses to reconstruct phylogenetic trees. Results from all loci confirmed the species identification is Chlorocebus sabaeus. We found no variation among the sampled individuals and found the cytochrome b haplotype to be a complete match to a C. sabaeus sample from Senegal. Phylogenetic analyses showed strong support for the Dania Beach mitochondrial and Y-chromosome lineages to group within a monophyletic C. sabaeus clade endemic to West Africa. Our study provides critical baseline information to the scientific community about a little-known population of Chlorocebus monkeys that have adapted to a novel environment in the southeastern United States.
Access options
Buy single article
Instant access to the full article PDF.
US$ 39.95
Tax calculation will be finalised during checkout.
Subscribe to journal
Immediate online access to all issues from 2019. Subscription will auto renew annually.
US$ 79
Tax calculation will be finalised during checkout.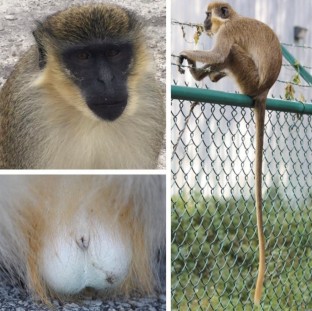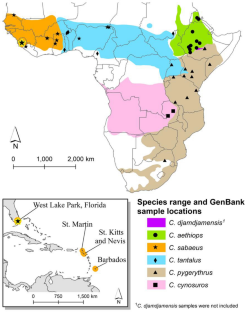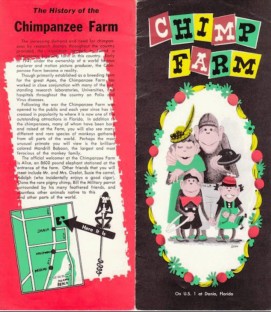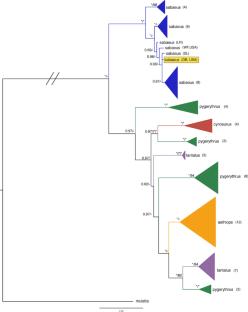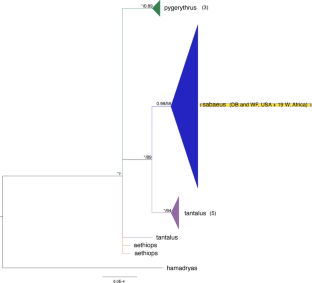 References
Anderson CJ, Hostetler ME, Sieving KE, Johnson SA (2016) Predation of artificial nests by introduced rhesus macaques (Macaca mulatta) in Florida. Biol Invas, USA. https://doi.org/10.1007/s10530-016-1195-1

Anderson CJ, Hostetler ME, Johnson SA (2017) History and status of introduced non-human primate populations in Florida, USA. Southeast Nat 16(1):19–36

Avise JC (2004) Molecular markers, natural history, and evolution, 2nd edn. Springer, Sunderland

Avise JC (2009) Phylogeography: retrospect and prospect. J Biogeogr 36(1):3–15

Bernard HR (2006) Research methods in anthropology: qualitative and quantitative approaches. Library (Vol. 4th). Altramir Press, Lanham. http://www.loc.gov/catdir/toc/ecip0515/2005018836.html

Brown J (2011) Dania Beach monkeys, endangered, wildlife officials warn. South Florida Sun Sentinel. http://articles.sun-sentinel.com/2011-01-15/news/sfl-dania-beach-monkeys-endangered-20110115_1_vervets-spider-monkeys-monkey-cage. Accessed 15 Mar 2018

Chauhan A, Pirta RS (2010) Public opinion regarding human-monkey conflict in Shimla, Himachal Pradesh. J Hum Ecol 30(2):105–109. https://doi.org/10.1080/09709274.2010.11906279

Cheney DL, Seyfarth RM, Andelman SJ, Lee PC (1988) Reproductive success in vervets. In: Clutton-Brock TH (ed) Reproductive success: studies of individual variation in contrasting breeding systems. University of Chicago Press, Chicago, pp 384–402

Cramer JD, Gaetano T, Gray JP, Grobler P, Lorenz JG, Freimer NB et al (2013) Variation in scrotal color among widely distributed vervet monkey populations (Chlorocebus aethiops pygerythrus and Chlorocebus aethiops sabaeus). Am J Primatol 75(7):752–762. https://doi.org/10.1002/ajp.22156

Cunningham D (2011) Sight-seeing boats in mid-twentieth century Broward county. In: Broward Legacy, vol 31, pp 41–53

Decker DJ, Gavin TA, Greer K (1987) Public Attitudes toward a Suburban Deer Herd. Wildl Soc Bull (1973–2006) 15(2):173–180

Dore K (2013) An anthropological investigation of the dynamic human vervet (Chlorocebus aethiops sabaeus) interface in St. Kitts, West Indies. University of Wisconsin

Dore KM (2017) Ethnophoresy. Int Encycl Primatol 2003:1–7. https://doi.org/10.1002/9781119179313.wbprim0272

Dorst J (1970) A field guide to larger mammals of Africa. Houghton Mifflin Company, Boston

Fleshler D (2015) Dania Beach mangroves full of monkey business. South Florida Sun Sentinel, pp A1, A14

Florida Fish and Wildlife Conservation Commission (2020) Florida Fish and Wildlife Conservation Commission. https://myfwc.com/wildlifehabitats/nonnatives/mammals/monkeys/

Goodnough A (2004). Forget the gators: exotic pets run wild in Florida. The New York Times. http://www.nytimes.com/2004/02/29/us/forget-the-gators-exotic-pets-run-wild-in-florida.html?_r=0

Groves Colin P (2001) Primate Taxonomy. Smithsonian Inst Press. https://doi.org/10.1002/ajpa.20020

Groves CP (2005) Order primates. In: Wilson D, Reeder D (eds) Mammal species of the world: a taxonomic and geographic reference, 3rd edn. Johns Hopkins University Press, Baltimore, pp 111–184

Guy AJ, Stone OML, Curnoe D (2012) Assessment of the release of rehabilitated vervet monkeys into the Ntendeka Wilderness Area, KwaZulu-Natal, South Africa: a case study. Primates 53(2):171–179. https://doi.org/10.1007/s10329-011-0292-0

Haus T, Akom E, Agwanda B, Hofreiter M, Roos C, Zinner D (2013a) Mitochondrial diversity and distribution of African green monkeys (chlorocebus gray, 1870). Am J Primatol 75(4):350–360. https://doi.org/10.1002/ajp.22113

Haus T, Roos C, Zinner D (2013b) Discordance between spatial distributions of Y-chromosomal and mitochondrial haplotypes in African Green Monkeys (Chlorocebus spp.): a result of introgressive hybridization or cryptic diversity? Int J Primatol 34:986–999. https://doi.org/10.1007/s10764-013-9717-5

Hills L (2015) African monkeys thrive near Ft. Lauderdale Airport. United States: WPEC, CBS, Palm Beach County. www.cbs12.com/news/features/special-reports/stories/vid_129.shtml

Huelsenbeck JP, Ronquist F (2005) Bayesian analysis of molecular evolution using MrBayes. In: Dietz K, Gail M, Krickeberg K, Tsiatis A, Samet J (eds) Statistical methods in molecular evolution. Springer, New York City, pp 183–232

Hyler WR (1992) Resource utilization by vervet monkeys in the mangrove communities of Southeastern Florida. Florida Atlantic University

Hyler W (1995) Vervet monkeys in the mangrove ecosystems of southeastern florida.pdf. Florida Sci 58(1):38–43

Jasinska AJ, Schmitt CA, Service SK, Cantor RM, Dewar K, Jentsch JD et al (2013) Systems biology of the vervet monkey. ILAR J 54(2):122–143. https://doi.org/10.1093/ilar/ilt049

Kearse M, Moir R, Wilson A, Stones-Havas S, Cheung M, Sturrock S et al (2012) Geneious Basic: an integrated and extendable desktop software platform for the organization and analysis of sequence data. Bioinformatics 28(12):1647–1649. https://doi.org/10.1093/bioinformatics/bts199

Kingdon J (1971) East African mammal: an atlas of evolution in Africa. Academic Press, New York City

Kingdon J, Gippoliti S (2008) Chlorocebus sabaeus. 10.2305/IUCN.UK.2008.RLTS.T136265A4267012.en

Kumar S, Stecher G, Tamura K (2016) MEGA7: molecular evolutionary genetics analysis version 7.0 for bigger datasets. Mol Biol Evol. https://doi.org/10.1093/molbev/msw054

Lanfear R, Frandsen PB, Wright AM, Senfeld T, Calcott B (2017) Partitionfinder 2: new methods for selecting partitioned models of evolution for molecular and morphological phylogenetic analyses. Mol Biol Evol 34(3):772–773. https://doi.org/10.1093/molbev/msw260

Layne J (1997) Nonindigenous mammals. In: Strangers in paradise: impact and management of nonindigenous species in Florida, pp 157–186

Meier R, Shiyang K, Vaidya G, Ng PKL (2006) DNA barcoding and taxonomy in diptera: a tale of high intraspecific variability and low identification success. Syst Biol. https://doi.org/10.1080/10635150600969864

Miller MA, Pfeiffer W, Schwartz T (2010) Creating the CIPRES Science Gateway for inference of large phylogenetic trees. In: Gateway computing environments workshop. New Orleans, LA, pp 1–8

Miller Mark A, Schwartz T, Pickett B, He S, Klem EB, Scheuermann RH et al (2015) A RESTful API for access to phylogenetic tools via the CIPRES science gateway. Evol Bioinform 11:43–48

Minnich D (1994) The Dania monkey story. Wild World Video Productions, Dania Beach

Pasternak G, Brown LR, Kienzle S, Fuller A, Barrett L, Henzi SP (2013) Population ecology of vervet monkeys in a high latitude, semi-arid riparian woodland. Koedoe. https://doi.org/10.4102/koedoe.v55i1.1078

Patterson L, Kalle R, Downs C (2017) A citizen science survey: perceptions and attitudes of urban residents towards vervet monkeys. Urban Ecosyst 20(3):617–628. https://doi.org/10.1007/s11252-016-0619-0

Patterson L, Kalle R, Downs C (2018) Factors affecting presence of vervet monkey troops in a suburban matrix in KwaZulu-Natal, South Africa. Landsc Urban Plann 169(June 2016):220–228. https://doi.org/10.1016/j.landurbplan.2017.09.016

Pimentel D, Zuniga R, Morrison D (2005) Update on the environmental and economic costs associated with alien-invasive species in the United States. Ecol Econ. https://doi.org/10.1016/j.ecolecon.2004.10.002

Powell L (2015) Monkey business. United States: WSVN Channel 7, Miami/Fort Lauderdale

Rambaut A (2016) FigTree. http://tree.bio.ed.ac.uk/software/figtree/

Riley EP, Wade TW (2016) Adapting to Florida's riverine woodlands: the population status and feeding ecology of the Silver River rhesus macaques and their interface with humans. Primates. https://doi.org/10.1007/s10329-016-0517-3

Roos C, Zinner D, Kubatko LS, Schwarz C, Yang M, Meyer D et al (2011) Nuclear versus mitochondrial DNA: evidence for hybridization in colobine monkeys. BMC Evol Biol. https://doi.org/10.1186/1471-2148-11-77

Schorer E (1948) The Jungle Is Her Rival. The Philadelphia Inquirer, p 166

Simberloff D (2003) How much information on population biology is needed to manage introduced species? Conserv Biol 17(1):83–92. https://doi.org/10.1046/j.1523-1739.2003.02028.x

Simberloff D, Parker IM, Windle PN (2005) Introduced species policy, management, and future research needs. Front Ecol Environ 3(1 SPEC. ISS.):12–20. https://doi.org/10.1890/1540-9295(2005)003%5b0012:ISPMAF%5d2.0.CO;2

Struhsaker TT (1967) Behavior of vervet monkeys and other cercopithecines. Science

Svardal H, Jasinska A, Schmitt CA, Huang Y, Weinstock G, Grobler P et al (2017) Population genomics disentangles taxonomic relationships and identifies ancient hybridization in the genus Chlorocebus. Am J Phys Anthropol 162:388

Swofford DL (2011) PAUP* phylogenetic analysis using parsimony (*and other methods). Sinauer Associates, Sunderland

Turner TR, Schmitt CA, Danzy Cramer J (2019) Ethnoprimatology and Savanna Monkeys. In: Turner TR, Schmitt CA, Cramer JD (eds) Savanna Monkey; the genus Chlorocebus. Cambridge University Press, Cambridge, pp 235–243

Westley B (1950) Chimp on my shoulder. E.P. Dutton, Boston

Wheeler RJ (1990) Behavioral characteristics of the squirrel monkeys at the Bartlett Estate, Ft. Lauderdale. Florida Sci 53(4):312–316

Wickman PR (2012) James "E." Billie: the man who would be king. In warriors without war: Seminole leadership in the late twentieth century. The University of Alabama Press, Tuscaloosa, p 63

Wisely SM, Sayler KA, Anderson CJ, Boyce CL, Klegarth AR, Johnson SA (2018) Macacine herpesvirus 1 antibody prevalence and DNA shedding among invasive rhesus macaques, Silver Springs State Park, Florida, USA. Emerg Infect Dis 24(2):345–351. https://doi.org/10.3201/eid2402.171439

Wolfe L (2002) Rhesus macaques: a comparative study of two sites Jaipur, India and Silver Springs, Florida. In: Primates face to face: the conservation implications of human-nonhuman primate interconnections, pp 310–330

Wolfe LD, Peters E (1987) History of the free-ranging rhesus monkeys (Macaca mulatta) of Silver Springs, Florida: 1938–1986. Florida Sci 50(4):234–244

Wolfheim JH (1983) Primates of the world: distribution, abundance, and conservation

Wright TF, Eberhard JR, Hobson EA, Avery ML, Russello MA (2010) Behavioral flexibility and species invasions: the adaptive flexibility hypothesis. Ethol Ecol Evol 22(4):393–404. https://doi.org/10.1080/03949370.2010.505580

Zwickl DJ (2006) Genetic algorithm approaches for the phylogenetic analysis of large biological sequence datasets under the maximum likelihood criterion. University of Texas at Austin
Acknowledgements
The authors wish to thank (1) Cheryl Ruiz, head field research assistant, (2) Broward County Parks and Recreation, (3) participating businesses that assisted with this study, and (4) Emma Larkin-Gero, FAU Primatology Lab technician. Funding for the genetic research was from the FAU Primatology Lab.
Additional information
Publisher's Note
Springer Nature remains neutral with regard to jurisdictional claims in published maps and institutional affiliations.
Supplementary Information
Below is the link to the electronic supplementary material.
About this article
Cite this article
Williams, D.M., Almanza, S.M., Sifuentes-Romero, I. et al. The history, taxonomy, and geographic origins of an introduced African monkey in the southeastern United States. Primates 62, 617–627 (2021). https://doi.org/10.1007/s10329-021-00890-1
Received:

Accepted:

Published:

Issue Date:
Keywords
Vervet

Chlorocebus sabaeus

Introduced primate

Source population

Green monkey

Genetic markers

Florida

USA