Abstract
Increasing population density can increase infectious disease risk and thus reduce population growth and size. Host-parasite interactions of threatened animals that remain in small protected forest fragments therefore need to be monitored carefully. Due to extreme conservation efforts, the mountain gorilla (Gorilla beringei beringei) population in the 450-km2 Virunga Massif has more than doubled since 1973, reaching 604 individuals in 2016. To better understand changes in the transmission risks of soil-borne and other enteric pathogens for mountain gorillas, we determined defecation outputs of different age-sex classes and the diurnal variation in feces deposition. We weighed 399 wet fecal samples deposited at nest sites and on trails between nest sites by gorillas of varying age and sex, determined by lobe diameter, from five social groups (n = 58 gorillas) that range in the Volcanoes National Park, Rwanda. We found increasing daily average defecation outputs with increasing age-sex class (infants, 435 g; juveniles, 1346 g; medium-sized gorillas, 2446 g; silverbacks, 3609 g). Gorillas deposited two– to threefold the amount of feces at nest sites compared to on trails, suggesting that nest sites may function as hotspots for enteric pathogen infections through direct contact or when gorillas ingest foods contaminated with infectious larvae during site revisits in intervals matching the maturation period of environmentally transmitted gastrointestinal parasites. In combination with ranging and demographic data, these findings will enable the modeling of spatiotemporal variation in soil contamination and infectious disease risk for Virunga gorillas as their population density continues to increase.
This is a preview of subscription content, log in to check access.
Access options
Buy single article
Instant access to the full article PDF.
US$ 39.95
Tax calculation will be finalised during checkout.
Subscribe to journal
Immediate online access to all issues from 2019. Subscription will auto renew annually.
US$ 99
Tax calculation will be finalised during checkout.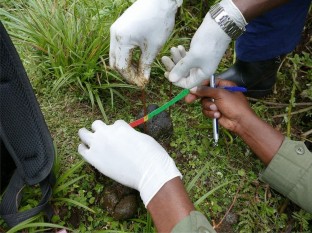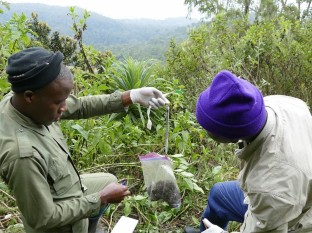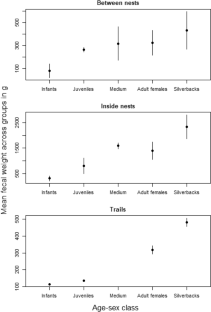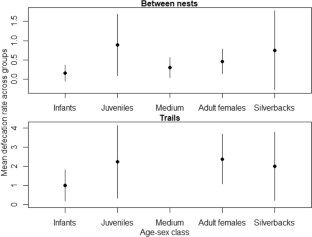 Availability of data and material
Data are available online.
References
Arneberg P (2002) Host population density and body mass as determinants of species richness in parasite communities: comparative analyses of directly transmitted nematodes of mammals. Ecography 25(1):88–94. https://doi.org/10.1034/j.1600-0587.2002.250110.x

Arneberg P, Skorping A, Grenfell B, Read AF (1998) Host densities as determinants of abundance in parasite communities. Proc R Soc B Biol Sci 265(1403):1283–1289. https://doi.org/10.1098/rspb.1998.0431

Bush GK, Ikirezi M, Daconto G, Gray M, Fawcett K (2010) Assessing impacts from community conservation interventions around Parc National des Volcans, Rwanda

Caillaud D, Ndagijimana F, Giarrusso AJ, Vecellio V, Stoinski TS (2014) Mountain gorilla ranging patterns: influence of group size and group dynamics. Am J Primatol 76(8):730–746. https://doi.org/10.1002/ajp.22265

Chapman NG (2004) Faecal pellets of Reeves' muntjac, Muntiacus reevesi: defecation rate, decomposition period, size and weight. Eur J Wildl Res 50(3):141–145. https://doi.org/10.1007/s10344-004-0053-0

Cummings JH (1978) Diet and transit through the gut. J Plant Foods 3(1–2):83–95. https://doi.org/10.1080/0142968x.1978.11904206

Doležlová J, Pafčo B, Modrý D, Pomajbíková K (2018) Parasite quantification. In: Modrý D, Pafčo B, Petrželková KJ, Hasegawa H (eds) Parasites of apes: an atlas of coproscopic diagnostics. Chimaira, Frankfurt, pp 34–38

Doran DM (1997) Ontogeny of locomotion in mountain gorillas and chimpanzees. J Hum Evol 32(4):323–344. https://doi.org/10.1006/jhev.1996.0095

Fossey D (1983) Gorillas in the mist. Houghton Mifflin, New York

Galbany J, Abavandimwe D, Vakiener M, Eckardt W, Mudakikwa A, Ndagijimana F, McFarlin SC et al (2017) Body growth and life history in wild mountain gorillas (Gorilla beringei beringei) from Volcanoes National Park, Rwanda. Am J Phys Anthropol 163(3):570–590. https://doi.org/10.1002/ajpa.23232

Gillespie TR, Chapman CA, Greiner EC (2005) Effects of logging on gastrointestinal parasite infections and infection risk in African primates. J Appl Ecol 42(4):699–707. https://doi.org/10.1111/j.1365-2664.2005.01049.x

Graczyk TK, Bosco-Nizeyi J, Ssebide B, Thompson RCA, Read C, Cranfield MR (2002) Anthropozoonotic Giardia duodenalis genotype (assemblage) a infections in habitats of free-ranging human-habituated gorillas, Uganda. J Parasitol 88(5):905. https://doi.org/10.2307/3285529

Grueter CC, Ndamiyabo F, Plumptre AJ, Abavandimwe D, Fawcett KA, Robbins MM (2012) Long-term temporal and spatial dynamics of food availability for endangered mountain gorillas in Volcanoes National Park, Rwanda. Am J Primatol 14:1–14

Harcourt AH, Fossey D (1981) The Virunga gorillas: decline of an "island" population. Afr J Ecol 19:83–97

Harcourt AH, Stewart KM (1978) Coprophagy by wild mountain gorilla. East Afr Wildl J 16:223–225

Hassell JM, Blake DP, Cranfield MR, Ramer J, Hogan JN, Bosco Noheli J, Hermosilla C et al (2013) Occurrence and molecular analysis of Balantidium coli in mountain gorilla (Gorilla beringei beringei) in the Volcanoes National Park, Rwanda. J Wildl Dis 49(4):1063–1065. https://doi.org/10.7589/2013-02-041

Hausfater G, Meade BJ (1982) Alternation of sleeping groves by yellow baboons (Papio cynocephalus) as a strategy for parasite avoidance. Primates 23(2):287–297. https://doi.org/10.1007/BF02381167

Hickey JR, Basabose A, Gilardi KV, Greer D, Nampindo S, Robbins MM, Stoinski, TS (2018) Gorilla beringei ssp. beringei. The IUCN Red List of Threatened Species 2018:e.T39999A17989719. https://doi.org/10.2305/IUCN.UK.2018-2.RLTS.T39999A17989719.en

Hickey JR, Granjon AC, Vigilant L, Eckardt W, Gilardi K, Cranfield M, Robbins MM et al. (2019) Virunga 2015-2016 surveys: monitoring mountain gorillas, other select mammals, and illegal activities, Kigali, Rwanda

Hillemeier C (1995) An overview of the effects of dietary fiber on gastrointestinal transit. Pediatrics 96(5 II SUPPL.):997–999

Hogan JN, Miller WA, Cranfield MR, Ramer J, Hassell J, Noheri JB, Gilardi KVK et al (2014) Giardia in mountain gorillas (Gorilla beringei beringei), forest buffalo (Synercus caffer), and domestic cattle in Volcanoes National Park, Rwanda. J Wildl Dis 50(1):21–30. https://doi.org/10.7589/2012-09-229

Holasová E, Pavlásek I, Kotrlá B (1989) Migration of the infective larvae of sheep gastrointestinal nematodes. Acta Vet Brno 58(4):369–378. https://doi.org/10.2754/avb198958040369

Huffman MA, Gotoh S, Turner LA, Hamai M, Yoshida K (1997) Seasonal trends in intestinal nematode infection and medicinal plant use among chimpanzees in the Mahale Mountains Tanzania. Primates 38(2):111–125. https://doi.org/10.1007/BF02382002

Kalema-Zikusoka G, Rothman JM, Fox MT (2005) Intestinal parasites and bacteria of mountain gorillas (Gorilla beringei beringei) in Bwindi Impenetrable National Park, Uganda. Primates 46(1):59–63. https://doi.org/10.1007/s10329-004-0103-y

Lunt N, Mhlanga MR (2011) Defecation rate variability in the common duiker: importance of food quality, season, sex and age. Afr J Wildl Res 41(1):29–35. https://doi.org/10.3957/056.041.0113

Masi S, Chauffour S, Bain O, Todd A, Guillot J, Krief S (2012) Seasonal effects on great ape health: a case study of wild chimpanzees and western gorillas. PLoS ONE. https://doi.org/10.1371/journal.pone.0049805

Mfitilodze MW, Hutchinson GW (1987) Development and survival of free-living stages of equine strongyles under laboratory conditions. Vet Parasitol 23(1–2):121–133. https://doi.org/10.1016/0304-4017(87)90030-6

Miquelle D (1983) Summer defecation-urination rates and volumes of Moose. J Wildl Manage 47(4):1230–1233

Mudakikwa AB, Sleeman JM, Foster JW, Madder LL, Patton S (1998) An indicator of human impact: gastrointestinal parasites of mountain gorillas (Gorilla gorilla beringei) from the Virunga Volcanoes region, Central Africa. In: Proceedings of the AAZV/AAWA Joint Conference, Omaha, Nebraska, pp 436–437

Ndamukong KJN, Ngone MM (1996) Development and survival of Haemonchus contortus and Trichostrongylus sp. on pasture in Cameroon. Trop Anim Health Prod 28(3):193–198. https://doi.org/10.1007/BF02240933

Nielsen MK, Kaplan RM, Thamsborg SM, Monrad J, Olsen SN (2007) Climatic influences on development and survival of free-living stages of equine strongyles: implications for worm control strategies and managing anthelmintic resistance. Vet J 174(1):23–32. https://doi.org/10.1016/j.tvjl.2006.05.009

Nolan MJ, Unger M, Yeap YT, Rogers E, Millet I, Harman K, Blake DP et al (2017) Molecular characterisation of protist parasites in human-habituated mountain gorillas (Gorilla beringei beringei), humans and livestock, from Bwindi impenetrable National Park, Uganda. Parasites Vectors 10(1):1–12. https://doi.org/10.1186/s13071-017-2283-5

Pafčo B, Benavides JA, Pšenková-Profousová I, Modrý D, Červená B, Shutt KA, Petrželková KJ (2018) Correction to: do habituation, host traits and seasonality have an impact on protist and helminth infections of wild western lowland gorillas? Parasitol Res 116:3401–3410. https://doi.org/10.1007/s00436-017-5708-3

Poirotte C, Benhamou S, Mandjembe A, Willaume E, Kappeler PM, Charpentier MJE (2017) Gastrointestinal parasitism and recursive movements in free-ranging mandrills. Anim Behav 134:87–98. https://doi.org/10.1016/j.anbehav.2017.10.013

Putman RJ (1984) Facts from faeces. Mamm Rev 14(2):79–97

Raj SJ (2013) Intestinal parasite infections in the human and mountain gorilla populations of the Virunga Volcanoes Region. Emory University

Robbins MM, Robbins AM (2004) Simulation of the population dynamics and social structure of the Virunga Mountain gorillas. Am J Primatol 63(4):201–223. https://doi.org/10.1002/ajp.20052

Robbins MM, Gray M, Fawcett KA, Nutter FB, Uwingeli P, Kagoda E, Robbins AM et al (2011) Extreme conservation leads to recovery of the Virunga mountain gorillas. PLoS ONE. https://doi.org/10.1371/journal.pone.0019788

Rogers ME, Voysey BC, Mcdonald KE, Parnell RJ, Tutin CEG (1998) Lowland gorillas and seed dispersal: the importance of nest sites. Am J Primatol 45(1):45–68. https://doi.org/10.1002/(SICI)1098-2345(1998)45:1%3c45::AID-AJP5%3e3.0.CO;2-W

Rose JH, Small AJ (1980) Observations on the development and survival of the free-living stages of Oesophagostomum dentatum both in their natural environments out-of-doors and under controlled conditions in the laboratory. Parasitology 81(3):507–517. https://doi.org/10.1017/S0031182000061898

Sak B, Petrzelkova KJ, Kvetonova D, Mynarova A, Shutt KA, Pomajbikova K, Kvac M et al (2013) Long-term monitoring of microsporidia, Cryptosporidium and Giardia infections in Western lowland gorillas (Gorilla gorilla gorilla) at different stages of habituation in Dzanga Sangha Protected Areas, Central African Republic. PLoS ONE. https://doi.org/10.1371/journal.pone.0071840

Sarabian C, Macintosh AJJ (2015) Hygienic tendencies correlate with low geohelminth infection in free-ranging macaques. Biol Let. https://doi.org/10.1098/rsbl.2015.0757

Saunders LM, Tompkins DM, Hudson PJ (2001) Strategies for nematode transmission: selective migration of Trichostrongylus tenuis infective larvae. J Helminthol 75(4):367–372. https://doi.org/10.1017/S0022149X01000579

Schaller GB (1963) The mountain gorilla: ecology and behavior. University of Chicago Press, Chicago

Sleeman JM, Meader LL, Mudakikwa AB, Foster JW, Volcans DES, Meader L (2000) Gastrointestinal parasites of mountain gorillas (Gorilla gorilla beringei) in the Parc National. J Zoo Wildl Med 31(3):322–328

Spatt DM (1990) The role of helminths in the biological control of mammals. Int J Parasitol 20(4):543–550

Todd FA, Hjalmar SK, Chloé C, Walsh PD (2008) Using dung to estimate gorilla density: modeling dung production rate. Int J Primatol 29:549–563. https://doi.org/10.1007/s10764-008-9247-8

Tompkins DM, Dobson AP, Arneberg P, Begon ME, Cattadori IM, Greenman JV, Wilson K (2002) Parasites and host population dynamics. In: Hudson PJ, Rizzoli AP, Grenfell BT, Heesterbeek H, Dobson AP (eds) The ecology of wildlife diseases, 1st edn. Oxford University Press, Oxford, p 240

Uye S, Kaname K (1994) Relations between fecal pellet volume and body size for major zooplankters of the Inland Sea of Japan. J Oceanogr 50(1):43–49. https://doi.org/10.1007/BF02233855

van der Hoek Y, Emmanuel F, Eckardt W, Kwizera I, Derhé M, Caillaud D, Tuyisingize D et al (2019) Recent decline in vegetative regeneration of bamboo (Yushania alpina), a key food plant for primates in Volcanoes National Park, Rwanda. Sci Rep. https://doi.org/10.1038/s41598-019-49519-w

Watts DP (1998) Long-term habitat use by mountain gorillas (Gorilla gorilla beringei). 1. Consistencey, variation, and home range size and stability. Int J Primatol 19(4):651–679

Wrick KL, Robertson JB, Van Soest PJ, Lewis BA, Rivers JM, Roe DA, Hackler LR (1983) The influence of dietary fiber source on human intestinal transit and stool output. J Nutr 113(8):1464–1479. https://doi.org/10.1093/jn/113.8.1464
Acknowledgments
The authors thank the Rwandan Development Board and the VNP authorities for supporting this project. We are very grateful to Cleveland Metroparks Zoo for funding this B.Sc. research. David Modry was supported by the Czech Science Foundation (18-24345S). We are also indebted to Kristen Lukas and Austin Leeds at CMZ for their dedication in providing training in essential research skills to B.Sc. students from the University of Rwanda that helps them to successfully complete their theses. We are also grateful to the Dian Fossey Gorilla Fund field teams and Pacifique Nshimiyimana for their tireless assistance during the data collection. We are also grateful to Klara Petrzlkova for her very constructive input during the study, Robin Morrison for proofreading the manuscript, and to the two anonymous reviewers who helped to significantly improve the manuscript.
Funding
Funding for this study was provided by Cleveland Metroparks Zoo.
Ethics declarations
Conflict of interest
The authors declare that they have no conflict of interest.
Ethical approval
All research reported in this manuscript adhered to the legal requirements of Rwanda.
Additional information
Publisher's Note
Springer Nature remains neutral with regard to jurisdictional claims in published maps and institutional affiliations.
Electronic supplementary material
Below is the link to the electronic supplementary material.
About this article
Cite this article
Sinayitutse, E., Modry, D., Slapeta, J. et al. Daily defecation outputs of mountain gorillas (Gorilla beringei beringei) in the Volcanoes National Park, Rwanda. Primates (2020). https://doi.org/10.1007/s10329-020-00874-7
Received:

Accepted:

Published:
Keywords
Defecation rate

Fecal weights

Infectious disease risk

Age-sex class

Nest sites

Trails