Abstract
In a captive environment, it is challenging to ensure the highest level of social and psychological well-being for species with naturally complex social organizations and structures. There is a growing need to meet the social requirements for individuals of these species, especially chimpanzees, housed in zoos, sanctuaries, rehabilitation centers, and laboratories. Complex social interactions and broader social structures can be aptly described via social network analysis. We expand on the literature regarding captive chimpanzee social networks, but uniquely consider their human caregivers as potential social partners. We observed the social interactions between one group of seven chimpanzees (Pan troglodytes) and their caregivers in six behavioral contexts (nearest neighbor, play, aggression, grooming, grooming solicitation, and social vigilance) at Chimpanzee Sanctuary Northwest (USA). By constructing multiple chimpanzee and chimpanzee-caregiver social networks, our results indicate that caregivers are integrated partners in this group's social structure. Additionally, we observed that the type and strength of chimpanzee-caregiver relationships varied between the chimpanzees. These results support the notion that caregivers offer additional opportunities (i.e., beyond those with conspecifics) for captive chimpanzees to construct and maintain meaningful social relationships. Our results show that considerations of captive primate social dynamics should include caregivers as potentially important social partners. Our results also highlight the importance of evaluating individual chimpanzee characteristics when developing philosophies of care and adopting husbandry practices that offer fulfilling social niches. Our findings bear influence on contemporary discussions of interspecies social relationships, captive welfare, health, translocation, and husbandry protocols for captive chimpanzees and other nonhuman primates.
Access options
Buy single article
Instant access to the full article PDF.
USD 39.95
Price excludes VAT (USA)
Tax calculation will be finalised during checkout.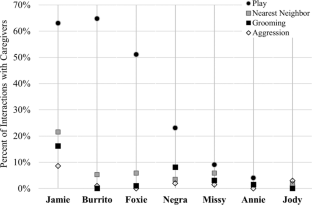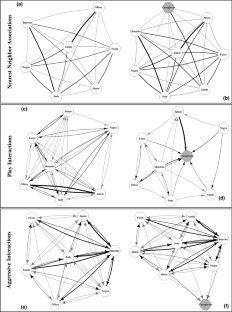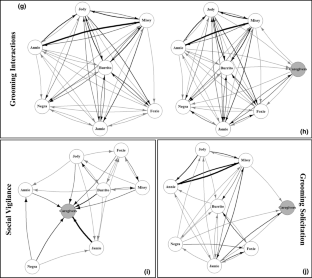 References
Altmann J (1974) Observational study of behavior: sampling methods. Behaviour 49:227–266

Association of Zoos and Aquariums (2010) Chimpanzee (Pan troglodytes) care manual. Association of Zoos and Aquariums, Ape Taxon Advisory Group, Silver Spring

Aureli F, Schino G (2019) Social complexity from within: how individuals experience the structure and organization of their groups. Behav Ecol Sociobiol 73:6

Aureli F, Schaffner CM, Boesch C, Bearder SK, Call J, Chapman CA, Holekamp K (2008) Fission-fusion dynamics: new research frameworks. Curr Anthropol 49:627–654

Bloomsmith MA, Clay AW, Lambeth SP, Lutz CK, Breaux SD, Lammey ML, Mareno MC (2019) Survey of behavioral indices of welfare in research chimpanzees (Pan troglodytes) in the United States. J Am Assoc Lab Anim Sci 58:160–177

Borgatti SP, Everett MG, Freeman LC (2002) UCINET for Windows: software for social network analysis. Analytic Technologies, Harvard

Borgatti SP, Everett MG, Johnson JC (2013) Analyzing social networks. Sage, Los Angeles

Case L, Yanagi A, Loeser E, Fultz A (2015) Human-animal relationships: the use of species-typical food calls and chimpanzee (Pan troglodytes) names: welfare-oriented tools to manage sanctuary chimpanzees. Anim Behav Cogn 2:254–266

Chelluri GI, Ross SR, Wagner KE (2013) Behavioral correlates and welfare implications of informal interactions between caretakers and zoo-housed chimpanzees and gorillas. Appl Anim Behav Sci 147:306–315

Clark FE (2011) Space to choose: network analysis of social preferences in a captive chimpanzee community, and implications for management. Am J Primatol 73:748–757

Claxton AM (2011) The potential of the human–animal relationship as an environmental enrichment for the welfare of zoo-housed animals. Appl Anim Behav Sci 133:1–10

Clay AW, Bard KA, Bloomsmith MA (2017) Effects of sex and early rearing condition on adult behavior, health, and well-being in captive chimpanzees (Pan troglodytes). Behav Processes 156:58–76

Cormode G, Krishnamurthy B, Willinger W (2010) A manifesto for modeling and measurement in social media. First Monday 15:1–18

Farine DR, Whitehead H (2015) Constructing, conducting and interpreting animal social network analysis. J Anim Ecol 84:1144–1163

Finn KR, Silk MJ, Porter MA, Pinter-Wooman N (2019) The use of multilayer network analysis in animal behaviour. Anim Behav 149:7–22

Fouts RS (1998) On the psychological well-being of chimpanzees. J Appl Anim Welf Sci 1:65–73

Fouts RS, Abshire M, Bodamer M, Fouts DH (1989) Signs of enrichment: toward the psychological well-being of chimpanzees. In: Segal EF (ed) Housing, care and the psychological wellbeing of captive and labratory primates. Noyes, Park Ridge, pp 378–388

Funkhouser JA, Mayhew JA, Mulcahy JB (2018a) Social network and dominance hierarchy analyses at Chimpanzee Sanctuary Northwest. PLOS ONE 13:e0191898

Funkhouser JA, Mayhew JA, Sheeran LK, Mulcahy JB, Li JH (2018b) Comparative investigations of social context-dependent dominance in captive chimpanzees (Pan troglodytes) and wild Tibetan macaques (Macaca thibetana). Sci Rep 8:13909

Goodall J (1989) Glossary of chimpanzee behaviors. Jane Goodall Institute, Tucson.

Hallgren KA (2012) Computing inter-rater reliability for observational data: an overview and tutorial. Tutor Quant Method Psychol 8:23–34

Hua J, Ahuja N (2013) Chimpanzee sanctuary: "surplus" life and the politics of transspecies care. Am Q 65:619–637

Jensvold ML (2008) Chimpanzee (Pan troglodytes) responses to caregiver use of chimpanzee behaviors. Zoo Biol 27:345–359

Kagan R, Carter S, Allard S (2015) A universal animal welfare framework for zoos. J Appl Anim Welf Sci 18:S1–S10

Kanngiesser P, Sueur C, Riedl K, Grossmann J, Call J (2011) Grooming network cohesion and the role of individuals in a captive chimpanzee group. Am J Primatol 73:758–767

Kappeler PM (2019) A framework for studying social complexity. Behav Ecol Sociobiol 73(13):1–14

Landis B (2016) Personality and social networks in organizations: a review and future directions. J Organ Behav 37:S107–S121

Levé M, Sueur C, Petit O, Matsuzawa T, Hirata S (2016) Social grooming network in captive chimpanzees: does the wild or captive origin of group members affect sociality? Primates 57:73–82

Malone N, Vaughan L, Fuentes A (2000) The role of human caregivers in the post-conflict interactions of captive chimpanzees (Pan troglodytes). Lab Primate Newsl 39:1–3

McCowan B, Beisner BA, Bliss-Moreau E, Vandeleest JJ, Jin J, Hannibal D, Hsieh F (2016) Connections matter: social networks and lifespan health in primate translational models. Front Psychol 7:433

Morimura N, Idani G, Matsuzawa T (2011) The first chimpanzee sanctuary in Japan: an attempt to care for the "surplus" of biomedical research. Am J Primatol 73:226–232

National Institutes of Health (2013) Council of Councils Working Group on the Use of Chimpanzees in NIH-supported Research. Report: https://dpcpsi.nih.gov/council/pdf/FNL_Report_WG_Chimpanzees.pdf. Accessed 30 May 2017

Neal Webb SJ, Hau J, Schapiro SJ (2019) Does group size matter? Captive chimpanzee (Pan troglodytes) behavior as a function of group size and composition. Am J Primatol 81:e22947

Newman MEJ (2004) Fast algorithm for detecting community structure in networks. Phys Rev E Stat Nonlin Soft Matter Phys 69:066133

Price EE, Stoinski TS (2007) Group size: determinants in the wild and implications for the captive housing of wild mammals in zoos. Appl Anim Behav Sci 103:255–264

Ross MR, Niemann T, Wark JD, Heintz MR, Horrigan A, Cronin KA, Shender MA, Gillespie K (2016) ZooMonitor (Version 1) [Mobile application software]. https://zoomonitor.org

Sanz CM, Pollack A, Ketter A, Droigk J, Fouts R (1995) The social hierarchy among five signing chimpanzees. In: Jane Goodall Chimpanzoo Conference 54–69

Schel AM, Rawlings B, Claidière N, Wilke C, Wathan J, Richardson J, Slocombe K (2013) Network analysis of social changes in a captive chimpanzee community following the successful integration of two adult groups. Am J Primatol 75:254–266

Siddula M, Li Y, Cheng X, Tian Z, Cai Z (2019) Anonymization in online social networks based on enhanced equi-cardinal clustering. IEEE Trans Comput Soc Syst 6:809–820

Sueur C, Jacobs A, Amblard F, Petit O, King AJ (2011) How can social network analysis improve the study of primate behavior? Am J Primatol 73:703–719

Valente TW, Pitts SR (2017) An appraisal of social network theory and analysis as applied to public health: challenges and opportunities. Annu Rev Public Health 38:103–118

Whitehead H (2008) Analyzing animal societies: quantitative methods for vertebrate social analysis. University of Chicago Press, Chicago

Whitehead H (2009) SOCPROG programs: analysing animal social structures. Behav Ecol Sociobiol 63:765–778
Acknowledgments
We thank CSNW staff and volunteers for their participation, cooperation, and tolerance during data collection. We appreciate E. K.'s assistance with the interobserver reliability testing. We are grateful to Crickette Sanz, E. A. Quinn, the editors of Primates, and three anonymous reviewers for their thoughtful reviews which greatly improved this manuscript. We are additionally grateful for the financial support of the Pete and Sandra Barlow Award (Central Washington University, Department of Anthropology and Museum Studies), the Debra and Arlen Prentice Award (Central Washington University, Primate Behavior Program), and Central Washington University School of Graduate Studies and Research. Finally, we are indebted to Annie, Burrito, Foxie, Jamie, Jody, Missy, and Negra for allowing us to peer into their social worlds. In this research we followed the American Society of Primatologists Principles for the Ethical Treatment of Non-Human Primates. This project was approved by the Central Washington University Institutional Animal Care and Use Committee (protocol A041701) and Human Subjects Research Council (protocol H17069).
Additional information
Publisher's Note
Springer Nature remains neutral with regard to jurisdictional claims in published maps and institutional affiliations.
Electronic supplementary material
Below is the link to the electronic supplementary material.
About this article
Cite this article
Funkhouser, J.A., Mayhew, J.A., Mulcahy, J. et al. Human caregivers are integrated social partners for captive chimpanzees. Primates 62, 297–309 (2021). https://doi.org/10.1007/s10329-020-00867-6
Received:

Accepted:

Published:

Issue Date:

DOI: https://doi.org/10.1007/s10329-020-00867-6
Keywords
Interspecific social relationships

Captive welfare

Human-animal relationships

Philosophies of care

Social network analysis

Pan troglodytes