Abstract
Object-sorting tasks have been used as a means of assessing the cognitive development of humans. In order to investigate cognitive development from a comparative perspective, an object-sorting task was conducted in a longitudinal face-to-face situation involving three juvenile/adolescent chimpanzees (7–9 years old) and 17 children (2–5 years old). The subjects were requested to place nine blocks of different categories (distinguished by three colors and three shapes) into the cells of a box arrayed in a three-by-three pattern. Chimpanzees showed complete or partial categorical sorting in 24–43% of pre-cued trials. The youngest children had difficulty in completing a trial by placing all nine blocks into the box. Humans older than 2 years succeeded in making a one-to-one correspondence by placing a block in each cell, while the end-state pattern remained random. The children gradually increased their rate of categorical sorting, where objects of one category were placed in the same row/column; this tendency peaked at 4 years of age. Above this age, the humans spontaneously shifted their sorting strategy to make a completely even configuration (resulting in a Latin square), which may be more cognitively demanding than categorical sorting. While chimpanzees and older children used both color and shape cues for categorical sorting, younger humans preferred to use shape cues. The results of the present study show fundamental similarities between humans and chimpanzees at the basic level of categorical sorting, which indicates that some autonomous rules are applied during object manipulation.
Access options
Buy single article
Instant access to the full article PDF.
US$ 39.95
Tax calculation will be finalised during checkout.
Subscribe to journal
Immediate online access to all issues from 2019. Subscription will auto renew annually.
US$ 79
Tax calculation will be finalised during checkout.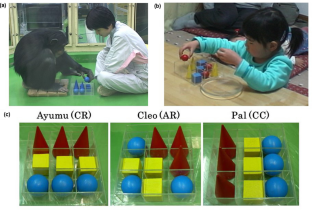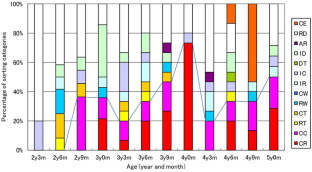 References
Arterberry ME, Bornstein MH (2012) Categorization of real and replica objects by 14- and 18-month-old infants. Infant Behav Dev 35:606–612

Arterberry ME, Bornstein MH, Blumenstyk JB (2013) Categorization of two-dimensional and three-dimensional stimuli by 18-month-old infants. Infant Behav Dev 36:786–795

Bornstein MH, Arterberry ME (2010) The development of object categorization in young children: hierarchical inclusiveness, age, perceptual attribute, and group versus individual analyses. Dev Psychol 46:350–365

Bornstein MH, Arterberry ME, Mash C (2010) Infant object categorization transcends diverse object-context relations. Infant Behav Dev 33:7–15

Crast J, Fragaszy D, Hayashi M, Matsuzawa T (2009) Dynamic in-hand movements in adult and young juvenile chimpanzees (Pan troglodytes). Am J Phys Anthropol 138:274–285

Fragaszy DM, Adams-Curtis LE (1991) Generative aspects of manipulation in tufted capuchin monkeys (Cebus apella). J Comp Psychol 105:387–397

Fujita K (2017) On the parallel evolution of syntax and lexicon: a merge-only view. J Neuroling 43:178–192

Goodall J (1964) Tool-using and aimed throwing in a community of free-living chimpanzees. Nature 201:1264–1266

Greenfield PM, Nelson K, Saltzman E (1972) The development of rulebound strategies for manipulating seriated cups: a parallel between action and grammar. Cogn Psychol 3:291–310

Greenfield PM (1991) Language, tools and brain: the ontogeny and phylogeny of hierarchically organized sequential behavior. Behav Brain Sci 14:531–595

Hanus D, Call J (2011) Chimpanzee problem-solving: contrasting the use of causal and arbitrary cues. Anim Cogn 14:871–878

Hayashi M (2007a) Stacking of blocks by chimpanzees: developmental processes and physical understanding. Anim Cogn 10:89–103

Hayashi M (2007b) A new notation system of object manipulation in the nesting-cup task for chimpanzees and humans. Cortex 43:308–318

Hayashi M (2015) Perspectives on object manipulation and action grammar for percussive actions in primates. Philos Trans R Soc B 370:20140350

Hayashi M, Matsuzawa T (2003) Cognitive development in object manipulation by infant chimpanzees. Anim Cogn 6:225–233

Hayashi M, Mizuno Y, Matsuzawa T (2005) How does stone-tool use emerge? Introduction of stones and nuts to naïve chimpanzees in captivity. Primates 46:91–102

Hayashi M, Sekine S, Tanaka M, Takeshita H (2009) Copying a model stack of colored blocks by chimpanzees and humans. Interact Stud 10:130–149

Hayashi M, Takeshita H (2009a) Stacking of irregularly shaped blocks in chimpanzees (Pan troglodytes) and young humans (Homo sapiens). Anim Cogn 12:S49–S58

Hayashi M, Takeshita H (2009b) Comparative study on the development of manipulative skills in chimpanzees and humans. In: Pelligrino LT (ed) Handbook of motor skills: development, impairment and therapy. Nova Science, New York, pp 223–235

Henrich J, Heine SJ, Norenzayan A (2010) Most people are not WIERD. Nature 466:29

Hirata S, Celli ML (2003) Role of mothers in the acquisition of tool-use behaviours by captive infant chimpanzees. Anim Cogn 6:235–244

Humle T, Matsuzawa T (2009) Laterality in hand use across four tool-use behaviors among the wild chimpanzees of Bossou, Guinea, West Africa. Am J Primatol 71:40–48

Inoue S, Matsuzawa T (2009) Acquisition and memory of sequence order in young and adult chimpanzees (Pan troglodytes). Anim Cogn 12:S59–S69

Inoue-Nakamura N, Matsuzawa T (1997) Development of stone tool use by wild chimpanzees (Pan troglodytes). J Comp Psychol 111:159–173

Kahrs BA, Lockman JJ (2014) Building tool use from object manipulation: a perception-action perspective. Ecol Psychol 26:88–97

Leavens DA, Bard KA, Hopkins WD (2019) The mismeasure of ape social cognition. Anim Cogn 22:487–504

Lockman JJ (2000) A perception-action perspective on tool use development. Child Dev 71:137–144

Lonsdorf EV (2005) Sex differences in the development of termite-fishing skills in the wild chimpanzees, Pan troglodytes schweinfurthii, of Gombe National Park, Tanzania. Anim Behav 70:673–683

Madole KL, Oakes LM (1999) Making sense of infant categorization: stable processes and changing representations. Dev Review 19:263–296

Mareschal D, Tan SH (2008) The role of context in the categorization of hybrid toy stimuli by 18-month-olds. Infancy 13:620–639

Matsuzawa T (1990) Spontaneous sorting in human and chimpanzee. In: Parker ST, Gibson KR (eds) "Language" and intelligence in monkeys and apes: comparative developmental perspectives. Cambridge University Press, New York, pp 451–468

Matsuzawa T (2007) Comparative cognitive development. Dev Sci 10:97–103

Matsuzawa T, Tomonaga M, Tanaka M (eds) (2006) Cognitive development in chimpanzees. Springer, Tokyo

McGrew WC (1993) The intelligent use of tools: twenty propositions. In: Gibson KR, Ingold T (eds) Tools, language and cognition in human evolution. Cambridge University Press, Cambridge, pp 151–170

McGrew WC (2013) Is primate tool use special? Chimpanzee and New Caledonian crow compared. Philos Trans R Soc B 368:20120422

Murai C, Kosugi D, Tomonaga M, Tanaka M, Matsuzawa T, Itakura S (2005) Can chimpanzee infants (Pan troglodytes) form categorical representations in the same manner as human infants (Homo sapiens)? Dev Sci 8:240–254

Myowa-Yamakoshi M, Matsuzawa T (1999) Factors influencing imitation of manipulatory actions in chimpanzees (Pan troglodytes). J Comp Psychol 113:128–136

NHK/Anica Production (2006) Ai and Ayumu. Documentary film, broadcast in Japan on 15 May 2006

Oakes LM, Plumert JM (2002) Variability in thirteen-month-old infants' touching patterns in the sequential-touching task. Inf Behav Dev 25:529–549

Potì P (1996) Spatial aspects of spontaneous object grouping by young chimpanzees (Pan troglodytes). Int J Primatol 17:101–116

Potì P (1997) Logical structures of young chimpanzees' spontaneous object grouping. Int J Primatol 18:33–59

Potì P, Hayashi M, Matsuzawa T (2009) Spatial construction skills of chimpanzees (Pan troglodytes) and young human children (Homo sapiens sapiens). Dev Sci 12:536–548

Resende BD, Ottoni EB, Fragaszy DM (2008) Ontogeny of manipulative behavior and nut-cracking in young tufted capuchin monkeys (Cebus apella): a perception-action perspective. Dev Sci 11:828–840

Saito A, Hayashi M, Takeshita H, Matsuzawa T (2014) The origin of representational drawing: a comparison of human children and chimpanzees. Child Dev 85:2232–2246

Sanz CM, Morgan DB (2010) The complexity of chimpanzee tool-use behaviors. In: Lonsdorf EV, Ross SR, Matsuzawa T (eds) The mind of the chimpanzee: ecological and experimental perspectives. University of Chicago Press, Chicago, pp 127–140

Simons DJ, Shoda Y, Lindsay SD (2017) Constraints on generality (COG): a proposed addition to all empirical papers. Pers Psychol Sci 12:1123–1128

Spinozzi G, Natale F, Langer J, Brakke KE (1999) Spontaneous class grouping behavior by bonobos (Pan paniscus) and common chimpanzees (P. troglodytes). Anim Cogn 2:157–170

Starkey D (1981) The origins of concept formation: object sorting and object preference in early infancy. Child Dev 52:489–497

Takeshita H, Myowa-Yamakoshi M, Hirata S (2009) The supine position of postnatal human infants: implications for the development of cognitive intelligence. Interact Stud 10:252–269

Takeshita H, Walraven V (1996) A comparative study of the variety and complexity of object manipulation in captive chimpanzees (Pan troglodytes) and bonobos (Pan paniscus). Primates 37:423–441

Tanaka M (1995) Object sorting in chimpanzees (Pan troglodytes): classification based on physical identity, complementarity, and familiarity. J Comp Psychol 109:151–161

Tanaka M (2007) Recognition of pictorial representations by chimpanzees (Pan troglodytes). Anim Cogn 10:169–179

The Chimpanzee Sequencing and Analysis Consortium (2005) Initial sequence of the chimpanzee genome and comparison with the human genome. Nature 437:69–87

Torigoe T (1985) Comparison of object manipulation among 74 species of non-human primates. Primates 26:182–194

Vonk J, Jett SE, Mosteller KW, Galvan M (2013) Natural category discrimination in chimpanzees (Pan troglodytes) at three levels of abstraction. Learn Behav 41:271–284

Whiten A (2015) Experimental studies illuminate the cultural transmission of percussive technologies in Homo and Pan. Philos Trans R Soc B 370:20140359

Whiten A, Custance DM, Gomez J, Teixidor P, Bard KA (1996) Imitative learning of artificial fruit processing in children (Homo sapiens) and chimpanzees (Pan troglodytes). J Comp Psychol 110:3–14

Williamson RA, Jaswal VK, Meltzoff AN (2010) Learning the rules: observation and imitation of a sorting strategy by 36-month-old children. Dev Psychol 46:57–65
Acknowledgments
This study was financially supported by the Japan Society for the Promotion of Science (JSPS) KAKENHI nos. 23700313, 15K00204 to M. H., 16203034 to H. T., 23220006 and 15H05709 to Masaki Tomonaga, 24000001, 16H06283 and Core-to-Core Program A. (CCSN) to Tetsuro Matsuzawa, and by a Ministry of Education, Culture, Sports, Science and Technology/JSPS Grant-in-aid for Scientific Research on Innovative Areas no. 4903 (Evolinguistics) JP17H06381 to Yasuo Ihara, 19K21824 to Michiru Makuuchi, the WISH Project, and the Benesse Corporation. The human data were collected in collaboration with Masako Myowa-Yamakoshi, Ari Ueno, Keiko Yuri, and Aya Saito, with the support of mothers and children participating in the Umikaze Infant Laboratory at the University of Shiga Prefecture. Special thanks to Academy of Emerging Sciences of Chubu University, Institute of Philosophy and Human Values of Kyoto University of the Arts, Tetsuro Matsuzawa, Masaki Tomonaga, Sana Inoue, Tomoko Takashima, Etsuko Nogami, Kiyonori Kumazaki, Norihiko Maeda, Shohei Watanabe, Atsushi Yamanaka, Juri Suzuki, Akino Watanabe, Akihisa Kaneko, and Takako Miyabe for their advice and support in performing the daily work and care of the chimpanzees at the Primate Research Institute, Kyoto University.
Additional information
Publisher's Note
Springer Nature remains neutral with regard to jurisdictional claims in published maps and institutional affiliations.
Electronic supplementary material
Below is the link to the electronic supplementary material.
About this article
Cite this article
Hayashi, M., Takeshita, H. Object sorting into a two-dimensional array in humans and chimpanzees. Primates 62, 29–39 (2021). https://doi.org/10.1007/s10329-020-00850-1
Received:

Accepted:

Published:

Issue Date:
Keywords
Object sorting

Categorization

Comparative cognitive development

Chimpanzees