Abstract
Bronze Age Aegean (ca. 3500–1100 B.C.) wall paintings from the islands of Crete and Thera depict monkeys in a variety of roles such as running wild in nature, possibly following (trained) commands, and participating in sacred activities. These images, while stylistically Aegean, are traditionally considered closely related to—and descendant from—Egyptian, Near Eastern, and Mesopotamian monkey imagery. While monkey depictions in the latter regions may provide species-specific characteristics, Aegean wall paintings typically lack this level of detail. In an attempt to better understand the relationships between the monkeys depicted in Aegean wall paintings and the species that were encountered by the Aegean, Mesopotamian, and Egyptian peoples, a collaborative team of primatologists, a taxonomic illustrator, and an art historian/archaeologist identified species-indicative visual characteristics. This collaborative approach led us to identify a new region that serves as a source for monkey iconography: the Indus River Valley. With an emphasis on the primatological aspect and the growing corpus of possible Indus goods and possible species found in the Aegean, a broader iconographic and socioreligious sphere of interaction emerges. In this expanded system, Mesopotamia functions as an intermediary that enables the movement of goods, raw materials, people, and iconography between the east and west. Mesopotamia may have even afforded an opportunity for Aegean peoples to encounter the creatures themselves, first-hand. Of primary importance to the methodology employed for this project is the cooperation of scholars from disparate disciplines—the stitching together of various projects and experiences in attempt to answer both new and previously unanswerable questions. This type of interdisciplinary approach can be applied to other species, sites, paintings, and objects to hone our understanding of period, place, animal, movement, and trade.
Access options
Buy single article
Instant access to the full article PDF.
US$ 39.95
Tax calculation will be finalised during checkout.
Subscribe to journal
Immediate online access to all issues from 2019. Subscription will auto renew annually.
US$ 79
Tax calculation will be finalised during checkout.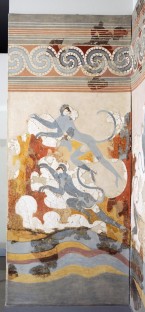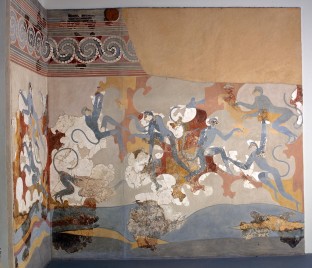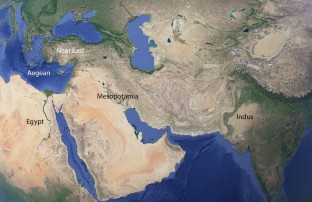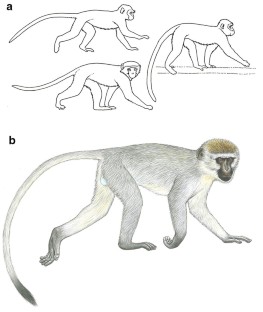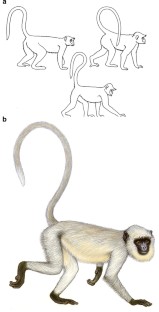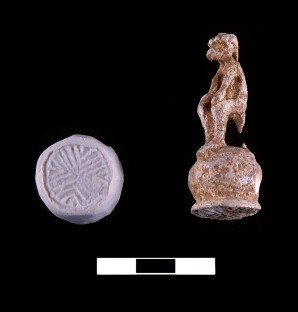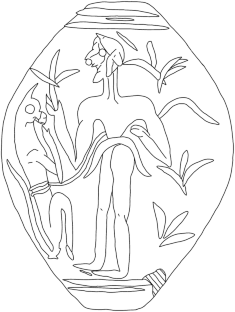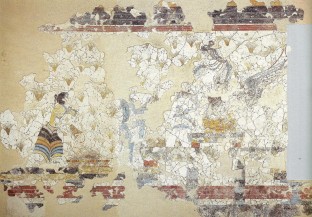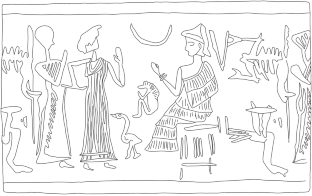 References
Amiet P (1988) Antiquities of Bactria and outer Iran in the Louvre collection. In: Ligabue G, Savatori S (eds) Bactria: an ancient oasis civilization from the sands of Afghanistan, pp 157–180. Venice, Centro Studi Ricerche Ligabue

Aruz J (ed) (2003) Art of the first cities: the third millennium B.C. from the Mediterranean to the Indus, New Haven, Yale University Press

Aruz J (ed) (2008) Marks of distinction. Seals and cultural exchange between the Aegean and the Orient (ca. 2600–1360 B.C.), Mainz am Rhein, Philipp von Zabern

Ashalakshmi NC, Chetan Nag KS, Praveen Karanth K (2014) Molecules support morphology: species status of South Indian populations of the widely distributed Hanuman Langur. Conserv Genet 16:43–58

Bernstein PL, Smith WJ, Krensky A, Rosene K (1978) Tail positions of Cercopithecus aethiops. Ethology 46(3):268–278

Bintliff J, Sbonias K (eds) (1999) Reconstructing past population trends in Mediterranean Europe (3000 B.C.–A.D. 1800). Oxbow Books, Oxford

Blakolmer F (2017) Deities above animals. On the transformation of Near Eastern iconography in Minoan Crete. In: Proceedings of the 12th International Cretological Congress, Irakleio

Boehmer R (1974) Das Rollsiegel in prädynastischen Ägypten. Archäol Anzeiger 89:495–514

Boochs W (1982) Siegel und Siegeln im Alten Ägypten, Sankt Augustin, H. Richarz

Chakrabarti DK (1993) 'Long-barrel cylinder' beads and the issue of Pre-Sargonic contact between the Harappan civilization and Mesopotamia. In: Possehl G (ed). IBH Publishing Company, Oxford, pp 265–270

Chapin A, Pareja MN (2019) Peacock or Poppycock? Investigations into Exotic Animal Imagery in Minoan and Cycladic art. In: Davis B, Laffineur R (eds) ΝΕΩΤΕΡΟΣ: studies in Bronze Age Aegean Art and Archaeology in Honor of Professor John G. Younger on the Occasion of his Retirement (Aegaeum 44)

Cheten Nag KS, Pramond P, Praveen Karanath K (2011) Taxonomic Implications of a field study of Morphotypes of Hanuman Langurs (Semnopithecus entellus) in Peninsular India. Int J Primatol 32:830–848

Cline EH (1994) Sailing the wine-dark sea. Tempus Reparatum Archaeological and Historical Associates Limited, Oxford

Cline EH (2013) Aegean-Near East relations in the second millennium B.C. In: Aruz J, Graff SB, Rakic Y (eds) Cultures in contact from Mesopotamia to the Mediterranean in the second millennium B.C., pp 26–33. Yale University Press, New Haven

Colburn CS (2008) Exotica and the early Minoan Elite: eastern imports in prepalatial Crete. Am J Archaeol 112:203–224

Cooper JS (1983) The curse of the Agade. Johns Hopkins University Press, Baltimore

Davaras C (2003) Parallels and affinities between Crete and India in the Bronze Age: some speculations. A.M. Hakkert, Amsterdam

Davaras C (2005) Bronze Age Crete and India. Indian Hist Rev 32:126–139

Davaras C, Soles J (1997) A new oriental cylinder seal from Mochlos. Appendix: catalogue of the cylinder seals found in the Aegean. ArchEph 134:29–66

de Jong YA, Butynski TM (2010) Three Sykes's monkey Cercopithecus mitis × Vervet Monkey Chlorocebus pygerythrus hybrids in Kenya. Primate Conserv 25:43–56

Doumas C (1992) The wall paintings of Thera, Athens. The Thera Foundation-Petros M, Nomikos

Dubcová V (2015) The Near Eastern 'Hero' and 'Bull-Man' and their impact on the Aegean Bronze Age Iconography. In: Mynárová J, Onderka P, Pavúk P (eds) There and back again—the crossroads II. Proceedings of an international conference held in Prague, pp 221–244

Dunham S (1985) The monkey in the middle. Zeitschrift Assyriol Vorderasiatische Archäol 75(2):234–264

Enault J-F (1979) Fouilles de Pirak. In: Fouilles du Pakistan 2, Paris, Diffusion De Boccard

Fischer E (2019) Minoans in Punt: An Interpretation of the Akrotiri Frescoes. In: Presentation at the Archaeological Institute of America Annual Meeting in San Diego

Greenlaw C (2011) The representation of monkeys in the art and thought of Mediterranean cultures: a new perspective on ancient primates. British Archaeological Reports, Oxford

Harper PO, Aruz J, Tallon F (eds) (1992) The Royal City of Susa. In: Ancient Near Eastern Treasures in the Louvre, New York, Harry N. Abrams, Inc

Karetsou A (2000) Κρήτη-Αίγυπτος: πολιτισμικοί δεσμοί τριών χιλιετιών, καταλογος, Athens

Kenoyer JM (1997) Trade and technology of the Indus Valley: new insights from Harappa, Pakistan. World Archaeol 29:262–280

Kenoyer JM (2008) Indus and Mesopotamian trade networks: New insight from shell and carnelian artifacts. In: Olijdam E, Spoor RH (eds) Intercultural relations between South and Southwest Asia. Studies in commemoration of E.C.L. During-Caspers 1934–1996, pp 19–28. Oxford, Archaeopress

Klebs L (1915) Die Reliefs des alten Reiches (2900-2475 v. Chr): Material zur Agyptischen Kulturgeschichte, Heidelberg, Winter

Kohl PL (2007) The making of Bronze Age Eurasia. Cambridge University Press, Cambridge

Mackay EJH (1943) Chanhu-daro Excavations 1935–1936. In: American Oriental Series 20, Varanasi, Bharatiya Pub. House

Mallowan MEL (1966) Nimrud and its remains. Collins, London

Marinatos N (1984) Art and religion in Thera: reconstructing a Bronze Age society, Athens, I. Mathioulakis & Co

Matthäus H (2000) Crete and the Near East during the early 2nd Millennium B.C.-new investigations on bronze finds from the Idaean Cave of Zeus. In: Karetsou A (ed) Proceedings of the 8th International Cretological Congress, Herakleion, pp 267–280

Mendleson C (1983) More monkey business. Anatolian Stud 33:81–83

Moorey PRS (1987) On tracking cultural transfers in prehistory: the case of Egypt and lower Mesopotamia in the fourth millennium B.C. In: Rowlands M, Larsen M, Krisitiansen K (eds) Centre and periphery in the ancient world, pp 36–56. Cambridge University Press, New York

Morgan L (1997) Power of the beast: human-animal symbolism in Egyptian and Aegean art. Ägypten Levante 7:17–31

Oppenheimer JR (1977) Presbytis entellus, the Hanuman langur. Primate Conserv 1977:469–512

Pareja MN (2017) Monkey and ape iconography in Aegean Art. Uppsala, Uppsala

Pareja MN (2020) Early Bronze Age evidence for possible Aegean-Indus Trade. In: Animal Iconography in the Archaeological Record: New Approaches, New Dimensions, eds. Laerke Recht and Katarzyna Zeman-Wisniewska, Equinox Publishing

Parker P (1997) African vervets on Crete and Thera during MM IIIB-LM IA. Am J Archaeol 101:348

Pendlebury JDS (1939) The archaeology of Crete: an introduction. Methuen, London

Phillips JS (1991) The impact and implications of the Egyptian and Egyptianizing material found in Bronze Age Crete ca. 3000-ca. 1100 B.C., Ph.D. Dissertation, University of Toronto

Phillips JS (2008) Aegyptiaca on the Island of Crete in their chronological context: a critical review I. Austrian Academy of Sciences Press, Wien

Pittman H (1984) Art of the Bronze Age: Southeastern Iran, Western Central Asia, and the Indus Valley. The Metropolitan Museum of Art, New York

Podzorski P (1988) Predynastic Egyptian seals of known provenience in the R.H. Lowie Museum of Anthropologie. J Near Eastern Stud 47:259–268

Ratnagar S (2004) Trading encounters: from the Euphrates to the indus in the Bronze Age. Oxford University Press, New Delhi

Roaf M (2004) Cultural Atlas of Mesopotamia and the Near East. Oxford University Press, Oxford

Robins G (2008) The art of ancient Egypt. Harvard University Press, Cambridge

Rowe N (1996) Pictorial guide to the living primates. Pogonias Press

Rowe N, Myers M (eds) (2016) All the World's primates. Pogonias Press

Sarianidi VI (1998) Myths of ancient Bactria and Margiana on its seals and amulets, Moscow

Sarianidi VI, Kowalski LH (1971) The Lapis lazuli route in the ancient Near East. Archaeology 24:12–15

Scharff A (1931) Die Altertümer der Vor- und Frühzeit Ägyptens. K. Curtius, Berlin

Shinde V, Deshpande SS, Osada T, Uno T (2006) Basic issues in harappan archaeology: some thoughts. Ancient Asia 1:63–72

Soles JS (2016) Hero, Goddess, Priestess: New Evidence for Minoan Religion and Social Organization. In: Alram-Stern E, Blakolmer F, Deger-Jalkotzy S, Laffineur R, Weilhartner J (eds) METAPHYSIS. Ritual, Myth, and Symbolism in the Aegean Bronze Age. Proceedings of the 15th International Aegean Conference, Vienna, Institute for Oriental and European Archaeology, Aegean and Anatolia Department, Austrian Academy of Sciences and Institute of Classical Archaeology, University of Vienna, pp 247–252, Liége, Peeters

Strasser T (1997) The blue monkeys of the Aegean and their implications for Bronze Age trade. Am J Archaeol 101:348

Van Buren ED (1939) The Fauna of ancient Mesopotamia as represented in art. Pontificum institutum biblicum, Rome

Warren, P.M. (1974). "Crete, 3000-1400 B.C.: Immigration and the Archaeological Evidence," in R.A. Crossland and A. Birchall (eds.), Bronze Age Migrations in the Aegean: Archaeological and Linguistic Problems in Greek Prehistory, 41-50. Park Ridge, Noyes Press

Weeks L (1999) Lead isotope analysis from Tell Abraq, United Arab Emirates: New data regarding the 'tin problem' in Western Asia. Antiquity 73:2–7

Wiener MH (2013) Contacts: Crete, Egypt, and the Near East circa 2000 B.C. In: Aruz J, Graff SB, Rakic Y (eds) Cultures in contact from Mesopotamia to the Mediterranean in the Second Millennium B.C., pp 34–43. Yale University Press, New Haven

Wilkinson TC (2014) Tying the threads of Eurasia: trans-regional routes and material flows in Transcaucasia, eastern Anatolia and western central Asia, c. 3000–1500 BC, Leiden, Sidestone Press

Yule P (1980) Early Cretan seals: a study of chronology (Marburger Studien zur Vor-und Frühgeschichte 4), Mainz am Rhein, von Zabern

Zervos C (1956) L'Art de la Crete: Neolithique et Minoenne, Paris, Éditions "Cahiers d'art"
Acknowledgements
The authors extend their gratitude to the Archaeological Institute of America (AIA) and the Ancient Painting Studies Interest Group (APSIG) for the opportunity to present the preliminary results of this study. Marie Pareja personally thanks Tristan Carter, Anne P. Chapin, Tiffany L. Hunt, Leanna Kolonauski, and Kristine Mallinson for their thoughts, edits, and enthusiasm for this project. Illustrations copyright 2019 Stephen D. Nash/IUCN SSC Primate Specialist Group.
Ethics declarations
Conflict of interest
The authors declare that they have no conflict of interest.
Ethical approval
This article does not contain any studies with human participants or animals performed by any of the authors.
Additional information
Publisher's Note
Springer Nature remains neutral with regard to jurisdictional claims in published maps and institutional affiliations.
About this article
Cite this article
Pareja, M.N., McKinney, T., Mayhew, J.A. et al. A new identification of the monkeys depicted in a Bronze Age wall painting from Akrotiri, Thera. Primates 61, 159–168 (2020). https://doi.org/10.1007/s10329-019-00778-1
Received:

Accepted:

Published:

Issue Date:
Keywords
Vervet

Langur

Indus

Aegean

Archaeology

Trade