Abstract
Utilizing the Great Ape Information Network (GAIN), an open-access nationwide database containing the detailed life history information of all apes who have lived or currently reside in Japan, we present a robust chimpanzee life table by single year of age and sex including 821 individuals spanning nearly a century, current through March 11, 2019. While the demographic composition and status of captive chimpanzees in Japan has been previously reported, longevity and mortality statistics have not. We show that female and male survivorship do not differ significantly, and that a live-born chimpanzee in Japan can expect to live 28.3 years (females 26.3, males 30.3). Life expectancy increases to 34.6 years (females 33.4, males 35.7) for individuals who reach one year of age, and to 40.4 years (females 39.2, males 41.5) for those who survive to adulthood. The oldest chimpanzee in Japan, a wild-born male, lived an estimated 68 years. One in six infants are stillborn, and nearly 80% of all infants born alive survive beyond their first birthday. Finally, we report that a seasonal death pattern exists and chimpanzees in Japan are more likely to decease in the winter months (Dec–Feb) than in any other season.
This is a preview of subscription content, log in to check access.
Access options
Buy single article
Instant access to the full article PDF.
US$ 39.95
Tax calculation will be finalised during checkout.
Subscribe to journal
Immediate online access to all issues from 2019. Subscription will auto renew annually.
US$ 99
Tax calculation will be finalised during checkout.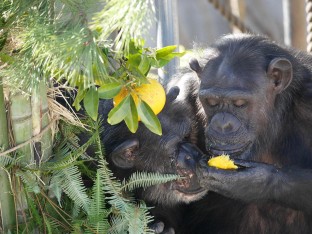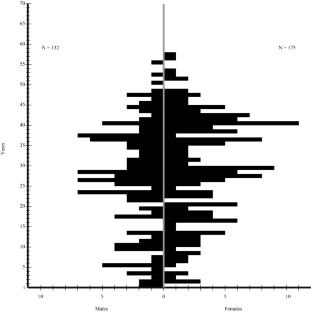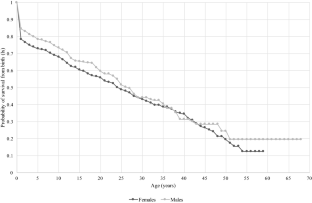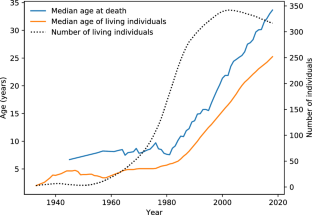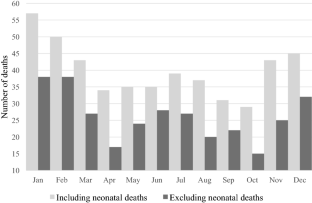 References
Analitis A, Katsouyanni K, Biggeri A, Baccini M, Forsberg B, Bisanti L, Kirchmayer U, Ballester F, Cadum E, Goodman PG, Hojs A (2008) Effects of cold weather on mortality: results from 15 European cities within the PHEWE project. Am J Epidemiol 168:1397–1408

Ballou JD, Lacy RC, Pollak JP (2010) PMx: software for demographic and genetic analysis and management of pedigreed populations. Chicago Zoological Society, Brookfield

Bronikowski AM, Altmann J, Brockman DK, Cords M, Fedigan LM, Pusey A, Stoinski T, Morris WF, Strier KB, Alberts SC (2011) Aging in the natural world: comparative data reveal similar mortality patterns across primates. Science 331:1325–1328

Carlsen F, de Jongh T (2014) European studbook for the chimpanzee (Pan troglodytes). Copenhagen Zoo, Frederiksberg

Chimpanzee Species Survival Plan (2012) 2012 North American regional chimpanzee studbook (Pan troglodytes). Lincoln Park Zoo, Chicago

Courtenay J, Santow G (1989) Mortality of wild and captive chimpanzees. Folia Primatol 52:167–177

Cox B, Gasparrini A, Catry B, Delcloo A, Bijnens E, Vangronsveld J, Nawrot TS (2016) Mortality related to cold and heat. What do we learn from dairy cattle? Environ Res 149:231–238

de Magalhães JP, Costa J (2009) A database of vertebrate longevity records and their relation to other life‐history traits. J Evol Biol 22:1770–1774

Dyke B, Gage TB, Alford PL, Swenson B, Williams-Blangero S (1995) Model life table for captive chimpanzees. Am J Primatol 37:25–37

Faust LJ, Bergstrom YM, Thompson SD, Bier L (2012a) PopLink version 2.4. Lincoln Park Zoo, Chicago

Faust LJ, Bier L, Schowe K, Gazlay T (2012b) PopLink 2.4: user's manual. Lincoln Park Zoo, Chicago

Fisken FA, Carlsen F, Elder M, de Jongh T, Pereboom JJM, Pohl B, Rietkerk F, Ross SR, Taniguchi A (2018) Global population records and managed-programme updates for the great apes. Int Zoo Yearb 52:212–226

Gogarten JF, Brown LM, Chapman CA, Cords M, Doran-Sheehy D, Fedigan LM, Grine FE, Perry S, Pusey E, Sterck EH, Wich SA (2012) Seasonal mortality patterns in non-human primates: implications for variation in selection pressures across environments. Evolution 66:3252–3266

Hayashi M, Sakuraba Y, Watanabe S, Kaneko A, Matsuzawa T (2013) Behavioral recovery from tetraparesis in a captive chimpanzee. Primates 54:237–243

Hill K, Boesch C, Goodall J, Pusey A, Williams J, Wrangham R (2001) Mortality rates among wild chimpanzees. J Hum Evol 40:437–450

Hirata S, Morimura N, Watanuki K, Ross SR (in press) The establishment of sanctuaries for former laboratory chimpanzees: challenges, successes, and cross-cultural context. In: Hopper L, Ross SR (eds) Chimpanzees in context. The University of Chicago Press, Chicago

Hvilsom C, Frandsen P, Børsting C, Carlsen F, Sallé B, Simonsen BT, Siegismund HR (2013) Understanding geographic origins and history of admixture among chimpanzees in European zoos, with implications for future breeding programmes. Heredity 110:586

Jones KE, Bielby J, Cardillo M, Fritz SA, O'Dell J, Orme CDL, Safi K, Sechrest W, Boakes EH, Carbone C, Connolly C (2009) PanTHERIA: a species-level database of life history, ecology, and geography of extant and recently extinct mammals. Ecology 90:2648

Kaplan H, Hill K, Lancaster J, Hurtado AM (2000) A theory of human life history evolution: diet, intelligence, and longevity. Evol Anthropol 9:156–185

Kohler IV, Preston SH, Lackey LB (2006) Comparative mortality levels among selected species of captive animals. Demogr Res 15:413–434

Littleton J (2005) Fifty years of chimpanzee demography at Taronga Park Zoo. Am J Primatol 67:281–298

Matsuzawa T (2016a) Euthanasia is not an option: 10 years' care of a chimpanzee with acute tetraparesis. Primates 57:291–293

Matsuzawa T (2016b) SAGA and GAIN for great apes. Primates 57:1–2

Matsuzawa T (2018) Chimpanzee Velu: the wild chimpanzee who passed away at the estimated age of 58. Primates 59:107–111

Matsuzawa T, Humle T, Sugiyama Y (2011) The chimpanzees of Bossou and Nimba. Springer, New York

Morimura N, Idani GI, Matsuzawa T (2011) The first chimpanzee sanctuary in Japan: an attempt to care for the "surplus" of biomedical research. Am J Primatol 73:226–232

Muller MN, Wrangham RW (2014) Mortality rates among Kanyawara chimpanzees. J Hum Evol 66:107–114

Ochiai T, Watanuki K, Udono T, Morimura N, Hirata S, Tomonaga M, Idani G, Matsuzawa T (2015) The history of captive chimpanzees (Pan troglodytes) in Japan 1920–1950. Primate Res 31:19–29 (in Japanese with English summary)

Rowe N, Myers M (2017) All The World's Primates. Int Encycl Primatol. https://doi.org/10.1002/9781119179313

Saiyed ST, Liubicich RC, Fidino M, Ross SR (2018) Stillbirth rates across three ape species in accredited American zoos. Am J Primatol 80:e22870. https://doi.org/10.1002/ajp.22870

Thompson ME, Jones JH, Pusey AE, Brewer-Marsden S, Goodall J, Marsden D, Matsuzawa T, Nishida T, Reynolds V, Sugiyama Y, Wrangham RW (2007) Aging and fertility patterns in wild chimpanzees provide insights into the evolution of menopause. Curr Biol 17:2150–2156

Tidière M, Gaillard JM, Berger V, Müller DW, Lackey LB, Gimenez O, Clauss M, Lemaître JF (2016) Comparative analyses of longevity and senescence reveal variable survival benefits of living in zoos across mammals. Sci Rep 6:36361. https://doi.org/10.1038/srep36361

Wagner KE, Ross SR (2008) Chimpanzee (Pan troglodytes) birth patterns and human presence in zoological settings. Am J Primatol 70:703–706

Watanuki K, Ochiai T, Hirata S, Morimura N, Tomonaga M, Idani G, Matsuzawa T (2014) Review and long-term survey of the status of captive chimpanzees in Japan in 1926–2013. Primate Res 30:147–156

Wood BM, Watts DP, Mitani JC, Langergraber KE (2017) Favorable ecological circumstances promote life expectancy in chimpanzees similar to that of human hunter-gatherers. J Hum Evol 105:41–56
Acknowledgements
The authors would like to thank the AZA Population Management and Chicago Zoological Society staff for assistance with questions regarding PopLink and PMx, and the two anonymous reviewers who provided crucial feedback on the original manuscript. Research was supported by SGU MEXT to K.H. and MEXT-JSPS Grants (#16H06283 to T. M., 15H05709 to M. T. and 18H05524 to S. H.); LGP-U04, Core-to-Core Program CCSN and the Great Ape Information Network (GAIN) to T.M.
Additional information
Publisher's Note
Springer Nature remains neutral with regard to jurisdictional claims in published maps and institutional affiliations.
About this article
Cite this article
Havercamp, K., Watanuki, K., Tomonaga, M. et al. Longevity and mortality of captive chimpanzees in Japan from 1921 to 2018. Primates 60, 525–535 (2019). https://doi.org/10.1007/s10329-019-00755-8
Received:

Accepted:

Published:

Issue Date:
Keywords
Captive chimpanzee

Life table

Life history patterns

Longevity

Mortality