Abstract
Maternal care towards dead infants has been observed in many wild and captive mammals, but the consequences of this behavior for social interactions and the physiological status of the mother remain elusive. Here, we report changes in rates of aggression and grooming time, and fecal glucocorticoid (fGC) levels in a free-ranging female Japanese macaque (Macaca fuscata) that carried her dead infant for 20 days. Our observations revealed that when carrying the dead infant, the mother showed increased rates of grimace, avoidance, and human-directed behaviors, along with reduced allogrooming time and fleeing from other individuals. Postpartum fGC levels were comparable to those of non-pregnant and non-lactating females, suggesting that the energetic costs and stress of carrying a dead infant are low. Our findings indicate that carrying a dead neonate can have three profound consequences on the mother: increased fearful behavior, decreased allogrooming, and a rapid return to baseline fGC levels. We hypothesize that dead infant-carrying may have evolved as a strategy to mitigate stress from infant loss. These findings have implications for our understanding of grief in nonhuman primates and can impact management protocols surrounding deaths in captive social groups.
Access options
Buy single article
Instant access to the full article PDF.
US$ 39.95
Tax calculation will be finalised during checkout.
Subscribe to journal
Immediate online access to all issues from 2019. Subscription will auto renew annually.
US$ 79
Tax calculation will be finalised during checkout.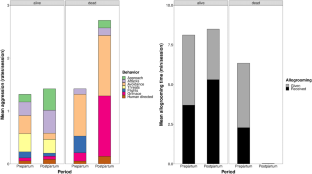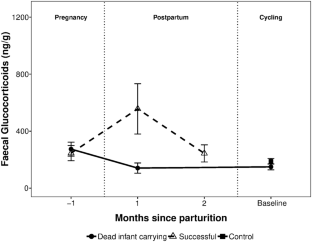 References
Anderson JR (2011) A primatological perspective on death. Am J Primatol 73:410–414

Anderson JR (2017) Comparative evolutionary thanatology of grief, with special reference to nonhuman primates. Jpn Rev Cult Anthropol 18:173–189

Anderson JR, Gillies A, Lock LC (2010) Pan thanatology. Curr Biol 20:R349–R351

Appleby R, Smith B, Jones D (2013) Observations of a free-ranging adult female dingo (Canis dingo) and littermates' responses to the death of a pup. Behav Process 96:42–46

Archer J (2003) The nature of grief: the evolution and psychology of reactions to loss. Routledge, London

Barrett L, Halliday J, Henzi SP (2006) The ecology of motherhood: the structuring of lactation costs by chacma baboons. J Animal Ecol 75:875–886

Bercovitch FB (2013) Giraffe cow reaction to the death of her newborn calf. Afr J Ecol 51:376–379

Bercovitch FB (2019) A comparative perspective on the evolution of mammalian reactions to dead conspecifics. Primates 20:1–8

Biro D et al (2010) Chimpanzee mothers at Bossou, Guinea carry the mummified remains of their dead infants. Curr Biol 20:R351–R352

Campbell LA et al (2016) Behavioral responses to injury and death in wild Barbary macaques (Macaca sylvanus). Primates 57:309–315

Coe CL, Mendoza SP, Smotherman WP, Levine S (1978) Mother-infant attachment in the squirrel monkey: adrenal response to separation. Behav Biol 22:256–263

Crespi EJ, Williams TD, Jessop TS, Delehanty B (2013) Life history and the ecology of stress: how do glucocorticoid hormones influence life-history variation in animals? Funct Ecol 27:93–106

De Marco A, Cozzolino R, Thierry B (2018) Prolonged transport and cannibalism of mummified infant remains by a Tonkean macaque mother. Primates 59:55–59

Engh AL et al (2006) Female hierarchy instability, male immigration and infanticide increase glucocorticoid levels in female chacma baboons. Animal Behav 71:1227–1237

Fashing PJ et al (2011) Death among geladas (Theropithecus gelada): a broader perspective on mummified infants and primate thanatology. Am J Primatol 73:405–409

Harlow HF (1958) The nature of love. Am Psychol 13:673

Lee PC (1996) The meanings of weaning: growth, lactation, and life history. Evol Anthropol 5:87–98

Li T, Ren B, Li D, Zhang Y, Li M (2012) Maternal responses to dead infants in Yunnan snub-nosed monkey (Rhinopithecus bieti) in the Baimaxueshan Nature Reserve, Yunnan, China. Primates 53:127–132

Maestripieri D, Georgiev AV (2016) What cortisol can tell us about the costs of sociality and reproduction among free-ranging rhesus macaque females on Cayo santiago. Am J Primatol 78:92–105

Martin P, Bateson P (1993) Recording methods. In: Martin P, Bateson P (eds) Measuring behaviour: an introductory guide. Cambridge University Press, Cambridge, pp 84–100

Matsuzawa T (1997) Reviewed article: the death of an infant chimpanzee at Bossou, Guinea. Pan Afr News 4:4–6

Möstl E, Palme R (2002) Hormones as indicators of stress. Domest Animal Endocrinol 23:67–74

Primate Research Institute (2010) Guidelines for care and use of nonhuman primates. Primate Research Institute

Reggente MA et al (2016) Nurturant behavior toward dead conspecifics in free-ranging mammals: new records for odontocetes and a general review. J Mammal 97:1428–1434

Sapolsky RM, Romero LM, Munck AU (2000) How do glucocorticoids influence stress responses? Integrating permissive, suppressive, stimulatory, and preparative actions. Endocr Rev 21:55–89

Sheriff MJ, Dantzer B, Delehanty B, Palme R, Boonstra R (2011) Measuring stress in wildlife: techniques for quantifying glucocorticoids. Oecologia 166:869–887

Sugiyama Y, Kurita H, Matsui T, Kimoto S, Shimomura T (2009) Carrying of dead infants by Japanese macaque (Macaca fuscata) mothers. Anthropol Sci 117:113–119

Takeshita RSC, Huffman MA, Kinoshita K, Bercovitch FB (2017) Effect of castration on social behavior and hormones in male Japanese macaques (Macaca fuscata). Physiol Behav 181:43–50

Takeshita RS, Bercovitch FB, Kinoshita K, Huffman MA (2018) Beneficial effect of hot spring bathing on stress levels in Japanese macaques. Primates 59:215–225

Thompson ME (2013) Comparative reproductive energetics of human and nonhuman primates. Annu Rev Anthropol 42:287–304

Warren Y, Williamson EA (2004) Transport of dead infant mountain gorillas by mothers and unrelated females. Zoo Biol 23:375–378

Watson CF, Matsuzawa T (2018) Behaviour of nonhuman primate mothers toward their dead infants: uncovering mechanisms. Phil Trans Royal Soc B 373:20170261
Acknowledgements
We thank the staff from Jigokudani Monkey Park and Ms. Yukari Murano for their assistance during the study and to Jim Anderson for his useful comments and editing of this manuscript.
Funding
The study was funded by the Leading Program in Primatology and Wildlife Science (PWS); the Japan Society for the Promotion of Science (No. 16J00399), and a scholarship to RSCT by the Nippon Foundation.
Ethics declarations
Competing interests
We declare no competing interests.
Additional information
Publisher's Note
Springer Nature remains neutral with regard to jurisdictional claims in published maps and institutional affiliations.
About this article
Cite this article
Takeshita, R.S.C., Huffman, M.A., Kinoshita, K. et al. Changes in social behavior and fecal glucocorticoids in a Japanese macaque (Macaca fuscata) carrying her dead infant. Primates 61, 35–40 (2020). https://doi.org/10.1007/s10329-019-00753-w
Received:

Accepted:

Published:

Issue Date:
Keywords
Thanatology

Stress hormones

Death

Grief

Nonhuman primates