Abstract
We report temporal variation and an "outbreak" of frog predation by moustached tamarins, Saguinus mystax, in north-eastern Peruvian Amazonia. Frog predation rates were generally very low, but strongly increased in October 2015. Other high rates, identified by outlier analyses, were also observed in September–November of other years. Over all study years, predation rates in this 3-month period were significantly higher than those in the remainder of the year, suggesting a seasonal pattern of frog predation by tamarins. Reduced fruit availability or increased frog abundance or a combination of both may be responsible for both the seasonal pattern and the specific "outbreak" of frog predation.
Access options
Buy single article
Instant access to the full article PDF.
USD 39.95
Price excludes VAT (USA)
Tax calculation will be finalised during checkout.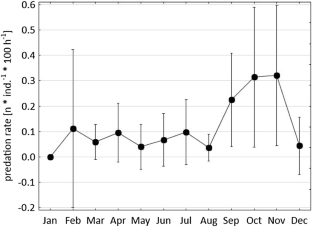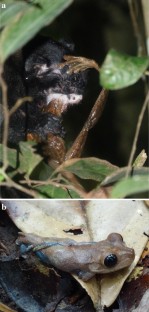 References
Allmon WD (1991) A plot study of forest floor litter frogs, Central Amazon, Brazil. J Trop Ecol 7:503–522

Blaustein AR, Walls SC, Bancroft BA, Lawler JJ, Searle CL, Gervasi SS (2010) Direct and indirect effects of climate change on amphibian populations. Diversity 2:281–313

Butynski TM (1982) Vertebrate predation by primates: a review of hunting patterns and prey. J Hum Evol 11:421–430

Castro Coronado NR (1991) Behavioral ecology of two coexisting tamarin species (Saguinus fuscicollis nigrifrons and Saguinus mystax mystax, Callitrichidae, Primates) in Amazonian Peru. Dissertation, Washington University, St. Louis

Chapman CA, Fedigan LM (1990) Dietary differences between neighboring Cebus capucinus groups: local traditions, food availability or responses to food profitability? Folia Primatol 54:177–186

Cimbala JM (2011) Outliers. https://www.mne.psu.edu/cimbala/me345/Lectures/Outliers.pdf. Accessed 12 April 2018

Dell Inc (2015) Dell Statistica (Software-System für Datenanalyse), Version 13. https://www.software.dell.com. Accessed 15 Dec 2017

Donnelly MA, Guyer C (1994) Patterns of reproduction and habitat use in an assemblage of Neotropical hylid frogs. Oecologia 98:291–302

Duellman WE (1995) Temporal fluctuations in abundances of anuran amphibians in a seasonal Amazonian rainforest. J Herpetol 29:13–21

Duellman WE (2005) Cusco Amazónico. Comstock Publishing Associates, Ithaca

Encarnación F (1985) Introducción a la flora y vegetación de la Amazonía peruana: estado actual de los estudios, medio natural y ensayo de una clave de determinación de las formaciones vegetales en la llanura amazónica. Candollea 40:237–252

Heymann EW, Buchanan-Smith HM (2000) The behavioural ecology of mixed-species troops of callitrichine primates. Biol Rev 75:169–190

Heymann EW, Knogge C, Tirado Herrera ER (2000) Vertebrate predation by sympatric tamarins, Saguinus mystax and Saguinus fuscicollis. Am J Primatol 51:153–158

Löttker P, Huck M, Heymann EW (2004) Dynamic stability or stable dynamics? Demographic parameters and events in wild moustached tamarins (Saguinus mystax). Am J Primatol 64:425–449

Martin P, Bateson P (2007) Measuring behaviour: an introductory guide, 3rd edn. Cambridge University Press, Cambridge

Medina Torres IP, Pinheiro Rodríguez de J, Del Aguila Rios RT, Rengifo Ramirez RR, Curto Garay R (2012) Catálogo de anfibios y reptiles de la Estación Biológica Quebrada Blanco—Río Tahuayo, Loreto—Perú. Universidad Nacional de la Amazonía Peruana, Iquitos. http://www.dpz.eu/en/unit/sociobiology-homepage/study-sites/peru/biodiversity-peru/reptiles.html. Accessed 12 April 2018

Menin M, Waldez F, Lima AP (2008) Temporal variation in the abundance and number of species of frogs in 10,000 ha of a forest in Central Amazonia, Brazil. S Am J Herpetol 3:68–81

Mitani JC, Watts DP (2005) Seasonality in hunting by non-human primates. In: Brockman DK, Van Schaik CP (eds) Seasonality in primates: studies of living and extinct human and non-human primates. Cambridge University Press, Cambridge, pp 215–241

Newton-Fisher NE (2015) The hunting behavior and carnivory of wild chimpanzees. In: Henke W, Tattersall I (eds) Handbook of paleoanthropology. Springer, Berlin, Heidelberg, pp 1661–1691

Neyman PF (1977) Aspects of the ecology and social organization of free-ranging cotton-top tamarins (Saguinus oedipus) and the conservation status of the species. In: Kleiman DG (ed) The biology and conservation of the callitrichidae. Smithsonian Institution Press, Washington, pp 39–71

Nickle DA, Heymann EW (1996) Predation on orthoptera and other orders of insects by tamarin monkeys, Saguinus mystax mystax and Saguinus fuscicollis nigrifrons (Primates: Callitrichidae), in northeastern Peru. J Zool 239:799–819

Peres CA (1993) Diet and feeding ecology of saddle-back (Saguinus fuscicollis) and moustached (S. mystax) tamarins in Amazonian terra firme forest. J Zool 230:567–592

Porter LM (2001) Dietary differences among sympatric Callitrichinae in northern Bolivia: Callimico goeldii, Saguinus fuscicollis and S. labiatus. Int J Primatol 22:961–992

Pruetz JD (2006) Feeding ecology of savanna chimpanzees (Pan troglodytes verus) at Fongoli, Senegal. In: Hohmann G, Robbins MM, Boesch C (eds) Feeding ecology of apes and other primates ecological, physical and behavioral aspects. Cambridge University Press, Cambridge, pp 161–182

Rose LM (1997) Vertebrate predation and food-sharing in Cebus and Pan. Int J Primatol 18:727–765

Schulz J (2017) The correlation between different habitats and the frog community of an Amazon Rainforest, Peru. Master thesis, University of Göttingen, Göttingen

Smith AC (2000) Interspecific differences in prey captured by associating saddleback (Saguinus fuscicollis) and moustached (Saguinus mystax) tamarins. J Zool 251:315–324

Soini P (1987) Ecology of the saddle-back tamarin Saguinus fuscicollis illigeri on the Rio Pacaya, northeastern Peru. Folia Primatol 49:11–32

Sommer V, Lowe A, Jesus G, Alberts N, Bouquet Y, Inglis DM, Petersdorf M, van Riel E, Thompson J, Ross C (2016) Antelope predation by Nigerian forest baboons: ecological and behavioural correlates. Folia Primatol 87:67–90

Stanford CB, Wallis J, Matama H, Goodall J (1994) Patterns of predation by chimpanzees on red colobus monkeys in Gombe National Park, 1982–1991. Am J Phys Anthropol 94:213–228

Terborgh J (1983) Five new world primates. A study in comparative ecology. Princeton University Press, Princeton

Watling JI, Donnelly MA (2002) Seasonal patterns of reproduction and abundance of leaf litter frogs in a Central American rainforest. J Zool 258:269–276
Acknowledgements
We are most grateful to Juan Huanaquiri, Walter Mermao, Camilo Flores, Ney Shahuano, Manuel Shahuano, Jeissen Shahuano and Migdonio Arirama for their skilful assistance with fieldwork. Marieke Wübker kindly shared the photo in Fig. 2b, and Stephanie Koulenti kindly provided details of the terrestrial frog capture event. We thank the following institutions for issuing research permits since 1985: Dirección General Forestal y de Fauna of the Ministerio de Agricultura (Lima), Ministerio de Agricultura—Región Agraria XXII (Iquitos), Dirección de Recursos Naturales y Medio Ambiente—Gobierno Regional de la Amazonia (Iquitos), Dirección Regional Agraria—Gobierno Regional de Loreto (Iquitos), Instituto Nacional de Recursos Naturales (Lima) and Servicio Nacional Forestal y de Fauna Silvestre (Lima). Projects during which data reported in this paper were collected were partially funded by the German Research Council, the Christian-Vogel-Fonds of the Gesellschaft für Primatologie (GfP) and the Universitätsbund Göttingen.
Electronic supplementary material
Below is the link to the electronic supplementary material.
About this article
Cite this article
Lüffe, T.M., Tirado Herrera, E.R., Nadjafzadeh, M. et al. Seasonal variation and an "outbreak" of frog predation by tamarins. Primates 59, 549–552 (2018). https://doi.org/10.1007/s10329-018-0688-1
Received:

Accepted:

Published:

Issue Date:

DOI: https://doi.org/10.1007/s10329-018-0688-1
Keywords