Abstract
There are few studies of long-term care and rehabilitation of animals which acquired physical disabilities in captivity, despite their importance for welfare. An adult male chimpanzee named Reo at the Primate Research Institute of Kyoto University, developed acute myelitis, inflammation of the spinal cord, which resulted in impaired leg function. This report describes a walking rehabilitation system set up in a rehabilitation room where he lives. The rehabilitation apparatus consisted of a touch monitor presenting cognitive tasks and a feeder presenting food rewards at a distance of two meters from the monitor, to encourage him to walk between the monitor and the feeder repeatedly. Initially, Reo did not touch the monitor, therefore we needed adjustment of the apparatus and procedure. After the habituation to the monitor and cognitive tasks, he started to show behaviors of saving food rewards without walking, or stopping participation to the rehabilitation. Finally it took seven phases of the adjustment to determine the final setting; when the monitor automatically displayed trials in 4-h, AM (1000–1200 hours) and PM (1400–1600 hours) sessions through a day, Reo spontaneously walked from the monitor to the feeder to receive rewards, and returned to the monitor to perform the next trial. Comparison of Reo's locomotion in a no-task period and under the final setting revealed that the total travel distance increased from 136.7 to 506.3 m, movement patterns became multiple, and the percentage of walking increased from 1.2 to 27.2 % in PM session. The findings of this case study suggest that cognitive tasks may be a useful way to rehabilitate physically disabled chimpanzees, and thus improve their welfare in captivity.
Access options
Buy single article
Instant access to the full article PDF.
USD 39.95
Price excludes VAT (USA)
Tax calculation will be finalised during checkout.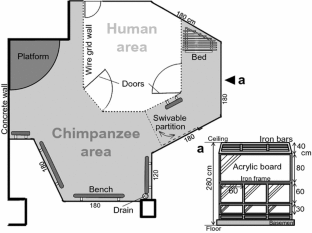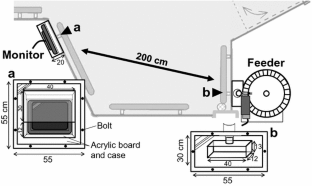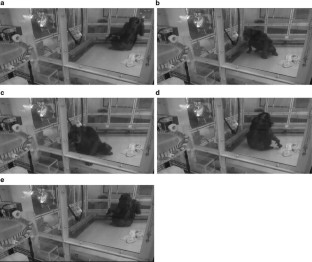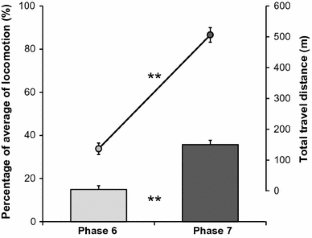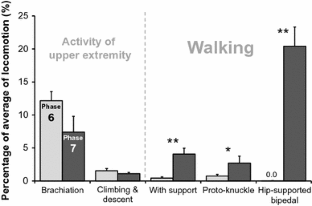 References
Antilla A, Clay P, Geurts T, Cossaboon C, Pietsch, R (2013) Allie's story: The road to recovery—a six year history of a neurological disease. Retrieved from http://www.orangutanssp.org/uploads/2/4/9/9/24992309/allie_-_gati_-_cossaboonpietsch.pdf

AZA Chimpanzee SSP (2010) Chapter 4. Social Environment. In Chimpanzee (Pan troglodytes) Care Manual. the Association of Zoos and Aquariums in association with the AZA Anim Welf Comm. (pp. 25–28). Retrieved from https://www.aza.org/uploadedFiles/Animal_Care_and_Management/Animal_Programs/Animal_Programs_Database/Animal_Care_Manuals/ChimpanzeeCareManual2010R.pdf

Beran MJ, Pate JL, Kirk Ritherdson W, Rumbaugh DM (2000) A chimpanzee's (Pan troglodytes) long-term retention of lexigrams. Anim Learning Behav 28:201–207

Bernardi M, Canale I, Castellano V, Filippo DL, Felici F, Marchetti M (1995) The efficiency of walking of paraplegic patients using a reciprocating gait orthosis. Paraplegia 33:409–415

Betker AL, Desai A, Nett C, Kapadia N, Szturm T (2007) Game-based exercises for dynamic short-setting balance rehabilitation of people with chronic spinal cord injury and traumatic brain injuries. Phys Ther 87:1389–1398

Bryanton C, Bosse J, Brien M, Mclean J, McCormick A, Sveistrup H (2006) Feasibility, motivation, and selective motor control: Virtual reality compared to conventional home exercise in children with cerebral palsy. Cyber Psychol Behav 9:123–128

Clark FE (2011) Great ape cognition and captive care: Can cognitive challenges enhance well-being? Appl Anim Behav Sci 135:1–12

Cunha TI, Lim AP, Qureshy H, Henson H, Monga T, Protas JE (2002) Gait outcomes after acute stroke rehabilitation with supported treadmill ambulation training: a randomized controlled pilot study. Archives of Phys Med Rehabil 83:1258–1265

Dallaire AJ, Field N, Mason JG (2012) Activity and enrichment use in disabled Asiatic black bears (Ursus thibetanus) rescued from bile farms. Anim Welf 21:167–176

Farm Animal Welfare Council (FAWC) (2009) Farm animal welfare in Great Britain: Past, present and future. UK government, London

Felici F, Bernardi M, Rodio P, Marchettoni P, Castellano V, Macaluso A (1997) Rehabilitation of walking for paraplegic patients by means of a treadmill. Spinal Cord 35:383–385

Fushimi T (1994) Acquisition of request and reject behaviors in chimpanzees (unpublished doctoral dissertation). Kyoto University, Japan

Hayashi M, Sakuraba Y, Watanabe S, Kaneko A, Matsuzawa T (2013) Behavioral recovery from tetraparesis in a captive chimpanzee. Primates 54:237–243

Hesse S, Konrad M, Uhlenbrock D (1999) Treadmill walking with partial body weight support versus floor walking in hemiparetic subjects. Archives Phys Med Rehabil 80:421–427

Hoffer MM, Feiwell E, Perry R, Perry J, Bonnett C (1973) Functional ambulation in patients with myelomeningocele. J Bone Jt Surg 55:137–148

Holden KM, Gill MK, Magliozzi RM, Nathan J, Piehl-Baker L (1984) Clinical gait assessment in the neurologically impaired: reliability and meaningfulness. Phys Ther 64:35–40

Hosey G, Melfi V, Pankhurst S (2013) Zoo animals: behaviour, management, and welfare, 2nd edn. Oxford University Press, Oxford

Inoue-Murayama M, Hibino E, Matsuzawa T, Hirata S, Takenaka O, Hayasaka I, Ito S, Murayama Y (2006) The application of a human personality test to chimpanzees and survey of polymorphism in genes relating to neurotransmitters and hormones. In: Matsuzawa T, Tomonaga M, Tanaka M (eds) Cognitive development in chimpanzees. Springer, Tokyo, pp 113–124

Jones F (2014) Self-management for people with chronic conditions. In: Siegert RJ, Levack WMM (eds) Rehabilitation goal setting: theory, practice and evidence. CRC Press, Boca Raton, pp 265–289

Leach CM, Bowell AV, Allan FT, Morton BD (2004) Measurement of aversion to determine humane methods of anaesthesia and euthanasia. Anim Welf 13:77–86

Maple LT, Perdue MB (2013) Zoo animal welfare. Springer, Berlin

Martin P, Bateson P (2007) Measuring behaviour: an introductory guide, 3rd edn. Cambridge University Press, New York

Matsuzawa T (2003) The Ai project: historical and ecological contexts. Anim Cognit 6:199–211

Matsuzawa T (2006) Sociocognitive development in chimpanzees: a synthesis of laboratory work and fieldwork. In: Matsuzawa T, Tomonaga M, Tanaka M (eds) cognitive development in chimpanzees. Springer, Tokyo, pp 3–33

Mench JA (1998) Environmental enrichment and the importance of exploratory behavior. In: Shepherdson DJ, Mellen JD, Hutchins M (eds) Second nature: environmental enrichment for captive animals. Smithsonian Institution, Washington, DC, pp 30–46

Miller RE, Fowler EM (2012) Fowler's zoo and wild animal medicine. Elsevier Inc, Riverport

Miltner HRW, Bauder H, Sommer M, Dettmers C, Taub E (1999) Effects of constraint-induced movement therapy on patients with chronic motor deficits after stroke: a replication. Stroke 30:586–592

Miyabe-Nishiwaki T, Kaneko A, Nishiwaki K, Watanabe A, Watanabe S, Maeda N, Kumazaki K, Morimoto M, Suzuki J, Ito Y, Hayashi M, Tanaka M, Tomonaga M, Matsuzawa T (2010) Tetraparesis resembling acute transverse myelitis in a captive chimpanzee (Pan troglodytes): long-term care and recovery. J Med Primatol 39:336–346

Morimura N (2006) Cognitive enrichment in chimpanzees: an approach of welfare entailing an animal's entire resources. In: Matsuzawa T, Tomonaga M, Tanaka M (eds) Cognitive development in chimpanzees. Springer, Tokyo, pp 368–391

Oates JF, Tutin CEG, Humle T, Wilson ML, Baillie JEM, Balmforth Z, Blom A, Boesch C, Cox D, Davenport T, Dunn A, Dupain J, Duvall C, Ellis CM, Farmer KH, Gatti S, Greengrass E, Hart J, Herbinger I, Hicks C, Hunt KD, Kamenya S, Maisels F, Mitani JC, Moore J, Morgan BJ, Morgan DB, Nakamura M, Nixon S, Plumptre AJ, Reynolds V, Stokes EJ, Walsh PD (2008) Pan troglodytes. The IUCN Red List of Threatened Species 2008, e.T15933A5322627

Pillar T, Dickstein R, Smolinski Z (1991) Walking reeducation with partial relief of body weight in rehabilitation of patients with locomotor disabilities. J Rehabil Res Dev 28:47–52

Rees AP (2011) An introduction to zoo biology and management. Wiley-Blackwell, Oxford

Reid DT (2002) Benefits of a virtual play rehabilitation environment for children with cerebral palsy on perceptions of self-efficacy: a pilot study. Pediatr Rehabil 5:141–148

Siddiqi AM, Ide T, Chen YM, Akamatsu N (1994) A computer-aided walking rehabilitation robot. Am J Phys Med Rehabil 73:212–216

Takemoto H (2004) Seasonal change in terrestriality of chimpanzees in relation to microclimate in the tropical forest. Am J Phys Anthropol 124:81–92

The Chimpanzee Sequencing and Analysis Consortium (2005) Initial sequence of the chimpanzee genome and comparison with the human genome. Nature 437:69–87

Tomonaga M (2001) Investigating visual perception and cognition in chimpanzees (Pan troglodytes) through visual search and related tasks: from basic to complex processes. In: Matsuzawa T (ed) Primate origins of human cognition and behavior. Springer, Tokyo, pp 55–86

Tomonaga M (2008) Relative numerosity discrimination by chimpanzees (Pan troglodytes): evidence for approximate numerical representations. Anim Cogn 11:43–57

Tomonaga M (2010) Rehabilitation of Reo (ver. 2, in Japanese). Kagaku 80:480–481

Tomonaga M, Matsuzawa T, Fujita K, Yamamoto J (1991) Emergence of symmetry in a visual conditional discrimination by chimpanzees (Pan troglodytes). Psychol Rep 68:51–60

Ueda S, Tomonaga M (2012, August). Long-term retention of symbolic matching to sample by a chimpanzee. In: 24th Congr of the Int Primatol Soc, Cancun, Mexico

WAZA Council (2003) WAZA Code of Ethics and Animal Welfare. World Assoc of Zoos and Aquar. Retrieved from http://www.waza.org/files/webcontent/1.public_site/5.conservation/code_of_ethics_and_animal_welfare/Code%20of%20Ethics_EN.pdf

World Health Organization (1981) Disability prevention and rehabilitation. Geneva. Retrieved from http://apps.who.int/iris/bitstream/10665/40896/1/WHO_TRS_668.pdf

Yamanashi Y, Hayashi M (2011) Assessing the effects of cognitive experiments on the welfare of captive chimpanzees (Pan troglodytes) by direct comparison of activity budget between wild and captive chimpanzees. Am J Primatol 73:1231–1238
Acknowledgments
We would like to thank Prof. Testuro Matsuzawa for supervising and financially supporting the present study, as well as the Grants-in-Aid for Scientific Research from the Ministry of Education, Culture, Sports, Science and Technology (Nos. 20002001, 24000001). We are also grateful to Kiyonori Kumazaki, Akino Watanabe, Akihisa Kaneko, Shohei Watanabe, Takako Miyabe-Nishiwaki, and Norihiko Maeda for taking initiative in Reo's daily care and medical treatments, and for offering continuous support throughout this study. Special thanks are owed to the following people who also participated in Reo's daily care, and provided us with invaluable advice and information: Masayuki Tanaka, Tomoko Imura, Ikuma Adachi, Shinya Yamamoto, Gaku Ohashi, Yuko Hattori, Tomomi Ochiai, Toyomi Matsuno, Makiko Uchikoshi, Tomoko Takashima, Etsuko Ichino, Koshiro Watanuki, Akemi Hirakuri, Sana Inoue, Laura Martinez, Takahisa Matsusaka, Fumito Kawakami, Chloe Gonseth, Tadatoshi Ogura, Yoshiaki Sato, Takaaki Kaneko, Fumihiro Kano, Christopher Martin, Etsuko Nogami, Suzuka Hori, Yasuyo Ito, Mai Nakashima, Yumi Yamanashi, Yena Kim, Mari Hirosawa, Akiho Muramatsu, Lira Yu, Sou Ueda, Yoshiki Kurosawa, Duncan Willson, Gao Jie, Hirohisa Hirai, Munehiro Okamoto, Kiyoaki Matsubayashi, Takashi Kageyama, Juri Suzuki, Koki Nishiwaki, Atsushi Yamanaka, Akiyo Ishigami, Yoshiroh Kamanaka, Masamitsu Abe, Mayumi Morimoto, Naoko Suda, Takayoshi Natsume, Seitaro Aisu, Rui Hirokawa, Hanako Sasaki, Sakiko Kuramoto, Yasushi Furuhashi, Yui Fujimori, Shizuka Godjali, and Kogami Takase from the PRI; Koji Ohata from the Graduate School of Medicine of Kyoto University; Keisuke Hirami of Kawamura Gishi Corp.; and Mitsuo Tagami of Osaka Rosai Hospital. Support for this study was provided by the Primate Research Institute of Kyoto University, a Grants-in-Aid for Scientific Research from the Ministry of Education, Culture, Sports, Science and Technology (No. 23220006, 26540063 and 15H05709 to MT, No. 19700245, 23700313 and 15K00204 to MH); Benesse Corporation; and Research Fellowships of the Japan Society for the Promotion of Science for Young Scientists (No. 13J00801 to YS).
About this article
Cite this article
Sakuraba, Y., Tomonaga, M. & Hayashi, M. A new method of walking rehabilitation using cognitive tasks in an adult chimpanzee (Pan troglodytes) with a disability: a case study. Primates 57, 403–412 (2016). https://doi.org/10.1007/s10329-016-0541-3
Received:

Accepted:

Published:

Issue Date:

DOI: https://doi.org/10.1007/s10329-016-0541-3
Keywords