Abstract
Reports and quantitative descriptions of wild primate births are rare due to the frequent occurrence of nighttime parturitions. The aim of this study was to describe in detail one daytime birth event in a free-ranging band of Sichuan snub-nosed monkeys (Rhinopithecus roxellana), a highly endangered colobine species endemic to China. Using focal-animal sampling, we recorded both the birth event and behavior of the mother and other group members. The partum stage lasted 4 min 10 s. Immediately after parturition, the mother severed the umbilical cord, ingested the placenta, and cleaned the newborn. During the birthing process, the mother received what may possibly be described as birth assistance from one multiparous female within the same one-male unit. Although "aunting" or infant caregiving behavior has previously been reported in coloblines, this is the first putative case of birth assistance in a nonhuman primate.
Access options
Buy single article
Instant access to the full article PDF.
US$ 39.95
Tax calculation will be finalised during checkout.
Subscribe to journal
Immediate online access to all issues from 2019. Subscription will auto renew annually.
US$ 79
Tax calculation will be finalised during checkout.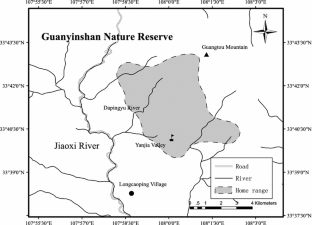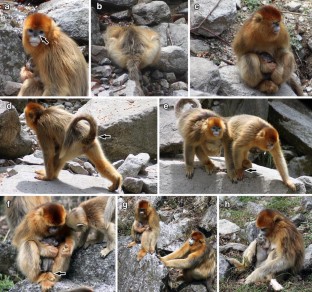 References
Agoramoorthy G (1992) Reproductive biology of the Hanuman langur Presbytis entellus in Jodhpur, Western India. J Bombay Nat Hist Soc 89:84–93

Altmann J (1974) Observational study of behavior: sampling methods. Behaviour 49:227–266

Bowden D, Winter P, Ploog D (1967) Pregnancy and delivery behavior in the squirrel monkey (Saimiri sciureus) and other primates. Folia Primatol 5:1–42

Chism J, Olson DK, Rowell TE (1983) Diurnal births and perinatal behavior among wild patas monkeys: evidence of an adaptive pattern. Int J Primatol 4:167–184

DeLuycker AM (2014) Observations of a daytime birthing event in wild titi monkeys (Callicebus oenanthe): implications of the male parental role. Primates 55:59–67

Dias PAD (2005) Observation of parturition in the Mexican mantled howler monkeys (Alouatta palliata) on the Island of Agaltepec, Veracruz State, Mexico. Am J Primatol 65:93–98

Ding W, Yang L, Xiao W (2013) Daytime birth and parturition assistant behavior in wild black-and-white snub-nosed monkeys (Rhinopithecus bieti) Yunnan, China. Behav Processes 94:5–8

Douglas PH (2014) Female sociality during the daytime birth of a wild bonobo at Luikotale, Democratic Republic of the Congo. Primates 55:533–542

Duboscq J, Neumann C, Perwitasari-Farajallah D, Engelhardt A (2008) Daytime birth of a baby crested black macaque (Macaca nigra) in the wild. Behav Processes 79:81–84

Gorzitze AB (1996) Birth-related behaviors in wild proboscis monkeys (Nasalis larvatus). Primates 37:75–78

Jolly A (1972) Hour of birth in primates and man. Folia Primatol 18:108–121

Kumar A, Solanki GS, Sharma BK (2005) Observations on parturition and allomothering in wild capped langur (Trachypithecus pileatus). Primates 46:215–217

Li BG, Zhao DP (2007) Copulation behavior within one-male groups of wild Rhinopithecus roxellana in the Qinling Mountains of China. Primates 48:190–196

Maestripieri D (1994) Social structure, infant handling, and mothering styles in group-living Old World monkeys. Int J Primatol 15:531–553

Pan WS, Gu TL, Pan Y, Feng CG, Long Y, Zhao Y, Meng H, Liang ZH, Yao M (2014) Birth intervention and non-maternal infant-handling during parturition in a nonhuman primate. Primates 5:483–488

Peker S, Kowalewski MM, PavC RE, Zunino GE (2009) Births in wild black and gold howler monkeys (Alouatta caraya) in northern Argentina. Am J Primatol 71:261–265

Price EC (1990) Parturition and perinatal behaviour in captive cotton-top tamarins (Saguinus oedipus). Primates 31:523–535

Qi XG, Li BG, Ji WH (2008) Reproductive parameters of wild female Rhinopithecus roxellana. Am J Primatol 70:311–319

Qi XG, Yang B, Garber PA, Ji WH, Watanabe K, Li BG (2011) Sexual interference in the golden snub-nosed monkey (Rhinopithecus roxellana): a test of the sexual competition hypothesis in a polygynous species. Am J Primatol 73:366–377

Qi XG, Garber PA, Ji W, Huang ZP, Huang K, Zhang P, Guo ST, Wang XW, He G, Li BG (2014) Satellite telemetry and social modeling offer new insights into the origin of primate multilevel societies. Nat Commun 5:5296

Ratnayeke AP, Dittus WP (1989) Observation of a birth among wild toque macaques (Macaca sinica). Int J Primatol 10:235–242

Sargent C (2011) Birth. In: Ember CR, Ember M (eds) Encyclopedia of medical anthropology-health and illness in the world's cultures. Springer, New York, pp 224–229

Sekulic R (1982) Birth in free-ranging howler monkeys Alouatta seniculus. Primates 23:580–582

Takahata Y, Koyama N, Miyamoto N, Okamoto M (2001) Daytime deliveries observed for the ring-tailed lemurs of the Berenty Reserve, Madagascar. Primates 42:267–271

Timmermans PJA, Vossen JMH (1996) The influence of repeated motherhood on periparturitional behavior in cynomolgus macaques (Macaca fascicularis). Int J Primatol 17:277–296

Turner SE, Fedigan LM, Nakamichi M, Matthews HD, McKenna K, Nobuhara H, Nobuhara T, Shimizu K (2010) Birth in free-ranging Macaca fuscata. Int J Primatol 31:15–37

Xi WZ, Li BG, Zhao DP, Ji WH, Zhang P (2008) Benefits to female helpers in wild Rhinopithecus roxellana. Int J Primatol 29:593–600

Yao M, Yin LJ, Zhang L, Liu LJ, Qin DG, Pan WS (2012) Parturitions in wild white-headed langurs (Trachypithecus leucocephalus) in the Nongguan Hills, China. Int J Primatol 33:888–904

Zhang P, Watanabe K, Li BG, Tan CL (2006) Social organization of Sichuan snub-nosed monkeys (Rhinopithecus roxellana) in the Qinling Mountains, Central China. Primates 47:374–382

Zhang P, Watanabe K, Li BG, Qi XG (2008) Dominance relationships among one-male units in a provisioned free-ranging band of the Sichuan snub-nosed monkeys (Rhinopithecus roxellana) in the Qinling Mountains, China. Am J Primatol 70:634–641
Acknowledgments
The study was supported by the Key Program of National Natural Science Fund (31130061), National Natural Science Foundation of China (31572278, 31472014, 31270442, 31470456, 31501872), Special Foundation of Shaanxi Academy of Sciences, China (2014K-29), China Samsung (2015). The funding organizations had no role in study design, data collection and analysis, decision to publish, or preparation of the manuscript. We thank Guanyinshan Nature Reserve for permission to carry out this study. We greatly appreciate our field assistants (Pu Zhiyong and Peng Yong) for indispensable support during this study, and especially students from the Primate Research Center of Northwest University China. PAG wishes to thank Chrissie, Sara, and Jenni for their love and support. We also appreciate Dr. Christine Watts for assisting with editing.
Additional information
Bin Yang and Peng Zhang contributed equally to this work.
About this article
Cite this article
Yang, B., Zhang, P., Huang, K. et al. Daytime birth and postbirth behavior of wild Rhinopithecus roxellana in the Qinling Mountains of China. Primates 57, 155–160 (2016). https://doi.org/10.1007/s10329-015-0506-y
Received:

Accepted:

Published:

Issue Date:
Keywords
Sichuan snub-nosed monkeys

Daytime birth

Birth assistance