Abstract
We report the physical and behavioral development of one severely disabled female infant chimpanzee (Pan troglodytes schweinfurthii) of the well-habituated M group in the Mahale Mountains National Park. We documented interactions between the infant and its mother and with other group members. Congenital disabilities occur in many primate species, including chimpanzees. However, there have been only a few case studies of congenitally disabled chimpanzee infants and no reports examining how a chimpanzee mother copes with such a disabled infant in the wild. The observed infant exhibited symptoms resembling Down syndrome, similar to those reported previously for a captive chimpanzee. The mother did not allow nonrelatives to take care of the infant even though she had been previously relatively tolerant of allomothering by nonrelatives. The mother's compensatory care for her infant's disabilities and allomothering of the infant by its sister might have helped it to survive for 23 months in the wild. Other group members did not show any aversive or fearful reactions to the disabled infant.
Access options
Buy single article
Instant access to the full article PDF.
US$ 39.95
Tax calculation will be finalised during checkout.
Subscribe to journal
Immediate online access to all issues from 2019. Subscription will auto renew annually.
US$ 79
Tax calculation will be finalised during checkout.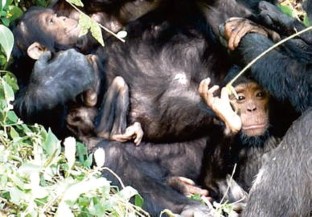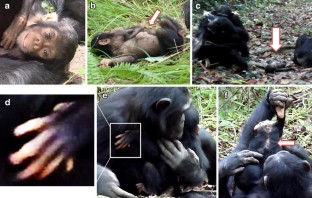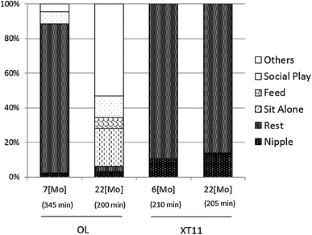 References
Byrne RW, Stokes EJ (2002) Effects of manual disability on feeding skills in gorillas and chimpanzees. Int J Primatol 23:539–554

Doat D (2014) Evolution and human uniqueness: prehistory, disability, and the unexpected anthropology of Charles Darwin. In: Bolt D (ed) Changing social attitudes toward disability: perspectives from historical, cultural, and educational studies. Routledge, New York, pp 15–24

Fedigan LM, Fedigan L (1977) The social development of a handicapped infant in a free-living troop of Japanese monkeys. In: Chevalier-Skolnikoff S, Poirier FE (eds) Primate biosocial development: biological, social and ecological determinants. Garland, New York, pp 205–255

Goodall J (1986) The chimpanzees of Gombe: patterns of behavior. Harvard University Press, Cambridge

Hamada Y, Udono T, Teramoto M, Sugawara T (1996) The growth pattern of chimpanzees: somatic growth and reproductive maturation in Pan troglodytes. Primates 37:279–295

Hiraiwa-Hasegawa M (1990) A note on the ontogeny of feeding. In: Nishida T (ed) The chimpanzees of the Mahale mountains. Tokyo University Press, Tokyo, pp 277–283

Kumazaki K, Maeda N, Kato A, Suzuki J, Yamauchi S, Kaneko A, Goto S, Matsuzawa T (2010) Memories of Piko. In: Matsuzawa T (ed) What is human?. Iwanami, Tokyo, pp 110–111 (in Japanese)

Kummer H, Goodall J (1985) Conditions of innovative behaviour in primates. Philos Trans R Soc Lond B Biol Sci 308:203–214

McClure HM, Belden KH, Pieper WA, Jacobson CB (1969) Autosomal trisomy in a chimpanzee: resemblance to Down's syndrome. Science 165:1010–1012

McClure H, Pieper W, Keeling M, Jacobson C, Schlant R (1973) Down's-like syndrome in a chimpanzee. In: Bourne GH (ed) The chimpanzee. University Park Press, Baltimore, pp 182–214

Nakamichi M (1986) Behavior of infant Japanese monkeys (Macaca fuscata) with congenital limb malformations during their first three months. Dev Psychobiol 19:335–341

Nakamichi M, Fujii H, Koyama T (1983) Behavioral development of a malformed infant in a free-ranging group of Japanese monkeys. Primates 24:52–66

Nakamura M (2010) What does it mean a society to be complex?: Questions about relationship between society and individual. Primate Res 26:131–142 (in Japanese with English summary)

Nakamura M, Hosaka K, Itoh N, Zamma K (eds) (2015) Mahale chimpanzees: 50 years of research. Cambridge University Press, Cambridge

Quiatt D, Reynolds V, Stokes EJ (2002) Snare injuries to chimpanzees (Pan troglodytes) at 10 study sites in East and West Africa. Afr J Ecol 40:303–305

Stokes EJ, Byrne RW (2001) Cognitive capacities for behavioural flexibility in wild chimpanzees (Pan troglodytes): the effect of snare injuries on complex manual food processing. Anim Cogn 4:11–28

Struhsaker TT, Chapman CA, Pope TR, Marcus JR (2011) Healthy baboon with no upper jaw or nose: an extreme case of adaptability in the Kibale National Park, Uganda. Primates 52:15–18

Sugiyama Y (1984) Population dynamics of wild chimpanzees at Bossou, Guinea, between 1976 and 1983. Primates 25:391–400

Sugiyama Y (2008) Birth of culture. Kyoto University Press, Kyoto (in Japanese)

Sugiyama Y, Kurita H, Matsui T, Kimoto S, Egawa J (2014) Congenital malformations in Japanese macaques (Macaca fuscata) at Takasakiyama. Primates 55:303–311

Turner SE, Gould L, Duffus DA (2005) Maternal behavior and infant congenital limb malformation in a free-ranging group of Macaca fuscata on Awaji Island, Japan. Int J Primatol 26:1435–1457

Turner SE, Fedigam LM, Nobuhara H, Nobuhara T, Matthews HD, Nakamichi M (2008) Monkeys with disabilities: prevalence and severity of congenital limb malformations in Macaca fuscata on Awaji Island. Primates 49:223–226

Turner SE, Fedigan LM, Matthews HD, Nakamichi M (2014) Social consequences of disability in a nonhuman primate. J Hum Evol 68:47–57

Wilson JG, Gavan JA (1967) Congenital malformations in nonhuman primates: spontaneous and experimentally induced. Anat Rec 158:99–109
Acknowledgments
We thank the Tanzania Commission for Science and Technology, the Tanzania Wildlife Research Institute, the Tanzania National Parks, and the Mahale–Gombe Wildlife Research Centre for permissions to conduct this research at Mahale; and Tanzanian assistants for their daily help in the field. We thank Mr. T. Udono and Dr. M. Fujisawa for valuable comments on symptoms of XT11 by checking the photos. This research was financially supported by the Grants-in-Aid for Scientific Research (#21730593 to S. Inoue and #24255010 to J. Yamagiwa) and the Grants-in-Aid for JSPS Fellows (#14J00562 to T. Matsumoto).
About this article
Cite this article
Matsumoto, T., Itoh, N., Inoue, S. et al. An observation of a severely disabled infant chimpanzee in the wild and her interactions with her mother. Primates 57, 3–7 (2016). https://doi.org/10.1007/s10329-015-0499-6
Received:

Accepted:

Published:

Issue Date:
Keywords
Mahale Mountains National Park

Chimpanzee

Congenital malformation

Mother–infant relationship

Disability care

Development