Abstract
We review research on reactions to mirrors and self-recognition in nonhuman primates, focusing on methodological issues. Starting with the initial demonstration in chimpanzees in 1970 and subsequent attempts to extend this to other species, self-recognition in great apes is discussed with emphasis on spontaneous manifestations of mirror-guided self-exploration as well as spontaneous use of the mirror to investigate foreign marks on otherwise nonvisible body parts—the mark test. Attempts to show self-recognition in other primates are examined with particular reference to the lack of convincing examples of spontaneous mirror-guided self-exploration, and efforts to engineer positive mark test responses by modifying the test or using conditioning techniques. Despite intensive efforts to demonstrate self-recognition in other primates, we conclude that to date there is no compelling evidence that prosimians, monkeys, or lesser apes—gibbons and siamangs—are capable of mirror self-recognition.
Access options
Buy single article
Instant access to the full article PDF.
USD 39.95
Price excludes VAT (USA)
Tax calculation will be finalised during checkout.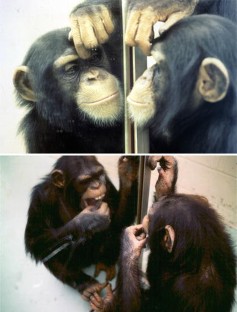 References
Allen M, Schwartz BL (2008) Mirror self-recognition in a gorilla (Gorilla gorilla gorilla). J Integr Biosci 5:19–24

Amsterdam B (1972) Mirror self-image reactions before age two. Develop Psychobiol 5:297–305

Anderson JR (1984) The development of self-recognition: a review. Develop Psychobiol 17:35–49

Anderson JR (1986) Mirror-mediated finding of hidden food by monkeys (Macaca tonkeana and M. fascicularis). J Comp Psychol 100:237–242

Anderson JR (1994) The monkey in the mirror: a strange conspecific. In: Parker ST, Mitchell RW, Boccia ML (eds) Self-awareness in animals and humans: developmental perspectives. Cambridge University Press, New York, pp 315–329

Anderson JR, Gallup GG Jr (1997) Self-recognition in Saguinus? A critical essay. Anim Behav 54:1563–1567

Anderson JR, Gallup GG Jr (1999) Self-recognition in nonhuman primates: past and future challenges. In: Haug M, Whalen RE (eds) Animal models of human emotion and cognition. American Psychological Association, Washington DC, pp 175–194

Anderson JR, Gallup GG Jr (2011) Do rhesus monkeys recognize themselves in mirrors? Am J Primatol 73:603–606

Anderson JR, Roeder JJ (1989) Responses of capuchin monkeys (Cebus apella) to different conditions of mirror-image stimulation. Primates 30:581–587

Bard KA, Todd BK, Bernier C, Love J, Leavens DA (2006) Self-awareness in human and chimpanzee infants: what is measured and what is meant by the mark and mirror test? Infancy 9:191–219

Butler D, Suddendorf T (2014) Reducing the neural search space for hominid cognition: what distinguishes human and great ape brains from those of small apes? Psychon Bull Rev 21:590–619

Calhoun S, Thompson RL (1988) Long-term retention of self-recognition by chimpanzees. Am J Primatol 15:361–365

Carbone L et al (2014) Gibbon genome and the fast karyotype evolution of small apes. Nature 513:195–201

Chang L, Fang Q, Zhang S, Poo M, Gong N (2015) Mirror-induced self-directed behaviors in rhesus monkeys after visual-somatosensory training. Curr Biol 25:212–217

De Lathouwers M, Van Elsacker L (2004) Comparing maternal styles in bonobos (Pan paniscus) and chimpanzees (Pan troglodytes). Am J Primatol 64:411–423

De Veer MW, Gallup GG Jr, Theall LS, van deb Bos R, Povinelli DJ (2003) An 8-year longitudinal study of mirror self-recognition in chimpanzees (Pan troglodytes). Neuropsychologia 41:229–234

Feinberg TE, Keenan JP (2005) Where in the brain is the self? Consc Cogn 14:661–678

Gallup GG Jr (1968) Mirror-image stimulation. Psychol Bull 70:782–793

Gallup GG Jr (1970) Chimpanzees: self-recognition. Science 167:86–87

Gallup GG Jr (1982) Self-awareness and the emergence of mind in primates. Am J Primatol 2:237–248

Gallup GG Jr (1997) On the rise and fall of self-conception in primates. Ann N Y Acad Sci 818:73–84

Gallup GG Jr, Wallnau LB, Suarez SD (1980) Failure to find self-recognition in mother-infant and infant-infant rhesus monkey pairs. Folia Primatol 33:2l0–2l9

Gallup GG Jr, Suarez SD (1991) Social responding to mirrors in rhesus monkeys (Macaca mulatta): effects of temporary mirror removal. J Comp Psychol 105:376–379

Gallup GG Jr, McClure MK, Hill SD, Bundy RA (1971) Capacity for self-recognition in differentially reared chimpanzees. Psychol Rec 21:69–74

Gallup GG Jr, Povinelli DJ, Suarez SD, Anderson JR, Lethmate J, Menzel EW Jr (1995) Further reflections on self-recognition in primates. Anim Behav 50:1525–1532

Gallup GG Jr, Anderson JR, Platek SM (2003) Self-awareness, social intelligence and schizophrenia. In: Kircher T, David A (eds) The self in neuroscience and psychiatry. Cambridge University Press, Cambridge UK, pp 147–165

Gallup GG Jr, Anderson JR, Platek SM (2011) Self-recognition. In: Gallagher S (ed) The Oxford handbook of the self. Oxford University Press, Oxford, pp 80–110

Gold K, Scassellati B (2009) Using probabilistic reasoning over time to self-recognize. Robot Auton Syst 57:384–392

Hauser MD, Kralik J, Botto-Mahan C, Garrett M, Oser J (1995) Self-recognition in primates: phylogeny and the salience of species-typical features. Proc Nat Acad Sci USA 92:10811–10814

Hauser MD, Miller CT, Liu K, Gupta R (2001) Cotton-top tamarins (Saguinus oedipus) fail to show mirror-guided self-exploration. Am J Primatol 53:131–137

Hemelrijk CK, de Kogel CH (1989) What chimpanzee mothers have more sociable infants? Behaviour 111:305–318

Heschl A, Burkart J (2006) A new mark test for mirror self-recognition in non-human primates. Primates 47:187–198

Heschl A, Fuchsbichler C (2009) Siamangs (Hylobates syndactylus) recognize their mirror image. Int J Comp Psychol 22:221–233

Heyes CM (1994) Reflections on self-recognition in primates. Anim Behav 47:909–919

Hyatt CW (1998) Responses of gibbons (Hylobates lar) to their mirror images. Am J Primatol 45:307–311

Hyatt CW, Hopkins WD (1994) Self-awareness in bonobos and chimpanzees: a comparative perspective. In: Parker ST, Mitchell RW, Boccia ML (eds) Self-awareness in animals and humans: developmental perspectives. Cambridge University Press, New York, pp 248–253

Inoue-Nakamura N (1997) Mirror self-recognition in primates: a phylogenetic perspective. Jpn Psychol Res 39:266–275

Itakura S (1987) Mirror guided behavior in Japanese monkeys (Macaca fuscata). Primates 28:149–161

Kärtner J, Keller H, Chaudhary N, Yovski RD (2012) The development of mirror self-recognition in different sociocultural contexts. Monogr Soc Res Child Develop 77(4) (Serial No. 305)

Keenan JP, Nelson A, O'Connor M, Pascual-Leone A (2001) Self-recognition and the right hemisphere. Nature 409:305

Kitchen A, Denton D, Brent L (1996) Self-recognition and abstraction abilities in the common chimpanzee studied with distorting mirrors. Proc Natl Acad Sci USA 93:7405–7408

Ledbetter DH, Basen J (1972) Failure to demonstrate self-recognition in gorillas. Am J Primtol 2:307–310

Lethmate J, Dücker G (1973) Untersuchungen zum Selbsterkennen im Spiegel bei Orang-utans und einigen anderen Affenarten. Z Tierpsychol 33:248–269

Lin AC, Bard KA, Anderson JR (1992) Development of self-recognition in chimpanzees (Pan troglodytes). J Comp Psychol 106:120–127

Maestripieri D, Schino G, Aureli F, Troisi A (1992) A modest proposal: displacement activities as an indicator of emotions in primates. Anim Behav 44:967–979

Mead GH (1934) Mind, self, and society. University of Chicago Press, Chicago

Meador KJ, Loring DW, Feinberg TE, Lee GP, Nichols ME (2000) Anosognosia and asomatognosia during intracarotid amobarbital inactivation. Neurology 55:816–820

Menzel EW Jr, Savage-Rumbaugh ES, Lawson J (1985) Chimpanzee (Pan troglodytes) spatial problem solving with the use of mirrors and televised equivalents of mirrors. J Comp Psychol 99:211–217

Miles HLW (1994) Me Chantek: the development of self-awareness in a signing orangutan. In: Parker ST, Mitchell RW, Boccia ML (eds) Self-awareness in animals and humans: developmental perspectives. Cambridge University Press, New York, pp 254–272

Nicholson IS, Gould JE (1995) Mirror mediated object discrimination and self-directed behavior in a female gorilla. Primates 36:515–521

Nielsen M, Dissanayake C (2004) Pretend play, mirror self-recognition and imitation: a longitudinal investigation through the second year. Inf Behav Develop 27:342–365

Parker ST (1994) Incipient mirror self-recognition in zoo gorillas and chimpanzees. In: Parker ST, Mitchell RW, Boccia ML (eds) Self-awareness in animals and humans: developmental perspectives. Cambridge University Press, New York, pp 301–397

Patterson FGP, Cohn RH (1994) Self-recognition and self-awareness in lowland gorillas. In: Parker ST, Mitchell RW, Boccia ML (eds) Self-awareness in animals and humans: developmental perspectives. Cambridge University Press, New York, pp 273–290

Platek SM, Gallup GG Jr (2002) Self-face recognition is affected by schizotypal personality traits. Schizophr Res 57:311–315

Platek SM, Myers TE, Critton SR, Gallup GG Jr (2003) A left-hand advantage for self-description: the impact of schizotypal personality traits. Schizophr Res 65:147–151

Plotnik JM, de Waal FBM, Reiss D (2006) Self-recognition in an Asian elephant. Proc Natl Acad Sci USA 103:17053–17057

Posada S, Colell M (2007) Another gorilla (Gorilla gorilla gorilla) recognizes himself in a mirror. Am J Primatol 69:576–583

Povinelli DJ (1994) How to create self-recognizing gorillas (but don't try it on macaques). In: Parker ST, Mitchell RW, Boccia ML (eds) Self-awareness in animals and humans: developmental perspectives. Cambridge University Press, New York, pp 291–300

Povinelli DJ, Rulf AB, Landau KR, Bierschwale DT (1993) Self-recognition in chimpanzees (Pan troglodytes): distribution, ontogeny, and patterns of emergence. J Comp Psychol 107:347–372

Povinelli DJ, Gallup GG Jr, Eddy TJ, Bierschwale DT, Engstrom MC, Perilloux HK, Toxopeus IB (1997) Chimpanzees recognize themselves in mirrors. Anim Behav 53:1083–1088

Premack D, Woodruff G (1978) Does the chimpanzee have a theory of mind? Behav Brain Sci 4:515–526

Prior H, Schwarz A, Gunturkun O (2008) Mirror-induced behavior in the magpie (Pica pica): evidence of self-recognition. PLoS Biol 6(8):e202. doi:10.1371/journalpbio.0060202

Rajala AZ, Reininger KR, Lancaster KM, Populin LC (2010) Rhesus monkeys (Macaca mulatta) do recognize themselves in the mirror: implications for the evolution of self-recognition. PLoS One 5(9):e12865. doi:10.1371/journal.pone.0012865

Reiss D, Marino L (2001) Mirror self-recognition in the bottlenose dolphin: a case of cognitive convergence. Proc Natl Acad Sci USA 98:5937–5942

Roma PG, Silberberg A, Huntsberry ME, Christensen CJ, Ruggerio AM, Suomi SJ (2007) Mark tests for self-recognition in capuchin monkeys (Cebus apella) trained to touch marks. Am J Primatol 69:989–1000

Shillito DJ, Gallup GG Jr, Beck BB (1999) Factors affecting mirror behavior in western lowland gorillas, Gorilla gorilla. Anim Behav 57:999–1004

Shumaker RW, Swartz KB (2002) When traditional methodologies fail: cognitive studies of great apes. In: Bekoff M, Allen C, Burghardt GM (eds) The cognitive animal: empirical and theoretic perspectives on animal cognition. The MIT Press, Cambridge, pp 335–343

Soler M, Pérez-Contreras T, Peralta-Sánchez JM (2014) Mirror-mark tests performed on jackdaws reveal potential methodological problems in the use of stickers in avian mark-test studies. PLoS One 9(1):e86193. doi:10.1371/journal.pone.0086193

Suarez SD, Gallup GG Jr (1981) Self-recognition in chimpanzees and orangutans, but not gorillas. J Hum Evol 10:157–188

Suddendorf T, Collier-Baker E (2009) The evolution of primate visual self-recognition: evidence of absence in lesser apes. Proc R Soc B. doi:10.1098/rspb.1754

Swartz KB, Evans S (1994) Social and cognitive factors in chimpanzee and gorilla mirror behavior and self-recognition. In: Parker ST, Mitchell RW, Boccia ML (eds) Self-awareness in animals and humans: developmental perspectives. Cambridge University Press, New York, pp 189–206

Toda K, Platt ML (2015) Animal cognition: monkeys pass the mirror test. Curr Biol 25:R64–R66

Ujhelyi M, Merker B, Buk P, Geissman T (2000) Observations on the behavior of gibbons (Hylobates leucogenys, H. gabriellae, and H. Lar) in the presence of mirrors. J Comp Psychol 114:253–262

van Veluw SJ, Chance SA (2014) Differentiating between self and others: an ALE meta-analysis of fMRI studies of self-recognition and theory of mind. Brain Imaging Behav 8:24–38

Walraven V, van Elsacker L, Verheyen R (1995) Reactions of a group of pygmy chimpanzees (Pan paniscus) to their mirror-images: evidence of self-recognition. Primates 36:145–150

Westergaard GC, Hyatt CW (1994) The responses of bonobos (Pan paniscus) to their mirror images: evidence of self-recognition. Hum Evol 9:273–279
About this article
Cite this article
Anderson, J.R., Gallup, G.G. Mirror self-recognition: a review and critique of attempts to promote and engineer self-recognition in primates. Primates 56, 317–326 (2015). https://doi.org/10.1007/s10329-015-0488-9
Received:

Accepted:

Published:

Issue Date:

DOI: https://doi.org/10.1007/s10329-015-0488-9
Keywords
Great apes

Lesser apes

Monkeys

Self-recognition

Awareness

Mirror-guided behavior

Mark test