Abstract
This study describes a case of adoption by a female tufted capuchin (Sapajus spp.) who spontaneously adopted a newborn immediately after he was abandoned, then raised him successfully with her own infant. For 7 weeks, we observed the adoptive mother, the adoptee (3 days old at the time of adoption) and the biological infant (4 days old) in order to compare the behavior of the female towards each infant. We focused our attention on different maternal behavioral patterns: grooming, carrying and cuddling behaviors, and we also considered suckling and independent locomotion by the infants. Our results showed no difference in the active care of the adoptive mother. The only significant distinction found between the two infants concerned suckling durations, which were seen to be longer for the adoptee than for the biological infant. We suggested that this could be linked to the gender of the infants, the male adoptee having greater need for milk than the biological daughter.
Access options
Buy single article
Instant access to the full article PDF.
USD 39.95
Price includes VAT (USA)
Tax calculation will be finalised during checkout.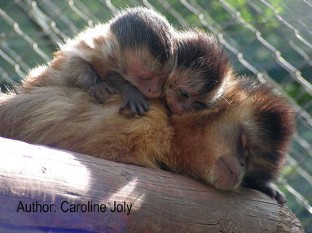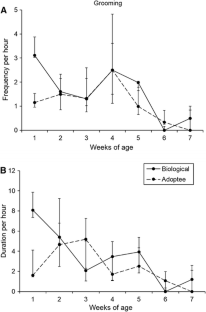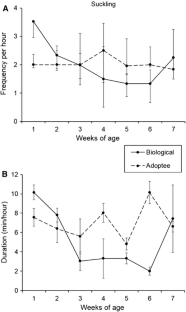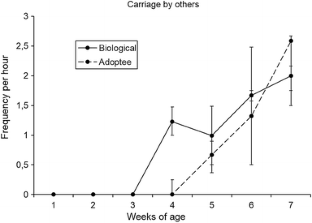 References
Agoramoorthy G, Rudran R (1992) Adoption in free-ranging red howler monkeys, Alouatta seniculus of Venezuela. Primates 33:551–555

Clarke MR, Glander KE (1981) Adoption of infant howling monkeys (Alouatta palliata). Am J Primatol 1:469–472

Ellsworth JA, Andersen C (1997) Adoption by captive parturient rhesus macaques: biological vs. adopted infants and the cost of being a "twin" and rearing "twins". Am J Primatol 43:259–264

Fairbanks LA (1993) What is a good mother? Adaptive variation in maternal behavior of primates. Curr Dir Psychol Sci 2:179–183

Fragaszy DM, Bard K (1997) Comparison of development and life history in Pan and Cebus. Int J Primatol 18:683–701

Fragaszy DM, Visalberghi E, Fedigan LM (2004) The complete capuchin: the biology of the genus Cebus. Cambridge University Press, Cambridge

Fucillo R, Scucchi S, Troisi A, D'Amato FR (1983) Newborn adoption in a confined group of Japanese macaques. Am J Primatol 5:257–260

Hansen EW (1966) The development of maternal and infant behavior in the rhesus monkey. Behavior 27:107–149

Hinde K (2007) First-time macaque mothers bias milk composition in favor of sons. Curr Biol 17:R958–R959

Hinde K (2009) Richer milk for sons but more milk for daughters: sex-biased investment during lactation varies with maternal life history in rhesus macaques. Am J Hum Biol 21:512–519

Hinde K, Milligan LA (2011) Primate milk: proximate mechanisms and ultimate perspectives. Evol Anthropol 20(1):9–23

Hobaiter C, Schel AM, Langergraber K, Zuberbühler K (2014) 'Adoption' by maternal siblings in wild chimpanzees. PLoS ONE 9(8):e103777

Holman SD, Goy RW (1988) Responses of foster-mothers and troop members to adopted newborns in a captive group of rhesus monkeys. Primates 29:343–352

Holzer Blersch B, Schmidt CR (1992) Adoption of an additional infant by a Western Lowland gorilla (Gorilla gorilla gorilla). Folia Primatol 58:190–196

Izar P, Verderane MP, Visalberghi E, Ottoni EB, Gomes de Oliviera M, Shirley J, Fragaszy D (2006) Cross-genus adoption of a marmoset (Callithrix jacchus) by wild capuchin monkeys (Cebus libidinosus): case report. Am J Primatol 68:692–700

Jay P (1965) Field studies. In: Schrier AM, Harlow HF, Stollnitz F (eds) Behavior of non-human primates, vol 2. Academic Press, New York, pp 525–591

Leighty KA, Byrne G, Fragazsy DM, Visalbergi E, Welker C, Lussier I (2004) Twinning in tufted capuchins (Cebus apella): rate, survivorship, and weight gain. Folia Primatol 75:14–18

Maestripieri D (2001) Is there mother-infant bonding in primates? Dev Rev 21:93–120

Maestripieri D (2011) Emotions, stress, and maternal motivation in primates. Am J Primatol 73(6):503–602

Maestripieri D, Megna NL, Jovanovic T (2000) Adoption and maltreatment of foster infants by rhesus macaque abusive mothers. Dev Sci 3:287–293

Manson JH (1999) Infant handling in wild Cebus capucinus: testing bonds between females? Anim Behav 57:911–921

Montagna W (1980) A case of adoption. Primate News 18:20

O'Brien TG (1988) Parasitic nursing behavior in the wedge-capped capuchin monkey (Cebus olivaceus). Am J Primatol 16:341–344

Ogawa H (1998) Adoption and social interactions between a mother and "twin" offspring in Macaca fuscata. Folia Primatol 69:100–105

Perry S (1996) Female-female social relationships in wild white-faced capuchin monkeys, Cebus capucinus. Am J Primatol 40:167–182

Powe CE, Knott CD, Conklin-Brittain N (2010) Infant sex predicts breast milk energy content. Am J Hum Biol 22:50–54

Siegel S, Castellan JN (1988) Non parametric statistics for the behavioral sciences. McGraw-Hill, New York

Smith S (1986) Infant cross-fostering in rhesus monkeys (Macaca mulatta): a procedure for the long-term management of captive populations. Am J Primatol 11:229–237

Thierry B (1985) A case of "transient adoption" in a captive group of Tonkean macaques (Macaca tonkeana). Lab Primate Newsletter 24:1–6

Thierry B, Anderson J (1986) Adoption in anthropoid primates. Int J Primatol 7:191–215

Timmermans PJA, Schouten WGP, Krijnen JCM (1981) Reproduction of cynomolgus monkeys (Macaca fascicularis) in harem. Lab Anim 5:119–123

Weatherall D, Goodfellow P, Harris J, Hinde R, Johnson L, Morris R, Ross N, Skehel J, Tickell C (2006) The use of non-human primates in research. Academy of Medical Sciences, London

Weaver A, de Waal FBM (2002) An index of relationship quality based on attachment theory. J Comp Psychol 116:93–106

Wilson EO (1975) Sociobiology: the new synthesis. Harvard University Press, Cambridge
Acknowledgments
We are grateful to M. Arnaud, C. Joly, H. Birot, L. Briard and K. Knez for helping with data collection and data analysis. We also thank the two reviewers for their suggestions and comments.
About this article
Cite this article
Pelé, M., Petit, O. Equal care for own versus adopted infant in tufted capuchins (Sapajus spp.) . Primates 56, 201–206 (2015). https://doi.org/10.1007/s10329-015-0463-5
Received:

Accepted:

Published:

Issue Date:
Keywords
Maternal investment

Spontaneous adoption

Development

Survival