Abstract
Regional variations in tool use among chimpanzee subspecies and between populations within the same subspecies can often be explained by ecological constraints, although cultural variation also occurs. In this study we provide data on tool use by a small, recently isolated population of the endangered Nigeria–Cameroon chimpanzee Pan troglodytes ellioti, thus demonstrating regional variation in tool use in this rarely studied subspecies. We found that the Ngel Nyaki chimpanzee community has its own unique tool kit consisting of five different tool types. We describe a tool type that has rarely been observed (ant-digging stick) and a tool type that has never been recorded for this chimpanzee subspecies or in West Central Africa (food pound/grate stone). Our results suggest that there is fine- scale variation in tool use among geographically close communities of P. t. ellioti, and that these variations likely reflect both ecological constraints and cultural variation.
This is a preview of subscription content, log in to check access.
Access options
Buy single article
Instant access to the full article PDF.
US$ 39.95
Tax calculation will be finalised during checkout.
Subscribe to journal
Immediate online access to all issues from 2019. Subscription will auto renew annually.
US$ 79
Tax calculation will be finalised during checkout.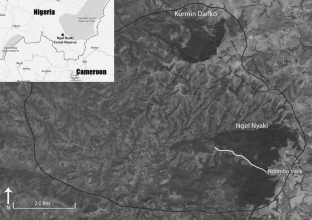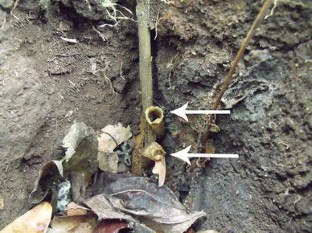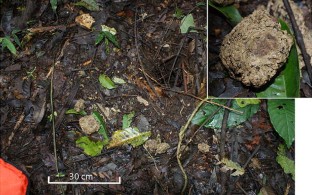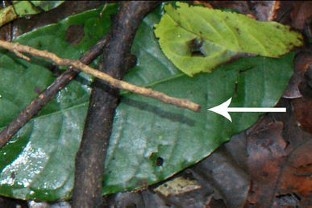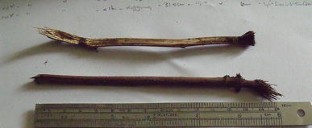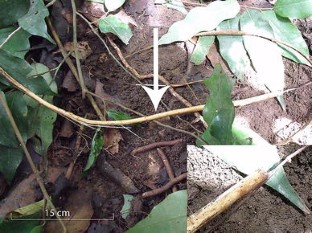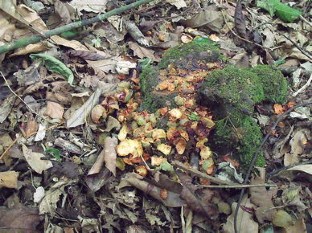 References
Abwe EE, Morgan BJ (2008) The Ebo Forest: four years of preliminary research and conservation of the Nigeria–Cameroon chimpanzee (Pan troglodytes vellerosus). Pan Africa News 15:26–29

Alp R (1993) Meat eating and ant dipping by wild chimpanzees in Sierra Leone. Primates 34:463–468

Boesch C, Boesch H (1990) Tool use and tool making in wild chimpanzees. Folia Primatol 54:86–99

Boesch C, Marchesi P, Marchesi N, Frut B, Joulian F (1994) Is nut cracking in wild chimpanzees a cultural behaviour? J Hum Evol 26:325–338

Boesch C, Head H, Robbins MM (2009) Complex tool sets for honey extraction among chimpanzees in Loango National Park, Gabon. J Hum Evol 56:560–569

Chapman JD, Chapman HM (2001) The forests of Taraba and Adamawa States, Nigeria. An ecological account and plant species checklist. University of Canterbury, Christchurch

Chapman HM, Olsen SM, Trumm D (2004) An assessment of changes in the montane forests of Taraba State, Nigeria, over the past 30 years. Oryx 38:282–290

Dishan EE, Agishi R, Akosim C (2010) Women's involvement in non timber forest products utilization in support zones of Gashaka Gumti National park. J Res For Wildl Environ 2:73–84

Dutton P (2013) Chimpanzee (Pan troglodytes ellioti) ecology in a Nigerian montane forest. Ph.D. thesis. University of Canterbury

Dutton P, Chapman H (2014) Dietary preferences of a submontane population of the rare Nigerian-Cameroon chimpanzee (Pan troglodytes ellioti) in Ngel Nyaki Forest Reserve, Nigeria. Am J Primatol. doi:10.1002/ajp.22313

Dutton P, Chapman H, Moltchanova E (2014) Secondary removal of seeds dispersed by chimpanzees in a Nigerian montane forest. Afr J Ecol. doi:10.1111/aje.12138

Fay JM, Carroll RW (1994) Chimpanzee tool use for honey and termite extraction in central Africa. Am J Primatol 33:309–317

Fowler A (2006) Behavioural ecology of chimpanzees (Pan troglodytes vellerosus) at Gashaka, Nigeria. Ph.D. thesis. University College London

Fowler A, Sommer V (2007) Subsistence technology in Nigerian chimpanzees. Int J Primatol 28:997–1023

Hawthorne WD, Jongkind CCH (2006) Woody plants of western African forests, a guide to the forest trees, shrubs and lianas from Senegal to Ghana. Kew Publishing, Kew

Hicks TC. 2010 A chimpanzee mega-culture? Exploring behavioral continuity in Pan troglodytes schweinfurthii across northern DR Congo. Dissertation, University of Amsterdam, Netherlands

Hicks TC, Fouts RS, Fouts DH (2005) Chimpanzee (Pan troglodytes troglodytes) tool use in the Ngotto Forest, Central African Republic. Am J Primatol 65:221–237

Humle T (2003) Behaviour and ecology of chimpanzees in West Africa. In: Kormos R, Boesch C, Bakarr MI, Butynski TM (eds) Status survey and conservation action plan: West African chimpanzees. IUCN, Gland, pp 13–19

Humle T (2010) How are army ants shedding new light on culture in chimpanzees. In: Lonsdorf EV, Ross SR, Matsuzawa T (eds) The mind of the chimpanzee: ecological and experimental perspectives. University of Chicago Press, Chicago, pp 116–126

Keay RWJ (1990) Trees of Nigeria. Clarendon Press, New York p 486

Knight A (2013) The genetic structure and dispersal patterns of the Nigeria-Cameroon Chimpanzee (Pan troglodytes ellioti). MSc thesis. University of Canterbury, New Zealand

Koops K, McGrew WC, Matsuzawa T (2010) Do chimpanzees (Pan troglodytes) use cleavers and anvils to fracture Treculia africana fruits? Preliminary data on a new form of percussive technology. Primates 51:175–178

Matsuzawa T (1994) Field experiments on use of stone tools by chimpanzees in the wild. In: Wrangham RW, McGrew WC, de Wall FBM, Heltne P (eds) Chimpanzee cultures. Harvard University Press, Cambridge, pp 351–370

McGrew WC (1974) Tool use by wild chimpanzees in feeding upon driver ants. J Hum Evol 3:501–508

McGrew WC (1992) Chimpanzee material culture. Implications for human evolution. Cambridge University Press, Cambridge

Morgan BJ, Abwe EE (2006) Chimpanzees use stone hammers in Cameroon. Curr Biol 16:R632–R633

Nishida T, Hiraiwa M (1982) Natural history of a tool-using behavior by wild chimpanzees in feeding upon wood-boring ants. J Hum Evol 11:73–99

Nishida T, Uehara S (1983) Natural diet of chimpanzees (Pan troglodytes schweinfurthii): long-term record from the Mahale Mountains, Tanzania. Afr Stud Monogr 3:109–130

Njoya MTM (2010) Diversity of stingless bees in Bamenda Afromontane Forests—Cameroon: nest architecture, behaviour and labour calendar. Dissertation, Hohen Landwirtschaftlichen Fakultät der Rheinischen Friedrich-Wilhelms-Universität zu Bonn

Nyanganji G, Fowler A, McNamara A, Sommer V (2011) Monkeys and apes as animals and humans: ethno-primatology in Nigeria's Taraba Region. In: Sommer V, Ross C (eds) Primates of Gashaka. Springer, Heidelberg, pp 101–134

Pascual-Garrido A, Umaru B, Allon O, Sommer V (2013) Apes finding ants: predator–prey dynamics in a chimpanzee habitat in Nigeria. Am J Primatol 75:1231–1244

Sanz C, Morgan D (2009) Flexible and persistent tool-using strategies in honey gathering by wild chimpanzees. Int J Primatol 30:411–427

Sanz CM, Morgan D, Gulick S (2004) New insights into chimpanzees, tools, and termites from the Congo Basin. Am Nat 164:567–581

Sanz CM, Schöning C, Morgan DB (2010) Chimpanzees prey on army ants with specialized tool set. Am J Primatol 72:17–24

Schöning C, Ellis D, Fowler A, Sommer V (2007) Army ant prey availability and consumption by Chimpanzees at Gashaka (Nigeria). J Zool 271:125–133

Sirianni G, Visalberghi E (2013) Wild bearded capuchins process cashew nuts without contacting caustic compounds. Am J Primatol 75:387–393

Sommer V, Buba U, Jesus G, Pascual-Garrido A (2012) Till the last drop. Honey gathering in Nigerian chimpanzees. Ecotropica 18:55–64

Sugiyama Y (1985) The brush-stick of chimpanzees found in south-west Cameroon and their cultural characteristics. Primates 26:361–374

Sugiyama Y (1995) Tool-use for catching ants by chimpanzees at Bossou and Monts Nimba, West Africa. Primates 36:193–205

Sugiyama Y, Koman J, Bhoye Sow M (1988) Ant-catching wands of wild chimpanzees at Bossou, Guinea. Folia Primatol 51:56–60

Takemoto H, Hirata S, Sugiyama Y (2005) The formation of the brush-sticks: modification of chimpanzees or the by-product of folding? Primates 46:183–189

Tutin CEG, Ham R, Wrogemann D (1995) Tool use by chimpanzees (Pan t. troglodytes) in the Lopé Reserve, Gabon. Primates 36:181–192

van Schaik CP (2009) Geographical variation in the behavior of wild great apes: is it really cultural? In: Laland KN, Galef BG (eds) The question of animal culture. Harvard University Press, Cambridge, Massachusetts, pp 70–98

Whiten A, Goodall J, McGrew WC, Nishida T, Reynolds V, Sugiyama Y, Tutin CEG, Wrangham RW, Boesch C (1999) Cultures in chimpanzees. Nature 399:682–685

Whiten A, Goodall J, McGrew WC, Nishida T, Reynolds V, Sugiyama Y, Tutin CEG, Wrangham RW, Boesch C (2001) Charting cultural variation in chimpanzees. Behaviour 138:1481–1516

Yamamoto S, Yamakoshi G, Humle T, Matsuzawa T (2011) Ant fishing in trees: invention and modification of a new tool-use behavior. In: Matsuzawa T, Humle T, Sugiyama Y (eds) The Chimpanzees of Bossou and Nimba. Springer, Japan, pp 123–130
Acknowledgments
Thanks to Taraba State Forestry for logistical support and the Nigerian Montane Forest Project for field facilities and field assistance, especially to Alfred Moses and Suleiman A. Idi. Funding was from the North of England Zoological Society (Chester Zoo), Nexen Inc., A. G. Leventis Foundation and Primate Conservation Inc. (PCI).
The sampling protocol used in this study complied with the ethical standards in the treatment of animals with the guidelines laid down by the Primate Society of Japan, NIH (US), EC Guide for animal experiments, was approved by the University of Canterbury Animal Ethics Committee, Approval # 2009/26R and was in compliance with the laws governing animal research in Nigeria.
About this article
Cite this article
Dutton, P., Chapman, H. New tools suggest local variation in tool use by a montane community of the rare Nigeria–Cameroon chimpanzee, Pan troglodytes ellioti, in Nigeria. Primates 56, 89–100 (2015). https://doi.org/10.1007/s10329-014-0451-1
Received:

Accepted:

Published:

Issue Date:
Keywords
Afromontane

Camponotus
Dorylus
Pan troglodytes ellioti

Stingless bees

Tool use