Abstract
Parturition is one of the most important yet least observed events in studies of primate life history and reproduction. Here, I report the first documented observation of a bonobo (Pan paniscus) birth event in the wild, at the Luikotale Bonobo Project field site, Democratic Republic of the Congo. The nulliparous mother's behaviour before, during and after parturition is described, along with reactions of other community members to the birth and the neonate. Data were collected through focal-animal observations, and the events postpartum were photo-documented. The behaviour and spatial distribution of party members were recorded using scan samples. Parturition occurred during the late morning in a social context, with parous females in close proximity to the parturient mother. Placentophagia occurred immediately after delivery, and the parturient shared the placenta with two of the attending females. I compare this observation with reports of parturition in captive bonobos, and highlight the observed female sociality and social support during the birth event. Plausible adaptive advantages of parturition occurring in a social context are discussed, and accrued observations of birth events in wild and free-ranging primates suggest that females may give birth within proximity of others more frequently than previously thought. This account contributes rare empirical data for examining the interface between female sociality and parturition, and the evolution of parturitional behaviours in primates.
Access options
Buy single article
Instant access to the full article PDF.
USD 39.95
Price excludes VAT (USA)
Tax calculation will be finalised during checkout.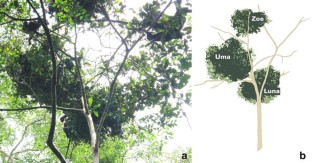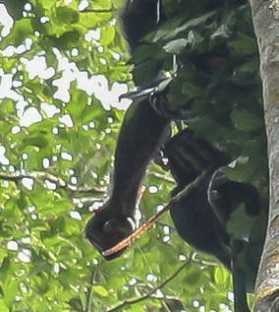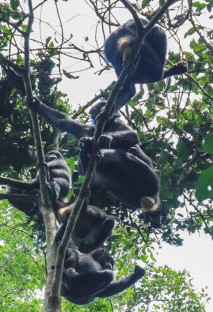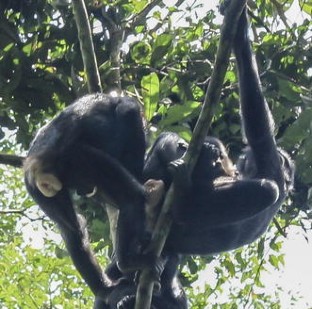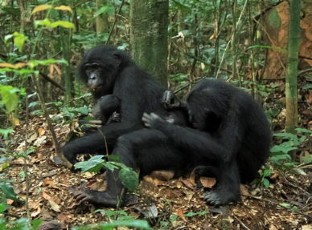 References
Abegglen H, Abegglen J-J (1976) Field observation of a birth in hamadryas baboons. Folia Primatol 26:54–56

Altmann J (1974) Observational study of behavior: sampling methods. Behaviour 49:227–267

Behringer V, Clauß W, Hachenburger K, Kuchar A, Möstl E, Selzer D (2009) Effect of giving birth on the cortisol level in a bonobo groups' (Pan paniscus) saliva. Primates 50:190–193

Bolser L, Savage-Rumbaugh S (1989) Periparturitional behavior of a bonobo (Pan paniscus). Am J Primatol 17:93–103

Bowden D, Winter P, Ploog D (1967) Pregnancy and delivery behavior in the squirrel monkey (Saimiri sciureus) and other primates. Folia Primatol 5:1–42

Brandt EM, Mitchell G (1971) Parturition in primates: behavior related to birth. In: Rosenblum LA (ed) Primate behavior: developments in field and laboratory research, vol. 2 edn. Academic, New York, pp 178–223

Brogan C, Cords M (2010) Daytime birth in a wild blue monkey (Cercopithecus mitis stuhlmanni). Afr Primates 7:61–63

Camargo CC, Ferrari SF (2007) Observations of daytime births in two groups of red-handed howlers (Alouatta belzebul) on an island in the Tucurui Reservoir in eastern Brazilian Amazonia. Am J Primatol 69:1075–1079

Carpenter CR (1964) A field study of the behavior and social relations of howler monkeys (Alouatta palliata). In: Carpenter CR (ed) Naturalistic behavior of nonhuman primates. The Pennsylvania State University Press, University Park, Pennsylvania, pp 3–92

Chism J, Olson DK, Rowell TE (1983) Diurnal births and perinatal behavior among wild patas monkeys: evidence of an adaptive pattern. Int J Primatol 4:167–184

Condit VK, Smith EO (1994) Yellow baboon labor and parturition at the Tana River National Primate Reserve, Kenya. Am J Primatol 33:51–55

Coppola F, Demuru E, Palagi E (2011) Birth in bonobos (Pan paniscus): a case report. Atti della Soc Toscana di Sci Nat, Mem Ser B 118:111–116

Cosminsky S (1976) Cross-cultural perspectives on midwifery. In: Harold SJ, Haley B (eds) Grollig FX. Medical Anthropology Mouton, The Hague, pp 229–249

Davis-Floyd RE, Sargent CF (1997) Childbirth and authoritative knowledge: cross-cultural perspectives. University of California Press, Berkeley

Deluycker AM (2014) Observations of a daytime birthing event in wild titi monkeys (Callicebus oenanthe): implications of the male parental role. Primates 55:59–67

Dias PAD (2005) Observation of parturition in the Mexican mantled howler monkeys (Alouatta palliata) on the island of Agaltepec, Veracruz State, Mexico. Am J Primatol 65:93–98

Ding W, Yang L, Xiao W (2013) Daytime birth and parturition assistant behavior in wild black-and-white snub-nosed monkeys (Rhinopithecus bieti) Yunnan, China. Behav Processes 94:5–8

Doyle GA, Pelletier A, Bekker T (1967) Courtship, mating and parturition in the lesser bushbaby (Galago senegalensis moholi) under semi-natural conditions. Folia Primatol 7:169–197

Duboscq J, Neumann C, Perwitasari-Farajallah D, Engelhardt A (2008) Daytime birth of a baby crested black macaque (Macaca nigra) in the wild. Behav Processes 79:81–84

Dunbar RIM, Dunbar P (1974) Behaviour related to birth in wild gelada baboons (Theropithecus gelada). Behaviour 50:185–191

Ellison PT (2001) A time to be born. On fertile ground. Harvard University Press, Cambridge, pp 51–80

Fruth B, Ikombe NB, Matshimba GK, Metzger S, Muganza DM, Mundry R, Fowler A (2014) New evidence for self-medication in bonobos: Manniophyton fulvum leaf- and stemstrip-swallowing from LuiKotale, Salonga National Park, DR Congo. Am J Primatol 76:146–158

Furuichi T (1989) Social interactions and the life history of female Pan paniscus in Wamba, Zaire. Int J Primatol 10:173–197

Furuichi T, Idani G, Ihobe H, Kuroda S, Kitamura K, Mori A, Enomoto T, Okayasu N, Hashimoto C, Kano T (1998) Population dynamics of wild bonobos (Pan paniscus) at Wamba. Int J Primatol 19:1029–1043

Galdikas BMF (1982) Wild orangutan birth at Tanjung Puting Reserve. Primates 23:500–510

Goodall J, Athumani J (1980) An observed birth in a free-living chimpanzee (Pan troglodytes schweinfurthii) in Gombe National Park, Tanzania. Primates 21:545–549

Gorzitze AB (1996) Birth-related behaviors in wild proboscis monkeys (Nasalis larvatus). Primates 37:75–78

Hammerschmidt K, Ansorge V (1989) Birth of a barbary macaque (Macaca sylvanus): acoustic and behavioural features. Folia Primatol 52:78–87

Hare B, Melis AP, Woods V, Hastings S, Wrangham R (2007) Tolerance allows bonobos to outperform chimpanzees on a cooperative task. Curr Biol 17:619–623

Hill CA (1968) Observations on the birth of a pigmy chimpanzee Pan paniscus at San Diego Zoo. Int Zoo Yearb 8:119–120

Hohmann G, Fruth B (2003) Lui Kotal––A new site for field research on bonobos in the Salonga National Park. Pan Africa News 10:25–27

Hohmann G, Fowler A, Sommer V, Ortmann S (2006) Frugivory and gregariousness of Salonga bonobos and Gashaka chimpanzees. In: Hohmann G, Robbins M, Boesch C (eds) Feeding ecology in apes and other primates. Cambridge University Press, Cambridge, pp 123–159

Honnebier MBOM, Nathanielsz PW (1994) Primate parturition and the role of the maternal circadian system. Eur J Obstet Gynecol Reprod Biol 55:193–203

Honnebier MBOM, Myers T, Figueroa JP, Nathanielsz PW (1989) Variation in myometrial response to intravenous oxytocin administration at different times of the day in the pregnant rhesus monkey. Endocrinology 125:1498–1503

Idani G (1991) Social relationships between immigrant and resident bonobo (Pan paniscus) females at Wamba. Folia Primatol 57:83–95

Jolly A (1972) Hour of birth in primates and man. Folia Primatol 18:108–121

Jones JS, Wynne-Edwards KE (2000) Paternal hamsters mechanically assist the delivery, consume amniotic fluid and placenta, remove fetal membranes, and provide parental care during the birth process. Horm Behav 37:116–125

Kennell J, Klaus M, McGrath S, Robertson S, Hinkley C (1991) Continuous emotional support during labor in a US hospital. A randomized controlled trial. J Am Med Assoc 265:2197–2201

Kinnaird MF (1990) Pregnancy, gestation and parturition in free-ranging Tana River crested mangabeys (Cercocebus galeritus galeritus). Am J Primatol 22:285–289

Kiwede ZT (2000) A live birth by a primiparous female chimpanzee at the Budongo Forest. Pan Africa News 7:23–25

Kristal MB (1980) Placentophagia: a biobehavioral enigma. Neurosci Biobehav Rev 4:141–150

Kristal MB, DiPirro JM, Thompson AC (2012) Placentophagia in humans and nonhuman mammals: causes and consequences. Ecol Food Nutr 51:177–197

Kumar A, Solanki GS, Sharma BK (2005) Observations on parturition and allomothering in wild capped langur (Trachypithecus pileatus). Primates 46:215–217

Kummer H (1968) Social organization of hamadryas baboons: a field study. The University of Chicago Press, Chicago

Lozoff B, Jordan B, Malone S (1988) Childbirth in cross-cultural perspective. Marriage Fam Rev 12:35–60

Lusted E (1992) Human parturition: does it require social assistance? Nexus 10:15–44

Moreno LI, Salas IC, Glander KE (1991) Breech delivery and birth-related behaviors in wild mantled howling monkeys. Am J Primatol 23:197–199

Nakamichi M, Imakawa S, Kojima Y, Natsume A (1992) Parturition in a free-ranging Japanese monkey (Macaca fuscata). Primates 33:413–418

Nash LT (1974) Parturition in a feral baboon (Papio anubis). Primates 15:279–285

Nigi H (1982) Reproductive physiology in Japanese monkeys [Nihonzaru no Sei no Seiri]. Dobutsusha, Tokyo

Nisbett RA, Glander KE (1996) Quantitative description of parturition in a wild mantled howling monkey: a case study of prenatal behaviors associated with a primiparous delivery. Brenesia 45–46:157–168

Oppenheimer JR (1976) Presbytis entellus: birth in a free-ranging primate troop. Primates 17:541–542

Parish AR (1996) Female relationships in bonobos (Pan paniscus): evidence for bonding, cooperation, and female dominance in a male-philopatric species. Hum Nat 7:61–96

Park EM, Dimigen G (1994) Cross-cultural comparison of the social support system after childbirth. J Comp Fam Stud 25:345–352

Peker S, Kowalewski MM, Pavé RE, Zunino GE (2009) Births in wild black and gold howler monkeys (Alouatta caraya) in northern Argentina. Am J Primatol 71:261–265

Price EC (1990) Parturition and perinatal behaviour in captive cotton-top tamarins (Saguinus oedipus). Primates 31:523–535

Ratnayeke AP, Dittus WPJ (1989) Observation of a birth among wild toque macaques (Macaca sinica). Int J Primatol 10:235–242

Rawlins RG (1979) Parturient and postpartum behavior of a free-ranging rhesus monkey (Macaca mulatta). J Mammal 60:432–433

Rosenberg K, Trevathan W (2002) Birth, obstetrics and human evolution. BJOG 109:1199–1206

Ruiz WIT, Diaz DMV, Amasifuen CF, Heymann EW (2004) Diurnal birth of a wild red titi monkey, Callicebus cupreus, at the Estación Biológica Quebrada Blanco. Neotrop Primates 12:15–16

Sargent C (2011) Birth. In: Ember CR, Ember M (eds) Encyclopedia of medical anthropology––health and illness in the world's cultures. Springer, New York, pp 224–229

Scott KD, Klaus PH, Klaus MH (1999) The obstetrical and postpartum benefits of continuous support during childbirth. J Women's Health Gend Based Med 8:1257–1264

Sekulic R (1982) Birth in free-ranging howler monkeys Alouatta seniculus. Primates 23:580–582

Sosa R, Kennell J, Klaus M, Robertson S, Urrutia J (1980) The effect of a supportive companion on perinatal problems, length of labor, and mother–infant interaction. N Engl J Med 303:597–600

Starin ED (1988) Gestation and birth-related behaviors in Temminck's red colobus. Folia Primatol 51:161–164

Stewart KJ (1977) The birth of a wild mountain gorilla (Gorilla gorilla beringei). Primates 18:965–976

Stewart KJ (1984) Parturition in wild gorillas: behaviour of mothers, neonates, and others. Folia Primatol 42:62–69

Surbeck M, Deschner T, Schubert G, Weltring A, Hohmann G (2012) Mate competition, testosterone and intersexual relationships in bonobos, Pan paniscus. Anim Behav 83:659–669

Takahata Y, Koyama N, Miyamoto N, Okamoto M (2001) Daytime deliveries observed for the ring-tailed lemurs of the Berenty Reserve, Madagascar. Primates 42:267–271

Thomsen R, Soltis J (2000) Socioecological context of parturition in wild Japanese macaques (Macaca fuscata) on Yakushima Island. Int J Primatol 21:685–696

Trevathan W (1987) Human birth: an evolutionary perspective. Aldine de Gruyter, New York

Turner SE, Fedigan LM, Nakamichi M, Matthews HD, McKenna K, Nobuhara H, Nobuhara T, Shimizu K (2010) Birth in free-ranging Macaca fuscata. Int J Primatol 31:15–37

van Elsacker L, Vervaecke H, Walraven V, Verheyen RF (1993) Pregnancy and periparturitional behaviour of a bonobo (Pan paniscus) within a multimale, multifemale social group. Bonobo Tidings 1:1–15

van Lawick-Goodall J (1967) Mother–offspring relationships in free-ranging chimpanzees. In: Morris D (ed) Primate ethology. Aldine, Chicago, pp 287–346

Windfelder TL (2000) Observations on the birth and subsequent care of twin offspring by a lone pair of wild emperor tamarins (Saguinus imperator). Am J Primatol 52:107–113

Yao M, Yin L, Zhang L, Liu L, Qin D, Pan W (2012) Parturitions in wild white-headed langurs (Trachypithecus leucocephalus) in the Nongguan Hills, China. Int J Primatol 33:888–904

Zamma K, Sakamaki T, Kitopeni RS (2012) A wild chimpanzee birth at Mahale. Pan Africa News 19:3–5
Acknowledgements
These observations were made during a study supported by the Max Planck Society and by additional funding from the L.S.B. Leakey Foundation. Gottfried Hohmann and Barbara Fruth gave me the opportunity to work at the field site of Luikotale and supported all stages of my fieldwork. I thank the Institut Congolais pour la Conservation de la Nature (ICCN) for permission to work in the forests surrounding Salonga National Park, and extend special thanks to the people of the village of Lompole for granting access to the forest of their ancestors. I sincerely thank Robyn Thiessen-Bock for assistance with observations, Lucas Goldstone for conducting pregnancy tests in the field, Quidel Corporation and Verify Diagnostics for the donation of hCG pregnancy test kits, and Marike Schreiber for producing the drawing in this paper. I acknowledge with gratitude Drs. Barbara Fruth, Gottfried Hohmann and Frances D. Burton for their enriching discussions and comments, as well as Dr. Wenda Trevathan and one anonymous reviewer for their helpful suggestions on this manuscript.
About this article
Cite this article
Douglas, P.H. Female sociality during the daytime birth of a wild bonobo at Luikotale, Democratic Republic of the Congo. Primates 55, 533–542 (2014). https://doi.org/10.1007/s10329-014-0436-0
Received:

Accepted:

Published:

Issue Date:

DOI: https://doi.org/10.1007/s10329-014-0436-0
Keywords
Birth

Pan paniscus

Parturition

Perinatal behaviour

Placentophagia

Female sociality