Abstract
We present two new records for the vulnerable dwarf marmoset, Callibella humilis. The first record, based on observed and photographed individuals, is from a campinarana area on the left (west) bank of the Rio Madeirinha, a left (west)-bank tributary of the Rio Roosevelt in the state of Amazonas, municipality of Novo Aripuanã and extends the distribution of the species ~270 km southwards, to the left (west) bank of the rio Roosevelt. The second record is based on an individual collected from the mouth of the Rio Roosevelt, at less than 10 km from the type locality of Mico marcai. This indicates that the species occurs sympatrically with M. marcai and probably Mico melanurus. We also present the first sonogram analysis of its long call structure, which shows some similarities, in the note duration and frequency, with Cebuella pygmaea and Mico argentatus.
This is a preview of subscription content, log in to check access.
Access options
Buy single article
Instant access to the full article PDF.
US$ 39.95
Price includes VAT for USA
Subscribe to journal
Immediate online access to all issues from 2019. Subscription will auto renew annually.
US$ 99
This is the net price. Taxes to be calculated in checkout.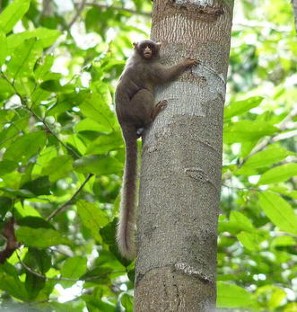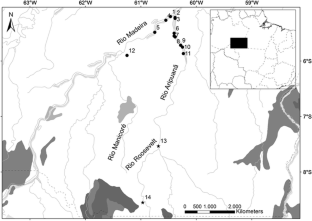 References
Aguiar JM, Lacher TE Jr (2003) On the morphological distinctiveness of Callithrix humilis Van Roosmalen et al. 1998. Neot Prim 11:11–18

Alperin R (1993) Callithrix argentata (Linnaeus, 1771): considerações taxonômicas e descrição de subespécie nova. Bol Mus Par Emílio Goeldi, Sér Zool 9:317–328

Alperin R (2002) Sobre a localidade tipo de Mico marcai. Neot Prim 10:126–128

Animal Care and Use Committee (1998) Guidelines for the capture, handling, and care of mammals as approved by the American Society of Mammalogists. J Mammal 79:1416–1431

Bezerra BM, Souto A (2008) Structure and usage of the vocal repertoire of Callithrix jacchus. Int J Primatol 29:671–701

Bioacoustics Research Program (2011) Raven Pro: interactive sound analysis software (Version 1.4) [Computer software]. The Cornell Lab of Ornithology, Ithaca

Brazil, Projeto Radambrasil (1978) Levantamento de recursos naturais, Folha SC 20, Porto Velho, vol 26. Ministério de Minas e Energia, Rio de Janeiro

Fearnside PM (1986) Spatial concentration of deforestation in the Brazilian amazon. Ambio 15:74–81

Ferrari SF (1993) An update on the black-headed marmoset, Callithrix nigriceps Ferrari and Lopes 1992. Neot Prim 1(4):11–12

Ford SM, Davis LC (2009) Marmoset post crania and the skeleton of the dwarf marmoset, Callibella humilis. In: Ford SM, Porter LM, Davis LC (eds) The smallest anthropoids. Springer, New York, pp 441–448

Garber PA (1992) Vertical clinging, small body size, and the evolution of feeding adaptations in the Callitrichinae. Am J Phys Anthropol 88:469–482

Heymann EW (1997) The relationship between body size and mixed-species troops of tamarins (Saguinus spp.). Folia Prim 68:287–295

Laurance WF, Cochrane MA, Bergen S, Fearnside PM, Delamônica P, Barber C, D'Angelo S, Fernandes T (2001) The future of the Brazilian amazon. Science 291:438–439

Mendes SL, Vielliard JME, De Marco P Jr (2009) The vocal identity of the Callithrix species (primates, Callitrichidae). In: Ford SM, Porter LM, Davis LC (eds) The smallest anthropoids. Springer, New York, pp 63–84

Mittermeier RA, Rylands AB (2008) Callibella humilis. In: IUCN 2011. IUCN Red List of Threatened Species. Version 2012.2. <www.iucnredlist.org>

Noronha MA, Spironello WR, Ferreira DC (2008) New occurrence records for Mico melanurus (primates, Callitrichidae). Neot Prim 15:26–28

Price JJ, Lanyon SC (2002) Reconstructing the evolution of complex bird song in the oropendolas. Evolution 56:1514–1529

Roosmalen MGM, Roosmalen T (2003) The description of a new marmoset genus, Callibella (Callitrichinae, primates), including its molecular phylogenetic status. Neot Prim 11:1–10

Roosmalen MGM, Roosmalen T, Mittermeier RA, Fonseca GAB (1998) A new and distinctive species of marmoset (Callitrichidae, primates) from the lower Rio Aripuanã, State of Amazonas, Central Brazilian Amazonia. Goeldiana Zool 22:1–27

Rylands AB, Mittermeier RA, Coimbra-Filho AF, Heymann EW, de la Torre S, Silva JS Jr, Kierulff CM, Noronha MA, Röhe F (2008) Marmosets and tamarins: pocket identification guide. Conservation International.CI, Colombia

Rylands AB, Coimbra-Filho A, Mittermeier RA (2009) The systematic and distributions of the marmosets (Callithrix, and Mico) and callimico (Callimico) (Callitrichidae, primates). In: Ford SM, Porter LM, Davis LC (eds) The smallest anthropoids. Springer, New York, pp 25–61

Snowdon CT (1993) A vocal taxonomy of the callitrichids. In: Rylands AB (ed) Marmosets and tamarins: systematics, behavior and ecology. Oxford University Press, Oxford, pp 78–94

Snowdon CT, Hodun A, Rosenberger AL, Coimbra-Filho AF (1986) Long-call structure and its relation to taxonomy in lion tamarins. Am J Prim 11:253–261
Acknowledgments
GSTG received financial support from the Brazilian federal agency for support and evaluation of graduate education (CAPES). FES received support from Conservation Leadership Program and from Mamirauá Institute for Sustainable Development (IDSM/MCTI). The authors thank the curator of mammals of the Museu de Zoologia da Universidade de São Paulo, Dr. Mario de Vivo; Dr. José de Souza e Silva-Júnior of the Museu Paraense Emílio Goeldi and Dr. Maria Nazareth Silva from the Instituto de Pesquisas da Amazônia for allowing access to the material under their care; to Fabio Röhe and José de Souza Silva-Júnior for sharing unpublished information on Callibella; to Rafael S. Marcondes and Thiago V. V. Costa for the great help with the sonogram analysis; to R. S. Marcondes and Anna Ferraroni for critically reading the manuscript and to Dr. Eckhard W. Heymann and one anonymous referee, who made valuable comments on the final version of this work.
About this article
Cite this article
Garbino, G.S.T., Silva, F.E. & Davis, B.J.W. Range extension of the vulnerable dwarf marmoset, Callibella humilis (Roosmalen et al. 1998), and first analysis of its long call structure. Primates 54, 331–334 (2013). https://doi.org/10.1007/s10329-013-0381-3
Received:

Accepted:

Published:

Issue Date:
Keywords
Callibella humilis

Dwarf marmoset

Long call structure

Range extension

Rio Roosevelt

Sonogram