Abstract
Infectious diseases are widely presumed to be one of the greatest threats to ape conservation in the wild. Human diseases are of particular concern, and the costs and benefits of human presence in protected areas with apes are regularly debated. While numerous syndromes with fatal outcomes have recently been described, precise identification of pathogens remains difficult. These diagnostic difficulties are compounded by the fact that direct veterinary intervention on wild apes is quite rare. Here we present the unique case of a wild chimpanzee at Gombe National Park that was observed with a severe illness and was subsequently examined and treated in the field. Multiple specimens were collected and tested with the aim of identifying the pathogen responsible for the illness. Our findings represent the first extensive screening of a living wild chimpanzee, yet despite our efforts, the cause and source of illness remain unknown. Nevertheless, our findings represent valuable baseline data for the ape conservation community and for comparison with other recent findings. In addition, we present the case here to demonstrate the planning required and multiple types of expertise necessary to maximize the amount of data obtained from such a rare intervention, and to provide lessons learned for future studies.
Access options
Buy single article
Instant access to the full article PDF.
US$ 39.95
Tax calculation will be finalised during checkout.
Subscribe to journal
Immediate online access to all issues from 2019. Subscription will auto renew annually.
US$ 79
Tax calculation will be finalised during checkout.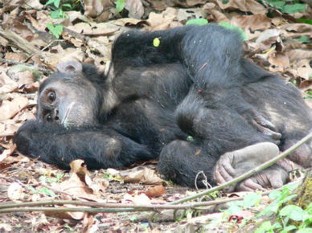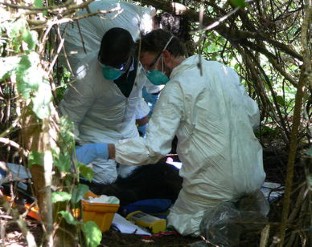 References
Altizer S, Nunn C, Lindenfors P (2007) Do threatened hosts have fewer parasites? A comparative study in primates. J Anim Ecol 76:304–314

Altmann J (1987) Review: primatology in East Africa. Science 235:694–695

Basnight M Jr, Rogers NG, Gibbs CJ Jr, Gajdusek DC (1971) Characterization of four new adenovirus serotypes isolated from chimpanzee tissue explants. Am J Epidemiol 94(2):166–171

Bermejo M, Rodríguez-Teijeiro JD, Illera G, Barroso A, Vilà C, Walsh PD (2006) Ebola outbreak killed 5000 gorillas. Science 314:1564

Chi F, Leider M, Leendertz F, Bergmann C, Boesch C, Schenk S, Pauli G, Ellerbrok H, Hakenbeck R (2007) New Streptococcus pneumoniae clones in deceased wild chimpanzees. J Bacteriol 189(16):6085–6088

Cohen MS, Shaw GM, McMichael AJ, Haynes BF (2011) Acute HIV-1 infection—basic, clinical and public health perspectives. N Engl J Med 364:1943–1954

Daszak P, Cunningham AA, Hyatt AD (2001) Anthropogenic environmental change and the emergence of infectious diseases in wildlife. Acta Trop 78:103–116

Davison AJ, Benko M, Harrach B (2003) Genetic content and evolution of adenoviruses. J Gen Virol 84:2895–2908

Decision Tree Writing Group (2006) Clinical response decision tree for the mountain gorilla (Gorilla beringeii) as a model for great apes. Am J Primatol 68:909–927

Ehlers B, Ochs A, Leendertz F, Goltz M, Boesch C, Mätz-Rensing K (2003) Novel simian homologues of Epstein-Barr virus. J Virol 77:10695–10699

Formenty P, Boesch C, Wyers M, Steiner C, Donati F, Dind F, Walker F, Le G (1999) Ebola virus outbreak among wild chimpanzees living in a rain forest of Cote d'Ivoire. J Infect Dis 179:S120–S126

Garber PA (2008) Disease transmission from humans to wild apes: perspectives on the costs and benefits of research and conservation. Am J Primatol 70:715

Gillespie TR (2006) Non-invasive assessment of gastro-intestinal parasite infections in free-ranging primates. Int J Primatol 27:1129–1143

Gillespie TR, Lonsdorf EV, Canfield EP, Meyer DJ, Nadler Y, Raphael J, Pusey AE, Pond J, Pauley J, Mlengeya T, Travis DA (2010) Demographic and ecological effects on patterns of parasitism in Eastern chimpanzees (Pan troglodytes schweinfurthii) in Gombe National Park, Tanzania. Am J Phys Anth 143:534–544

Goodall J (1983) Population dynamics during a 15 year period in one community of free-living chimpanzees in the Gombe National Park, Tanzania. Zeit für Tierpsych 61:1–60

Goodall J (1986) The Chimpanzees of Gombe patterns of behavior. Harvard University Press, Cambridge

Goodall J (1992) Unusual violence in the overthrow of an alpha male chimpanzee at Gombe. In: Nishida T, McGrew WC, Marler P, Pickford M, de Waal FBM (eds) Topics in primatology, vol 1., Human originsUniversity of Tokyo Press, Tokyo, pp 131–142

Hainsey BM, Hubbard GB, Leland MM, Brasky KM (1993) Clinical parameters of the normal baboons (Papio species) and chimpanzees (Pan troglodytes). Lab Anim Sci 43(3):236–243

Harvala H, Sharp CP, Ngole EM, Delaporte E, Peeters M, Simmonds PJ (2011) Detection and genetic characterization of enteroviruses circulating among wild populations of chimpanzees in Cameroon: relationship with human and simian enteroviruses. J Virol 85:4480–4486

Homsy J (1999) Ape tourism and human diseases: how close should we get? Report for the International Gorilla Conservation Programme IGCP Regional Meeting. February 1999. Rwanda

Howell S, Hoffman K, Bartel L, Schwandt M, Morris J, Fritz J (2003) Normal hematologic and serum clinical chemistry values for captive chimpanzees (Pan troglodytes). Comp Med 53:413–423

Hyeroba D, Apell P, Otali E (2011) Managing a speared alpha male chimpanzee (Pan troglodytes) in Kibale National Park, Uganda. Vet Record 169:658b. doi:10.1136/vr.d4680

Kearns KS, Swenson B, Ramsay EC (2000) Oral induction of anesthesia with droperidol and transmucosal carfentonil citrate in chimpanzees (Pan troglodytes). J Zoo Wildl Med 31:185–189

Keele BF, Jones JH, Terio KA, Estes JD, Rudicell RS, Wilson ML, Li Y, Learn GH, Beasley TM, Schumacher-Stankey J, Wroblewski E, Mosser A, Raphael J, Kamenya S, Lonsdorf EV, Travis DA, Mlengeya T, Kinsel MJ, Else JG, Silvestri G, Goodall J, Sharp PM, Shaw GM, Pusey AE, Hahn BH (2009) Increased mortality and AIDS-like immunopathology in wild chimpanzees infected with SIVcpz. Nature 460:515–519

Köndgen S, Kuhl H, Goran P, Walsh P, Schenk S, Ernst N, Blek R, Formenty P, Måtz-Rensing K, Schwieger B, Junglen S, Ellerbrok H, Nitsche A, Briese T, Lipkin W, Pauli G, Boesch C, Leendertz F (2008) Pandemic human viruses cause decline in endangered great apes. Curr Biol 18:1–5

Kooriyama T, Okamoto M, Yoshida T, Nishida T, Tsubota T, Saito A, Tomonaga M, Matsuzawa T, Akari H, Nishimura H, Miyabe-Nishiwaki T (2013) Epidemiological study of zoonoses derived from humans in captive chimpanzees. Primates. doi:10.1007/s10329-012-0320-8

Leendertz FH, Ellerbrok H, Boesch C, Couacy-Hymann E, Matz-Rensing K, Hakenbeck R, Bergmann C, Abaza P, Junglen S, Moebius Y, Vigilant L, Formenty P, Pauli G (2004) Anthrax kills wild chimpanzees in a tropical rainforest. Nature 30:451–452

Leendertz F, Pauli G, Maetz-Rensing K, Boardman W, Nunn C, Ellerbrok H, Jensen SA, Junglen S, Boesch C (2006) Pathogens as drivers of population declines: the importance of systematic monitoring in great apes and other threatened mammals. Biol Conserv 131:325–337

Lonsdorf EV, Travis D, Pusey AE, Goodall J (2006) Using retrospective health data from the Gombe chimpanzee study to inform future monitoring efforts. Am J Primatol 68:897–908

Luebcke E, Dubovi E, Black D, Ohsawa K, Eberle R (2006) Isolation and characterization of a chimpanzee alphaherpesvirus. J Gen Virol 87:11–19

Lukasik M (2002) Establishing a long term veterinary project for free-ranging chimpanzees in western Tanzania. Pan Afr News 9:13–17

Mlengeya T (2000) Respiratory disease outbreak in the chimpanzee population of Gombe National Park. TANAPA Veterinary Department Annual Report 2000/2001

Nishida T, Corp N, Hamai M, Hasegawa T, Hiraiwa-Hasegawa M, Hosaka K, Hunt K, Itoh N, Kawanaka K, Matsumoto-Oda A, Mitani J, Nakamura M, Norikoshi K, Sakamaki T, Turner L, Uehara S, Zamma K (2003) Demography, female life history, and reproductive profiles among the chimpanzees of Mahale. Am J Primatol 59:99–121

Nizeyi JB, Innocent RB, Erume J, Kalema GR, Cranfield MR, Graczyk TK (2001) Campylobacteriosis, salmonellosis, and shigellosis in free-ranging human-habituated mountain gorillas of Uganda. J Wild Dis 37:239–244

Nutter FB (1996) Respiratory disease claims the lives of at least seven Gombe chimps. Pan Afr News 31:3

Palacios G, Lowenstine LJ, Cranfield MR, Gilardi KVK, Spelman L, Lukasik-Braum M, Kinani J-F, Mudakikwa A, Nyirakaragire E, Bussetti AV, Savji N, Hutchison S, Egholm M, Lipkin WA (2011) Human metapneumovirus infection in wild mountain gorillas, Rwanda. Emerg Infect Dis 17:711–713

Pederson A, Jones K, Nunn C, Altizer S (2007) Infectious diseases and extinction risk in wild mammals. Conserv Biol 21(5):1269–1279

Pusey AE, Pintea L, Wilson ML, Kamenya S, Goodall J (2007) The contribution of long-term research at Gombe National Park to chimpanzee conservation. Conserv Biol 21(3):623–634

Pusey AE, Wilson ML, Collins DA (2008) Human impacts, disease risk, and population dynamics in the chimpanzees of Gombe National Park, Tanzania. Am J Primatol 70:738–744

Robbins MM, Gray M, Fawcett KA, Nutter FB, Uwingeli P, Mburanumwe I, Kagoda E, Basabose A, Stoinski TS, Cranfield MR, Byamukama J, Spelman LH, Robbins AM (2011) Extreme conservation leads to recovery of the Virunga mountain gorillas. PLoS ONE 6(6):e19788. doi:10.1371/journal.pone.0019788

Rudicell RS, Jones JH, Wroblewski EE, Learn GH, Li Y, Robertson J, Greengrass E, Grossmann F, Kamenya S, Pintea L, Mjungu DC, Lonsdorf EV, Mosser A, Lehman C, Collins DA, Keele BF, Goodall J, Pusey AE, Hahn B, Wilson ML (2010) Impact of simian immunodeficiency virus infection on chimpanzee population dynamics. PLoS Pathog 6:e1001116

Rwego IB, Isabirye-Basuta G, Gillespie TR, Goldberg TL (2008) Gastrointestinal bacterial transmission among humans, mountain gorillas, and domestic livestock in Bwindi Impenetrable National Park, Uganda. Conserv Biol 22:1600–1607

Ryan SJ, Walsh PD (2011) Consequences of non-intervention for infectious disease in African great apes. PLoS ONE 6:e29030

Salzer JS, Rwego IR, Goldberg TL, Kuhlenschmidt MS, Gillespie TR (2007) Giardia sp. and Cryptosporidium sp. infections in primates in fragmented and undisturbed forest in western Uganda. J Parasitol 93:439–440

Santiago ML, Lukasik M, Kamenya S, Li Y, Bibollet-Ruche F, Bailes E, Muller MN, Emery M, Goldenberg DA, Lwanga JS, Ayouba A, Nerrienet E, McClure HM, Heeney JL, Watts DP, Pusey AE, Collins DA, Wrangham RW, Goodall J, Brookfield JF, Sharp PM, Shaw GM, Hahn BH (2003) Foci of endemic simian immunodeficiency virus infection in wild-living eastern chimpanzees (Pan troglodytes schweinfurthii). J Virol 77:7545–7562

Schaumberg F, Mugisha L, Peck B, Becker K, Gillespie TR, Peters G, Leendertz FH (2012) Drug-resistant Staphylococcus aureus in sanctuary apes pose a threat to endangered wild ape populations. Am J Primatol. doi:10.1002/ajp.22067

Schmitz H, Wigand R, Heinrich W (1983) Worldwide epidemiology of human adenovirus infections. Am J Epidemiol 117(4):455–466

Terio K, Kinsel MJ, Raphael J, Mlengeya T, Kirchoff C, Kamenya S, Estes J, Rudicell R, Keele B, Patton S, Hahn B, Travis D, Lonsdorf EV (2011) A pathological investigation of morbidity and mortality in chimpanzees from Gombe National Park 2004–2008. J Zoo Wildl Med 42:597–607

Travis D, Lonsdorf EV, Mlengeya T, Raphael J (2008) A science-based approach to managing disease risks for ape conservation. Am J Primatol 70:745–750

Walsh PD, Abernethy KA, Bermejo M, Beyers R, De Wachter P, Akou ME, Huijbregts B, Mambounga DI, Toham AK, Kilbourn AM, Lahm SA, Latour S, Maisels F, Mbina C, Mihindou Y, Obiang SN, Effa EN, Starkey MP, Telfer P, Thibault M, Tutin CE, White LJ, Wilkie DS (2003) Catastrophic ape decline in western equatorial Africa. Nature 422:611–614

Walton SF, Dougall A, Pizzutto S, Holt D, Taplin D, Arlian LG, Morgan M, Currie BJ, Kemp DJ (2004) Genetic epidemiology of Sarcoptes scabiei (Acari: Sarcoptidae) in northern Australia. Int J Parasitol 34:839–849

Wellehan JF, Johnson AJ, Harrach B, Benkö M, Pessier AP, Johnson CM, Garner MM, Childress A, Jacobson ER (2004) Detection and analysis of six lizard adenoviruses by consensus primer PCR provides further evidence of a reptilian origin for the atadenoviruses. J Virol 78:13366–13369

Wevers D, Bieberbach M, Hohmann G, Robbins M, Mugisha L, Lonsdorf E, Reed P, Cameron K, Kidega T, Babweteera F, Zommers Z, Couacy-Hymann E, Nitsche A, Knauf S, Boesch C, Leendertz F, Ehlers B (2011) Novel adenoviruses in wild primates: high genetic diversity and evidence for zoonotic transmissions. J Virol 85:10774–10784

Williams JM, Lonsdorf EV, Wilson ML, Schumacher-Stankey J, Goodall J, Pusey AE (2008) Causes of death in the Kasekela chimpanzees of Gombe National Park, Tanzania. Am J Primatol 70:766–777

Wolfe ND, Escalante AA, Karesh WB, Kilbounrn A, Spielman A, Lal AA (1998) Wild primate populations in emerging infectious disease research: the missing link? Emerg Infect Dis 4(2):149–158
Acknowledgments
The authors thank the Jane Goodall Institute and Tanzania National Parks (TANAPA) for initiating and continuing the over 50-year research tradition at Gombe, including providing support for the current health-monitoring project. In addition we thank the field staff, especially Baraka Gilagiza and Matendo Msafiri for assistance during the intervention, and Bill Wallauer and Kristin Mosher at the Gombe Stream Research Centre for collecting behavioral data. We are grateful to Dr. Wayne Berry for viewing video and providing a neurological assessment. Permission and support to carry out research at Gombe were granted by the Government of Tanzania, Tanzania National Parks, Tanzania Commission for Science and Technology, and Tanzania Wildlife Research Institute. We thank Yingying Li for technical assistance, Liv Kismartoni for logistical assistance, and Emma Finestone for editorial assistance. Thanks are also due to two anonymous reviewers whose comments greatly improved this manuscript. Samples were imported in accordance with Convention on International Trade in Endangered Species of Wild Fauna and Flora regulations. This work was supported by grants from the US Fish and Wildlife Great Ape Conservation Fund, the Arcus Foundation, and the National Institutes of Health (R01 AI58715).
About this article
Cite this article
Lonsdorf, E., Travis, D., Ssuna, R. et al. Field immobilization for treatment of an unknown illness in a wild chimpanzee (Pan troglodytes schweinfurthii) at Gombe National Park, Tanzania: findings, challenges, and lessons learned. Primates 55, 89–99 (2014). https://doi.org/10.1007/s10329-013-0372-4
Received:

Accepted:

Published:

Issue Date:
Keywords
Apes

Health

Disease

Intervention

Diagnostics