Abstract
Platynosomum illiciens (Trematoda, Plagiorchida) is a trematode parasite reported in felids and falconiforms. It was identified in the gall bladder of eight captive neotropical necropsied primates from the National Primate Center (CENP), Ananindeua, State of Pará, Brazil. This is the first description of Platynosomum illiciens as a parasite of primates.
Access options
Buy single article
Instant access to the full article PDF.
US$ 39.95
Tax calculation will be finalised during checkout.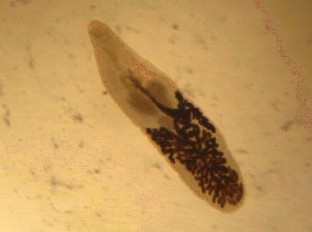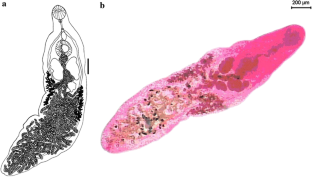 References
Almeida ECP, Labarthe NV (1999) Liver fluke infection (Platynosomum concinnum) in Brazilian cats: prevalence and pathology. Feline Pract 27:19–21

Auricchio P (1995) Primatas do Brasil. Parma, São Paulo, pp 92–96

De Castro LS, Albuquerque GR (2008) Ocorrência de Platynosomum illiciens em felinos selvagens mantidos em cativeiro no estado da Bahia, Brasil. Rev Bras Parasitol Vet 17:239–241

Ferrer D, Molina R, Adelantado C, Kinsella JM (2004) Helminths isolated from the digestive tract of diurnal raptors in Catalonia, Spain. Vet Rec 154:17–20

Keiser J, Utzinger J (2004) Chemotherapy for major food-borne trematodes: a review. Expert Opin Pharmacother 5:1711–1726

Kingston N, Cosgrove GE (1967) Two new species of Platynosomum (Trematoda: Dicrocoeliidae) from South American monkeys. Proc Helminthol Soc Washington 34:147–151

Melo AL, Martins WA (1986) Sobre o Parasitismo por Primasubulura jacchi em Callithrix penicilatta. In: Melo MT (ed) A Primatologia no Brasil. Sociedade Brasileira de Primatologia, Brasília, 2:483–487

Potkay S (1992) Diseases of Callitrichidae: a review. J Med Primatol 21:189–236

Raust P, Legros F (1980) First Record in French Polynesia of an hepatic fluke of the domestic cat, Platynosomum fastosum Kossack, 1910. Ann Parasitol Hum Comp 55:615–618

Ribeiro VM (2004) Controle de Helmintos de Cães e Gatos. Rev Bras Parasitol 13(Suppl 1):88–95

Santos PF, Vieira FM, Amaral KB, Dávila S, Soares GLG, Bessa ECA (2004) Efeito Fagoinibidor da Cinconina em Subulina octona (Brùgiere, 1789) (Mollusca, Subulinidae). In: Proc XXV Congr Brasileiro de Zoologia, Brasília, Brasil, 8–13 Feb 2004, p 291

Soulsby E (1982) Helminths, arthropods and protozoa of domesticated animals. Balliere Tindall, London

Sousa MBC, Leao AC, Coutinho JFV, Ramos AMO (2008) Histopathology findings in common marmosets (Callithrix jacchus Linnaeus, 1758) with chronic weight loss associated with bile tract obstruction by infestation with Platynosomum (Loos, 1907). Primates 49:283–287

Tantalean M, Gozalo A, Montoya E (1990) Notes on some helminth parasites from Peruvian monkeys. Lab Primate Newsl 29:6–8

Warren KS, Swan RA, Hobbs RP, Heriyanto, Kuhn EM, Heeney JL (1998) Platynosomum fastosum in ex-captive orangutans from Indonesia. J Wildl Dis 34:644–646

Xavier FG, Morato GS, Dario AR, Maiorka PC, Spinosa HS (2007) Cystic liver disease related to high Platynosomum fastosum infection in a domestic cat. J Feline Med Surg 9:51–55
About this article
Cite this article
Silva, K.S.M., Silva, R.J. & Pereira, W.L.A. Occurrence of infection by Platynosomum illiciens (Braun, 1901) in captive neotropical primates. Primates 53, 79–82 (2012). https://doi.org/10.1007/s10329-011-0281-3
Received:

Accepted:

Published:

Issue Date:
Keywords
Neotropical primates

Platynosomum illiciens

Trematoda

Captivity