Abstract
Bonobos have been observed to use socio-sexual behavior at higher frequency than chimpanzees. Little is known about the developmental influences that shape this behavior in bonobos. We compared the social sexual behavior of wild-born bonobo (n = 8) and chimpanzee (n = 16) infants in an experimental feeding test. Subjects of both species were orphans of the bushmeat trade living at sanctuaries in peer groups. During the experiment, chimpanzee infants never had socio-sexual interactions with one another. In contrast, bonobo infants had socio-sexual interactions significantly more than the chimpanzee infants and more often when food was presented. During these socio-sexual interactions, bonobo infants did not show a preference for heterosexual partners or genital–genital positioning that is reproductive in adults (e.g. a dorso–ventral posture). These findings suggest that the socio-sexual behavior previously observed in various captive and wild bonobos is species-typical. Wild-born bonobos originating from a large geographical range develop this behavior long before puberty and without the need for adults initiating such behavior or acting as models for observational learning. Meanwhile, chimpanzee infants of the same age with similar rearing history show no signs of the same socio-sexual behavior. Results are interpreted regarding hypotheses for the evolution of bonobo psychology.
Access options
Buy single article
Instant access to the full article PDF.
US$ 39.95
Tax calculation will be finalised during checkout.
Subscribe to journal
Immediate online access to all issues from 2019. Subscription will auto renew annually.
US$ 79
Tax calculation will be finalised during checkout.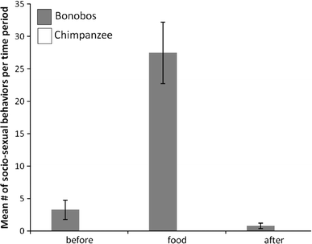 References
Andre C, Kamate C, Mbonzo P, Morel D, Hare B (2008) The conservation value of Lola ya Bonobo. In: Furuichi T, Thompson J (eds) Bonobos ecology, behavior, genetics and conservation. Springer, New York, pp 303–322

Badrian A, Badrian N (1984) Social organization of Pan paniscus in the Lomako Forest, Zaire. In: Susman RL (ed) The Pygmy Chimpanzee: evolutionary biology and behavior. Plenum Press, New York, pp 325–344

Boesch C, Hohmann G, Marchant L (2002) Behavioural diversity in chimpanzees and bonobos. Cambridge University Press, Cambridge

de Lathouwers M, van Elsacker L (2006) Comparing infant and juvenile behavior in bonobos (Pan paniscus) and chimpanzees (Pan troglodytes): a preliminary study. Primates 47:287–293

de Waal F (1987) Tension regulation and nonreproductive functions of sex among captive bonobos (Pan paniscus). Nat Geo Res 3:318–335

de Waal F (1989) Peacemaking among primates. Harvard University Press, Cambridge

de Waal FBM (1992) Appeasement, celebration, and food sharing in the two Pan species. In: Nishida T, McGrew WC, Marler P, Pickford M, de Waal FBM (eds) Topics in primatology: vol. 1. Human origins. University of Tokyo Press, Tokyo, pp 37–50

de Waal FBM (1998) Commentary on C. B. Stanford. Curr Anthropol 39:407–408

de Waal F, Lanting F (1997) Bonobo: the forgotten ape. University of California Press

Furuichi T, Thompson J (eds) (2008) Bonobo ecology, behavior, genetics and conservation. Springer, New York

Hare B, Kwetuenda S (2010) Bonobos voluntarily share their own food with others. Curr Biol 20:R230–R231

Hare B, Melis A, Woods V, Hastings S, Wrangham R (2007) Tolerance allows bonobos to outperform chimpanzees in a cooperative task. Curr Biol 17:619–623

Hashimoto C (1997) Context and development of sexual behavior of wild bonobos at Wamba, Zaire. Int J Primatol 18:1–21

Hohmann G, Fruth B (2000) Use and function of genital contacts among female bonobos. Anim Behav 60:107–120

Hohmann G, Mundry R, Deschner T (2008) The relationship between socio-sexual behavioral and salivary cortisol in bonobos: tests of the tension regulation hypothesis. Am J Primatol 3:223–232

Kano T (1980) Social behavior of wild pygmy chimpanzees of Wamba: a preliminary report. Hum Evol 9:23–260

Kano T (1989) The sexual behavior of Pygmy chimpanzees. In: Heltne P, Marquardt L (eds) Understanding chimpanzees. Harvard University Press, Cambridge, pp 176–183

Kano T (1992) The last ape: pygmy chimpanzee behavior and ecology. Stanford University Press, Stanford

Kuroda S (1980) Social behavior of the pygmy chimpanzees. Primates 21:181–197

Kuroda S (1984) Interaction over food among pygmy chimpanzees. In: Susman RL (ed) The pygmy chimpanzee: evolutionary biology and behavior. Plenum Press, New York, pp 275–300

Lieberman DA, Carlo J, de Leon MP, Zollikofer CPE (2007) A geometric morphometric analysis of heterochrony in the cranium of chimpanzees and bonobos. J Hum Evol 52:647–662

Paoli T, Palagi E, Borgognini Tarli SM (2006) Reevaluation of dominance hierarchy in bonobos (Pan paniscus). Am J Phys Anthropol 130:116–122

Paoli E, Tacconi G, Borgognini T, Palagi E (2007) Influence of feeding and short-term crowding on the sexual repertoire of captive bonobos. Ann Zool Fennici 44:81–88

Parish AR (1996) Female relationships in Bonobos (Pan paniscus) Evidence for bonding, cooperation, and female dominance in a male-philopatric species. Hum Nat 7:61–96

Savage-Rumbaugh S, Wilkerson B (1978) Socio-sexual behavior in Pan paniscus and Pan troglodytes: a comparative study. J Hum Evol 7:3327–3344

Shea B (1983) Paedomorphosis and neoteny in the pygmy chimpanzee. Science 222:521–522

Stanford C (1998) The social behavior of chimpanzees and bonobos: empirical evidence and shifting assumptions. Curr Anth 39:399–407

Thompson-Handler N, Malenky R, Badrian N (1984) Sexual behavior of Pan paniscus under natural conditions in the Lomako forest, Equateur Zaire. In: Susman RL (ed) The pygmy chimpanzee: evolutionary biology and behavior. Plenum Press, New York, pp 347–366

Tratz E, Heck H (1954) Der afrikanische Anthropoide "Bonobo", eine neue Menschenaffengattung. Saugetierkundliche Mitteilungen 6:1–4

Wobber V, Hare B (2010) Psychological health in orphan bonobos and chimpanzees in African sanctuaries

Wobber V, Wrangham R, Hare B (2010a) Bonobos exhibit delayed development of social behavior and cognition relative to chimpanzees. Curr Bio 20:226–230

Wobber V, Hare B, Maboto J, Lipson S, Wrangham R, Ellison P (2010b) Differential changes in steroid hormones before competition in bonobos and chimpanzees. Proc Natl Acad Sci. http://www.pnas.org/cgi/doi/10.1073/pnas.1007411107

Won Y, Hey J (2005) Divergence population genetics of chimpanzees. Mol Biol Evol 22:297–307

Wrangham R (1993) The evolution of sexuality in chimpanzees and bonobos. Hum Nat 4:47–79

Wrangham R (1999) Evolution of coalitionary killing. Yrbk Phys Anth 42:1–30

Wrangham R, Pilbeam D (2001) African apes as time machines. In: Galdikas B, Briggs N, Sheeran L, Shapiro G, Goodall J (eds) All apes great and small. Kluwer/Plenum Publishers, New York, pp 5–18
Acknowledgments
Thanks to Rebeca Atencia, Lisa Pharoah, Debby Cox, Keith Brown, Claudine Andre, Valery Dhanani, Dominique Morel, Pierrot Mbonzo, and the caretakers of Tchimpounga Chimpanzee Sanctuary and Lola ya Bonobo for making this research possible. This work was performed under the authority of the Ministry of Research and the Ministry of Environment in the Democratic Republic of Congo (research permit #MIN.RS/SG/004/2009) and the Ministry of Scientific Research and Technical Innovation in the Congo Republic (research permit: 009/MRS/DGRST/DMAST). This work was approved by the Institutional Care and Use Committees at Duke University. This work was supported in part by European Research Commission Advanced Grant Agreement 233297 and by National Science Foundation grant NSF-BCS-08-27552 and NSF-BCS-25172 to B.H.
About this article
Cite this article
Woods, V., Hare, B. Bonobo but not chimpanzee infants use socio-sexual contact with peers. Primates 52, 111–116 (2011). https://doi.org/10.1007/s10329-010-0229-z
Received:

Accepted:

Published:

Issue Date:
Keywords
Bonobo

Chimpanzees

Development

Infant

Socio-sexual behavior