Abstract
The diet and feeding behaviour of the kipunji (Rungwecebus kipunji) was studied over 45 months, the first dietary analysis for this species. During 9498 h of direct observation of 34 kipunji groups, a list of 122 identified foodplants was recorded. The list represents 60 families, including 64 trees, 30 herbs, 9 climbers, 7 shrubs, 6 lianas, 3 grasses and 3 ferns. Kipunji were observed eating bark, young and mature leaves, ripe and unripe fruits, flowers, pith, seed pods, rhizomes, tubers, shoots and stalks. Invertebrates, fungi, moss, lichen, and soil were also eaten. Macaranga capensis var. capensis, an early successional tree, was the most commonly consumed species, with leaves, leaf stalks, pith, flowers and bark all eaten. We demonstrate that the kipunji is an omnivorous dietary generalist, favouring mature and immature leaves, ripe and unripe fruits and bark in similar proportions, with an almost comparable fondness for leaf stalks and flowers. Kipunji appear to be adaptable foragers able to modify their diet seasonally, being more folivorous in the dry season and more frugivorous in the wet. Whereas more ripe fruit is eaten in the wet season, the proportion of unripe fruit remains similar across the year. The proportion of mature leaves and pith increases throughout the dry season at the expense of ripe fruits and bark, and this may compensate nutritionally for the lack of available dry-season ripe fruits. Relatively more pith is eaten in the dry season, more stalks at the end of the dry and beginning of the wet seasons, and bark consumption increases as the rainfall rises.
This is a preview of subscription content, log in to check access.
Access options
Buy single article
Instant access to the full article PDF.
US$ 39.95
Price includes VAT for USA
Subscribe to journal
Immediate online access to all issues from 2019. Subscription will auto renew annually.
US$ 99
This is the net price. Taxes to be calculated in checkout.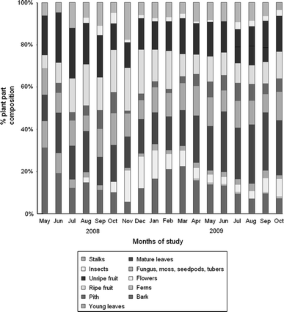 References
Altmann SA, Altmann J (1970) Baboon ecology: African field research. University of Chicago Press, Chicago

Brugiere D, Gautier J-P, Moungazi A, Gautier-Hion A (2002) Primate diet and biomass in relation to vegetation composition and fruiting phenology in a rain forest in Gabon. Int J Primatol 23:999–1024

Chalmers NR (1968) Group composition, ecology and daily activities of free-living mangabeys in Uganda. Folia Primatol 8:247–262

Chapman CA, Chapman LR, Rode KD, Hauk EM, McDowell LR (2003) Variations in the nutritional value of primate foods: among trees, time periods and areas. Int J Primatol 24(2):317–333

Davenport TRB (2005) Discovering kipunji. Afr Geog 13(7):56–61

Davenport TRB (2006) Plants, primates and people: conservation in the Southern Highlands. Miombo 28:7–8

Davenport TRB (2009) What next for Africa's rarest monkey? Miombo 33:12–13

Davenport TRB, Jones T (2008) Rungwecebus kipunji. In: IUCN 2008. 2008 IUCN red list of threatened species. http://www.iucnredlist.org

Davenport TRB, Stanley WT, Sargis EJ, De Luca DW, Mpunga NE, Machaga SJ, Olson LE (2006) A new genus of African monkey, Rungwecebus. Morphology, ecology and molecular phylogenetics. Science 312:1378–1381

Davenport TRB, De Luca DW, Jones T, Mpunga NE, Machaga SJ, Picton Phillipps G (2008) The kipunji Rungwecebus kipunji of southern Tanzania: first census and assessments of distribution and conservation status. Oryx 42(3):352–359

Davenport TRB, Mpunga NE, Machaga SJ, Jones T, Bracebridge CE, De Luca DW (2009) Kipunji Rungwecebus kipunji. In: RA Mittermeier et al (eds) Primates in Peril: The World's 25 most endangered primates 2008–2010, pp 35–37. IUCN/SSC Primate Specialist Group (PSG), International Primatological Society (IPS), and Conservation International (CI), Arlington, VA

De Luca DW, Picton Phillipps G, Machaga SJ, Davenport TRB (2009) Home range, core areas and movement in the 'critically endangered' kipunji (Rungwecebus kipunji) in southwest Tanzania. Afr J Ecol. doi:10.1111/j.1365-2028.2009.01189.x

Hall KRL (1962) Numerical data, maintenance activities and locomotion of the wild chacma baboon, Papio ursinus. Proc Zoo Soc Lond 139:181–220

Hamilton WJ III, Buskirk RE, Buskirk WH (1978) Omnivory and utilization of food resources by chacma baboons, Papio ursinus. Am Nat 112:911–924

Harding RS (1984) Primates of the Killini area, northwest Sierra Leone. Folia Primatol 42:96–114

Homewood KM (1976) Ecology and behaviour of the Tana Mangabey. PhD Thesis. University of London

Homewood KM (1978) Feeding strategy of the Tana mangabey (Cercocebus galeritus galeritus) (Mammalia: Primates). J Zool Lond 186:375–391

Jones T, Ehardt C, Butynski TM, Davenport TRB, Mpunga NE, Machaga SJ, De Luca DW (2005) The highland mangabey Lophocebus kipunji: a new species of African monkey. Science 308:1161–1164

Lambert JE (2007) Seasonality, fallback strategies, and natural selection: a chimpanzee and cercopithecoid model for interpreting the evolution of hominin diet. In: Ungar PS (ed) Evolution of the human diet: the known, the unknown, and the unknowable, Oxford University Press, Oxford, pp 324–343

Lambert JE, Chapman CA, Wrangham RW, Conklin-Brittain NL (2004) Hardness of cercopithecine foods: implications for the critical function of enamel thickness in exploiting fallback foods. Am J Phys Anthropol 125:363–368

Lovett JC, Thomas DW (1988) A report on a visit to the Nguru Mountains, Tanzania. E Afr Nat Hist Soc Bull 18:19–22

Mitani M (1989) Cercocebus torquatus: adaptive feeding and ranging behavior related to seasonal fluctuations of food resources in the tropical rain forest of south-western Cameroon. Primates 30:307–323

Nishida T (1976) The bark-eating habits in primates, with special reference to their status in the diet of wild chimpanzees. Folia Primatol 25(4):277–287

Olson LE, Sargis EJ, Stanley WT, Hildebrandt KPB, Davenport TRB (2008) Additional molecular evidence strongly supports the distinction between the recently described African primate Rungwecebus kipunji (Cercopithecidae, Papionini) and Lophocebus. Mol Phylogen Evol 48:789–794

Poulsen JR, Clark CJ, Smith TB (2001) Seasonal variation in the feeding ecology of the grey-cheeked mangabey (Lophocebus albigena) in Cameroon. Am J Primatol 54:91–105

Rasmussen DR (1981) Communities of Baboon Troops (Papio cynocephalus) in Mikumi National Park, Tanzania: a preliminary report. Folia Primatol 36:232–242

Roberts TE, Davenport TRB, Hildebrandt KBP, Jones T, Stanley WT, Sargis EJ, Olson LE (2009) The biogeography of introgression in the critically endangered African monkey Rungwecebus kipunji. Biol Lett. doi:10.1098/rsbl.2009.0741

Struhsaker TT, Leland L (1979) Socioecology of five sympatric monkey species in the Kibale Forest, Uganda. Adv Study Behav 9:159–227

Swedell L (2010) African apionins: diversity of social organization and ecological flexibility. In: Campbell CJ, Fuentes A, MacKinnon KC, Panger M, Bearder SK (eds) Primates in perspective, Second edition. Oxford University Press, New York

Swedell L, Hailemeskel G, Schreier A (2008) Composition and seasonality of diet in wild hamadryas baboons: Preliminary findings from Filoha. Folia Primatol 79:476–490

Waser P (1975) Monthly variations in feeding and activity patterns of the mangabey, Cercocebus albigena (Lydekker). E Afr Wildlife J 13:249–263

Waser P (1977) Feeding, ranging and group size in the mangabey Cercocebus albigena. In: Clutton-Brock TH (ed) Primate ecology: studies of feeding and ranging behaviour in lemurs, monkeys and apes. Academic Press, London, pp 183–222

Waser PM (1984) Ecological differences and behavioral contrasts between two mangabey species. In: Rodman PS, Cant J (eds) Adaptations for foraging in nonhuman primates. Columbia University Press, New York, pp 195–214

Whiten A, Byrne RW, Henzi SP (1987) The behavioral ecology of mountain baboons. Int J Primatol 8:367–388

Whiten A, Byrne RW, Barton RA, Waterman PG, Henzi SP (1991) Dietary and foraging strategies of baboons. Philos Trans R Soc Lond B Biol Sci 334:187–197
Acknowledgments
This work was funded by the Wildlife Conservation Society. Particular thanks to Karen and Dan Pritzker, Ashley Scott, Katie Carpenter and an anonymous donor. We are very grateful to Mazao Fungo, Buto Kalasa, Sylvanos Kimiti, Ramathan Maingo, Atupakisye Mwaibanje, Obadiah Mwaipungu, Lusajo Mwakalinga, Willie Mwalwengwele, Christopher Mwapetele, Ibrahim Ngailo, Ruth Starkey and the late Atupele Kasilate for fieldwork support, and Roy Gereau for specimen verification. We thank two anonymous referees for very constructive comments.
About this article
Cite this article
Davenport, T.R.B., De Luca, D.W., Bracebridge, C.E. et al. Diet and feeding patterns in the kipunji (Rungwecebus kipunji) in Tanzania's Southern Highlands: a first analysis. Primates 51, 213–220 (2010). https://doi.org/10.1007/s10329-010-0190-x
Received:

Accepted:

Published:

Issue Date:
Keywords
Mt. Rungwe

Primate

Foodplants

Livingstone

Kitulo

Kipunji